Creative ideas for your restaurant to try this summer
There is no other season like summer for restaurant owners. The warm weather encourages people to go out and enjoy different activities with their loved ones. But do you know what is the one constant for all gatherings? Food!
Do you want to become the place to be this summer? The one for which people hurry to grab the best seat to enjoy the great food and atmosphere? Then you need to try out these essential summer menu ideas for restaurants!
Hurry up and implement them because summer is just around the corner.
1. Use an online ordering system to boost your sales during the hot hours of the day
While summer is usually the busiest season, most activity is expected in the later hours of the day. Because the weather is too hot to go out for lunch, people prefer to spend their time inside where they can enjoy the AC.
But they still need food, and you can be the one to provide it if you offer delivery. All you need to do to increase your revenue during the hot hours of the summer is install an online ordering system on your website.
You can get the best free one from GloriaFood that will not only help you streamline your online ordering process, but also market your business so you can continue to grow by constantly reaching out to a new audience.
Increase your revenue during the summer months by expanding your activity online
Install an online ordering system to your website for free
Start Now
Follow these steps if you want to increase your sales in the summer:
Sign up on GloriaFood and fill in your restaurant's profile with basic information such as an address, working hours, and provided services;
Create an enticing menu with mouth-watering pictures and creative descriptions;
Publish the menu button on your website (or generate a sales-optimized website if you don't have one yet)
2. Increase client satisfaction with a table ordering system
Happy clients, happy business! But clients that can't easily book a table or arrive at your restaurant and don't find a free spot, will surely not be happy. If this continues to happen, you will lose the disappointed clients and risk deterring more people from your place if those unhappy clients leave bad reviews.
The easy solution is to implement a table booking system that allows people to make a reservation online in no time, with no errors or unnecessary human interaction. This way, you will have all your tables filled every summer night.
To get the best free table ordering system from GloriaFood, go to admin -> Setup -> Services & opening hours -> Table reservation.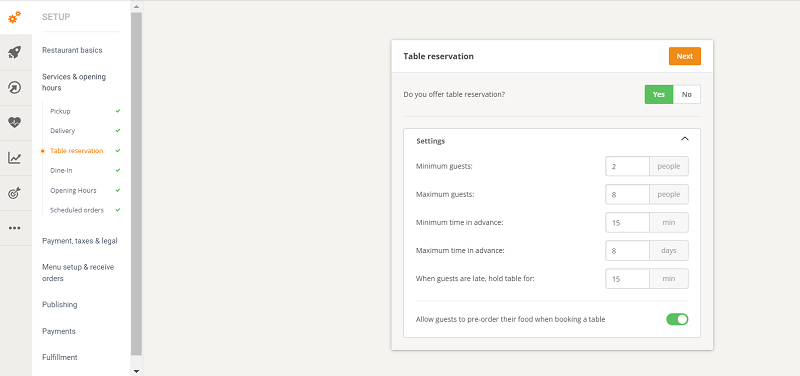 If you want to encourage table turnover, make sure to allow guests to pre-order their food when booking a table. Clients will be able to browse the menu, choose their preferred dishes and pay online. When they reach your restaurant, your team can focus on giving them a great customer experience.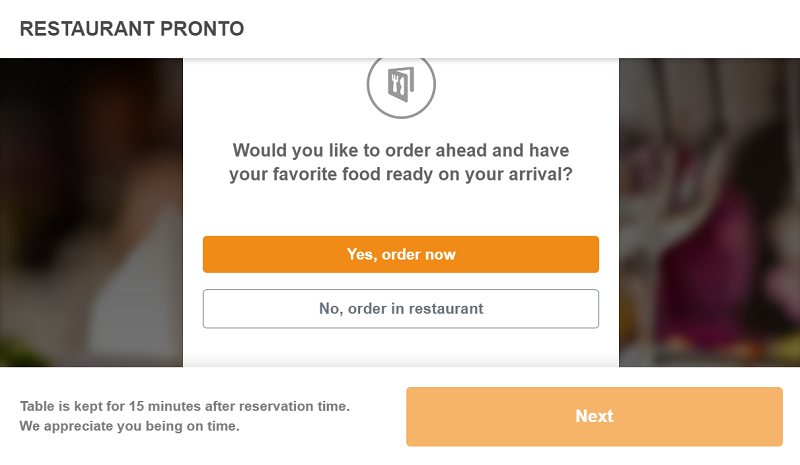 3. Focus on fresh and light when you think of summer menu ideas for restaurants
When you are searching for summer menu ideas for restaurants, you must take into account food seasonality and changing food preferences. For example, in the winter people prefer more hearty dishes that will warm them up during the cold days.
In the summer, people prefer lighter dishes that will be easy to digest and will not make them feel even hotter than the high temperatures outside. You may also want to consider smaller portions because people are not as hungry on hot days. This measure will also help you increase your profit.
Here are some summer menu ideas for restaurants you may want to incorporate into your business:
Pea and mint risotto
Vegan falafel burger
English garden salad
Chickpea salad with grilled vegetables
Feta and oregano quiche
Gazpacho with scallop skewers
Chicken and avocado tacos
Eggplant gyros
Mushroom and spinach pasta
4. Everyone says YES to ice-cream
Do you know what's the type of food everyone wants during the summer? A cold, sweet, and flavorful treat, perfect for hot days: ice cream! Every restaurant, no matter the type, must offer a dessert selection to be enjoyed at the end of every meal.
Why not have your chef experiment in the kitchen and come up with some ice cream flavors your customers won't be able to say no to? Here are some ice cream summer menu ideas for restaurants to get you inspired:
Lemon poppy seed ice-cream
Honey pistachio ice-cream
Coffee and donuts ice-cream
Brown butter pecan ice-cream
Chocolate banana split ice-cream
With the online ordering system from GloriaFood, you can change up your menu as many times as you want at no cost. You can add a new ice cream category with as many flavors as you want. Check out this video to learn how to customize your online restaurant menu:
If you want to increase your profit, you may want to consider allowing clients to customize their dishes with Choices and Addons. For example, offer different sizes of ice cream and a variety of toppings such as candied nuts, pretzels, sprinkles, etc.
Watch this video to see how easy it is to offer customization options on your menu:
5. Plan a food-cation
As soon as the temperature starts to rise, all people can think of is a vacation. They dream of the numerous countries they would like to visit, where they can forget about work and worries and just relax.
But most of them can't afford to jump on a plane to their desired destination every weekend when they feel like they need a break. But they can afford to visit a restaurant with their friends and family.
Why not make their restaurant visit feel like a vacation? You can attract more clients by creating a food-cation at your place every Sunday. You can create a special menu that will only be available on the day and take reservations to ensure every table is booked.
Go one step further and allow people to feel like on vacation and order off the special menu at home. This video will show you how you can easily create a different menu for each day of the week with GloriaFood, add an "Out of Stock" marker and delve into more advanced menu settings:
Here are some holiday-themed summer menu ideas for restaurants you must try if you want to create an amazing experience for your customers:
A night in Barcelona: Sangria and tapas for everyone
A day in Paris: quiche, croissants, macarons, and great wine
A summer in Italy: all-day unforgettable pasta experience
Food-cation in Greece: gyros with fresh tzatziki and tasty portokalopita
Save money on printing and re-printing menus by adding a QR code restaurant menu to every table. This way, people can just scan the flyer with the code as soon as they are seated and easily browse the menu to decide what they would like to order.
You can create a free QR code menu for your restaurant by following the simple steps in this video:
6. Add a summery spin to your drinks
The warmth makes people thirsty. Take advantage of that and give customers great drink options to quench their thirst. Expand your menu with fresh and cold seasonal drinks, both alcoholic and non-alcoholic. And don't forget to stock up on ice, everyone is guaranteed to ask for it.
Because there is a big difference between the price of acquisition and the price you sell the item for, drinks are one of the most profitable things on your menu. Therefore, you can only win if you sell more of them.
Here are some summer menu ideas for restaurants that focus on drinks to draw inspiration from:
Sea breeze: vodka, cranberry juice, and grapefruit juice
Raspberry mojito: fresh raspberries, lime, mint, sugar, white rum, and sparkling water
Frozen watermelon margarita: watermelon, tequila, triple sec, lime, and honey
Elderflower spritz: prosecco, gin, elderflower liquor
Virgin Pina Colada: pineapple juice, coconut milk, lime juice, and a cherry to garnish
Iced Latte: 2 espresso shots, sugar, and a bit of milk
Blueberry & mint iced tea: peppermint tea, blueberries, sugar, and lemon
7. Attract more orders with summer promotion ideas for restaurants
Your service may be impeccable and your food amazing, but your clients need one more little push to press the order button. And what better incentive than some hard to say no to summer promotion ideas for restaurants?
Set up summer promotions for restaurants to attract more clients
Use this online ordering system to set up attractive deals in seconds
Start Now
Using the online ordering system from GloriaFood, you can set up a variety of restaurant promotions and customize them from name, image, and minimum order amount to more advanced options such as type of clients (new or returning) or time of the day the deal will be available.
Check out this video to learn how to set up a restaurant promotion in seconds:
You can start with these three promotions before you explore more summer menu ideas for restaurants:
30% off summer drinks: create a special category with cooling drinks that clients can get for a reduced price to relax during the hot months;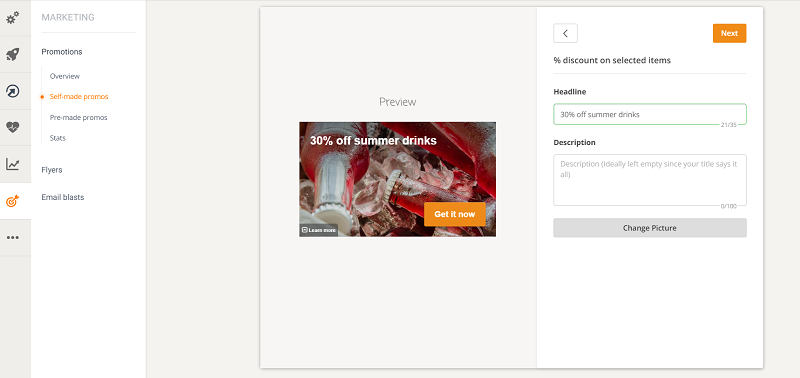 Buy one, get one free: each meal deserves to end with a dessert. And why have one, when you can have two?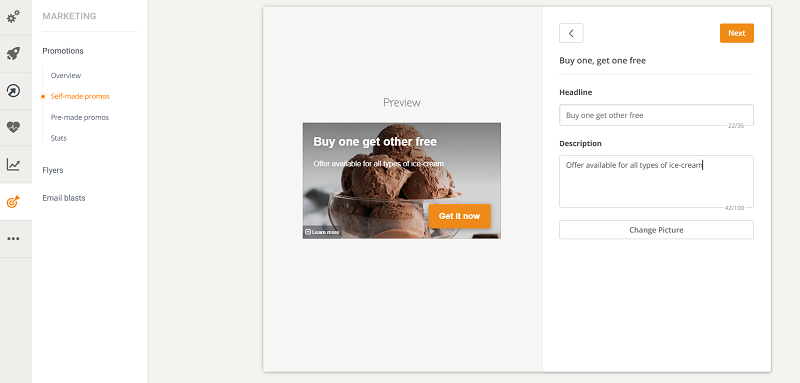 Free delivery: a classic restaurant offer, always appreciated by customers. Pair it with a minimum order amount to encourage large orders.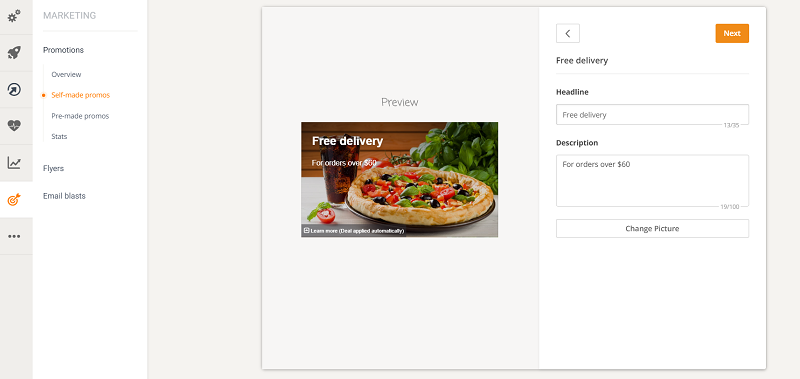 Final words
If you want to fill your tables this summer and increase your online orders, you must try the summer menu ideas for restaurants we have suggested in this article. Start with the best online ordering system from GloriaFood and don't be afraid to adapt your menu for summer!