For this blog post I'll go through some of the most important advantages of having an online restaurant menu, and also list several tips on how to create and improve a menu on your website.
Why your online restaurant menu is so important for your business
People are increasingly turning to the internet to look for information. The way they are learning about your restaurant is via your website and even social media, so the way you present yourself online has now a major impact on getting more customers and getting them to order more. An online restaurant menu is a very powerful marketing tool, as the menu is probably the first thing customers go to on your website.
You might also like: Advantages of Having a Website for a Restaurant
So to create an online menu that keeps customers on your website and drives them to order, here's a list of essential tips:
1. Make it easy for your customers to find your menu. Keep it on your top bar, in clear sight and highlight it to make it clickable for the customer. Also, it would also be great if you could step away from the classic menu in PDF. PDF is great when you need a printable version, but an online medium offers so much more flexibility: the online is more dynamic and alive and allows more interaction, with categories unfolding as you click through them.
2. Make it easy to read. We all like to look at nice things, but when a customer browses through your menu, they are looking for something to order, so don't make it hard for them to distinguish between categories or see the prices. One simple trick:  organize the menu into sections, separate them visually and make sure they are arranged in a logical order.
If you have some popular dishes, try to place those at the top of a category, as a customer tends to remember better the first 2 items at the top.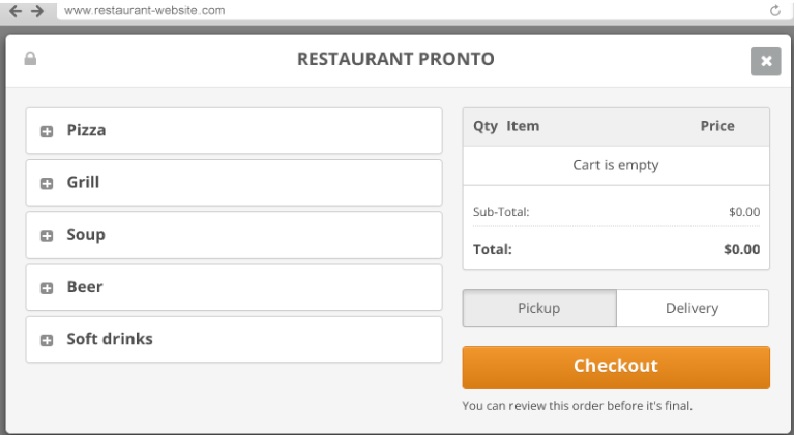 3. Write beautiful, but clear descriptions. A nice description is always better than a simple list of ingredients; this way you can personalize your dishes and give customers something special they can look forward to. At the same time, keep it clear as your customers need to know what to expect. For example, what would you be more inclined to order between: "blueberry pancakes with maple syrup" and "fresh pancakes with a golden crust, a smooth texture and rich blueberry flavor, bathed in real maple syrup"? 🙂
4. Keep your menu updated. It's very frustrating for a customer to order something and then realize that the price has changed or that you don't have that item on the menu anymore. Keep the menu updated with the latest list of prices and items.
*Extra tip: it's a very good idea to prepare season specials. Customers love traditional food, so why not lure them in with a Christmas special or Valentine's Day special offers?
Revamp your menu to increase your profits
Build an attractive menu that entices your customers to order more
Create your menu now
5. Highlight your special offers. If you have special vegan and vegetarian dishes, you can either place them in separate menu categories, or add the 'V' or 'Veg' symbol. You should also point out when a particular dish has a very strong taste, e.g. in Indian cuisine certain dishes are sorted based on their level of spiciness.
6.  For a successful online menu, choose a flexible online platform, one that can support menu changes and allows you to  have easy control over the layout and content of your menu; one that also has a nice interface for your customers.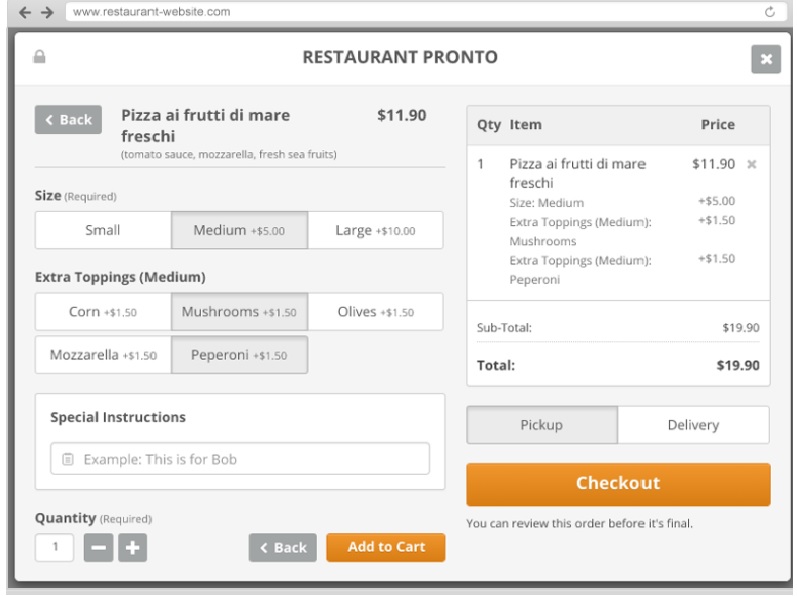 The online ordering widget by GloriaFood displays your menu in a very clean and user-friendly format, with dish names, descriptions and prices in focus. Moreover, the widget helps you configure many extra options for each menu item, so that your clients can customize their meal. And cherry on top, using the admin panel you can make changes inside your own menu and save everything in real time.
Read more: How to Use an Online Menu Builder to Boost Restaurant Sales
Your menu is your first chance to make a great impression on your customers, so take advantage of all the opportunities of an online platform to create a menu that is in tune with your brand and your restaurant's overall dining experience.
Til next time!