Marketing Ideas for Ice Cream Shop
When the weather outside is unbearably hot, we all want to cool down with a delicious scoop of refreshing ice cream. If you own an ice cream shop, summer is your time to shine. Check out the ice cream marketing ideas below to boost your sales this season.
10 Ice Cream Marketing Ideas for Summer and Beyond
The ideas presented here will help you create a powerful digital marketing strategy for your ice cream shop so you can ensure your business thrives in every season. Attract clients and tempt them to order more by implementing as many creative advertising ideas for ice cream as you can!
1. Start delivering ice cream in the neighborhood
You might think delivering ice cream is a recipe for disaster, but it could make your sales soar. All you need to do is apply this distribution strategy for ice cream deliveries:
Use insulated packaging to ensure the ice cream won't arrive at your customers' melted
Add gel packs around the box for added protection in case of longer delivery times
Limit the delivery zone to around your shop
You can use our delivery heatmaps to identify the most profitable areas and focus your deliveries there.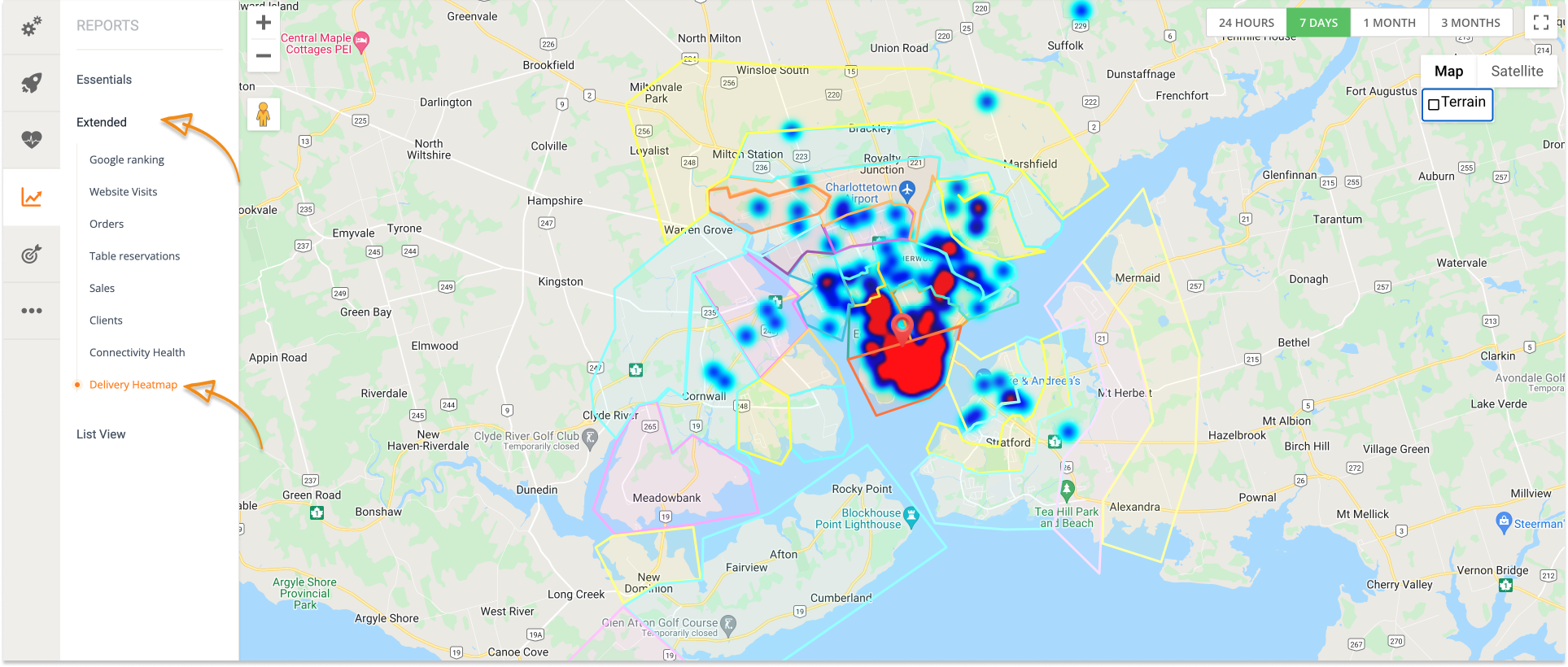 To encourage customers to order from you, sell combo boxes that allow them to test multiple flavors. Include the option of purchasing cones and toppings separately so they can assemble their own ice cream at home.
Start selling your ice cream online
Take unlimited orders using our free online ordering system
Start Now
2. Come up with unique flavors and toppings
While classics like chocolate and vanilla will never go out of style, customers expect new and exciting ice cream flavors each sizzling hot summer. Here are some unique ice cream flavors for you to test out:
Ginger pineapple
Honey pistachio
Cinnamon toast
PB&J swirl
S'mores
Lemon custard
Matcha
Besides bold flavors, include many toppings on the menu so clients can customize their ice cream. The more you personalize your menu, the more freedom customers have to make their own meals. Check out these creative ice cream toppings you can try:
Toasted marshmallows
Caramel corn
Brownie bites
Pretzels
Graham crackers
Oreo's
Candied orange rinds
Cereals
To accommodate even more customers, offer dairy-free and vegetarian ice cream options with coconut, soy, or almond milk.
The video below shows you how easy it is to add choices and add-ons to your menu and how much you can accomplish by providing customers with diversity.
3. Upsell by offering other products too
If you own an ice cream shop, that doesn't mean you should only sell ice cream. Adding other things to the menu will help you increase the average check value by upselling and cross-selling. Here are other things to sell in an ice cream shop besides ice cream:
Milkshake
Sorbet
Gelato
Frozen yogurt
Coffee
Soft drinks
This way, whenever someone orders an ice cream sundae, you can ask them whether they'd like a refreshing drink to go with it. If parents come in to buy ice cream for their kids, suggest a cup of ice coffee for them. Bit by bit, you will increase the check value.
You might also like: 10 Coffee Shop Marketing Ideas to Help You Stand out in the Crowd
4. Offer regular promotions and special offers
Promotions are a no-brainer when it comes to ice cream marketing ideas. What better way to persuade people to take a refreshing break in the summer than with half-off or two for the price of one ice cream?
From ice cream sample bundles to help customers find their favorite to "buy one, get one free" promos for people who want to share the love, these special offers will draw people to your shop.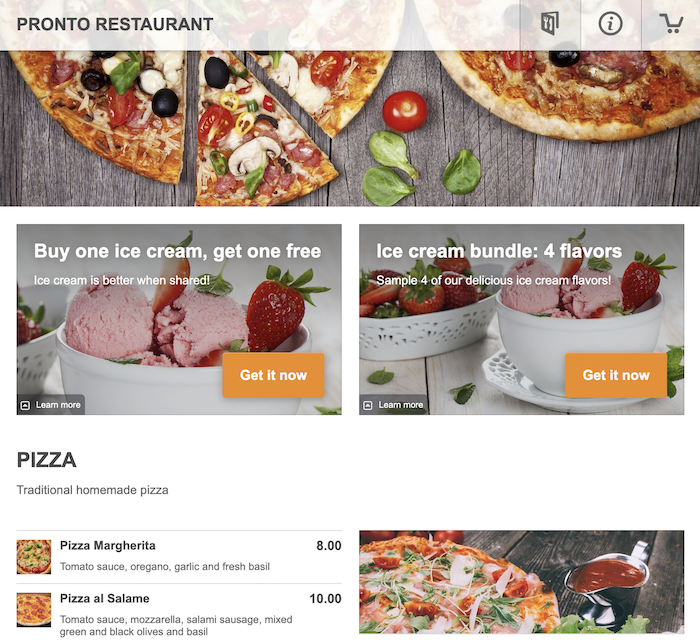 You can use our promotion templates to add irresistible ice cream promos to your online menu. Check out this article for more unique promotion ideas you can apply to your ice cream shop.
Don't forget to advertise your alluring promotions on your social media channels to get people talking and ordering. Use some mouth-watering pictures of your ice-cream and add some fun descriptions that will persuade people to share your posts.
Here a few ideas for an ice cream promotion caption on social media:
A bowl of ice cream a day keeps the sadness away
Ice cream will always be here for you
Chase your dreams! Never let anyone stop you from eating the ice cream you deserve!
There are some problems only ice cream can fix
Ice cream is always a great idea!
5. Attend food and music festivals in your area
Summer is the festival season, and what do people love to eat at festivals? Ice cream, of course. Try to attend as many as possible to increase summer sales, make a name for yourself, and generate leads.
Don't forget to bring business cards and flyers with you to distribute with every ice cream purchased. Include a discount code to motivate customers to keep it and make another purchase in the future.
Free online ordering flyer generator
Create your own flyer and encourage customers to place an order
Get Started
If you can't afford a stand or a food truck at local festivals, you can still distribute flyers encouraging people to visit your location for a discount or a free ice cream cone.
6. Host an ice cream-making event
If you are looking for more creative ways to sell ice cream, it is time to think outside of the box and start creating an unforgettable experience for your clients.
Organizing creative events is a type of ice cream marketing strategy that will distinguish your store from the competition.
Brainstorm some ice cream station ideas with different flavors, toppings, and recipients. Encourage participants to get creative and mix and match to create unique ice creams.
7. Organize fun contests and challenges
One of the most efficient marketing strategies for an ice cream business is organizing a competition that will help you reach a new audience and increase your sales.
Contests and challenges aren't just fun ice cream selling ideas but also get people talking on social media. Create buzz around your shop by organizing an ice cream eating contest with a fun prize.
Another fun challenge you can organize is guessing the flavor. Customers have to guess different types of unique ice cream flavors while blindfolded.
Post about the events on social media, share fun photos, and encourage attendants to tag you in photos for additional engagement.
8. Partner up with local grocery stores and restaurants
Local businesses have to support each other, which is why every business that's not a direct competitor is a potential friend to you and your ice cream store.
If you're wondering how to market your ice cream business in the neighborhood, look no further than partnerships with other businesses that are open to collaborating on your creative ice cream ideas.
Inquire whether neighboring restaurants wouldn't be open to you installing a sundae bar in front or inside their building for customers looking for a frozen treat after a delicious meal.
Similarly, talk to local grocery stores about the possibility of you adding a tasting bar in their store. This will help you gain more customers and ultimately attract them to your place with a discount coupon code.
9. Create a referral program
Word-of-mouth marketing should always be part of your ice cream marketing campaigns. It's an easy way to gain more customers while securing the loyalty of your regulars.
Referral marketing couldn't be simpler: you encourage customers to recommend your business to friends and family in exchange for a reward.
Usually, the person who referred a friend and those who got referred get something, like a discount or freebie. You could offer a free ice cream cone to everyone who refers a friend and to every friend who gets referred. Everybody wins, including yourself.
10. Be active and promote your shop on social media
A big part of the digital marketing strategy for your ice cream shop will take place on your own website and social media.
Besides adding a "See MENU & Order" button to your website so that people can order your ice cream online, it's vital to have an active presence on social media.
Start with Facebook, Instagram, and Twitter. Once you've got the hang of these main platforms, consider branching out on Snapchat, TikTok, and Pinterest.
Use social media to promote your events, post about your daily offers and specials, and encourage customers to leave you reviews.
Summing up
Supercharge your ice cream sales this summer with these ice cream marketing ideas. Learn how to build an online customer base by delivering ice cream to customers who crave a refreshing treat without having to brace the heat outside.