Restaurant offer ideas to try in the spring
New season, new opportunity to spring your restaurant sales. As the weather warms up, people are more prone to go out and try new food. Seize the moment and implement some spring restaurant promotions that will persuade potential clients to visit your place.
We are here to help you with great offer ideas that will help you grow your business in the new season. Start with some spring menu ideas to freshen up your cuisine and promote them with impossible to say no to deals.
Draw inspiration from the following ideas and be quick to implement them to enjoy the benefits.
Spring restaurant promotions you must try now
If you want a successful restaurant where your order-taking app constantly buzzes with new orders, you need to take advantage of seasonal marketing. Check out these spring restaurant promotions that will increase your restaurant revenue:
5% OFF spring discount for all orders over $50
A great marketing technique is to create FOMO (fear of missing out) around a promotion. Just like in this case, where clients will hurry to take you up on your 5% off offer because you advertise it will only be available for a limited time during the spring season.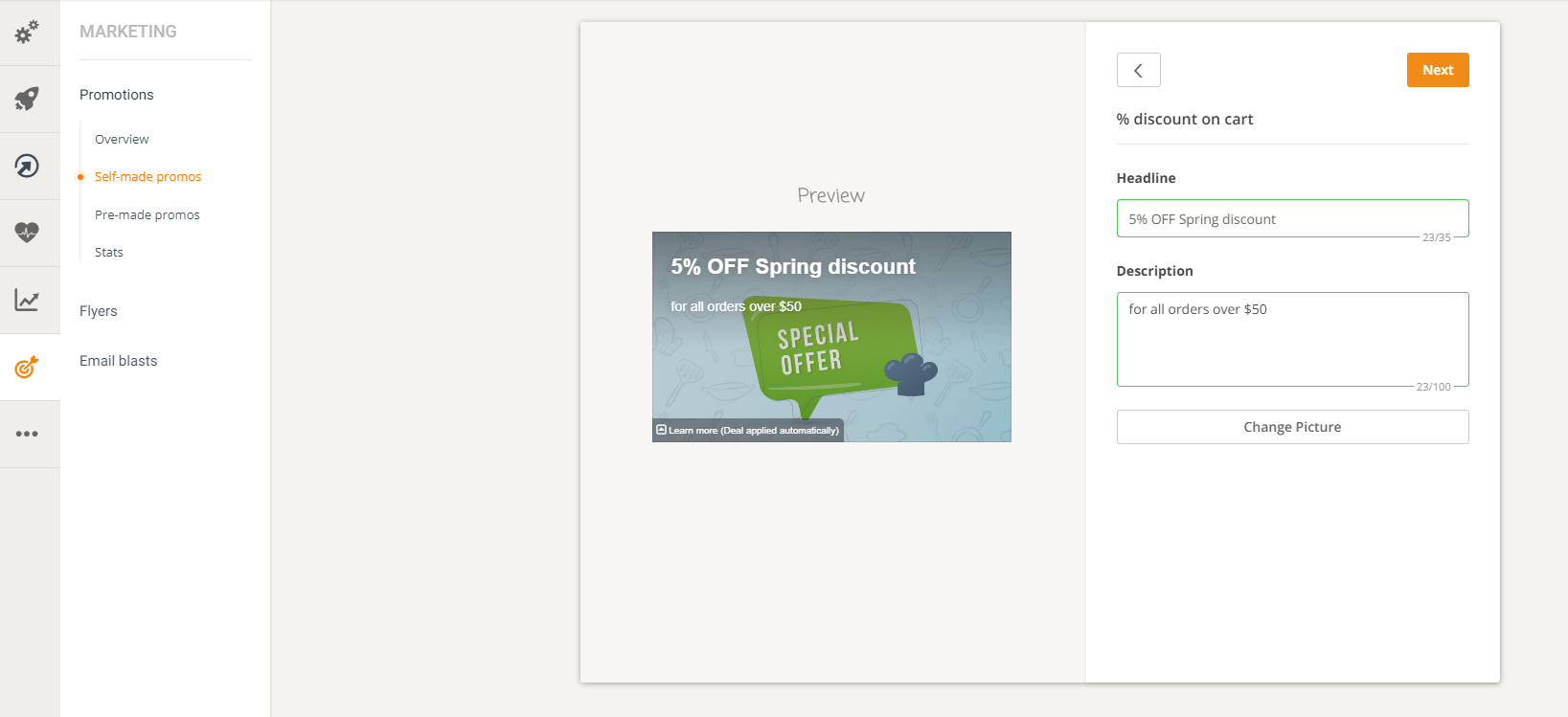 20% OFF for all green dishes
Choose one day of the week when you notice you don't receive many orders and implement big promotions to persuade people to order. A good example is offering a big discount, such as 20% off on spring-themed menu items such as salads, green curries, or even a pizza with green toppings.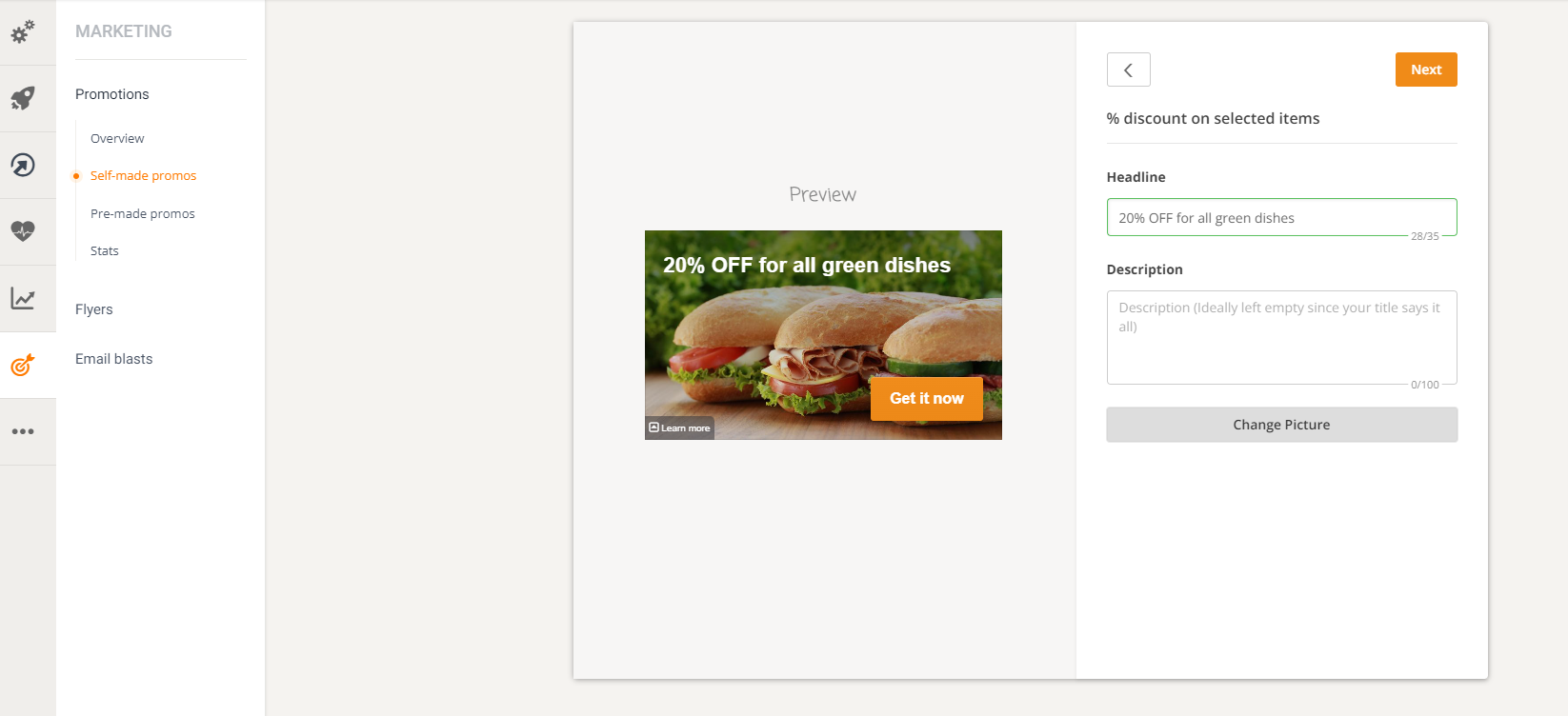 Free delivery all spring
Encourage more people to order by waiving their delivery fees. Keep in mind you should pair this offer with a sustainable minimum order amount, such as $40, so you don't end up losing money in the process of getting more customers.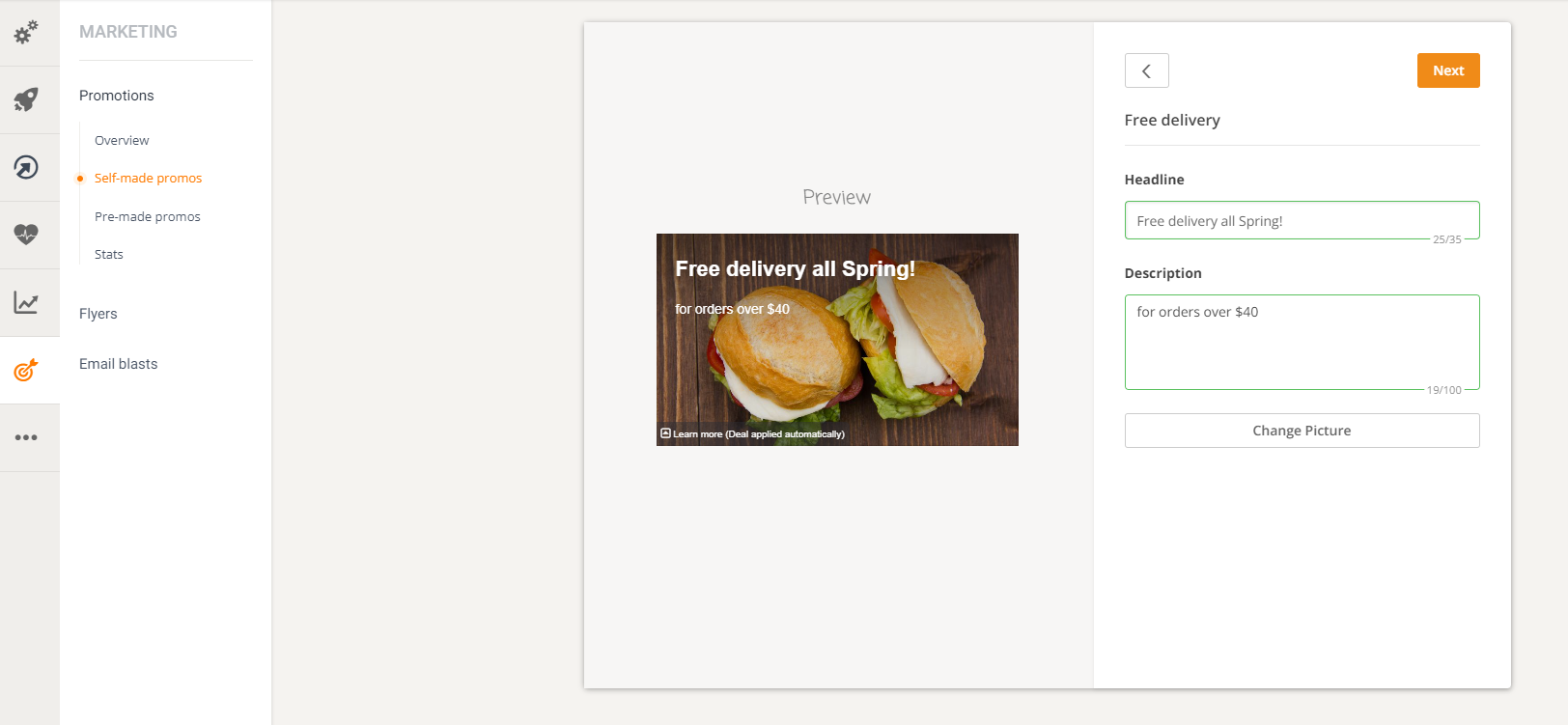 Buy a spring salad, get one for free
Adding new menu items according to season or to fit a holiday is a great trick to increase the number of orders. The novelty, paired with a 1+1 promotion will surely persuade a couple of people to click on "Add to cart."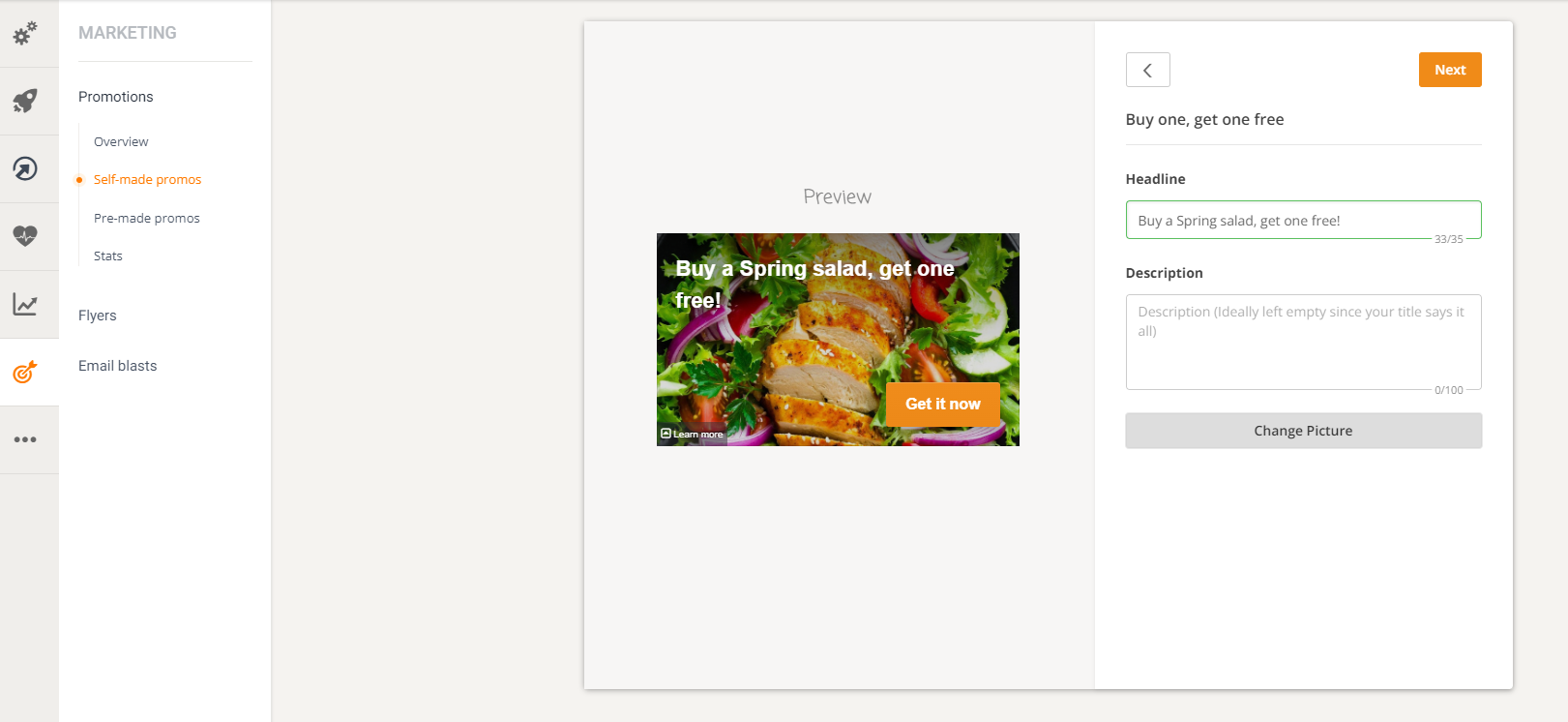 5% OFF for online payment
Online payment can make the delivery process faster, for both clients and delivery persons. No more wasted time scrambling for cash and waiting for the change. Entice clients to make new habits this spring by offering them a small discount if they pay online.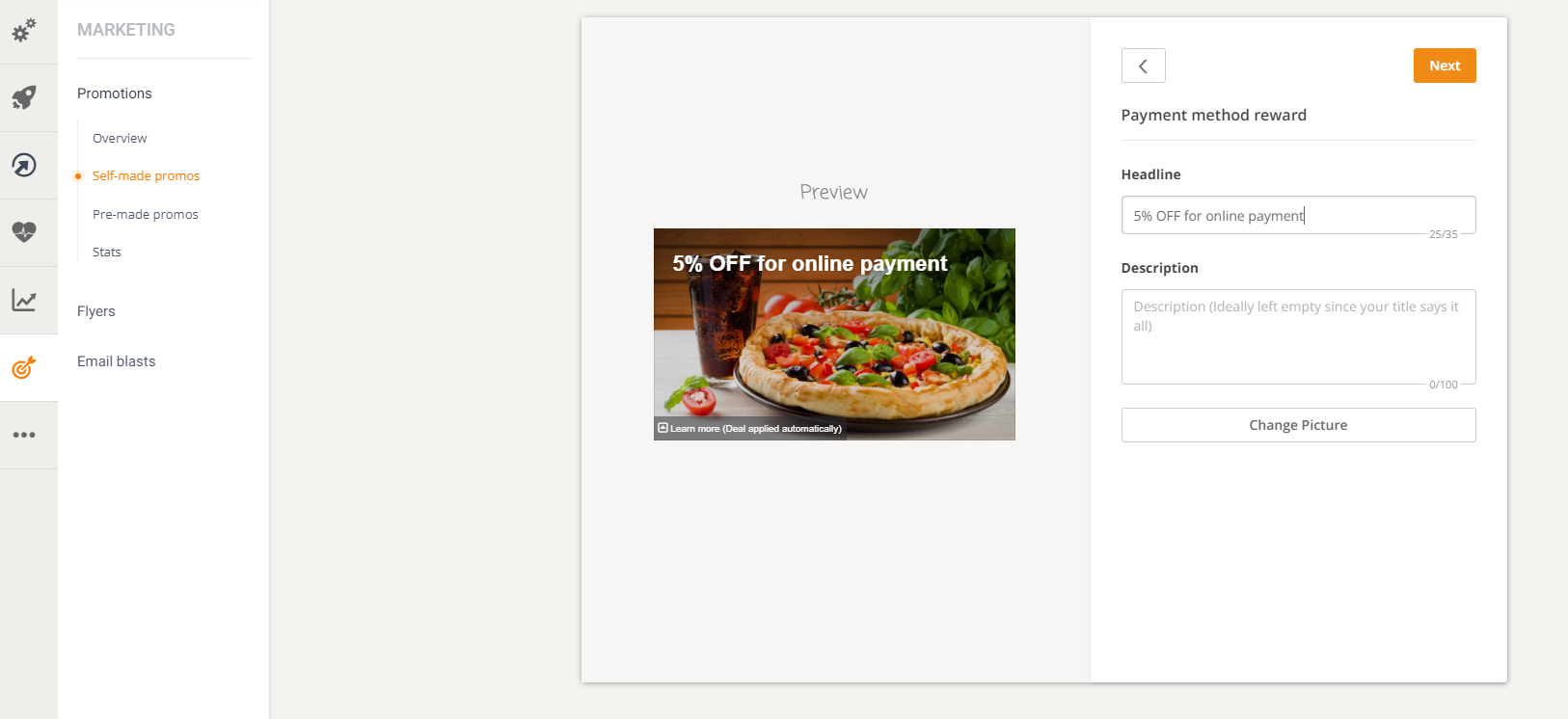 Get a free fresh spring dessert on all orders over $30
Who can say no to dessert, especially if it is a light one with seasonal spring ingredients like flower syrup panna cotta? Attract potential clients to order more until they reach the minimum $30 value, so they can enjoy a sweet treat.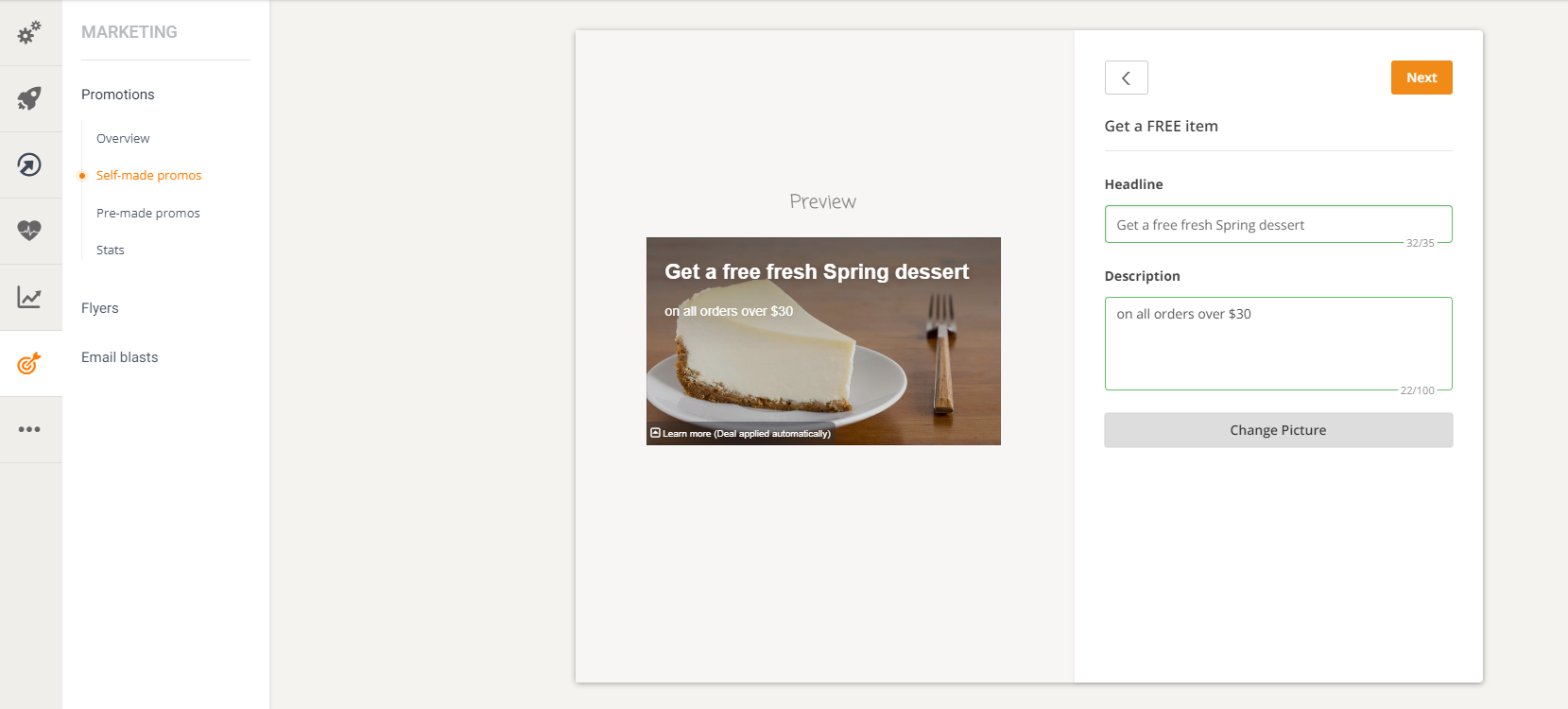 How to add spring restaurant promotions to your online menu
Now that you have some great ideas for restaurant deals in the spring, all you need is the knowledge of how to add them to your menu. That can be easily done with our online ordering system and a bit of time.
Increase your revenue with spring restaurant promotions
Install a free online ordering system and set up irresistible deals in seconds
Start Now
Start by signing up on GloriaFood and completing your restaurant profile with basic information, such as name, address, location, etc. Afterward, you need to create a compelling menu with all your delicious dishes to which you can add your promotions.
Check out this video that will walk you through all the easy-to-follow steps of making an online restaurant menu:
Continue by publishing the menu to your website (if you don't have one, you can generate a sales-optimized website within the system). You are now ready to start creating amazing spring restaurant promotions.
Go to admin -> Marketing -> Promotions -> Self-made promos. Here you will find a variety of promotion templates you can customize to your preference by changing the name, photo, and minimum order value for the offer to be valid.
Here is a video that will show you how to set up an irresistible restaurant promotion within seconds:
But that's not all, you also have access to advanced settings for restaurant deals. For example, you can choose to have an offer only for new or returning clients, you can have a promotion only available for some days of the week, and more.
Watch this video to learn about possible customization options and how to add them to your promotions:
Furthermore, the Promotions Module from GloriaFood also allows you to create restaurant coupon codes that can be used to attract more customers and entice loyalty.
After you create a discount code, you can either send it to customers through email campaigns or print them on flyers and distribute them in your area to spread the word about your restaurant offers.
Check out this video that shows you how to create discount coupon codes for restaurants in no time:
Spring marketing ideas for your restaurant
After you've successfully set up your spring restaurant promotions, you are ready to tackle new challenges with the goal of selling more at your restaurant. We've gathered up some more ideas you can use to increase your restaurant revenue in the spring.
Take advantage of all spring holidays
After a gloomy winter, people can't wait to take advantage of the great weather by celebrating all holidays that happen to take place during the spring. Everybody is looking for an occasion to get out of the house, so why don't you offer them one?
You can organize a couple of events celebrating each holiday to get more people into your restaurant. Don't forget to add some restaurant promotions catered to every holiday to encourage clients to order more.
Here are some holiday examples you should be celebrating at your restaurant:
Mother's Day: organize a brunch where families can celebrate their mothers with your delicious food;
St Patrick's Day: get the crowds lining at your door to try some Irish staples and great drinks;
Easter: bunny and easter egg-themed desserts will open your restaurant up to a new crowd, parents that want to give clients a great holiday experience.
Attract more customers with holiday restaurant promotions
Set up a deal in no time with our free online ordering system
Start Now
Open up the patio
We may not be enjoying summer temperatures yet, but the weather is still nice enough that some people may want to enjoy their food outside. Therefore, if you have a garden or patio, it is time to move some tables and chairs outside.
You can provide some blankets and heaters in the beginning to ease people into the change. You can even organize an event for your patio opening; people love a great excuse to go out and celebrate.
If you don't have a garden space, check your local regulations, because you may be able to pay the city to rent a small part of the sidewalk. With a few tables, you can create a French outdoor sitting area, perfect for people-watching while enjoying amazing food.
Spice up your menu with new spring dishes
People are used to changing their eating habits each season since the beginning of time. Depending on your type of establishment, you can create an entirely new seasonal menu or add some new dishes to make it perfect for spring.
Here are a few tips for creating a spring menu:
Go for lighter dishes: while in the winter, people look for hearty dishes that will warm them up such as stews and comfort food, in the spring, people start to crave lighter dishes. Therefore, give people what they want in the form of salads, fresh sandwiches, spinach quiches, pizzas with arugula, etc.;
Use seasonal ingredients: some ingredients can only be found at their best in the spring, such as radishes, new potatoes, wild garlic, and a variety of greens. Try creating new dishes that incorporate seasonal food or adapting an existing menu item. What's more, these ingredients will be cheaper, so you will notice an increase in your profit margin;
Try traditional food: each region around the globe has some traditional food that is usually associated with certain holidays, such as Easter. These types of food used to be cooked at home, but, with time, people didn't want to put in the effort of making them. However, they still want to enjoy them. Therefore, you can add some traditional food items to your menu around the spring holidays to increase your restaurant revenue.
Check out more spring menu ideas in our related guide.
Conclusion
Take advantage of seasonal marketing to up your restaurant's profit! Low-effort techniques, like adding spring restaurant promotions to your menu will help you attract new clients and increase your order value.
Use our free online ordering system to set up any restaurant promotion in no time and monitor your results.