How To Optimize Your Online Restaurant Menu And Get More Orders
An online restaurant menu is probably the first thing customers go to on your website and the driver of your online sales. This is why your client's experience while browsing the menu is a major focus for us. After seeing so many menus created in our system, we would like to give you some tips on how to optimize your online menu with our online ordering solution.
Tips for a better online restaurant menu
Make it easy for customers to find your menu
Keep the "See Menu & Order" button in clear sight, on the main page and preferably top navigation. Make it stand out, so that customers can easily see it and click it.
Create food categories
The online menu that you build with our ordering system is optimized to look good on any device. However, you can also give a hand at usability. Create categories to organize your food items. Not only that it's easier for your customers to find the desired dish, but it's also very helpful on smaller screens. Categories can fold and unfold as clients browse through the menu, which makes it easier to handle and read.
Use pictures!!!
We cannot say this enough times: use pictures in your menu! Good quality pictures can increase your sales with 50% or more! They create appetite and make people extra engaged. But keep in mind, quality is very important. A bad photo can make your dish and entire work look bad. If you don't have your own food images, at least use our categories photo stock for free.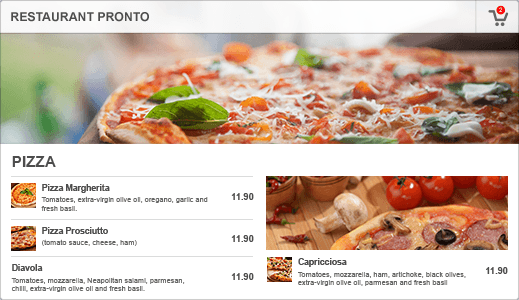 Our online menu editor support 3 types of pictures. This is how we recommend you use them:
Theme picture - this should be the image that best describes your business. When you'll browse through our stock for a theme picture, you will see that we recommend only images that match your cuisine.
The theme picture is the first thing that your online clients will notice when opening the menu, so make an impact! In the same time, remember that the theme picture is also used on the order confirmation page, as we encourage your clients to post on Facebook about having ordered from you. This is another argument for using a mouth-drooling food image rather that a photo of your restaurant or staff.
Category picture - these are the images for each of your food category. Here, as well, we make intelligent suggestions based on your category name, thus saving you the time of going through hundreds of pictures for each category.
We suggest that you choose beautiful and representative pictures for each and every food category. Your customers will thus be tempted to extend their orders, which will increase your average order value!
Item picture - this is what the customer actually gets, so feel free to use your own images here to best represent what you'll put in his/her plate.
Write beautiful, clear descriptions
A nice description is always better than a simple list of ingredients. This way you can personalize your dishes and give customers something special they can look forward to. At the same time, keep it clear as your customers need to know what to expect. For example, what would you be more inclined to order between: "blueberry pancakes with maple syrup" or "fresh pancakes blueberry flavor, bathed in real maple syrup"?
Read more about 3 secret menu writing tips that will help you create the best food descriptions to make customers hungry.
Highlight special dishes
If you have special dishes like vegan and vegetarian, you can either place them in separate menu categories, or add the 'V' or 'Veg' symbol. You should also point out when a particular dish has a very strong taste, e.g. in Indian cuisine certain dishes are sorted based on their level of spiciness.
Make it easy to customize a dish
We believe we have created a very flexible online menu builder, which allows you to easily create even the most complex menus. For more guidance on how to best use the choices and add-ons, check out these one minutes videos:
Don't exaggerate with your menu length
When you're done creating your menu, try it yourself on a desktop and also on a mobile device. Browse it from the customer's perspective and judge if the length of your menu is still manageable or if it got too big to be easily usable. In case it's too big, make sure you are avoiding any duplicates by using the choices & addons. If there is nothing to optimize here, check the categories. Ar there too few and thus making each category too long? If that's not the issue either, you probably just have a huge menu. Consider making it smaller. It might be worth giving up some dishes that are rarely ordered for a better readability in return.
Keep your menu up to date
It's very frustrating for a customer to order something and then realize that the price has changed or that you don't have that item on the menu anymore. Keep the menu updated at all times with the latest list of prices and items.
Get to the next level with Family Deals and Value Meals
Read all about how to create promotions, coupons, happy hour deals and combos in our next article.