The Complete Guide To Facebook Ads For Restaurants (Part 2)
How to target Facebook ads
Once you've decided on an objective for your campaign, the next step is to create the audience. Here Facebook is very powerful, allowing you to tailor your audience according to your needs, from the entire Facebook population to reaching only your neighbour.
You can create an audience part of the campaign setup, or you can just go to Audiences (under Tools, in the Ads Manager). Either way, this is how the interface looks like: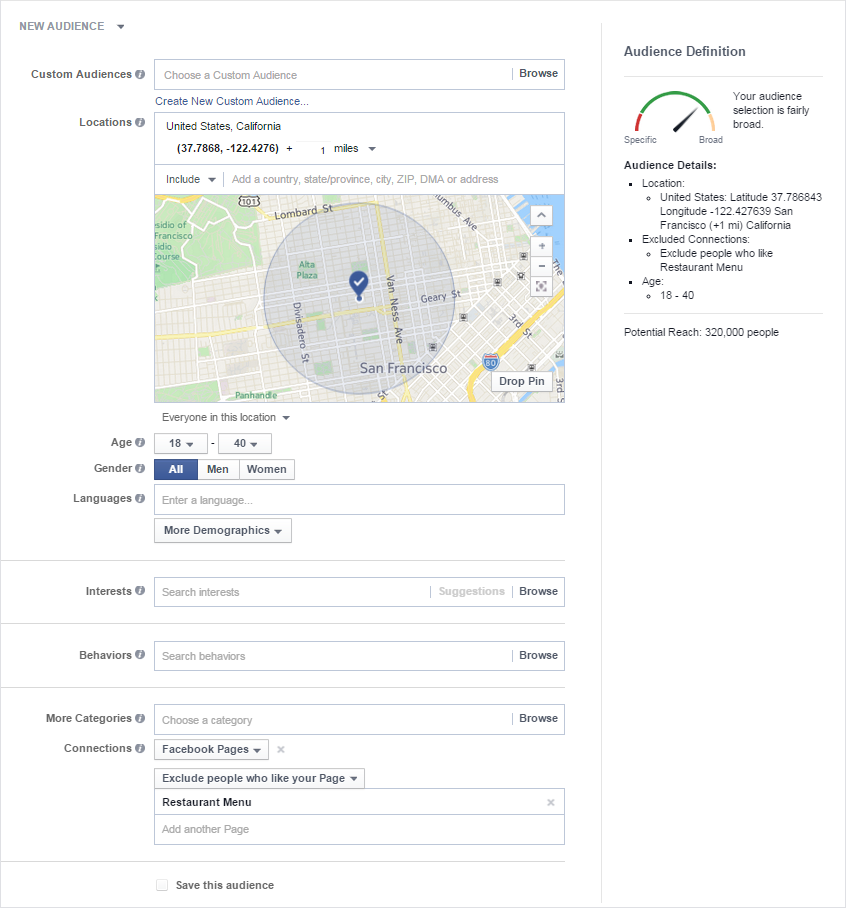 One very important targeting criteria for you, as a restaurant, is the location. You can target an entire city or simply drop a pin on the map and choose an area of certain miles around that pin. Think about the scenario when you want to promote delivery. There's no point wasting your money on people outside your delivery area. Another case might be that you want to focus the ad to increase your brand awareness and restaurant offering in an area with many business buildings. Or you might just want to target people who visit your competitors.
What if you have a larger area you are interested in, but you still want to be cost effective? Spend some time to figure out who your customers are and use the other targeting criteria. From education and work to relationship status, interests and life events, you have plenty of options to choose from. You can target newly engaged people if you rent your space for weddings, upcoming anniversaries or birthdays if you're doing catering or cakes, soccer lovers for a sports evening you're organizing or young people if you're doing fast food. The sky's the limit. Get creative, try different campaigns and see what works for you.
As you go on and create your audience, keep an eye on the meter you have on the right hand side. Facebook automatically estimates the number of people in your targeted population. If you are too specific, you might not be able to reach people. Keep in mind that not all of them will be online to see your ad. In addition, your daily budget will also play a role, as you will be competing with other bids. On the other hand, if you are too broad, you might be wasting money on people who would never come to or order from your restaurant.
These targeting filters are applied either on the Facebook population, or on a Custom audience of yours.
What is a custom audience?
A custom audience is the way to tell Facebook who are the ones who are already interacting with you on other channels. You can build a custom audience from:
Customer list - This is the one that would probably be most interesting for you, as a restaurant. You might have a list of phone numbers or email addresses of people who have previously ordered from you. Having them on Facebook as your page fans would allow you to communicate and engage your clients in a very non-intrusive way. A daily email of your lunch special would be terribly annoying, not comparable with an innocent post that would appear in the news feed. On the other side, if you want to acquire new users with Facebook ads, it would be a good idea to exclude from advertising those who are already your customers.
Uploading your customers is quite intuitive, but do pay attention to the phone numbers format. You should have them as: country code + number (ex: 44-207-900-3000). Otherwise you will notice a low match rate.
Website traffic - You need to implement the Facebook tracking pixel on your website and thus allow Facebook to identify the Facebook users that have visited your website. You can then target them in your campaigns.
App Activity - In case you have a mobile or Facebook app, you can create an audience with those customers. It is probably not the case for most of you.
Lookalike audience
There is one more type of audience you can create, but only from the Audiences section (in Ads Manager, under Tools), called Lookalike Audience. The idea is that you start from an existing audience or Facebook page that you own and ask Facebook to create a similar audience, focusing in a particular country.
This means that you can give Facebook your clients list or restaurant page fans and rely on its algorithms to give you people that look like your customers (similar demographics, interests or behaviors). This is a good starting point if you want to reach new potential customers but do not have ideas on how to target your campaigns.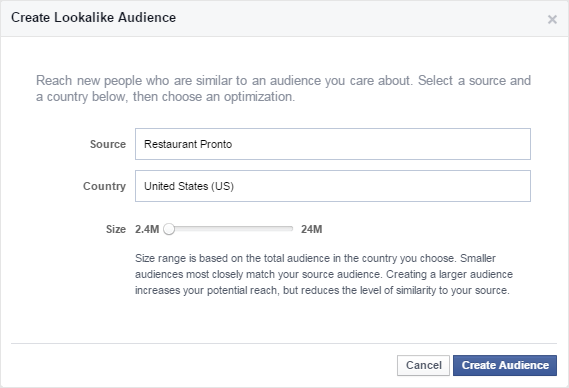 You might wonder what the size slider represents. Facebook looks at the total audience in the specified country and asks you how thorough to be in the lookalike matching. They can create a shorter list of 1% of the total audience in the respective country, the most relevant 1%, or they can return up to 10% of the total audience in the country. The bigger list will be less relevant, less similarities with your customers.
Our advice: the more relevant, the better. However, if on top of this audience you apply additional targeting from the standard list (like city), make sure you don't shrink the list too much. It's up to you here to try different combinations depending on your actual case.