All You Need to Know About Using an Online Food Ordering System
Would you like to ensure that your online orders are 100% accurate, confirmed, and verified so that your customers are satisfied 100% of the time? Then you need a state-of-the-art online food ordering system.
Below, we will take a deep dive into the purpose and benefits of an online ordering system for restaurants, as well as the main features you need for a 360-degree experience. Plus, follow the steps we provide to get access to the best online ordering system for restaurants on the market.
What is an Online Food Ordering System?
First things first, you should know an online food ordering system is software designed to enable restaurants and other food businesses to accept and manage orders online for takeout or delivery.
What is the Purpose of an Online Food Ordering System?
The main purpose of a good restaurant ordering system is to make restaurants' lives easier by helping them automate their order-taking process without spending a fortune or learning to use complicated technology.
An in-house online ordering system works to counteract greedy third-party delivery apps by putting the power back in the hands of restaurant owners. You keep all the profits, you provide customers with a personalized experience, and you are in full control of your brand image.
How Does an Online Food Ordering System Work?
The process is pretty simple. Every time someone visits your website (or Facebook page if you have Facebook ordering enabled), they will see the "See MENU & Order" button at the top of the homepage.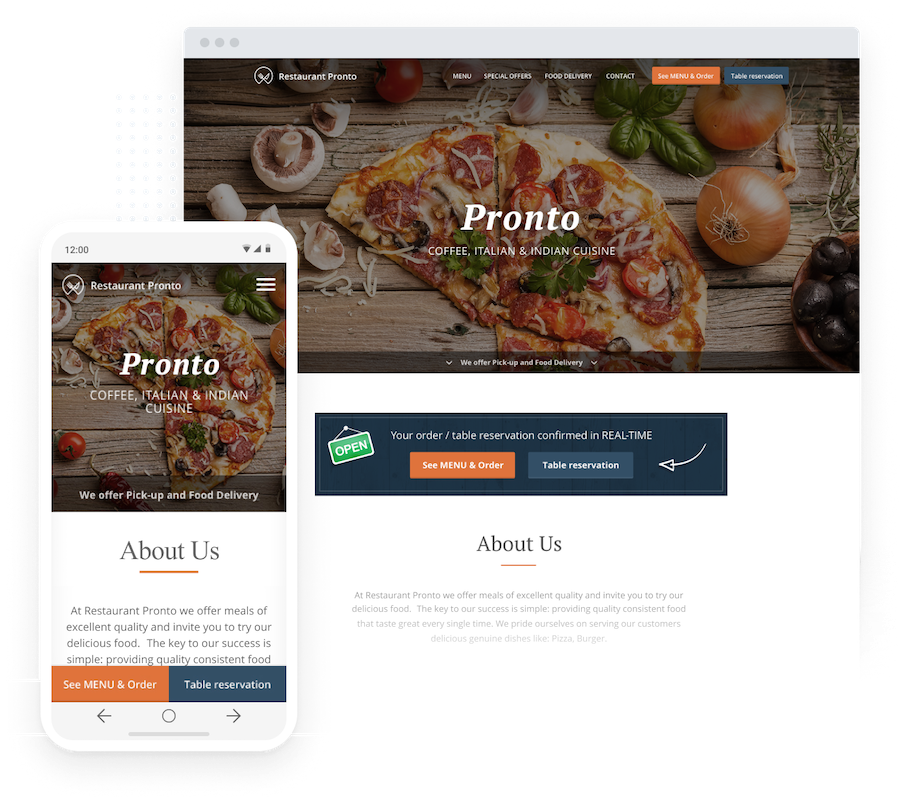 Upon clicking it, they can browse the menu, add items to the cart, select the preferred fulfillment options, and even pay for their order online.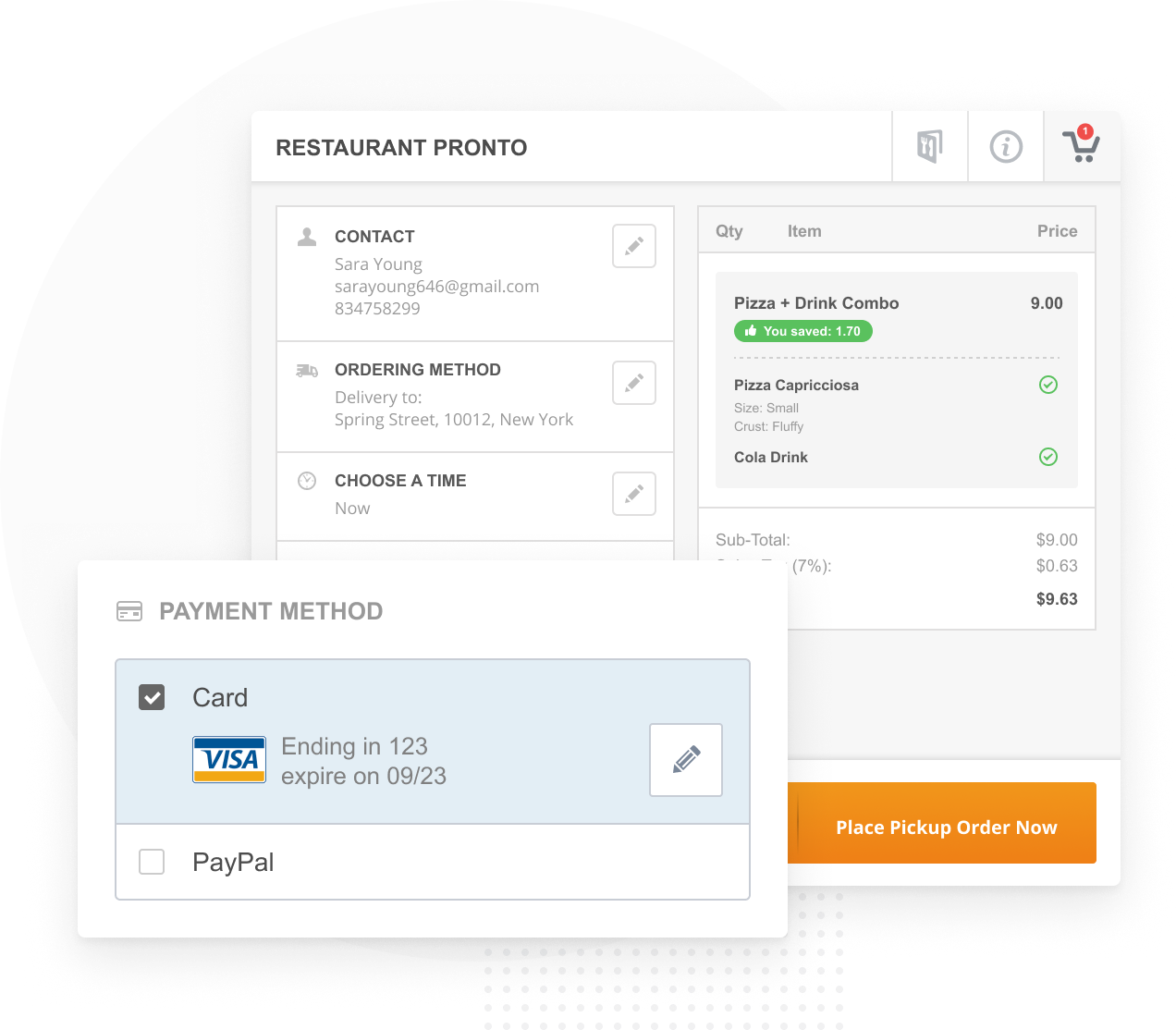 The moment a customer places an order, you are instantly notified by the order-taking app on your smartphone or tablet. Yes, you got it right, your mobile device becomes your order receiver.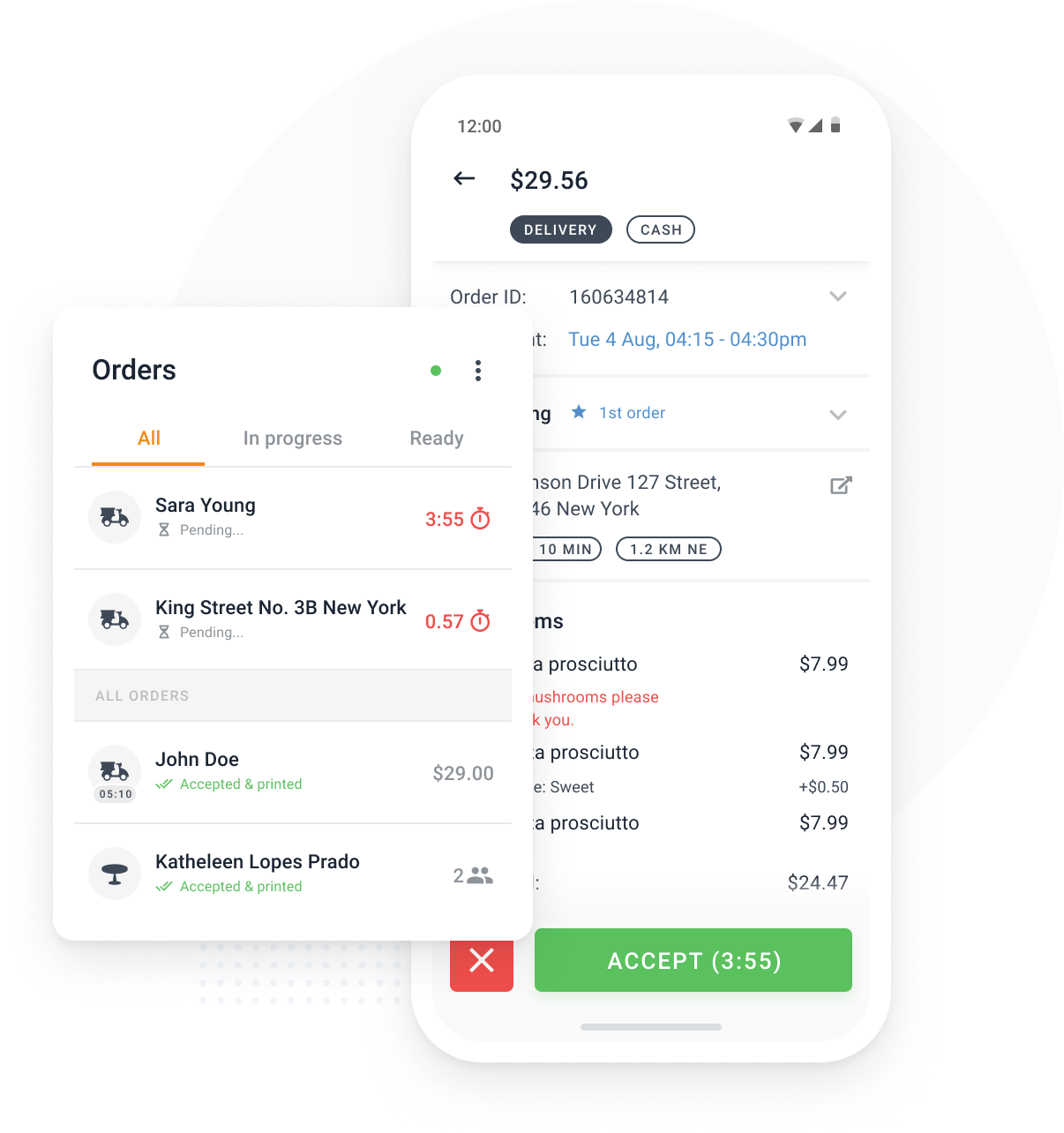 Once you hear the notification, you can view and accept the order, while providing an estimated delivery time. It's as simple as that. Now, you can just start cooking.
The moment you accept an order, customers also receive the confirmation together with all the order details via email, so the interaction between restaurants and their online customers is transparent from start to finish.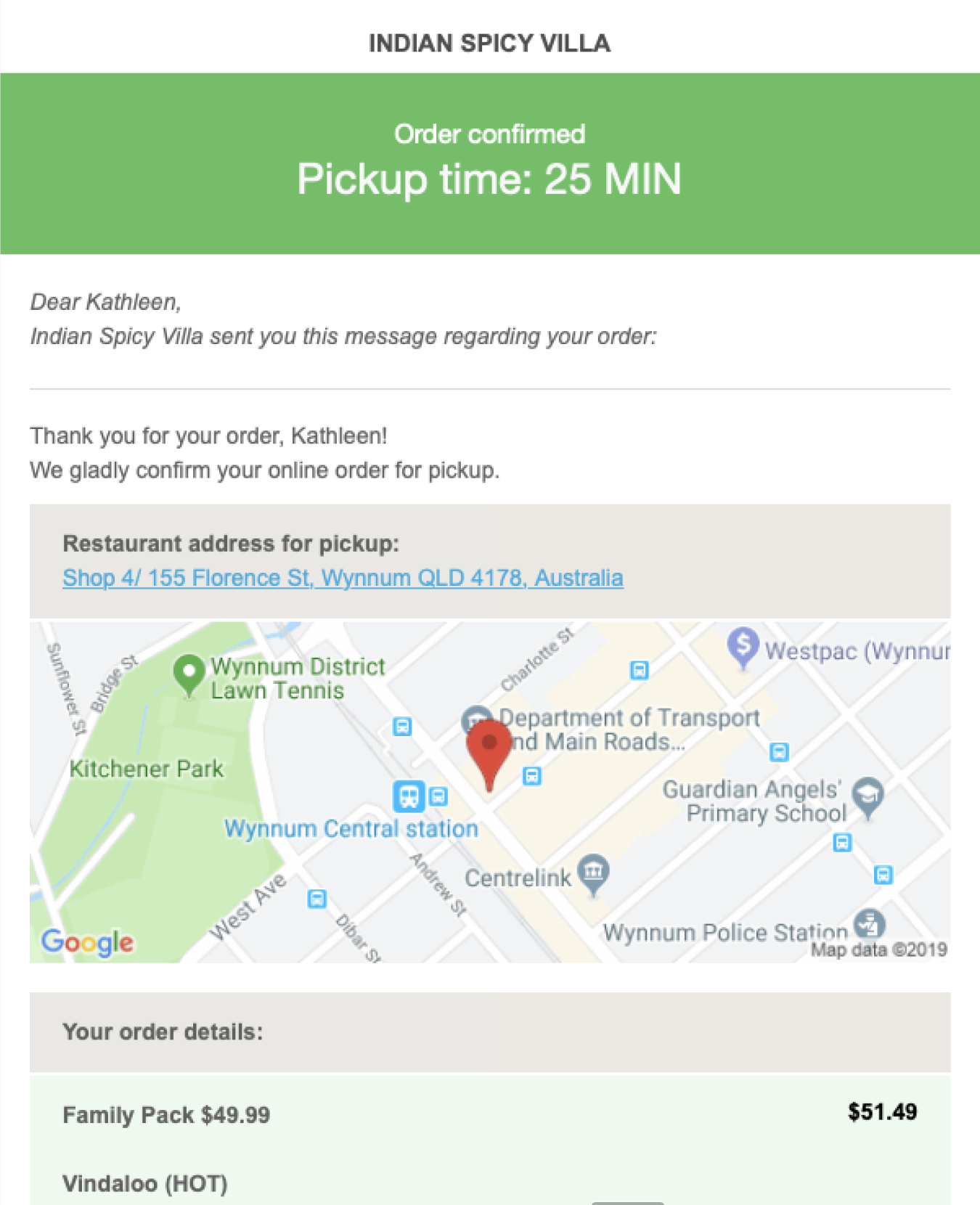 Main Advantages of an Online Food Ordering System
Advantages of online food ordering system for restaurants
1. Implementation is easy as 1-2-3
Not all online ordering systems are a breeze to use. Sometimes, you have to hire a programmer, redesign your entire website, and pay thousands of dollars just to accept orders online.
No more.
Our automated restaurant ordering system is easy to implement and will seamlessly integrate any restaurant website without fancy coding. Simply copy and paste the custom "See MENU & Order" snippet of code we provide in the restaurant dashboard to your website homepage for a simple, attractive, and fast integration!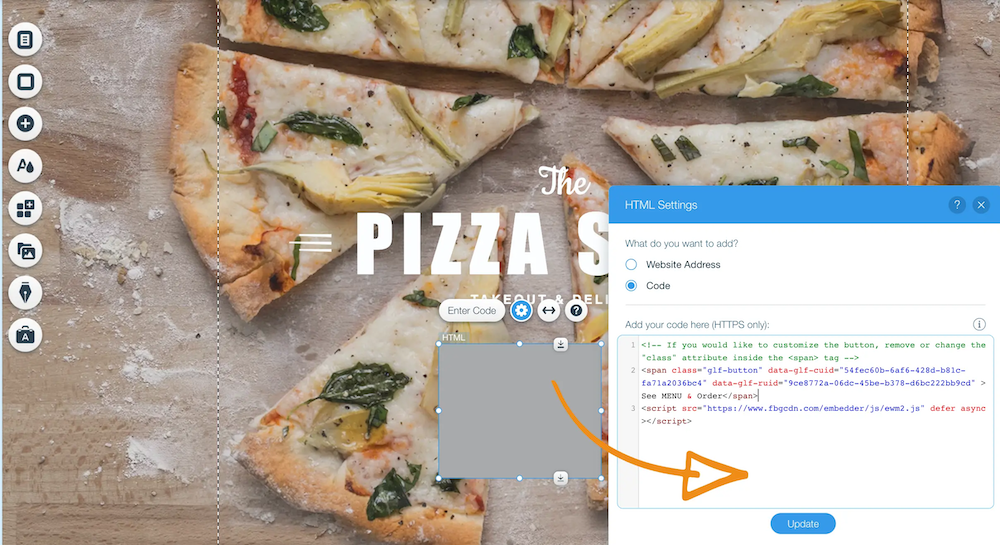 Enable online ordering for your restaurant in minutes
Implement the revolutionary online ordering system from GloriaFood
Get Started
2. Keep 100% of the profits you make
Forget about paying hefty fees and commissions to third-party delivery portals. Cut out the middleman and start taking orders on your restaurant website with an online food ordering system.
And if you use a free online food ordering system like the one provided by GloriaFood, you can start accepting without paying a dime.
3. Collect & use precious customer data
Using a food ordering management system, you unlock access to a great deal of information about who your customers are and their preferences when ordering food online.
This information is kept from you on food delivery portals, but now, you can use it to improve your food and services and to further market your dishes to the right customers.
4. Be in charge of your brand image
Online restaurant reviews can make or break your business. But if you get bad reviews because of something that's out of your control, such as a third-party courier being late, it can get pretty frustrating.
Sometimes, customers might not even leave a public review but just rate your restaurant badly on the delivery app. Those are problems you can't solve and that will taint your brand image.
Having an open line of communication with your customers means you can respond to their concerns, do your best to solve the issue, and show other potential customers how much you care.
5. Build customer loyalty
On delivery apps, you are just another face in the crowd, easy to skip over. But with your own online food ordering system, you eliminate the competition and ensure customers focus on you.
This will also build loyalty over time, the more a customer orders from you. Not to mention you can implement a ton of marketing tricks to get them to keep coming back. More on that later!
Advantages of online food ordering system for customers
1. Great usability
What good is a digital ordering system if your customers have a hard time understanding it? Let's face it, foodies don't want to struggle when they place an online order. They would rather just take their business elsewhere.
That's why our main purpose has always been to create an easy-to-use ordering system that ALL of your customers can breeze through and order exactly what they want.
Exceed your customers' online ordering expectations
Install an online ordering system that everyone can use
Start Now
2. Access to a detailed, enticing menu
Browsing an online menu allows customers to take their time examining each dish, their ingredients, and photos, to decide what they're in the mood for that day.
As opposed to physical menus, online menus should contain appealing photos of every single dish, so customers know what to expect, as well as detailed descriptions.
3. Error-free order confirmation
The problem with taking phone orders is that they can be unreliable and prone to human error. But our online food ordering system guarantees the customer's accurate order will be transmitted to the restaurant.
The order is also confirmed instantly, and the customers receive an email confirmation containing order information, fulfillment details, and your restaurant's contact information.
4. Minimal contact
Minimizing human contact became a necessity during the pandemic, and it has now trickled down to a preference that a lot of customers have. Enjoying a restaurant-quality meal in the comfort of their own home is one of the main benefits of online ordering for customers.
Restaurants can also implement order fulfillment options such as no-contact delivery or curbside pickup to provide customers with even more options to order food without interacting with other people.
5. Exclusive online promotions
If you're not providing customers with online promos and special offers, you're missing out. People LOVE a bargain, discount, or promotion that will get them more bang for their buck.
Promos like free delivery on orders over a certain amount or buy one, get one free offers will delight customers and motivate them to order more, increasing the average order value.
12 Must-Have Functions of an Online Food Ordering System
Website ordering
The main function of an online food ordering system is to provide restaurant owners with an ordering widget that they can add to their existing website.
That widget will add an order button that customers can click to browse the menu and place orders.
We have good news for you – we have prepared a handy tutorial that shows you how to add the GloriaFood order button to your restaurant website in Wix, Joomla, WordPress, Drupal, Squarespace, Weebly, and Duda:
Facebook ordering
Imagine if you could make ordering from your restaurant accessible from anywhere. That's exactly what our online ordering system does, as it can allow your customers to place an order via Facebook!
All you have to do is copy and paste the smart link provided in our admin area onto Facebook's 'Start Order' call-to-action button. When clicked, this will open your online ordering menu.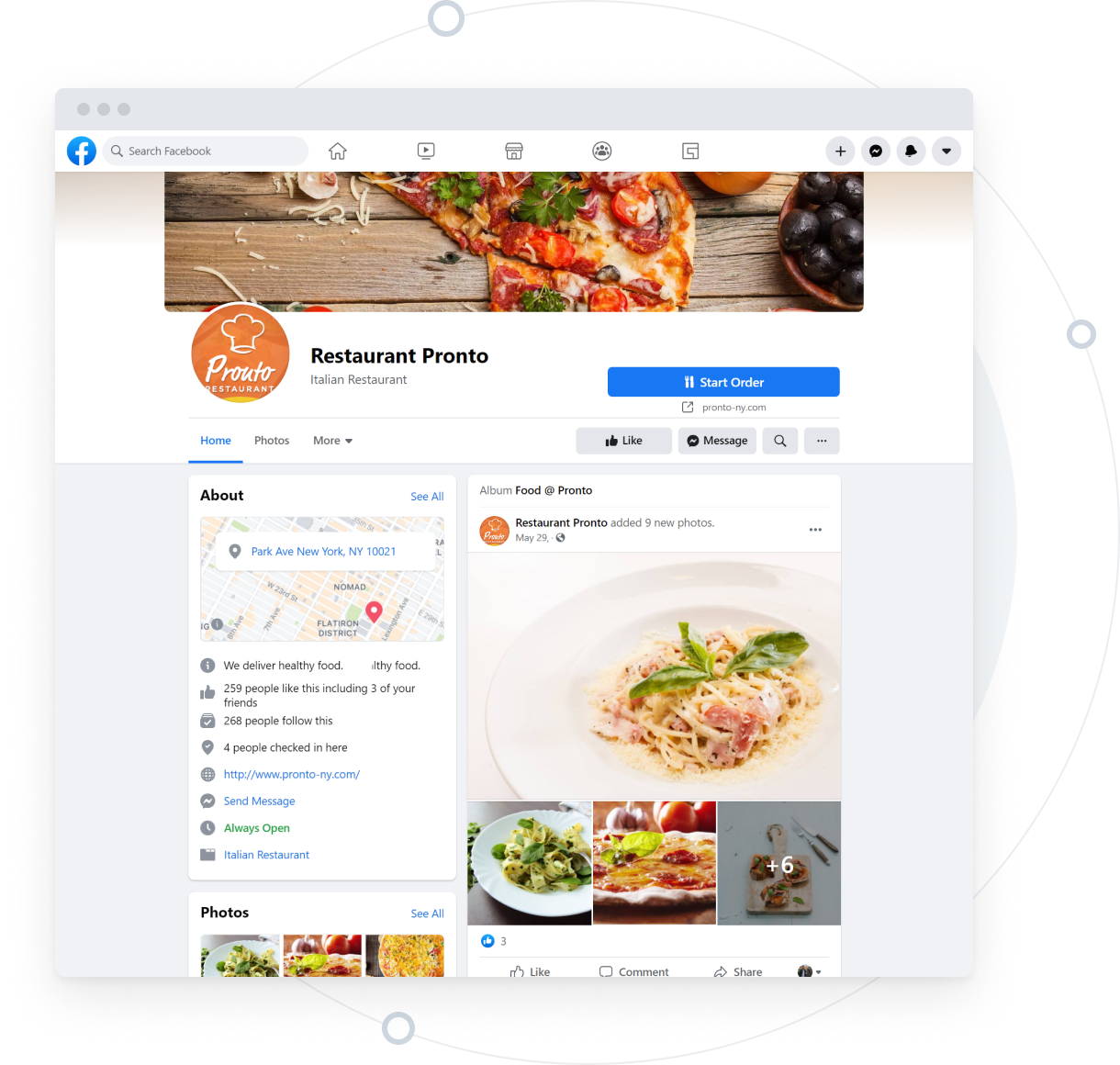 Easy-to-use online menu builder
Our online restaurant menu maker uses drag-and-drop to enable restaurateurs to build the menu of their dreams without being technology-savvy.
The visual menu builder allows you to create categories, and add menu items, pictures, and descriptions to every dish. Here's a step-by-step tutorial on making your online menu from scratch:
Then, you can customize your menu even further with toppings, choices, and add-ons, to enable customers to personalize their meals.
If you'd like to delve even deeper into menu creation, check out this advanced settings video covering features like "out of stock," "hide from menu," and tax rates, special instructions, and dietary restrictions.
Free order-taking app
So, now you've created your menu and added it to your website. But how can you start accepting orders? By downloading our free order-taking app on your iOS or Android device, of course.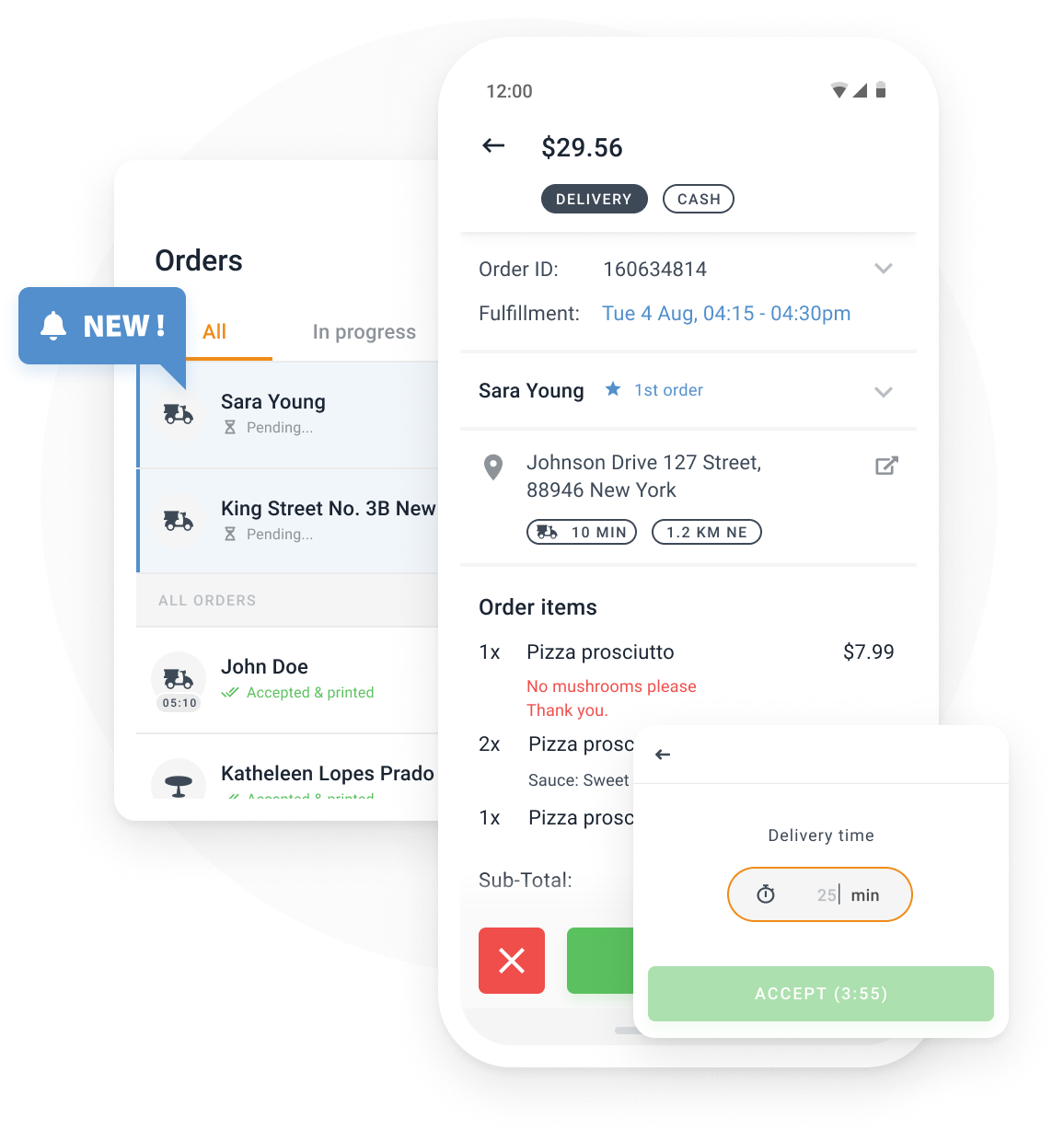 Watch the video below to learn how to turn your smartphone or tablet into an order-taking machine.
Third-party integrations
In order to deliver a complete service to your hungry customers, you need to integrate third-party tools such as delivery software, a POS system, a loyalty platform, and so on.
You can easily do that in your GloriaFood admin dashboard by going to Other -> 3rd party integrations and selecting the type of service you need. For a full list of integrators, check here.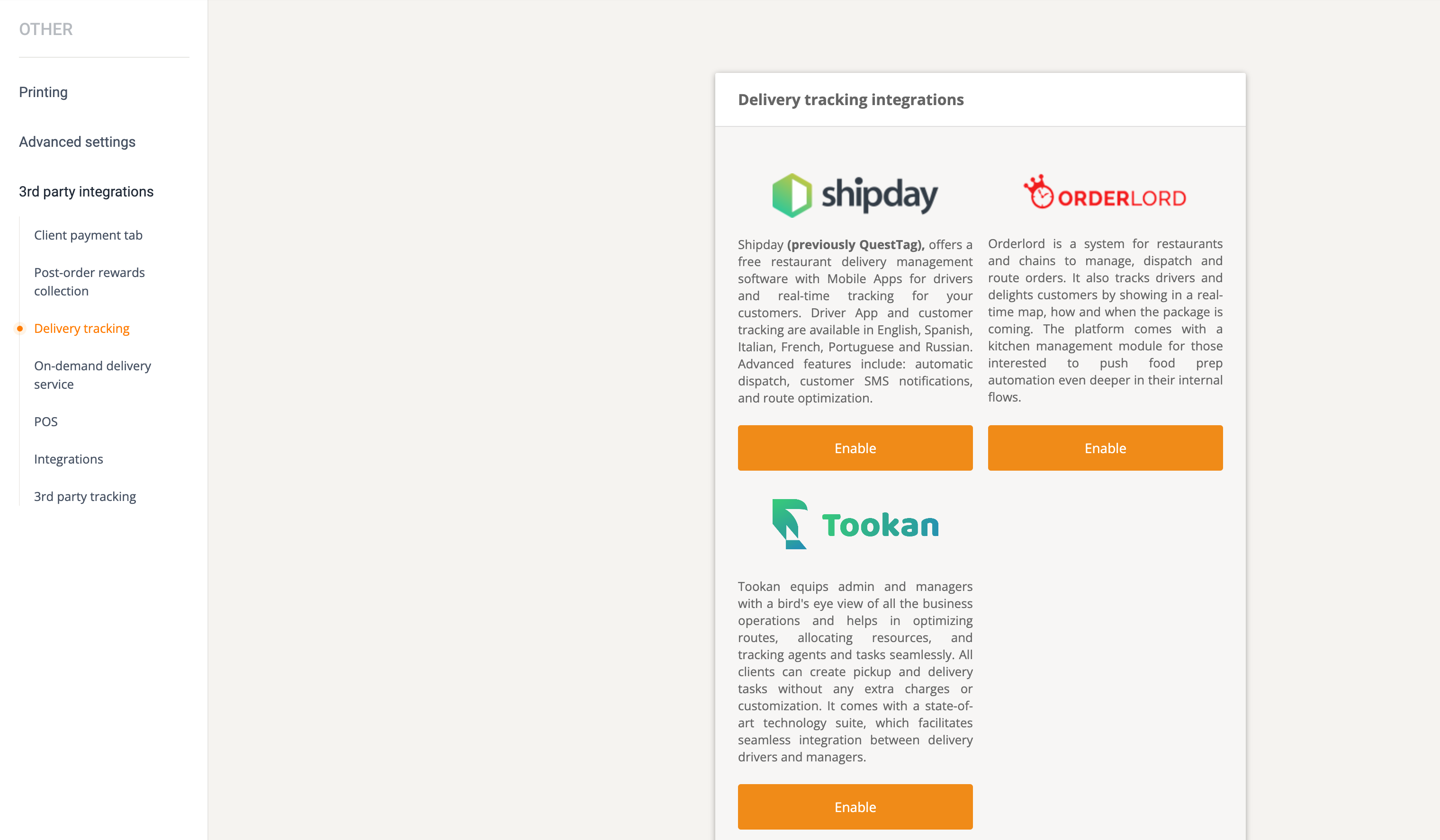 Online payment
Nowadays, customers expect the option to pay for their order in any way they like, including via credit card online, or services like Apple Pay and PayPal.
Enable online payments by going to Setup -> Payments -> Online Payment.

Learn more about enabling online payment at your restaurant by watching the video below:
Kick-starter module for new users
If you're just getting started with an online food ordering system, you are going to need a bit of help jumpstarting your business and getting those first orders to come in.
That's why we've created the Kick-starter module which helps you encourage first orders with targeted promotions. You can advertise that promotion on flyers using our restaurant flyer maker and invite dine-in clients to order online by sending them emails or texts.
Here is a 3-step restaurant strategy to attract customers using our Kick-starter module:
Promotions and marketing module
In order to grow your takeaway business, it's not enough to just offer a first-time promo. You need to offer consistent promotions and special offers that will make it impossible for customers to pass up.
We have great news for you. The GloriaFood online ordering system comes with a built-in promotions module. This allows you to create a large variety of food offers and publish them to your online menu in minutes.
All you need to do is choose from our promotion templates and customize them to your liking.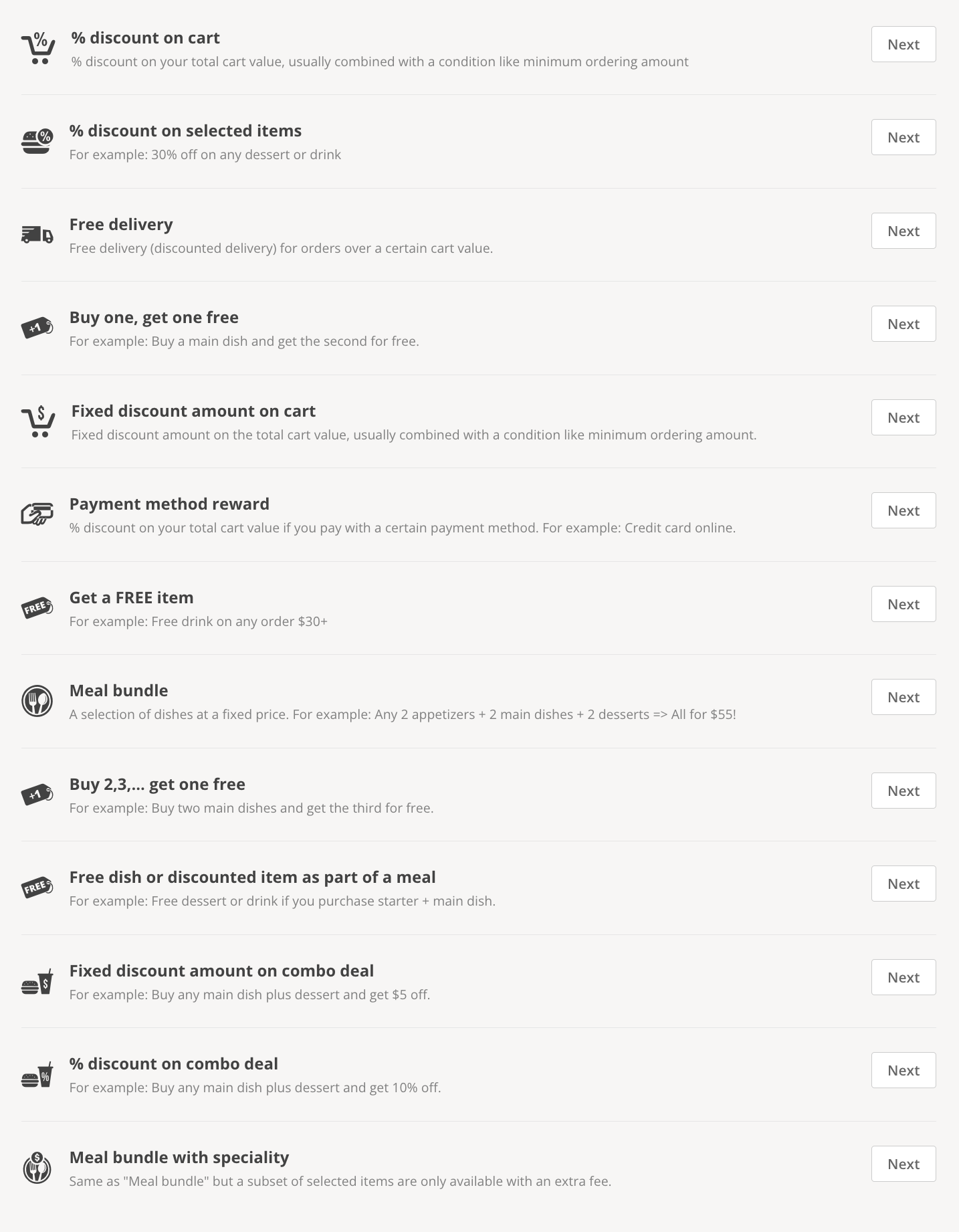 If you don't know where to start, watch this video for detailed steps on creating a promotion using our module:
One of the main goals of offering restaurant promotions is to ensure customers return to your restaurant. Enable our Autopilot module to create SMS and email campaigns that will run in the background to help you:
Encourage second orders
Re-engage clients
Prevent cart abandonment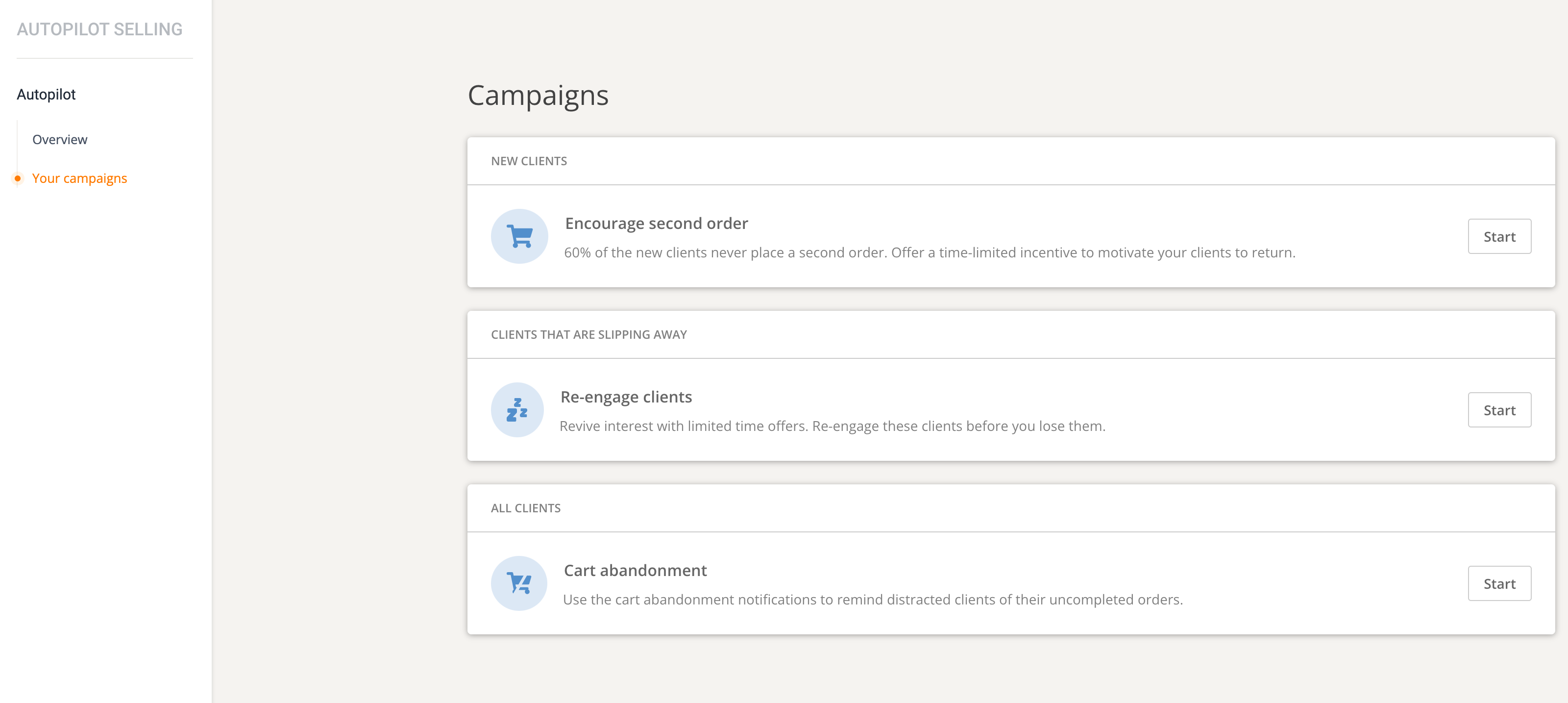 Learn more about the Autopilot module by watching this video:
Restaurant website generator
That's all well and good, but what if you don't have a restaurant website where you can add the simple restaurant menu HTML code we provide? We can help you generate one as quickly as it would take you to order a pizza.
Go to Setup -> Publishing -> Sales optimized website and you can start the process of generating your very own responsive restaurant website optimized for both sales and SEO. The website comes with our online ordering and table reservation systems pre-installed.
Here's how to make a food ordering website that will look good on every screen in under 10 minutes:
If you'd like to get a feel of how your potential website could look like if you use our generator, check out our demo website, pronto-ny.com.
Branded restaurant app
Help your restaurant stand out online by offering customers a native app that they can use to order food, instead of going to your website. Having an app branded with your logo on their phone will tempt them to order from you much more often because you'll always be top of mind.
To get your very own mobile app for restaurant ordering, go to Setup -> Publishing -> Branded mobile app.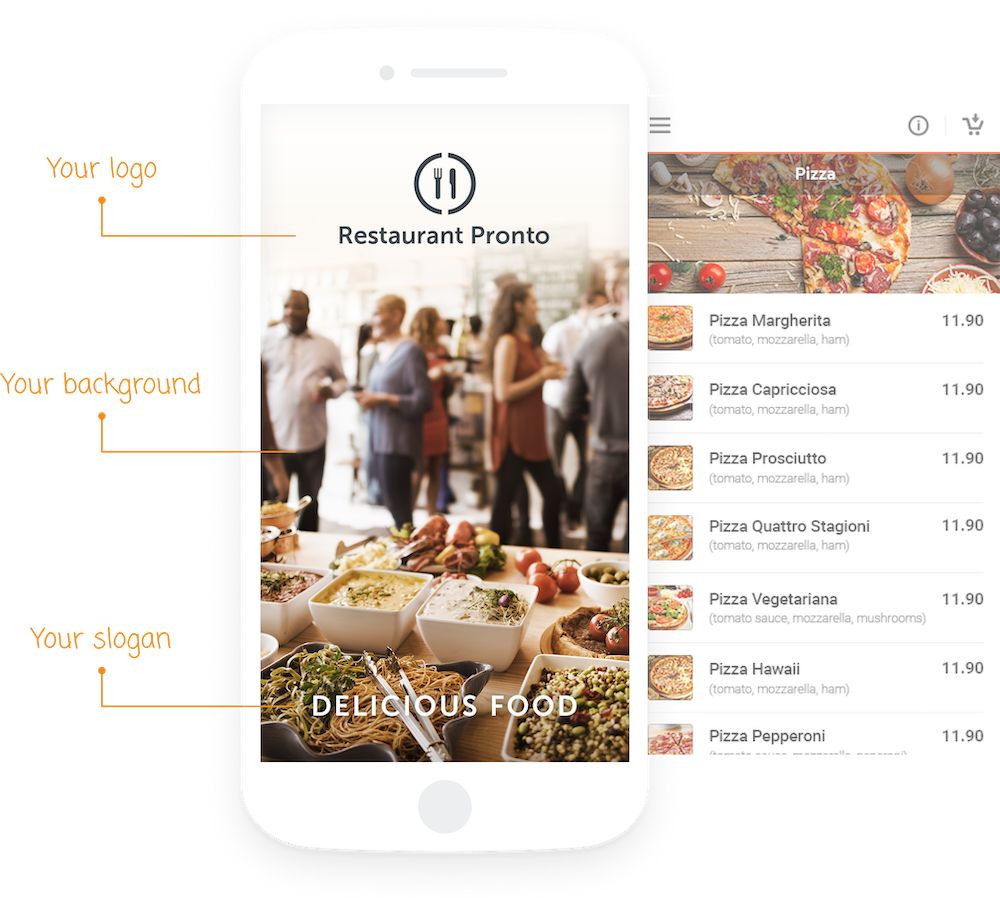 QR code menu generator for dine-in ordering
Thinking of enabling table ordering too? It couldn't be easier! All you need to do is transform your online menu into a QR code and display it on every table.
We can help you do that for free by going to Setup -> Publishing -> Dine-in QR Code.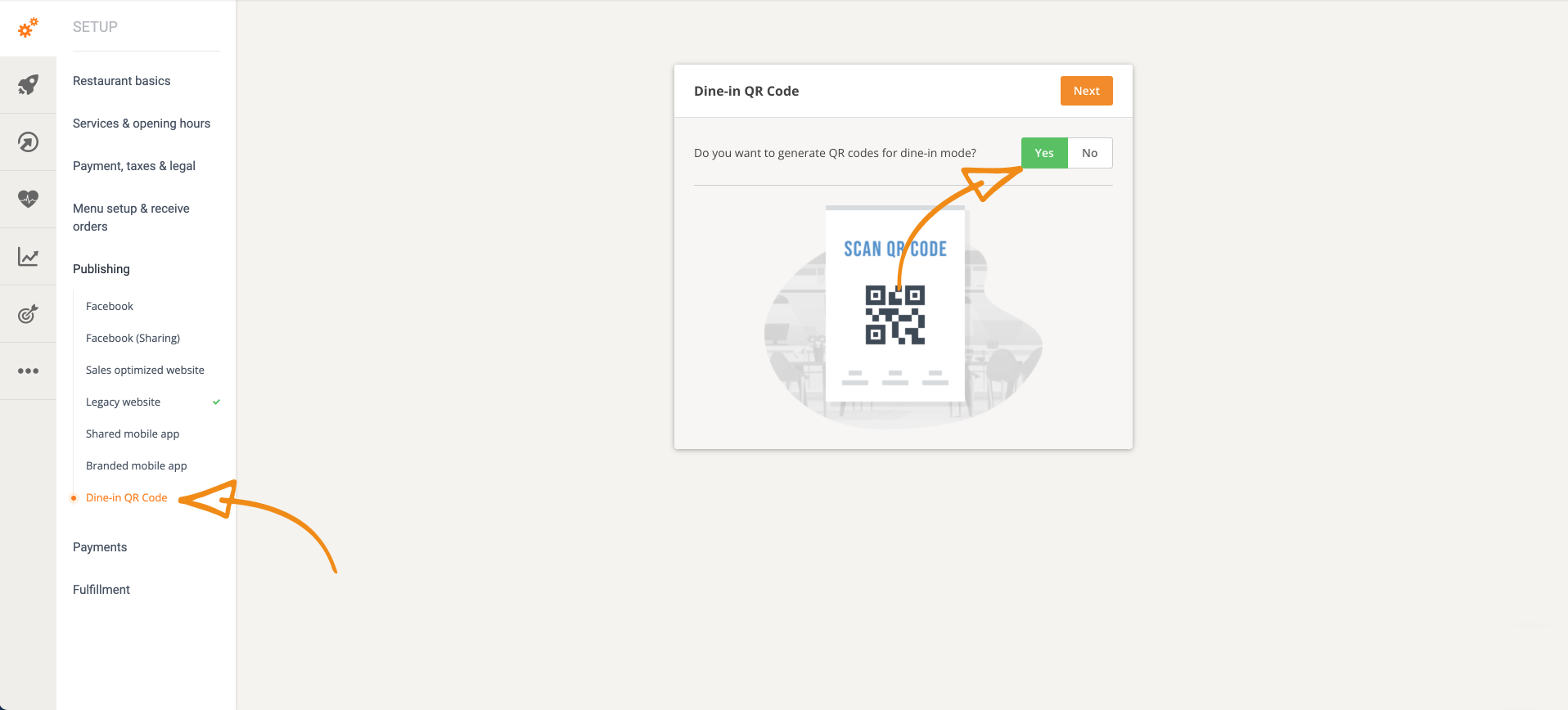 Follow this step-by-step tutorial to create your very own QR code menu:
Reports module
Finally, having an online food ordering system without a reporting module is like cooking without salt. To constantly improve your menu, offers, and service, you need to keep track of the sales you make.
In the Reports module, you will find detailed restaurant analytics about your website visits, website funnel, number of orders, sales, clients, and more.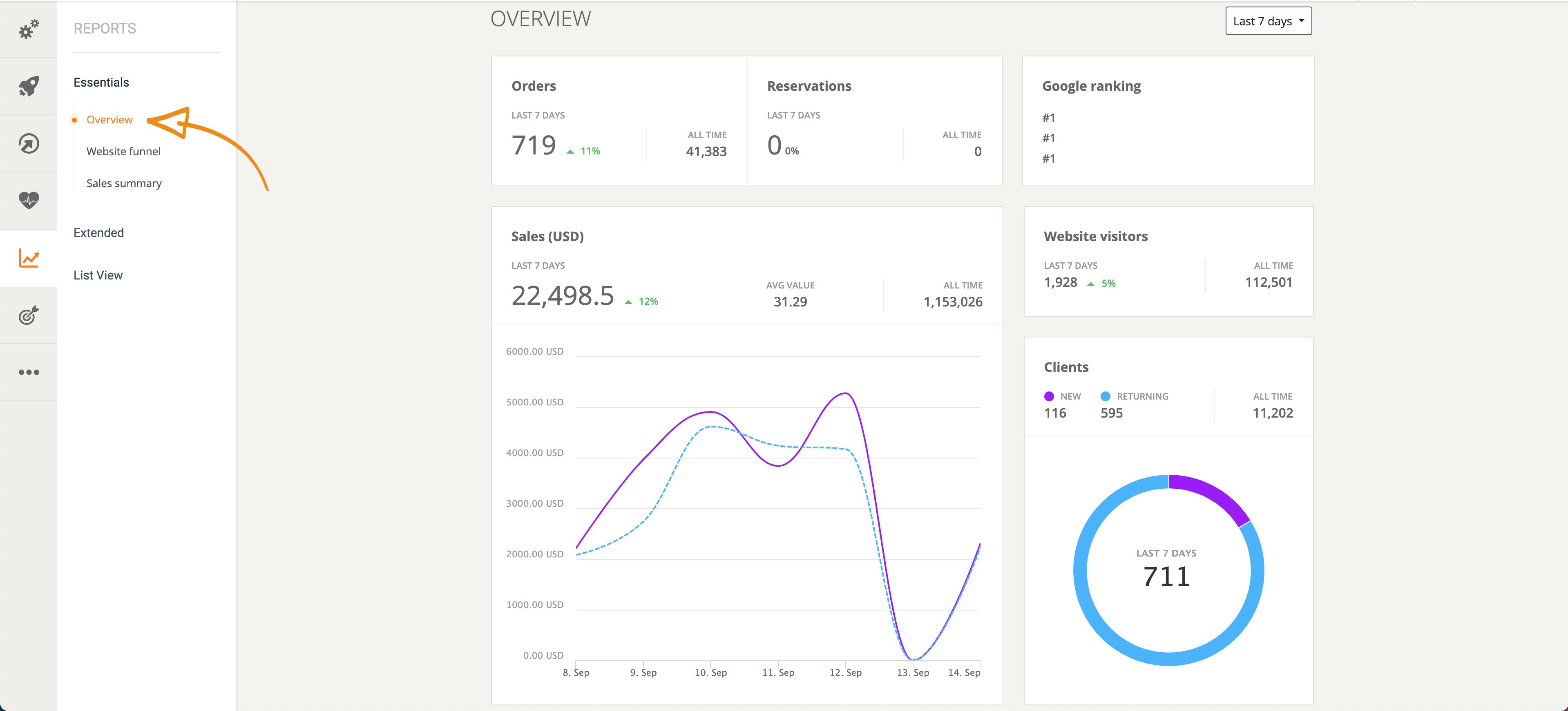 What is the Best Online Food Ordering System?
GloriaFood is a superior online food ordering system that's easy to implement and even easier to love. You can get started in as little as five minutes and take your first online orders today.
You don't need any programming or marketing skills. This restaurant digital ordering system has been designed with you in mind. We guide you through every aspect of growing your takeaway business, so you're never alone.
To start your exciting online journey, click on Get Access Now:
Get the best online food ordering system for free
Start making money selling your food online
Get Access Now
To make the journey easier for you, we've put together this in-depth video tutorial that shows you how to set up online ordering for your restaurant in 10 minutes:
Never Get an Order Wrong Again
Making the shift from a dine-in-only restaurant to a dine-in AND takeaway restaurant can be daunting and costly. Say goodbye to those fears by installing the GloriaFood online food ordering system. We help you propel your business forward and keep your customers happy.