Do you want to open a restaurant but are afraid of the enormous investment you'll have to make? A pop-up restaurant is an excellent alternative that allows you to test the waters before you jump in. Below, you'll learn how to start a pop up restaurant from scratch and what it takes to make it succeed.
What Is a Pop up Restaurant?
A pop-up restaurant is a temporary restaurant that you can set up in spaces such as outdoor markets, local bars, existing restaurants when they're not open, cafés, cinemas, bowling alleys, or even at your house.
The distinguishing characteristic of a pop up restaurant is that it's not there to stay. You can take over for an evening, a week, a month, or even more, but the location is still temporary.
Pop up restaurants are increasingly popular due to the volatile state of the restaurant industry. Instead of investing in a permanent restaurant and realizing it's not going to work out, you get to experiment with your concept and menu, collect feedback, and get the word out with a pop up restaurant.
5 Pop up Restaurant Advantages You Need to Hear
Lower costs
Perhaps the most appealing benefit of opening a pop up restaurant is that you won't invest nearly as much money as you would in a permanent restaurant. While you still have to pay for the space, permits, ingredients, and some mobile equipment, it will be a short-term investment.
Menu experimentation and testing
Releasing menu items that flop when you own a restaurant can be highly detrimental to your business, decreasing both popularity and profits. A pop up restaurant allows you to be creative when developing your menu.
Even if some items won't be as popular, you'll get to collect feedback and improve upon the recipe or come up with something different altogether.
Another thing you can experiment with is menu pricing to ensure you don't over or undercharge for your location and target audience.
Flexible location
The restaurant location is a critical success factor that can make or break your business. Find a pop up location in the area where you'd like to open your restaurant to test it out with no risks.
Use the time you have to learn about your audience, the foot traffic, and potential competitors. You can always test another one if the location is not to your liking.
Generate interest
There's a reason why customers are drawn to pop up restaurants. They're not permanent, so they have a limited window to try their food before it goes away.
Take advantage of that hype and promote your pop up restaurant online and offline. If your menu and concept are appealing, people will remember you when you open your permanent restaurant too.
Get investors
Ultimately, if your pop up restaurant gets noticed and has positive reviews, investors will notice you too. They'll be more likely to finance your restaurant if they have proof that your concept and vision have a high chance of success.
How to Start a Pop up Restaurant in 7 Easy Steps
1. Decide on a unique pop up restaurant concept
If you want to improve the marketability of your pop up restaurant, come up with an idea that's unique to the neighborhood. What makes you special? What can people enjoy at your restaurant that they can't find in other local restaurants?
This is an excellent opportunity to test a unique, even riskier concept and see if it works for a permanent restaurant.
Maybe you want to open a pop culture-inspired restaurant with decorations from movies, comic books, and menu items inspired by popular franchises. Or a spooky restaurant for people who want Halloween to be a year-long affair.
Test, test, test, and you will find your diamond in the rough!
2. Formulate a pop up restaurant business plan
A restaurant business plan is the foundation on which you build your entire business. Start with a SWOT analysis where you identify your new pop-up restaurant's strengths, weaknesses, opportunities, and threats.
Next, go into more details about your concept, menu, market and competition analysis, staff, finances, and how you plan to promote your restaurant.
Despite this being a temporary endeavor, having a thought-out business plan can save you a lot of headaches and unpredictable situations.
3. Check local pop up restaurant laws
Depending on the country or state where you want to open your pop up restaurant, make sure you read up on local laws and regulations to avoid any potential run-ins with the authorities.
For example, in Alameda Country, California, the law provides pop up restaurants with these options if they want to operate legally and avoid being closed down:
Get a catering registration, which allows them to prepare pre-ordered food at a commercially approved kitchen and to serve their food at private events;
Get a temporary food facility permit, where they prepare food in an approved commercial kitchen or booth, which they then sell at specific events;
Sell their food online.
Sell your food online with a free online ordering system
Start taking orders as soon as tonight
Get Started
4. Scout suitable pop up restaurant locations
After making sure you can legally open a pop up restaurant in your area, it's time to look for locations where you can do so. The location will heavily depend upon your vision for the restaurant.
If you're looking to organize and decorate a space from scratch, you have to consider how doable it is to set up a mobile kitchen and dining room that will require access to running water and electricity.
An easier alternative is to look for a space with all those things, like an existing restaurant or café. Sometimes, you might not even have to bring anything of your own to get the job done.
You get a fabulous space to test out your restaurant concept, and the owners get a share of the profits and free marketing. Everybody wins!
5. Apply for the necessary pop up restaurant permits and licenses
As with any business, when you open a restaurant, even a pop up one, you need a series of permits and licenses. They might differ from state to state, but here are some standard permits and licenses you might need:
Business license
Employee identification number
Food service license
Seller's permit
Resale permit
Sign permit
Building health permit
Employee health permit
Liquor license
Music license
Dumpster placement permit
Always research the permits and licenses your local laws require before you move forward with opening a pop up restaurant.
6. Create a pop up restaurant menu
This is where your creativity can truly shine. Put together a menu that will set your restaurant apart and encourage customers to visit it before it closes.
Not to mention a delicious menu will also ensure they'll become repeat customers if you decide to open a permanent restaurant.
Here are some pop up restaurant menu ideas that will attract customers to your establishment:
Use seasonal ingredients sourced locally. Seasonal menus are trendy because they're made of delicious ingredients and show you care about supporting the local economy.
Try a cuisine that the neighborhood is lacking. Try to fill a gap in the market by giving locals a place to taste Jamaican, Moroccan, or French-Caribbean food.
Cater to different diets. Try accommodating as many people as possible, from vegetarian to vegan, halal, or gluten-free.
Have a signature dish. Your pop up menu shouldn't be longer than one page and should feature a signature dish, ideally named after your restaurant, that you pour your heart and soul into.
Allow clients to customize their meals. Customization is key when your menu is limited. It's better to have a one-page menu where customers can customize every item with flavors, toppings, crust types, or sides than an endless menu with no choices and add-ons.
7. Setup and decorate your pop up restaurant space
Finally, for the dining experience to be complete, you need to bring in the equipment you need (if it's not already available at the location) and decorate the space.
Keep in mind that if you choose an existing restaurant location, you won't have much room for customizing the place according to your cuisine and concept.
If you want to truly make the place yours, consider choosing a location you can decorate from scratch, like an outdoor pop up restaurant in a tent in the local market.
Read more: 15 Restaurant Design Tips That Will Attract More Customers
Pop up Restaurant Ideas for Online & Offline Promotion
Promote your daily specials on your website
If you're an already established restaurant that periodically does pop ups in different locations around town, it's vital for people visiting your website to know about them and what they can expect there.
Add a section on your homepage where you discuss your upcoming pop up event and present the daily specials.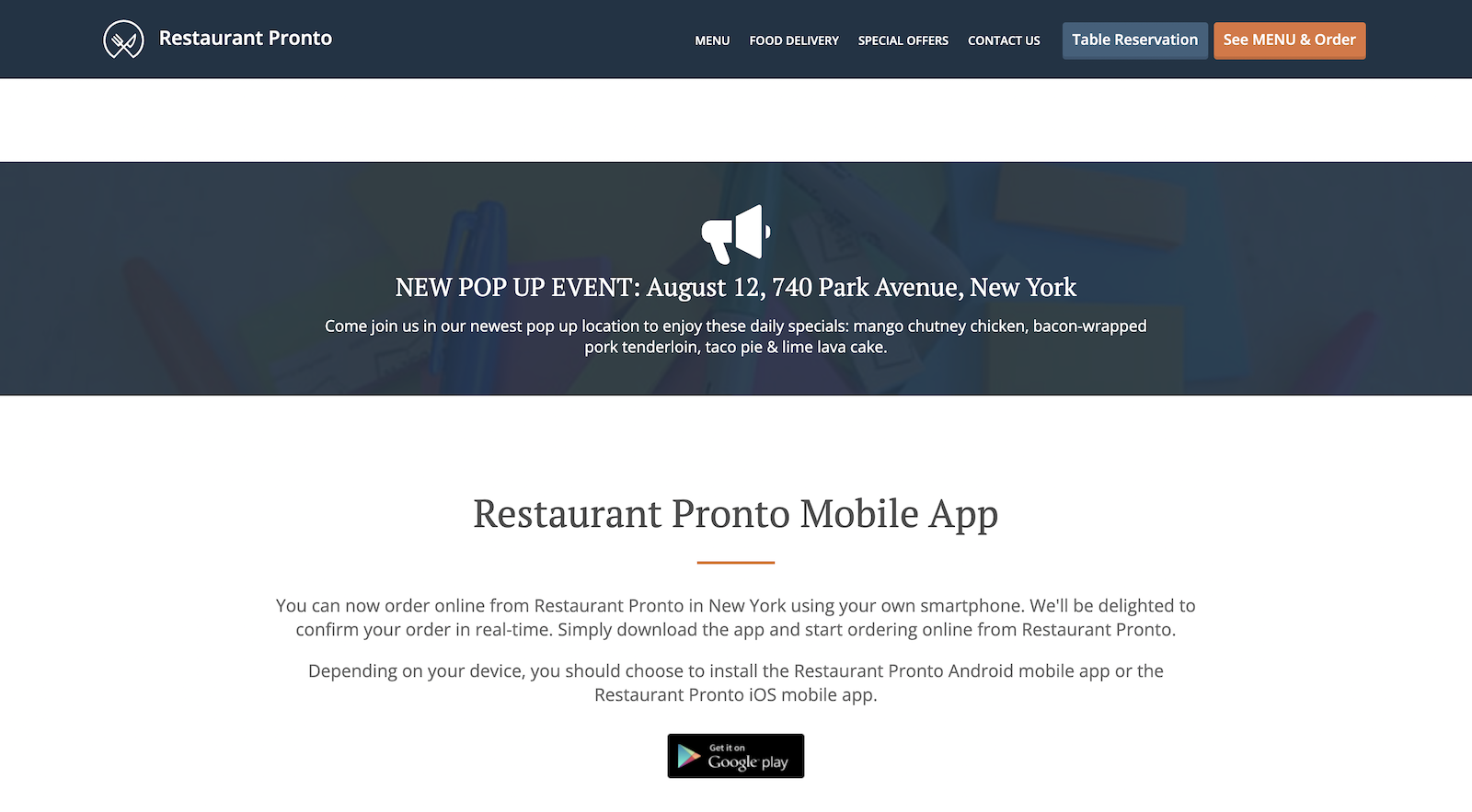 Since specials will change daily, you need a website builder that allows you to easily update them on your website. Look no further than the sales-optimized website by GloriaFood. You can edit the section above as you wish and make the changes live with the click of a button.
Get a professional restaurant website in minutes
Sales and SEO-optimized without you lifting a finger
Get Started
Advertise food promotions on social media
Social media is an excellent way of promoting your pop up restaurant. If you offer discounts and promotions, it will be even easier to attract attention on social media.
Use our restaurant promotion templates to create your own unique food promotions that will ensure all eyes are on your new pop up restaurant.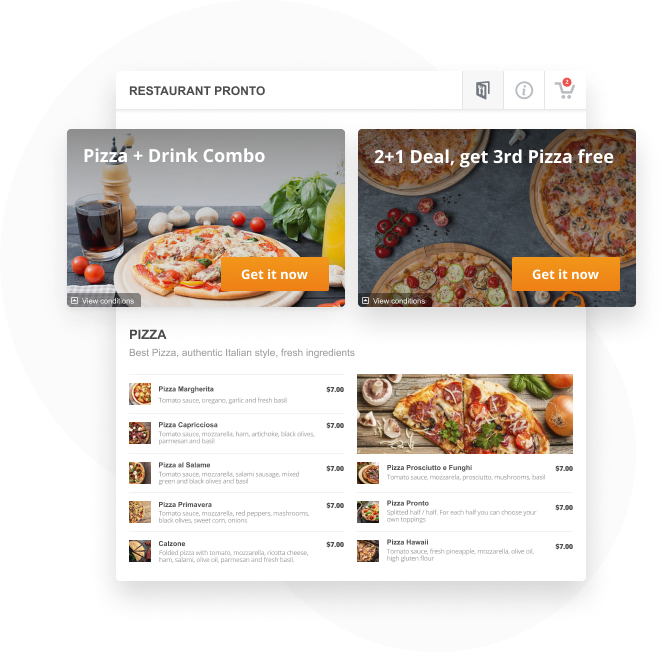 Make sure to add a link for people to order your food in your bio on Twitter and Instagram. You can do something even better on Facebook – add a 'Start Order' button to your page. Follow these steps to learn how.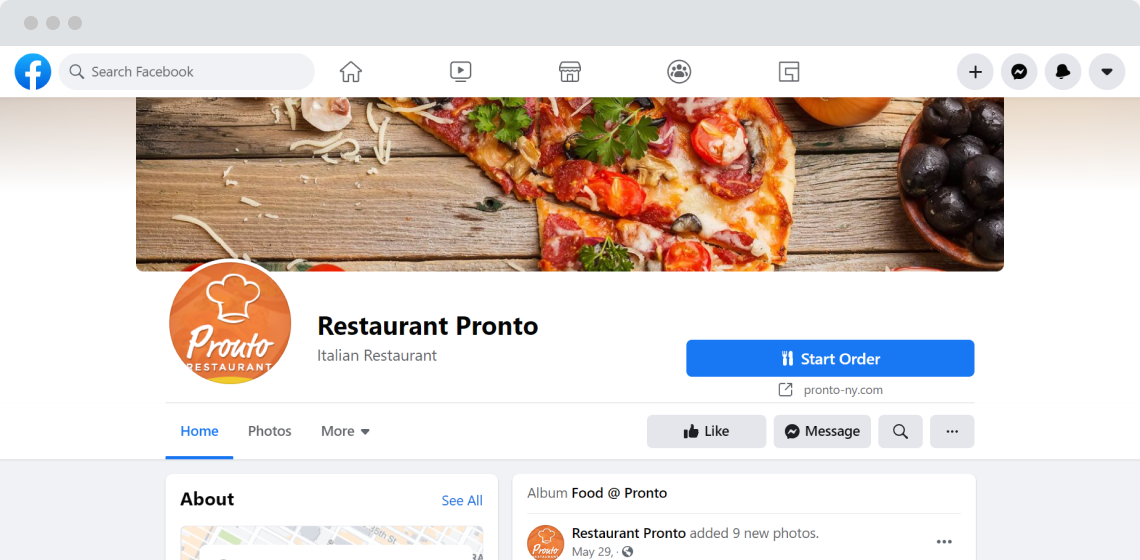 Implement a QR code menu for faster table turnover
Ensure you serve more customers faster by replacing traditional paper menus with a QR code menu with dine-in ordering capabilities.
That way, customers can sit down and place their orders by scanning the QR code with their smartphones. Your servers will have more time to care for customers who have already ordered, and customers will place orders faster.
Check out the video below to learn how to implement a QR code menu for contactless ordering at your pop up restaurant:
Enable food pre-orders
Many customers might visit your restaurant on their lunch break, especially if you're serving brunch or lunch menus and you're located around office buildings.
Those people are typically in a hurry and would appreciate their food being ready when they arrive at your restaurant.
You can easily provide that option by enabling table reservations with order ahead capabilities.
That way, whenever customers book a table, they can also pre-order their food and even pay for it online. So, the only thing left to do when they arrive at your restaurant is to enjoy the food.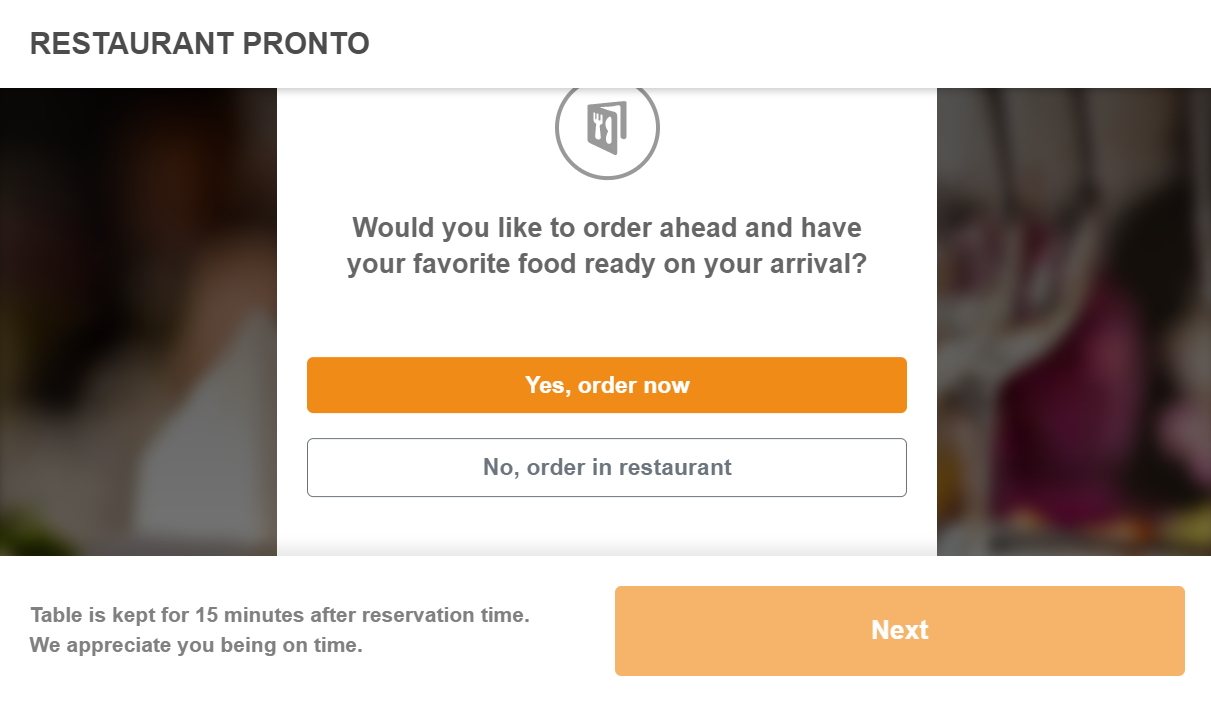 Here's how to enable table reservations with food pre-orders.
Invite influencers to try your food for free
Influencer marketing can give a pop up restaurant an excellent boost. Search for local food influencers and invite them to a soft opening where they can try your food for free in exchange for posting about it on social media.
Influencers with many followers typically ask for paid partnerships. However, smaller influencers might agree to this exchange as a win-win situation.
Distribute flyers in the neighborhood
While promoting your pop up restaurant online is a must-do, don't forget about old-school offline marketing. An easy-to-implement idea to raise interest in your restaurant is to print flyers and distribute them in the area.
Include a mouth-watering photo of your food and a discount coupon code to make the deal worth their while.
If you already own a restaurant and want to draw your loyal customers to your new pop up, use our delivery heatmaps to identify high-density order areas and distribute your flyers there, where you know your regulars live.
You can access these delivery heatmaps in your restaurant dashboard by signing up for a free account.
Conclusion
Opening a pop up restaurant is an excellent way to test your restaurant concept, cuisine, menu, and décor before you take the leap toward a brick-and-mortar location. Follow our blueprint on how to start a pop up restaurant and remember these tips and tricks to ensure your project is a success.