Implement these Easter restaurant ideas to get ahead of the competition
Easter is just around the corner, and you need to get your restaurant into the festive mood. From menu specials to promotions, fun decorations, and other perks, make your restaurant the place to be this Easter. How? By implementing these Easter restaurant ideas:
10 Easter Restaurant Ideas for the Busy Restaurateur
1. Create a limited-time Easter restaurant menu
It all starts with your menu. Don't let Easter be just another day of the year. Come up with a festive menu that will make customers drool and scramble for a seat at your restaurant.
Limited-time offers are usually a big hit because they create urgency and motivate customers to take advantage of them before they run out.
However, creating a weekly or daily menu can become inconvenient if you still use paper menus that you have to reprint every time you make a change.
Don't fret, we have the solution for you. An online menu that you can use to both accept orders online and in the restaurant via a QR code.
Watch the tutorial below to learn how easy it is to put together your very own restaurant menu in minutes:
To turn that menu into a QR code, all you have to do is use our free code generator and display the code on every table. Here's how:
Now, no matter how long your Easter menu is, you can update it online and the changes will be automatically applied to your dine-in QR code menu too. Easy peasy!
Get a free online menu that you can update as often as you want
Accept orders online and at the table in minutes
Start Now
2. Add a few Easter restaurant specials to the menu
If you don't want to create an entire Easter restaurant menu from scratch, you have the option to add a couple of Easter specials to the menu.
Here is a sample Easter menu you can choose from:
Appetizers: hot cross buns, paska bread, spinach puffs, parmesan bread bites, carrots in a blanket.
Main course: holiday glazed baked ham, sheet pan lamb chops, garlic shrimp skewers, vegetarian shepherd's pie, cauliflower piccata.
Dessert: Easter egg brownies, simnel cake, double chocolate Easter egg cheesecake, sticky banoffee loaf with toffee sauce, rhubarb crumble trifle.
Drinks: toasted s'mores martini, limoncello mojito, virgin ginger mimosas, lemon lavender mocktail, peachy brunch juice.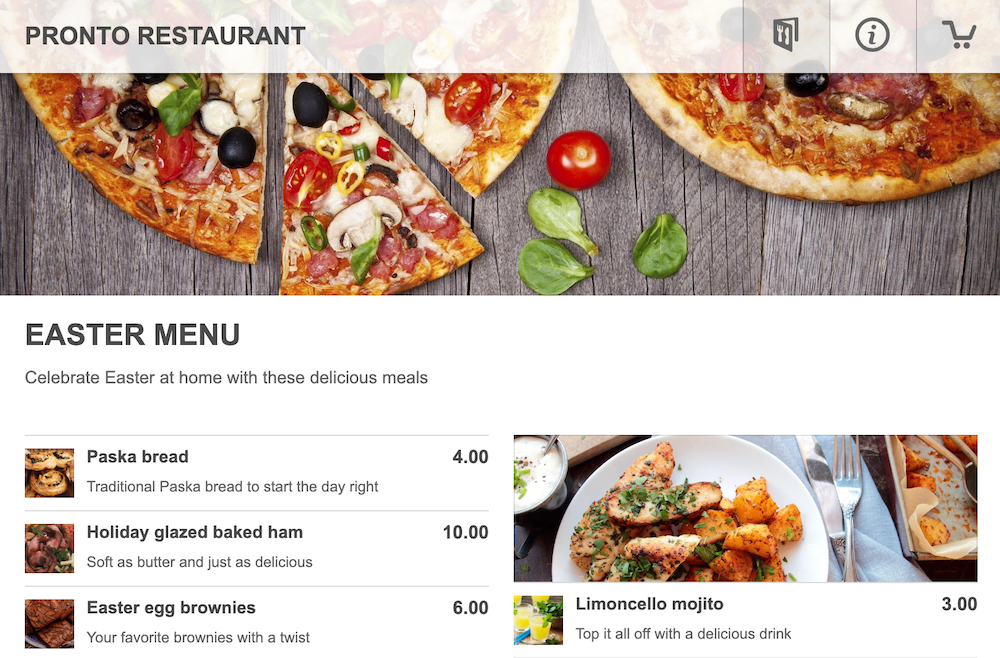 Fewer menu items don't necessarily have to mean fewer options for your customers. Instead of crowding the menu with items, allow clients to customize their order with extra toppings, add-ons, and preferences.
It's easy if you use our online menu:
3. Use Easter restaurant decorations to liven up the place
The menu isn't the only thing you should focus on to give customers a delightful Easter experience at your restaurant. Decorate the place so they can't help but want to take a picture and post it on Instagram.
These restaurant ideas for Easter decorations will help you get started:
Bunny balloons on the walls, especially if you own a kid-friendly restaurant
White tulip Easter basket centerpieces on the tables
Easter egg candles
Colorful hyacinth wreath
Ribbons with Easter messages
Chocolate egg-filled wreath
Pastel feather tree
Eggshell place cards for table reservations
Bunny napkin twist
Fabric carrot garland
4. Offer irresistible Easter restaurant promotions
No other Easter restaurant ideas will get your customers as excited as promotions. Getting a good deal on Easter dinner, a free dessert, or free delivery for people who want to celebrate at home will encourage more people to join you for Easter celebrations.
Implement these win-win Easter promotion ideas for restaurants:
Free dessert with the purchase of any Easter main course
2-for-1 on all Easter appetizers
15% discount on the cart for orders over $50
Free delivery with any purchase from the Easter menu
10% off any Easter drink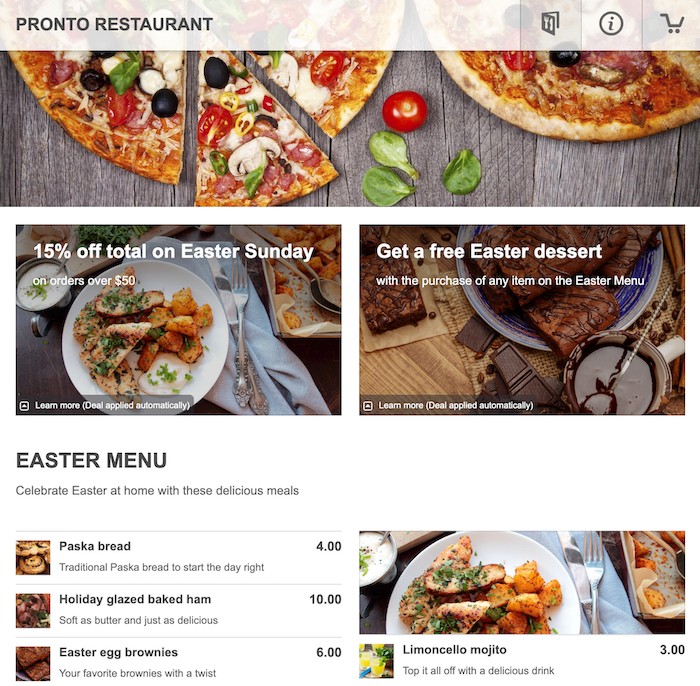 All of these can be easily added to your menu using our promotion templates. Watch the tutorial below to learn how to set up your promotions in just a few easy steps:
5. Create food combo offers for family dinners
One of the most popular Easter restaurant offers are food combos that can feed the entire family.
Whether it's a big meal bundle containing four appetizers, four main dishes, four desserts, and four drinks, or a buy two, get one for free promo, these offers are good value for your customers and good profit for you.
Learn how to use food combos in restaurants and motivate your customers to spend more this Easter.
Add an Easter food combo promotion to your restaurant menu
Attract more customers with a great deal
Get Started
6. Promote your Easter festivities on your website and social media
Are you proud of your Easter restaurant ideas? Are you excited to share with your customers your Easter Sunday restaurant specials? There's no better place for that than your restaurant website.
First, make sure you let customers know you'll be open on Easter Sunday.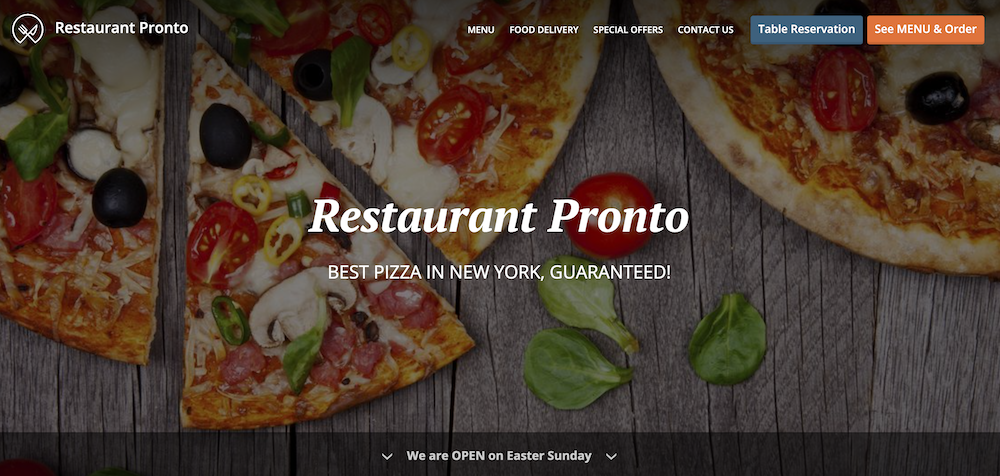 Then, advertise your Easter menu, offers, or events on the homepage, so customers can't miss them.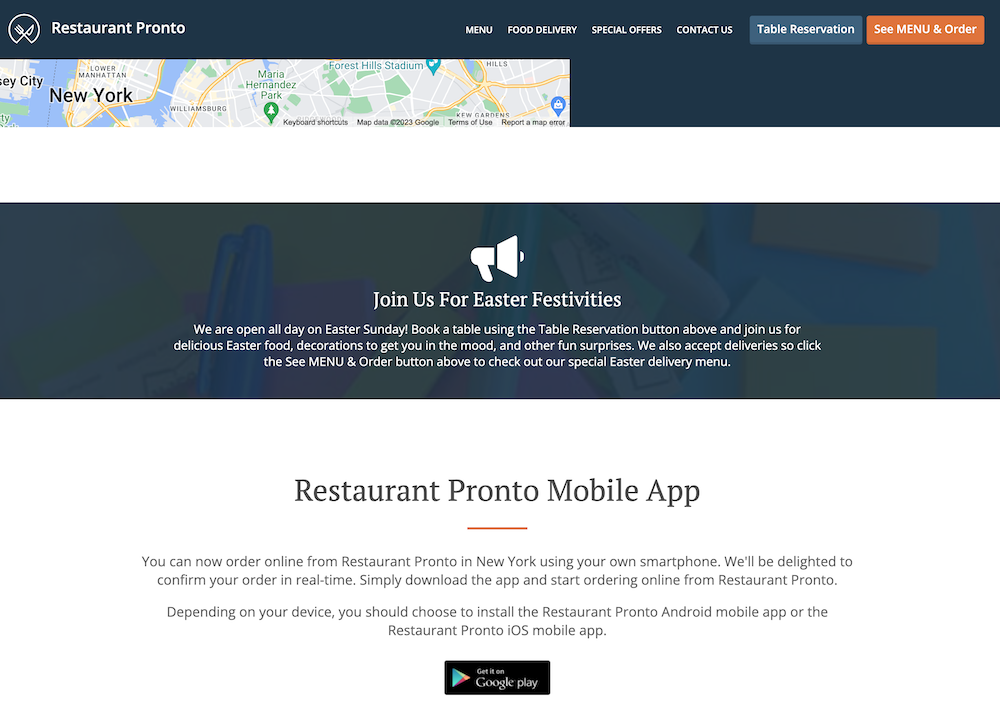 You can easily do that if you have the sales-optimized website by GloriaFood. With an easy-to-use drag-and-drop interface and built-in online ordering and table reservations, it allows you to promote your restaurant and boost sales. For a demo of our sales-optimized website, check out Restaurant Pronto.
Get a sales-optimized website for your restaurant in minutes
Start making money selling your dishes online
Get Started
You can learn how to get your own restaurant website in under 10 minutes in the video below:
Social media is also an excellent place to advertise your Easter restaurant ideas. Post about them on Facebook, Instagram, Twitter, and even TikTok to reach a larger audience and fill all the empty tables on Easter Day.
7. Allow customers to reserve a table and order food in advance
Speaking of filling empty tables, there's no better way to do that than using a table reservation system.
This is particularly helpful during busy holidays when customers want to ensure they get a table at your restaurant, and you want to know what to expect and prepare in advance.
With GloriaFood, you can add a Table Reservation button to your restaurant website in minutes. What's more, you can also enable the Order Ahead feature that allows customers to also order and pay for their meal when they book a table. All for free!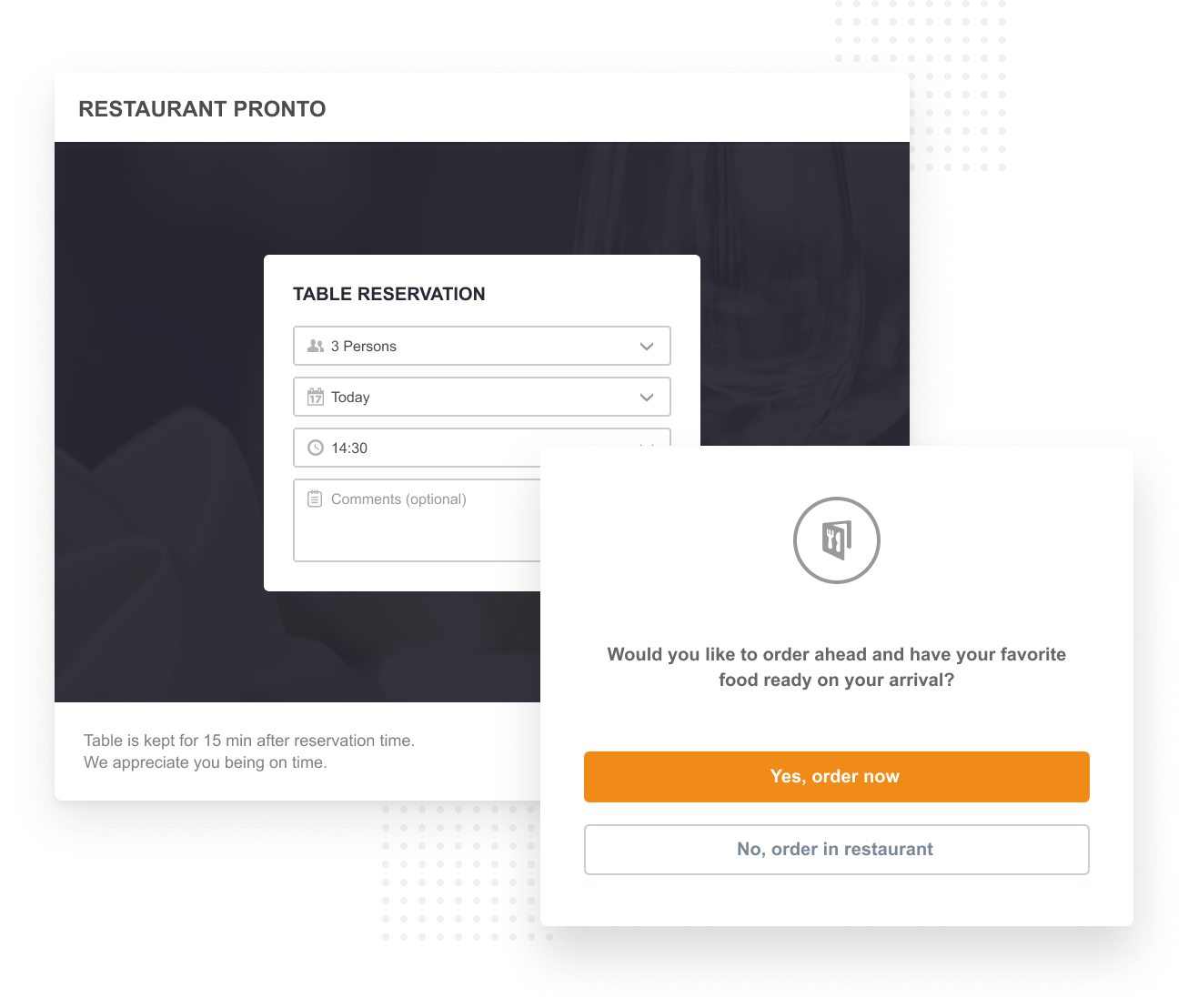 That way, you can prepare their dishes in advance, and they'll get their steamy plate of food delivered to their table the moment they arrive.
Free table reservation system for your restaurant website
Easy to install and even easier to use
Get Started
8. Wish customers a Happy Easter with every order
In the restaurant industry, small gestures make all the difference. A simple heartfelt message can brighten someone's day.
And what better time for a warm message than on holidays like Easter? Write a simple message wishing customers a Happy Easter on the delivery bag. Include their name to show them you truly care about your customers and want to thank them for their patronage.
9. Update menu item availability in real time during busy times
On busy holidays like Easter, serving dine-in customers and preparing deliveries and pickups can get overwhelming, not to mention make a real dent in your inventory.
If you run out of ingredients to make some of your Easter dishes, you can quickly mark them as out of stock in your restaurant dashboard or the order-taking app directly. That way, you avoid disappointing your customers when they place an order only to find out you can't fulfill it.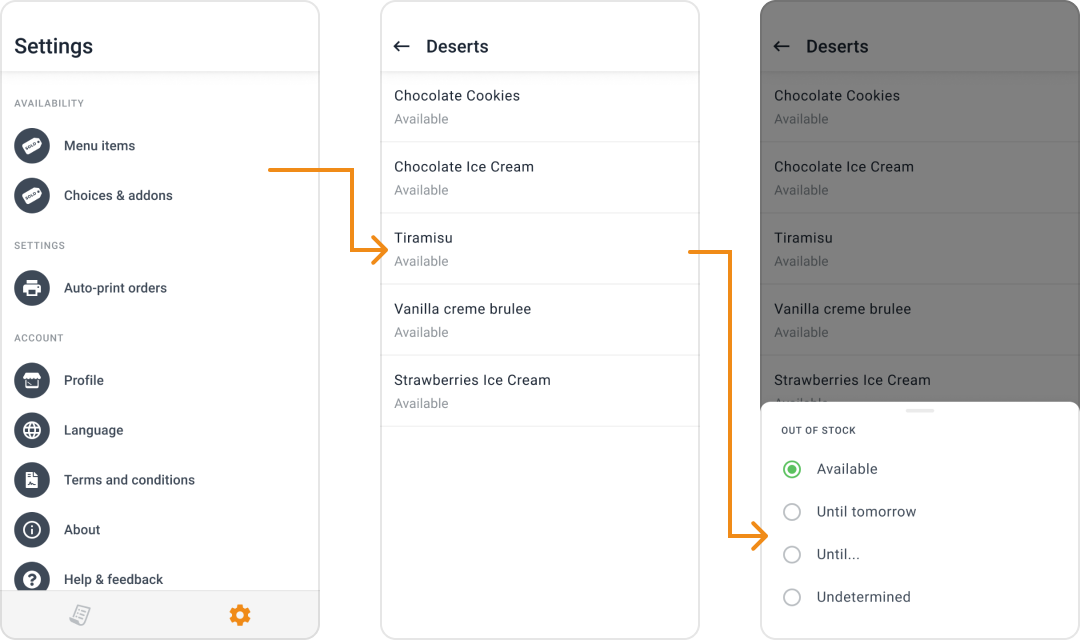 And if you get truly overwhelmed, you can also pause all or some of your services for a couple of hours. That will give you time to take a breath and prepare for the next round of incoming orders.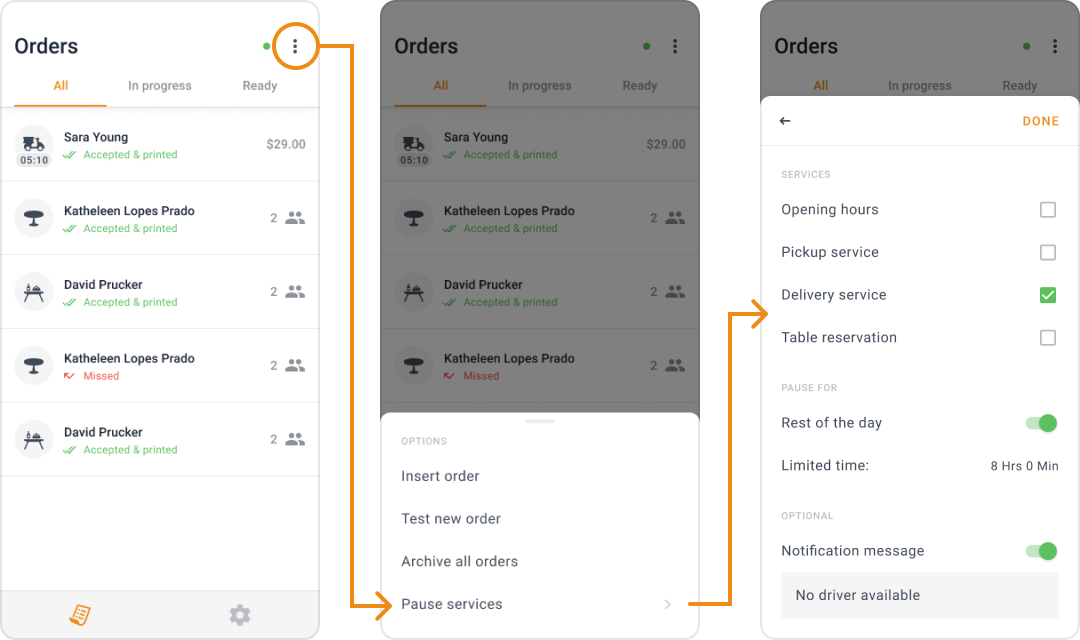 10. Host a restaurant Easter giveaway or contest with attractive prizes
Stand out from the competition by doing something special this Easter, like organizing a giveaway or a fun contest.
You don't have to break the bank to figure out the prize. Put together an Easter meal kit basket that the winner can use to cook one of your Easter dishes at home. Or you can offer a large discount coupon code for future orders.
Learn how to create coupon codes using the GloriaFood online ordering system:
Easter Café Ideas
Naturally, you can apply any of the Easter restaurant ideas above to your café as well. But if you're looking for specific ideas for your coffee shop, here are a few:
Sell an Easter morning combo of coffee + a traditional Easter pastry.
Decorate your to-go coffee cups with eggs, bunnies, and other Easter symbols.
Write Happy Easter and other cute messages on your windows.
Sell Easter coffee specials like Eggspresso, Cadbury crème egg Frappuccino, or a minty cold brew.
Draw Easter bunnies in the latte foam.
Easter Ideas for Pubs
If you own a pub and you want to do something special for Easter, here are a couple of creative ideas:
Offer an Easter kids menu to attract more families.
Create an All-day Happy Hour promo where all beers are 10% off on Easter Sunday
Organize an Easter egg hunt around the pub and offer a 5% discount for after to everyone who participates.
Serve an all-day Easter buffet.
Add Easter-themed cocktails to the menu, such as an Easter egg-hunt martini, carrot mimosa, white rabbit cocktail, or simnel cake sour.
That's it for our Easter guide! Don't forget to implement these Easter restaurant ideas to attract customers to your restaurant and help them have a unique celebration with their friends and family.