Take your restaurant marketing strategy to the next level by implementing creative birthday marketing ideas that will surprise and delight customers. Read more about why you should do birthday marketing for restaurants and how to do it in the guide we have prepared for you below.
What is Birthday Marketing?
Birthday marketing is a marketing strategy that involves giving customers a freebie on their birthday. This is used by brands to increase loyalty and nurture relationships with their regular customers.
The Benefits of Birthday Marketing for Restaurants
1. Attract new customers
Restaurants that go the extra mile to celebrate their customers' birthdays will always be one step ahead of those that don't. After all, who doesn't love being celebrated and receiving free treats?
Market your birthday initiatives on flyers, your websites, and social media to get more people to see them and convince them to become your customers.
2. Boost customer loyalty
Birthday marketing for restaurants is one of the easiest ways to secure customer loyalty. Let your regulars know you care by surprising them with an offer or a freebie on their birthday and they'll continue to support you.
3. Get good publicity
Having a birthday marketing strategy can help you build social proof because the more people talk about you, the more others will listen.
Word-of-mouth marketing is invaluable for restaurants, where people rely on reviews before they visit a restaurant or place a food order online.
4. Gather an email list
If you're planning on doing email marketing to get more customers to your restaurant, promising a unique birthday treat is an excellent way to get people to give you their email addresses or sign up for your newsletter.
5. Collect positive reviews
When people encounter excellent restaurant customer service, they typically leave glowing reviews on review platforms like Google My Business, TripAdvisor, or Yelp.
A surprise birthday promo is definitely reason enough to leave a good review, so the math is simple.
8 Restaurant Birthday Ideas That Will Boost Customer Satisfaction
1. Personalize your birthday message and offer
The most important thing about your birthday promo besides the actual offer is the way you address your customers. Address them by name to make them feel special and try to find a way to personalize the offer too.
For example, if you know how old they are, create a tailored promo, such as: "Happy 40th birthday! To help you celebrate, here is a 40% off voucher."
2. Organize birthday parties
Organizing restaurant events will separate you from the competition. Allow customers to celebrate their birthdays at your place by offering a special birthday package.
The package can include a personalized food and drinks menu, included birthday decorations, and on-demand extras like live music, games, or photo booths.
3. Bring in typical birthday décor for restaurants
Play around with your restaurant design for your customers' birthdays. Designate a birthday area that hosts birthday parties exclusively.
Decorate it with balloons, banners, pretty lights, and an Instagram wall where people can take photos with props and post them on social media tagging you.
4. Pay attention to details
Make customers feel like the star of the show on their birthday by doing small gestures that make a big difference.
Have the staff sing them Happy Birthday, bring over a cake on the house with a personalized message, or offer a complimentary dessert with a candle or a bottle of champagne – no gesture will go unnoticed.
5. Encourage customers to book a table for their birthday
Birthday celebrations are the perfect opportunity to encourage people to use your table reservation system to book a table (and even order their food) in advance.
This will help you increase table turnover, boost daily profits, and organize yourself better for the day. It also gives you time to prepare something special for their arrival.
Free Table Reservation System for Restaurants
Install it on your website in minutes and start taking table reservations by tonight
Get Started
6. Add a special birthday bundle to the menu
To encourage more people to celebrate their birthday at your restaurant, come up with a special birthday menu that they can order.
For example, you could offer a bundle including three appetizers, three main courses, and three desserts for $50. Throw in three drinks on the house as a birthday treat and customers will be lining up to celebrate with you.
7. Help people celebrate their birthday at home with a delivery-only birthday box
Extend the same courtesy to people who prefer to celebrate their birthday at home instead of going out to a restaurant.
Sell a delivery-exclusive birthday box featuring three appetizers, three main courses, and three desserts, with three drinks of their choice on the house. Write a heartfelt birthday message on the delivery bag and consider throwing in some birthday decorations as well.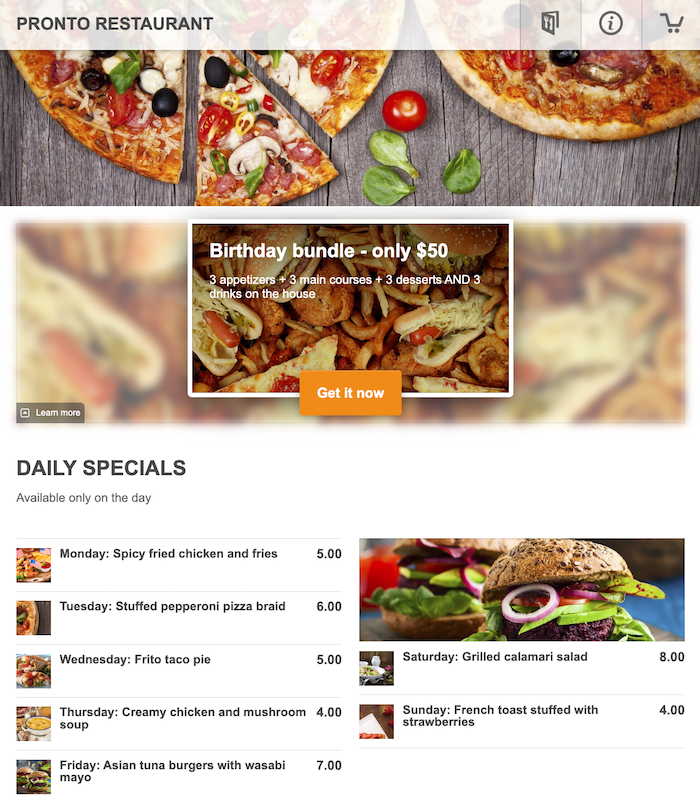 Start delivering your food to hungry customers by tonight
Install our free online ordering system on your restaurant website
Start Now
8. Send catchy emails to increase conversions
If you plan to send emails with birthday rewards that customers can redeem, you have to ensure they're so appealing that they can't be ignored.
It all starts with the subject line. Use calls to action like "Claim your birthday gift now," or "Get a free [menu item] for your birthday" to increase the click-through rate and boost conversions.
The body of the email should be short and sweet. You're not there to tell a story, you're there to tell customers what they're going to get by reading your email.
5 Birthday Promotions Restaurants Can Use to Increase Sales
1. Free birthday meal if you bring 3 friends
Motivate your customers to treat their friends to a meal at your restaurant on their birthday by not charging for the birthday person's meal.
They have more money to spend on their friends, which means a larger check, and you have their loyalty in the long run.
2. Complimentary bottle of champagne
What is a surefire birthday promo that restaurants can use to make customers happy? A free bottle of champagne (or free soft drinks if the customer doesn't drink alcohol).
It's a way of saying we appreciate your patronage and increasing customer loyalty without breaking the bank.
3. Free delivery on your birthday
Birthday marketing for restaurants that want to sell their food online revolves around one thing: free delivery. This is one of the simplest and most affordable restaurant marketing ideas you could implement.
Encourage customers to order from your restaurant for their birthday by waiving the delivery fee entirely.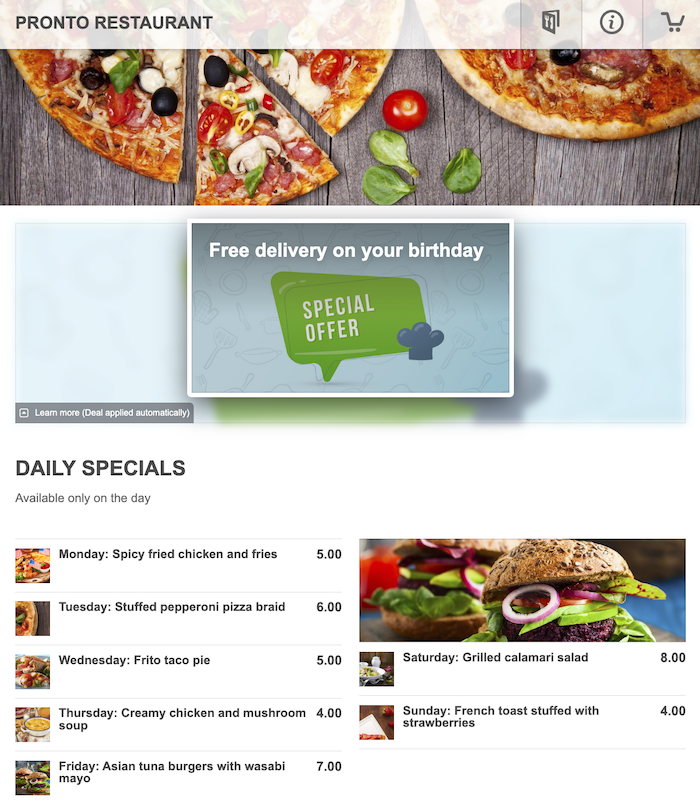 4. Birthday coupon with 50% off
A coupon code is easy to work with because you can print it on flyers, include it in an SMS, or email it to customers on their birthdays.
Watch the video tutorial below to learn how to create discount coupon codes that you can use for restaurant birthday marketing.
5. Dessert on the house for the whole party if you celebrate your birthday at our restaurant
Treat the birthday person AND their friends to garner even more attention and increase the chances of everyone at the table coming back to your restaurant in the future.
They will tell their friends and maybe even consider celebrating their birthday at your restaurant too since you offer free desserts for the entire party.
If you'd like to learn how to create even more restaurant promotions with 0 effort, check out the video below.
Conclusion
Birthday marketing for restaurants is an excellent chance to attract more customers, secure their loyalty, and get people talking about your restaurant. Don't waste the chance to stand out in the crowd by spoiling your customers with surprise birthday promos and wishes.