How to Make Your Restaurant Successful in 10 Steps
Restaurant success can be a volatile thing. The restaurant industry is changing and evolving daily, and you must keep up if you want to succeed. However, some things will never get old when it comes to owning a successful restaurant.
Today, we'll discuss those timeless 10 things that make a good restaurant and how you can get them.
10 Things That Make a Good Restaurant
1. Good food at reasonable prices
It may sound obvious but serving delicious food is one of the key elements of a successful restaurant.
You can have a fantastic location, friendly servers, and good marketing; customers won't give you a second look if your food is not up to par. That said, before focusing on anything else, ensure you serve high-quality food.
Then comes menu pricing. Customers will flock to the competition if your food is too expensive for the location and the ingredients you're offering.
Research other similar restaurants in the area and see how much they charge for their dishes to get an idea of the local expectations. As much as possible, create seasonal menus. They lower food costs, so you can charge less for them while serving customers delicious local ingredients.
Free resource: Winter menu template
2. Excellent customer service
What do customers want in a restaurant? Good food and good service. Customer service should be at the top of your priorities list if you want to foster loyalty and have customers come back to your restaurant again and again.
Here's how to provide excellent customer service in a restaurant:
Greet customers with a positive attitude and a smile on your face
Reward customer loyalty with special offers and discounts
Keep track of your customers' birthdays so you can surprise them with a treat
Train servers to remember names and personal details about your regulars
Respond to requests promptly
Know the menu so you can answer questions and make suggestions
Check on the customer to make sure they have everything they need
Solve issues as soon as they arise and try to make up for any mistakes
3. Stunning menu design
Menu design will set you apart and convince customers to order from you instead of the competition. Mouthwatering photos and creative food descriptions are the secret sauce that will turn your menu into an instant customer magnet.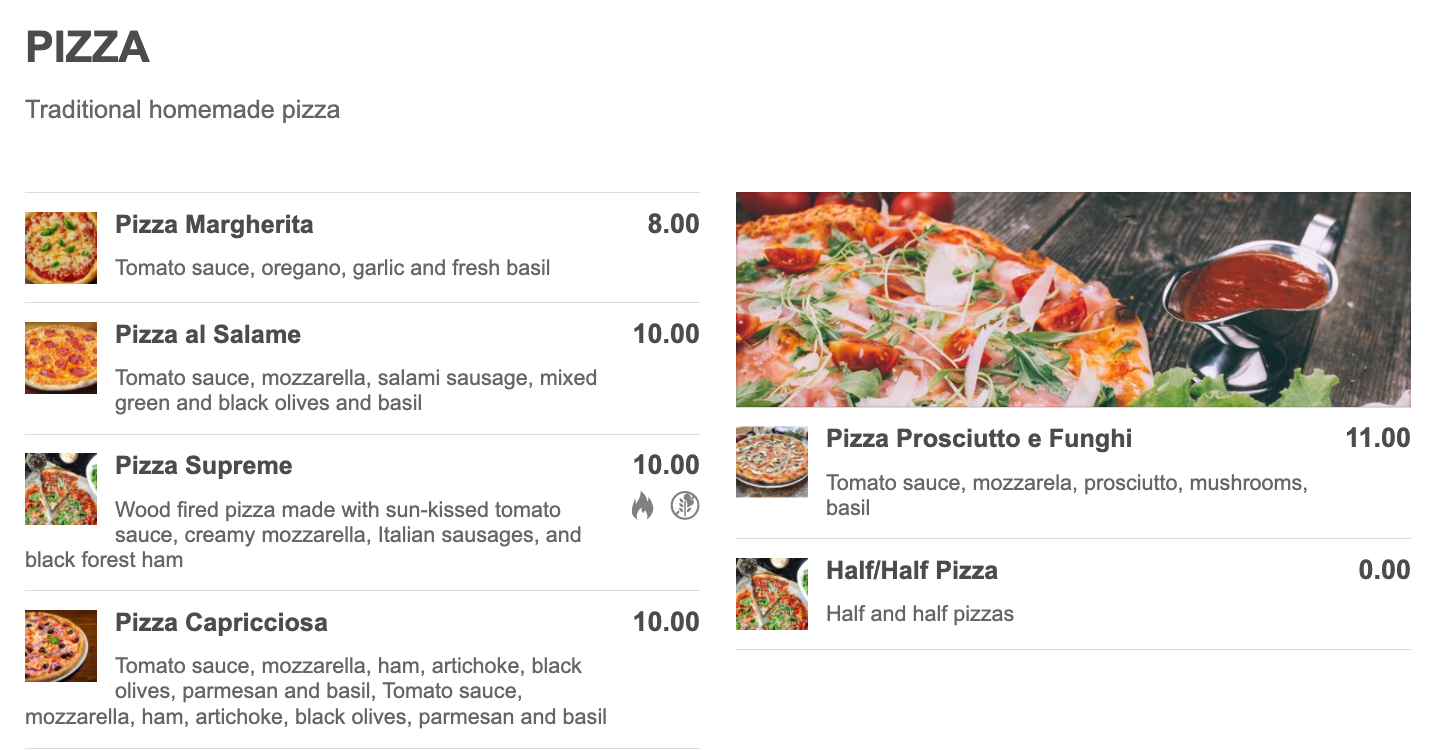 Read more: Why Food Photography Is Important for Your Restaurant Website and Menu
When designing your menu, remember to place your highest profit margin items at the top because customers tend to order the things they see first. You want people to focus more on the dishes than their prices, so eliminate currency signs.
Get a mouthwatering online restaurant menu for free
Built-in online ordering so you can take orders on your website today
Get Started
Another thing customers love when it comes to menu design is customization. Keep your menu short and allow customers to personalize their meals with toppings, sides, extra ingredients, add-ons, etc. Here's how you can easily do that using the GloriaFood online ordering system:
4. Easy-to-navigate website
Chief among the top restaurant key success factors, a sales and SEO-optimized website will boost your profits, bring in new customers, and increase customer loyalty.
Are you wondering how? Well, restaurant SEO can help you get your website on the first page of Google for relevant searches such as "Italian restaurant in [your area]."
Being among the top results brings increased visibility, which translates into new customers trying your restaurant. New customers -> more profit. Easy!
After you get people on your website, it's up to you to get them to stay and come back time and again. You can do that by ensuring they have access to vital information without searching for it: your menu, address, opening hours, contact information, and an easy-to-spot order button.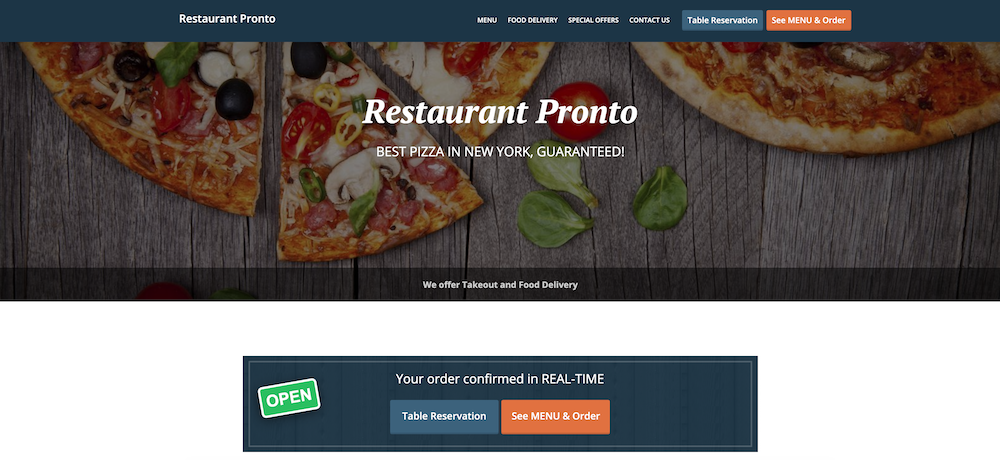 Additionally, ensure your website loads fast and is optimized for mobile devices. If you offer online ordering, placing an order should be simple and intuitive. Do all that, and your website will be the talk of the town.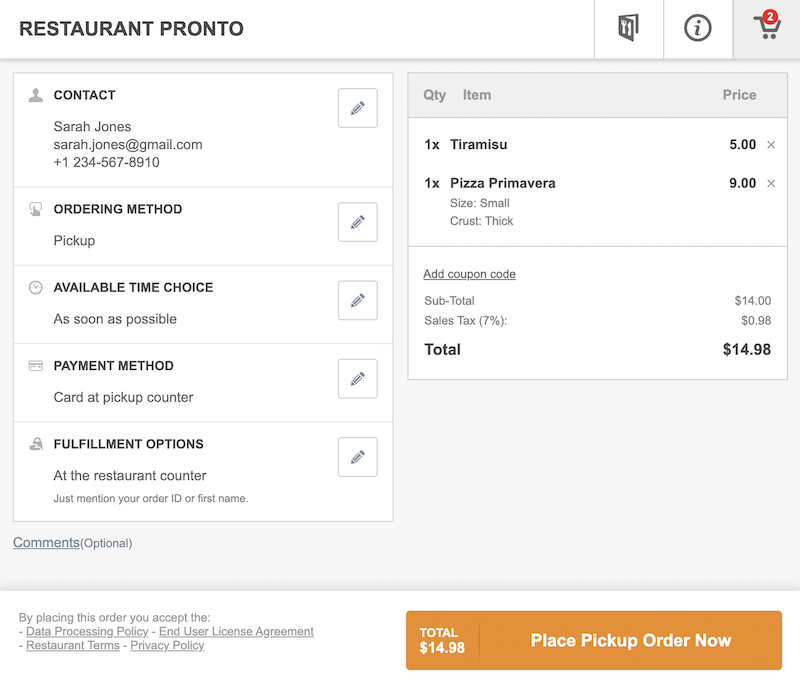 If you want access to these features without spending much time and energy, use our restaurant website builder to create the website of your dreams in minutes. The website will be sales and SEO-optimized so that you can reap the benefits immediately.
Get your own sales and SEO-optimized restaurant website
Allow customers to order online and boost sales
Start Now
5. Cleanliness and hygiene
Did you think we would talk about the 10 things that make a good restaurant without mentioning hygiene? That would be impossible since customers won't dine in a restaurant that looks like it hasn't been cleaned in ages.
Besides the obvious cleaning tasks like wiping down tables and disinfecting counters which you should do multiple times a day, pay attention to details if you truly want to woo customers.
Clean your menus, chairs, salt and pepper shakers, condiment containers, ice machine, snack bowls, and light fixtures. These are often neglected and can cast a shadow upon your restaurant's reputation.
6. Innovative restaurant technology
One of the key drivers of the restaurant industry is technology. Whether by demand, circumstance, or external factors like the pandemic, more and more restaurants have adopted technologies that make their and their customers' lives easier.
Here are some unique restaurant features and benefits you can offer your customers:
QR code restaurant menu. This will allow customers to scan the code to browse the menu, place an order, and pay for it at the table. Check out this video to learn how to create a QR code menu for free.
Table reservations. Add a table reservation widget on your website to allow customers to reserve a table in advance.
Order ahead for table reservations. Enable customers to order their food when they reserve a table, so the food is ready and waiting for them when they arrive.
No-contact delivery and minimum exposure pickup. Some customers want to interact with as few people as possible when they order food. These features are for them.
Scheduled orders. Say someone has a busy day and wants to order their food a day in advance. With scheduled orders, they can select the time when they want their food to be delivered and not worry about it anymore.
Online payments. Whether they're paying for delivery, pickup, or placing an order using your QR code menu, customers should be able to pay online.
Mobile app. Take your technology to the next level by getting a white-label branded mobile app that customers can download to order from your restaurant. Read more about the benefits of having a restaurant mobile app.
With GloriaFood, you can offer your customers all of these features and benefits. All you need to do is sign up for an account for free.
Get access to unique restaurant technology now
Sign up for the GloriaFood online ordering system
Get Started
7. Dedicated staff
Most examples of good customer service in a restaurant come from the staff. They are the ones that interact with customers most often, so you should hire wisely. You are looking for people who understand what your restaurant stands for and share the same values.
Hiring new people is more expensive than retaining employees. Do your best as a manager to ensure they feel heard and valued and that they have all the tools and resources at their disposal to do their job well.
Read more: How to Develop a Highly Effective Restaurant Training Manual
8. Suitable location
When asking, "What are the most important success factors for a restaurant?" three words come to mind: location, location, location.
Before deciding where to open your restaurant, do a thorough location analysis. Consider factors like demographics, accessibility and visibility, competition, business regulations, space necessities, affordability, and neighborhood safety.
9. Special promotions and offers
What makes a restaurant unique if not the ability to offer customers good food at discounted prices regularly? Ideally, don't let a week go by without a food promotion, special offer, or discount. Your customers will get used to your promos and regularly visit or order from your restaurant.
You could take the time to create promotions from scratch, but why would you when you can use our restaurant promotion templates and set up attractive promos in minutes?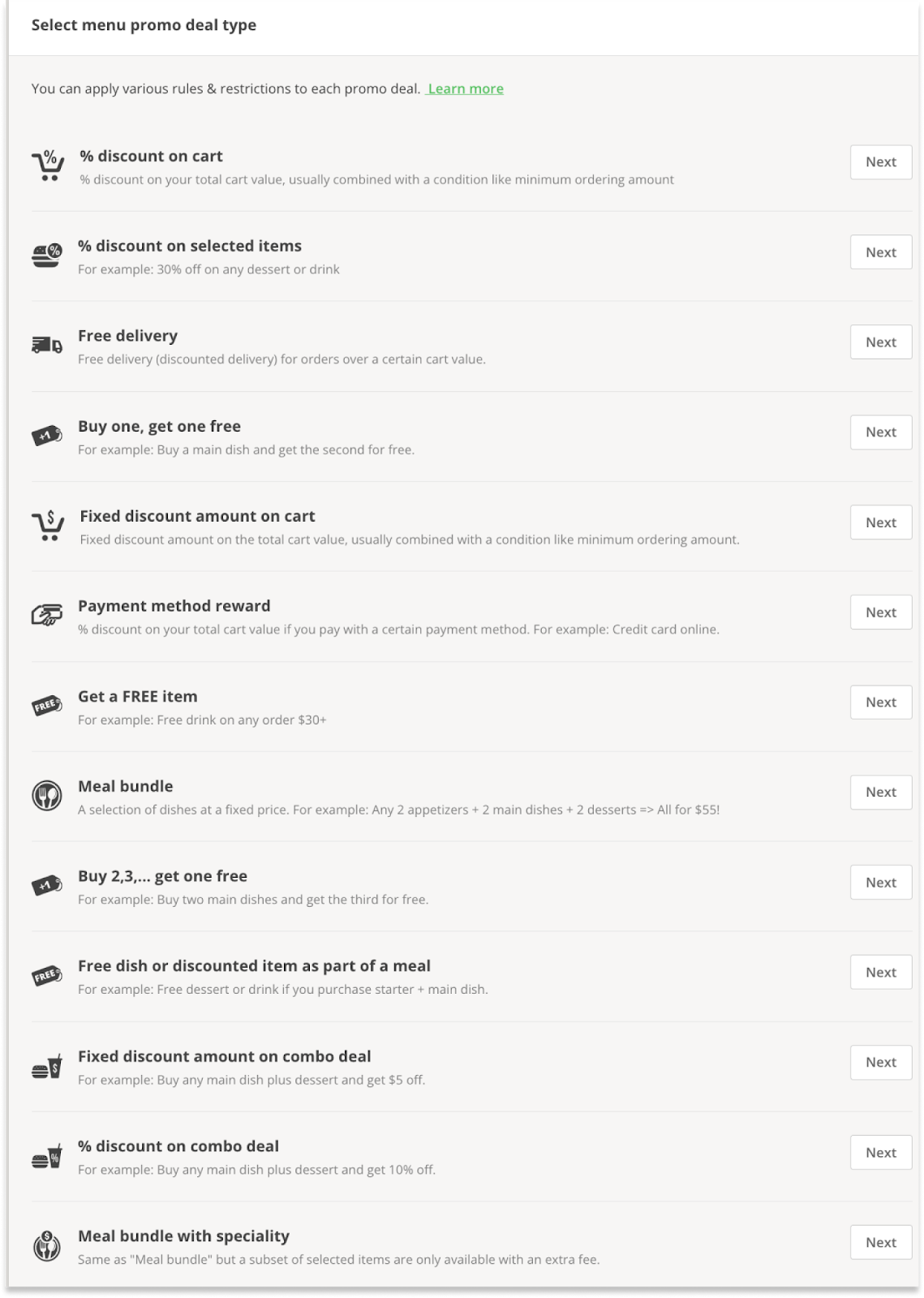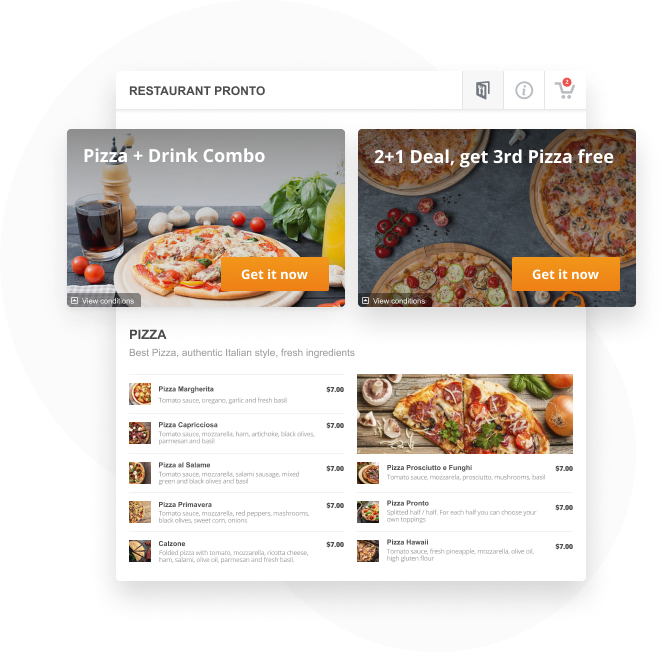 Choose from the extensive list we provide, customize it with your own image, text, and parameters, and publish it in your online menu. It will be displayed at the top, so customers can't miss it.
10. Positive reviews
How do customers choose a restaurant? They check for reviews online, of course. The more positive reviews you have, the more creditability you'll gain in the face of new customers.
Read more: The Importance of Online Reviews for Restaurants & How to Get More
As much as you'll strive to get positive reviews, the reality is that some negative reviews are bound to appear. You can't please everyone, but that's okay. A bad review now and there is no reason to panic.
However, negative reviews can damage your reputation if you don't reply to them. So, respond promptly, personalize your response, apologize, explain how you will handle the situation, and invite customers to give you a second chance.
The more helpful you are, the more chances there are for that negative review to turn into a positive one. Even if it doesn't, other customers will see that you did your best to solve the issue, which means you care about your patrons.
Conclusion
Are you already doing these 10 things that make a good restaurant? Then you're on the path to success. If you're not, implement these ideas ASAP to blow past the competition and skyrocket your profits.