How To Take Orders With The Mobile Ordering App
When it comes to sending the online orders from the customers to the restaurants, there are many possible solutions and implementations. Which one is the best? The one that makes your client happy. Because a happy client is a returning client.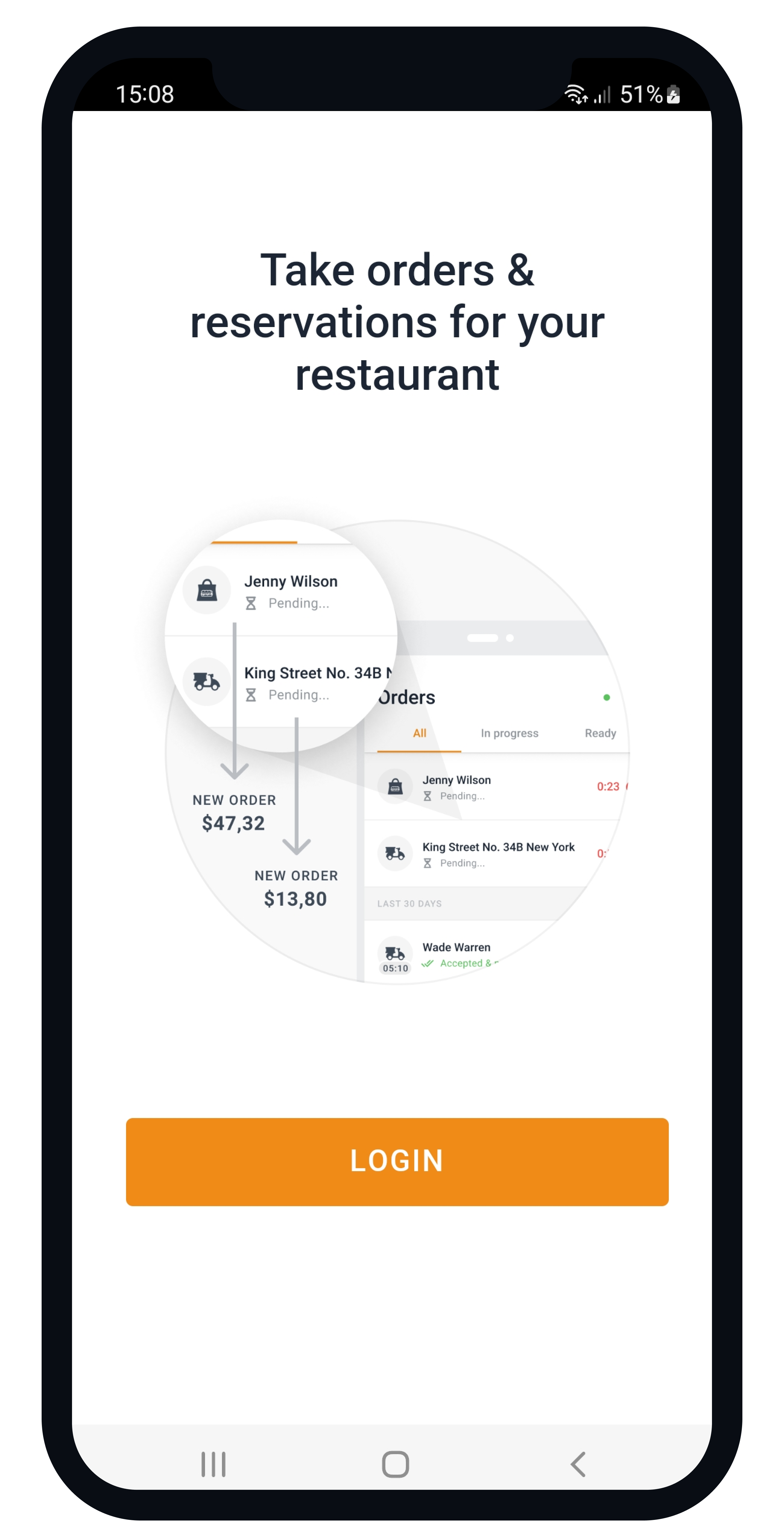 What do customers want when ordering food online?
When placing an order, most clients are already hungry (therefore anxious), so they expect and demand a speedy response from your side. They need a confirmation that you've seen and accepted their order, also being able to count on the time required until ready. Waiting for this confirmation can be annoying, especially when ordering for the first time from a restaurant, thus having no clue on how long it may take. If you need, let's say more than 15 minutes to confirm an order, better not even bother. Your client has probably placed an order from somewhere else by this point.
Why our mobile ordering app makes clients happy
Because we've made this our priority!
We've replicated what was appreciated by the clients when ordering via phone and added the benefits of online ordering on top.
Real‐time confirmation of the orders
Fast feedback is exactly why we have implemented real-time confirmation. Once the order is placed, we hold the customer "on the line", informing them that you need only a couple of minutes to review the order. Based on our research we have set the timer to 3 minutes. Sounds too little? Remember that with phone orders you get around 30 seconds to answer the call. Not picking up in a timely manner will cause the order to be lost. With online orders, when the app "rings", you have more than 2 minutes to review the order. That's more than enough time.
After hundreds of thousands of processed orders we can safely say that mostrestaurants need roughly 1 minute to confirm an order. A minute in which the customer is not left there clueless, but reassured from within the app that someone is taking care of him/her in that very moment.
See how easy it is to accept an online food order with our mobile ordering app in the below video.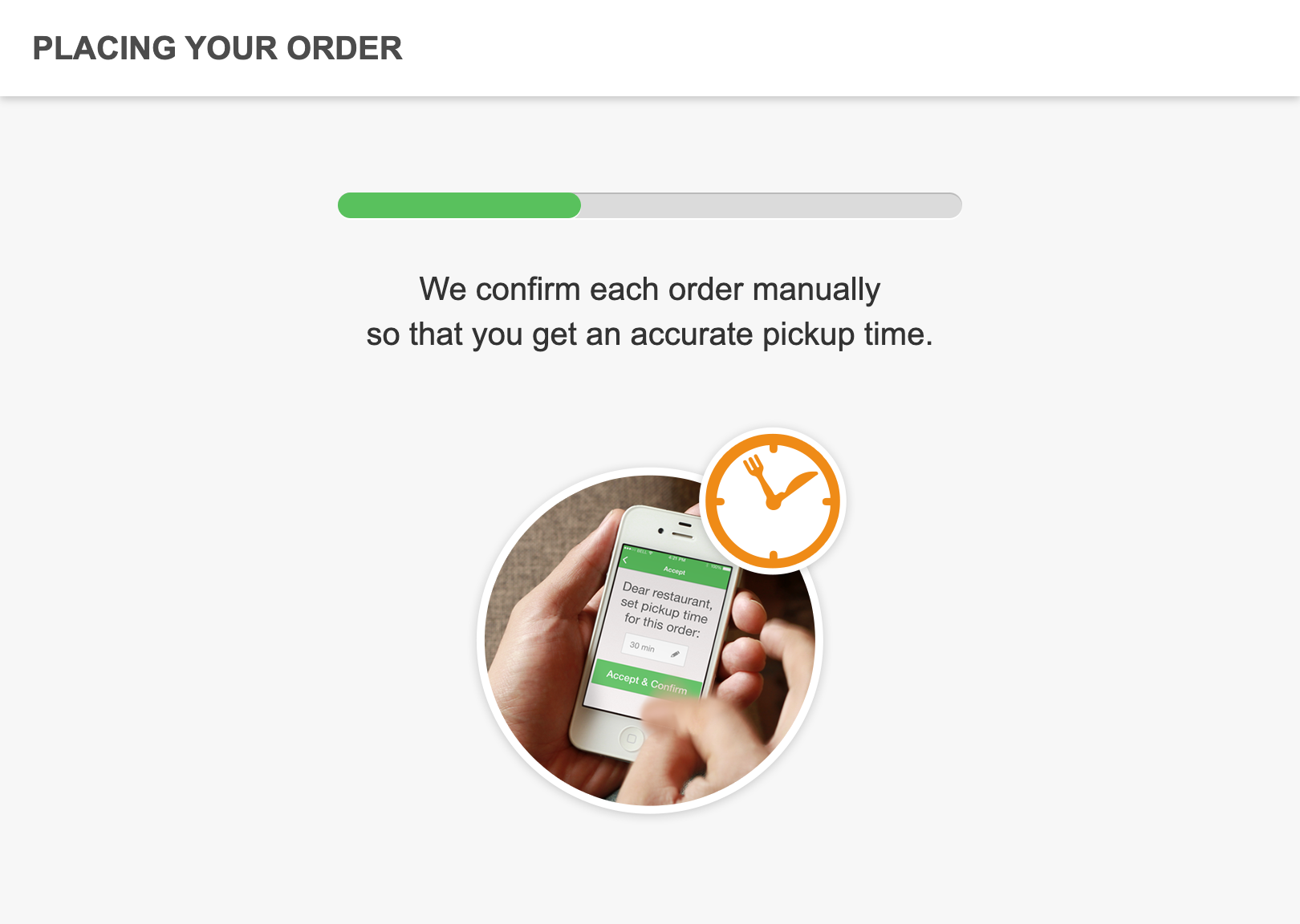 "No" to orders via Email or Fax
This is definitely not real time communication and there's no control over how long the communication may take. Even if you are fast, it's not uncommon for an email to arrive late. Or for an internet connection issue to go unnoticed. As we've just discussed, taking too long to confirm an order might turn your client unhappy and chase him off somewhere else. But this is not the end of it. To avoid cooking for a lost customer you would need to double-check with the client if he/she is still waiting for you (which means lots of follow up calls). If they are not willing to wait and the order is paid, you would also need to give a refund (which means even more money lost).
This is not the ordering experience we want to offer, right?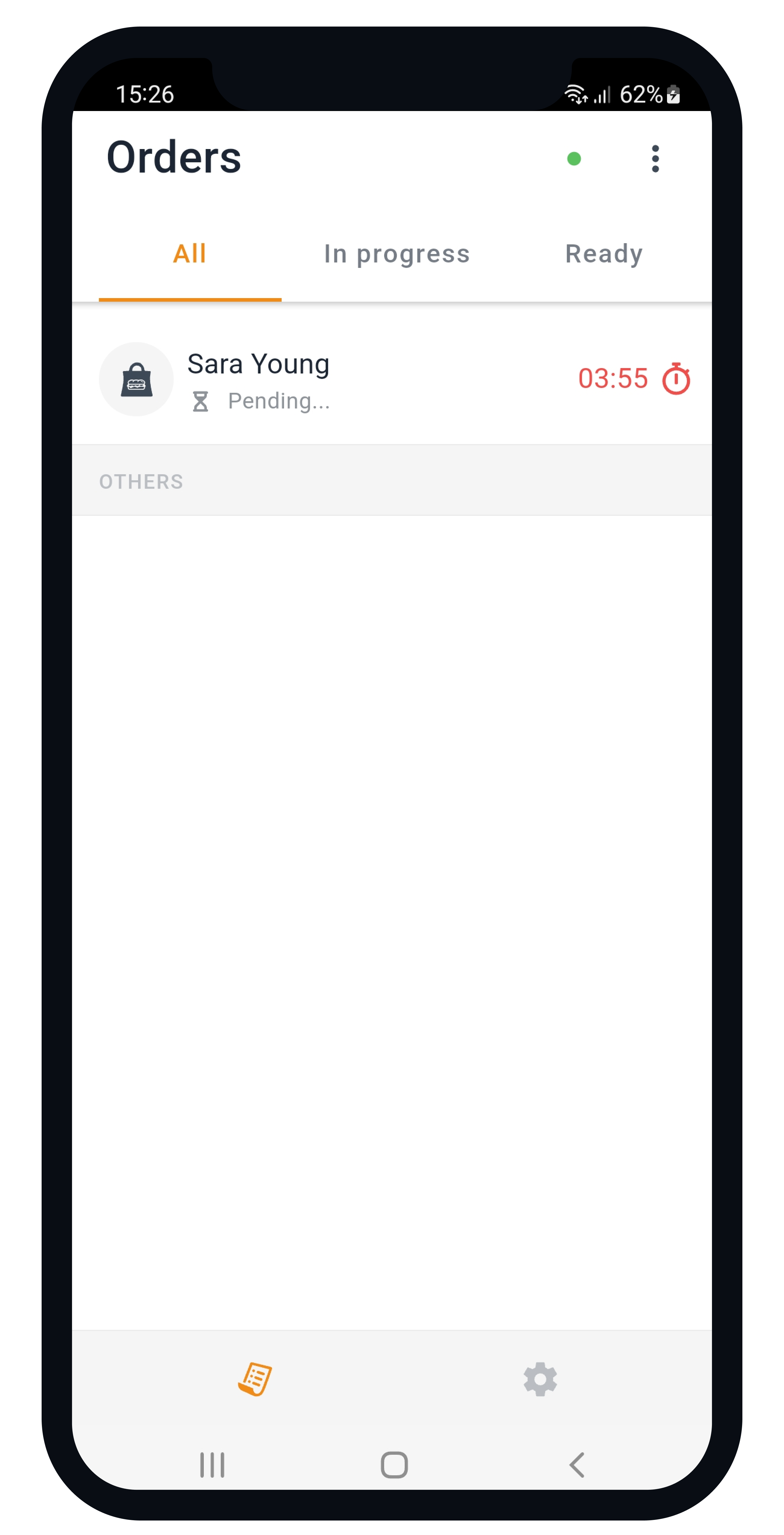 Our advice: accept orders fast
Pay attention to the mobile ordering app and accept orders fast! The faster you respond, the happier the clients are. At the end of the day this is all about getting more sales, right? The hard fact is that online clients are even more demanding than phone clients, although they choose not to shout at you over the phone when they are unhappy. In such cases, they leave, while you don't have the chance to make it up to them. So just respond fast and if it happens that you miss orders, call back right away and let the clients know you are there for them. In 99% of the cases, this will help create an even stronger bond with the client.
Ironically, the busiest restaurants (that have over 50 orders a day with our system) have an average response time of 65 seconds. The faster they accept, the more clients they have and so on. The slow movers end up having less than 1 online order a day and to make things even worse, also missing 30% of those few orders they have. That says a lot about the main causes of sales growth or decrease in online.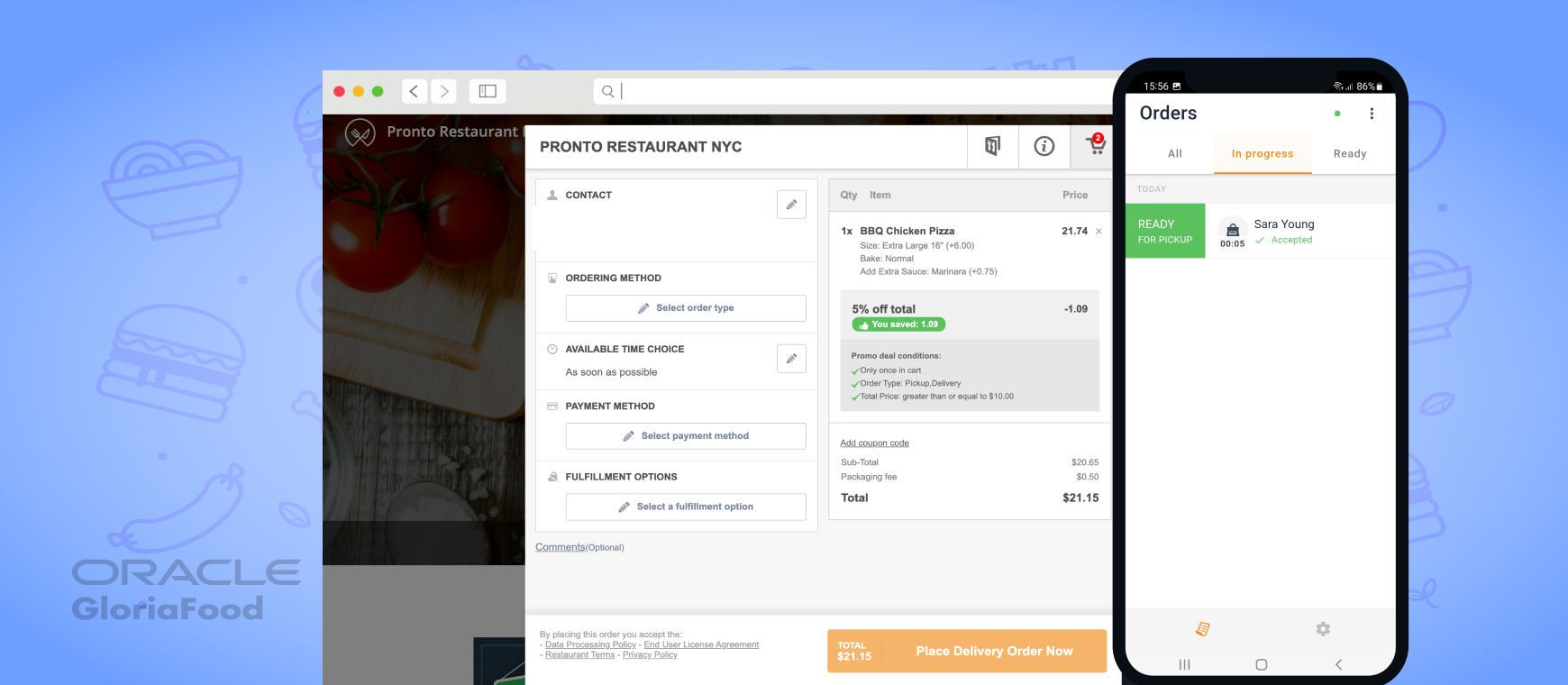 The restaurant order taking app does just that – provides alerts for restaurants when customers placed online orders.
Moreover, it also shows alerts when you receive a new table booking request. Review & accept reservations with just a tap, directly from your Android or iOS device.
How do you know when your mobile ordering app is offline?
Our system checks every few minutes if it still has a connection login with the order-taking phone / tablet. In case it is not possible to establish a connection, you cannot receive orders, so we show the following message to your customer: "We're currently not taking orders online right now. Please call us at: [restaurantphonenumber]". We believe this is better than having customers place orders without being served.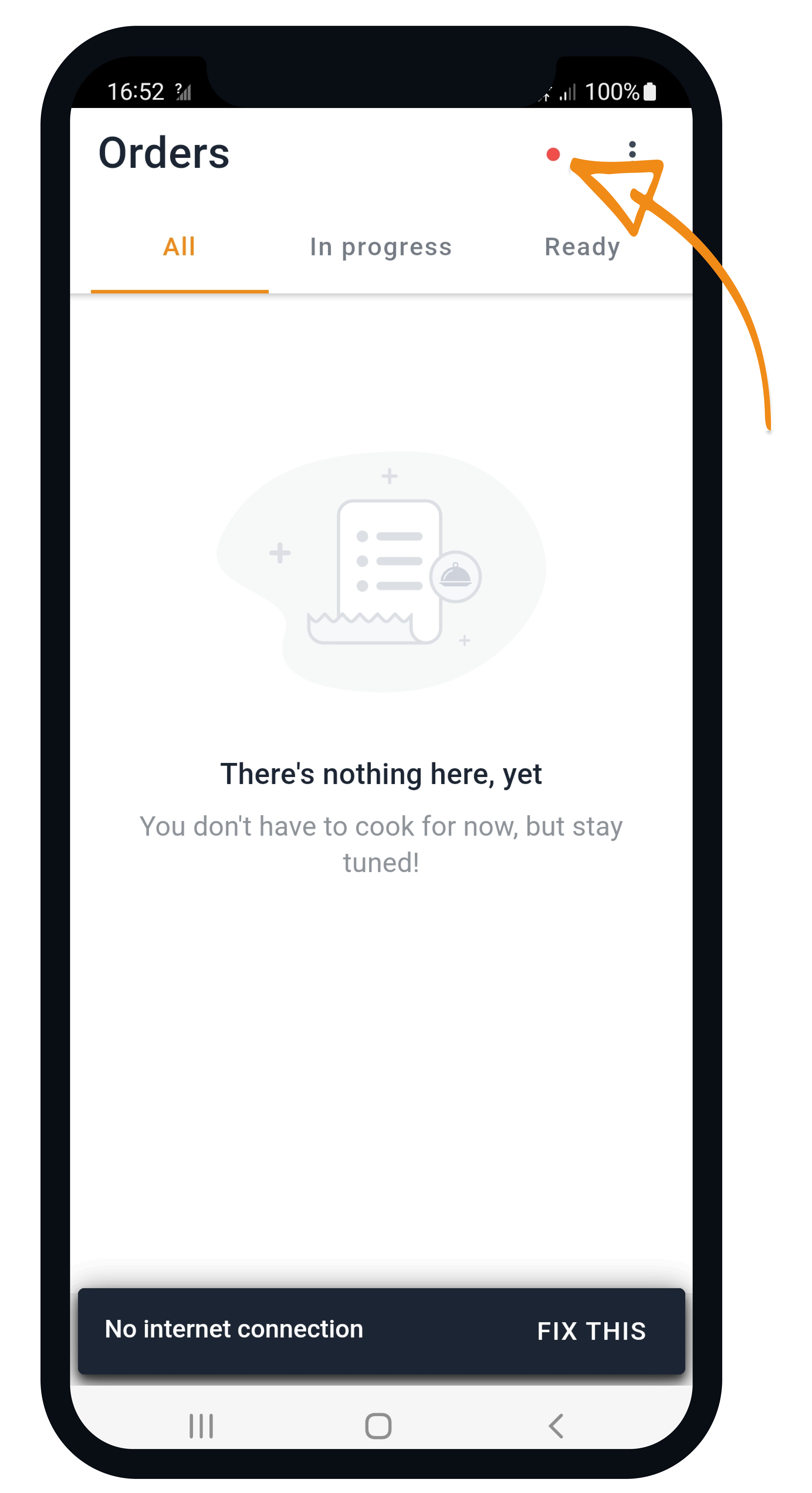 In the meantime, we also notify you via email or push notifications on your device. Don't worry about being bombarded with emails in case your connection is not stable. We send the email after 20 minutes of lost connection. In addition to our notifications, you have the Connectivity Health report in the Admin area with real time stats about your connection. Aim to be online close to 100% in your opening hours. Not being reachable is clearly not desirable for your customers, even if you have low online volumes. Clients learn quickly if you do not care for them and they stop caring about you too.