Is A Restaurant Loyalty Program Important?
Do restaurant loyalty programs work?
Simply put, yes. 42.9% of customers say loyalty programs encourage them to visit a restaurant. Moreover, 47% of restaurant loyalty members take advantage of the program multiple times a month, while 32% do so several times a week. That means plenty of return customers for you.
If you're not convinced this is an opportunity you should explore, let's look at a couple of restaurant loyalty program statistics that speak for themselves.
Main benefits of customer loyalty in the restaurant industry
It's 6 to 7 times cheaper to preserve an existing customer than to acquire a new one. The probability of a sale from a new customer is between 5-20%, while the probability of a sale from a loyal customer is between 60-70%. So, focusing on customer loyalty is the key to a profitable restaurant.
Loyal customers spend 67% more than new customers and are 50% more likely to sample your new products.
86% of loyal customers will recommend your brand to a friend or family member, and 66% will write a positive review about you online.
59% of American consumers say that once they become loyal to a brand, they're loyal for life. This speaks volumes to the longevity of your restaurant if you manage to attract loyal customers.
How to create a successful restaurant loyalty program
If you're looking for the best way to reward loyal customers, go directly to the source. 86% of restaurant loyalty members prefer transactional benefits such as offers and coupons. So, give them what they want.
GloriaFood's promotions module allows you to easily create segmented promotions targeting returning customers, such as:
An online punch card promo(e.g.: "Order from us 5 times to get a free dessert"). Mark the promo as "Only returning clients" and go to "Show advanced settings" to add a condition of equal to 5 orders.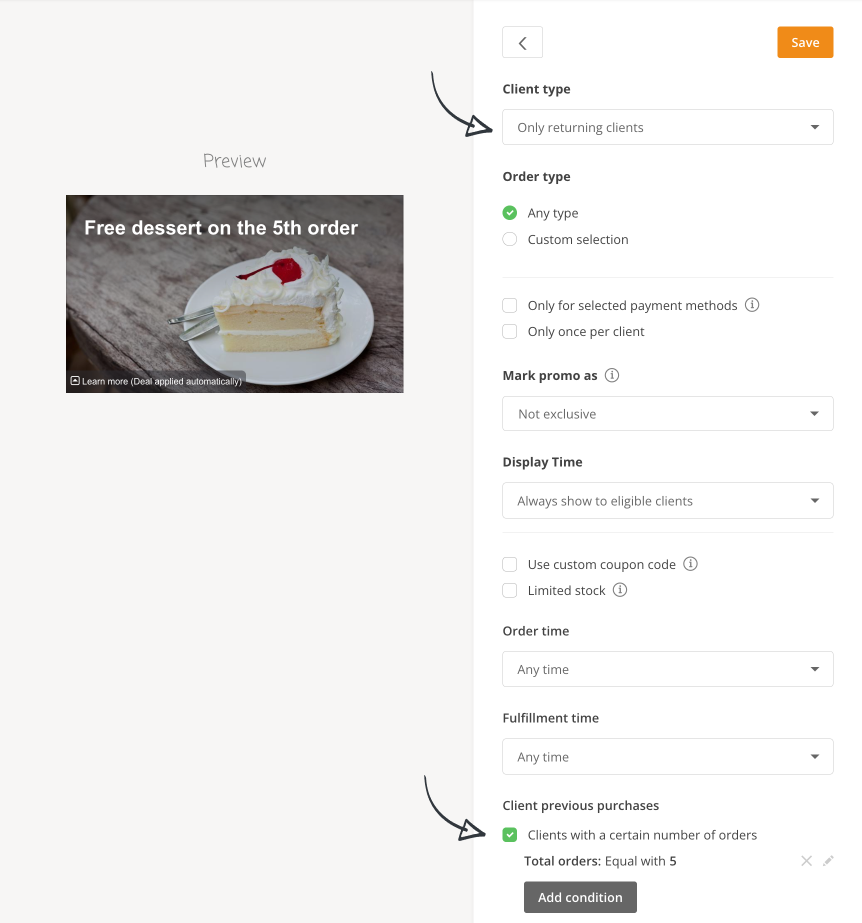 Personalized coupon code hidden from the menu and that clients can only use once.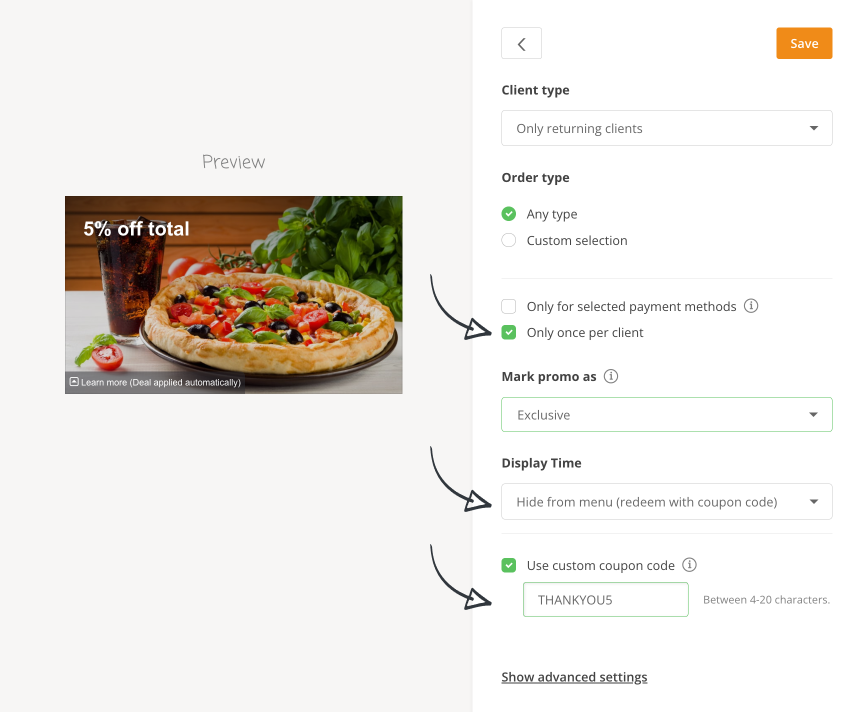 Discount to "make up" for missed or rejected orders.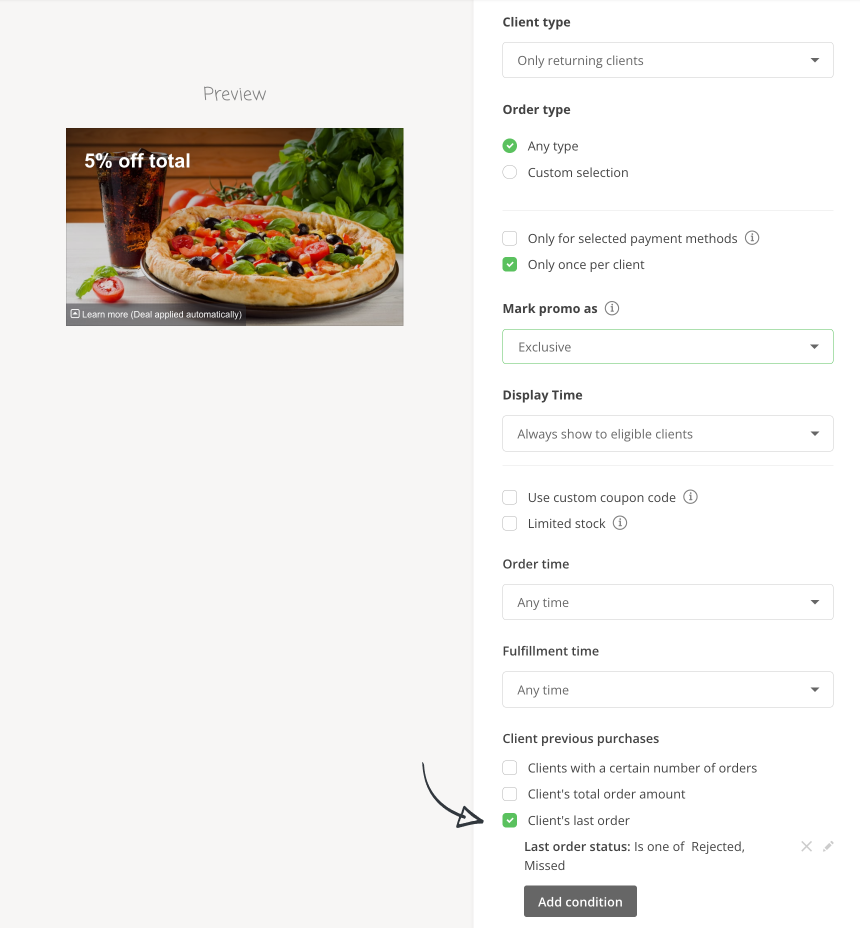 Run your restaurant loyalty program on Autopilot
Successful restaurant loyalty programs don't have to take up a lot of your precious time or cost an arm and a leg.
Allow us to introduce our Autopilot module, especially created to help you drive repeat business with 3 pre-built loyalty campaigns segmented based on purchasing history: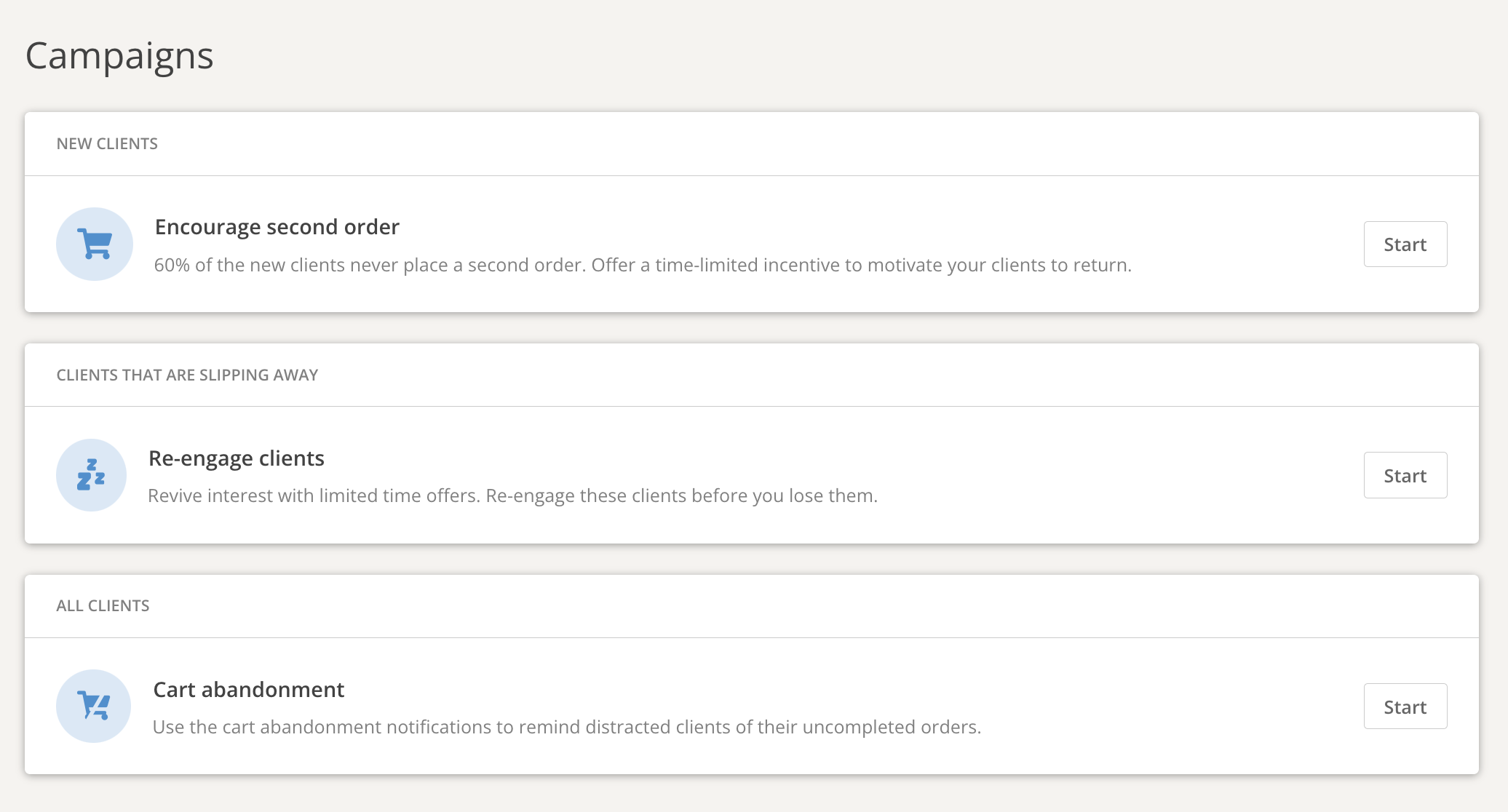 Learn how to set up the campaigns in minutes and allow them to run in the background while you focus on more important tasks:
What's next?
So, we've established restaurants with loyalty programs are more successful. Well, restaurant gamification can also improve customer retention by engaging people in a fun and exciting way. We've prepared a cheat sheet just for you!
Try new things, play around with various strategies, change fast, and change often until you figure out what works best for your business. We can only hope you'll check back in with us to share your most successful findings soon.Good Luck!