Is your stomach fluttering thinking about your restaurant launch day? We're here to settle those nerves by providing a comprehensive guide featuring many restaurant grand opening ideas, a checklist, menu ideas, a sample announcement, and more.
Let's get started!
10 Restaurant Grand Opening Ideas That Will Draw Customers in
1. Welcome customers with exclusive deals and discounts
Nothing will make customers flock faster to your grand opening than the promise of limited-time offers and promotions that mean they can pay less and get more for their money.
Since you want to start things off with a bang, prepare a variety of special offers on the big day, such as:
20% off the entire menu
Buy one main dish and get the second for free
Buy a menu and get a free dessert
Family meal bundle at a discounted price
Combo offers for large groups
Create any promotion you want in minutes
Sign up for our free online ordering system and get access to countless promotion templates
Get Started
2. Throw a memorable party
If you want to give customers a reason to remember you, make your grand opening into a true celebration including live music, entertainers, games, and surprises.
You can also launch your new restaurant on a holiday to generate even more hype and organize restaurant events like a costume party (for Halloween) or a speed dating evening (for Valentine's Day).
3. Invite local food bloggers and social media influencers
Make your restaurant grand opening ideas pop by ensuring influencers are there to record everything and share it with their followers.
Extend a restaurant grand opening invitation to influencers and food bloggers in your area for great publicity and the chance to get long-term customers.
4. Organize a giveaway on the day
Do you want to offer customers a chance to win an exciting prize while also collecting their email addresses for marketing purposes? Organize a contest or giveaway open to everyone who attends the grand opening.
Then, you can take the email addresses you collected and invite them to also order from you online with a small first-order discount to sweeten the deal.
You can easily do that with the Kickstarter module from GloriaFood, designed to help you get started with online ordering.

Check out this video tutorial to learn more about how you can use this feature to attract more customers to your restaurant:
5. Enable customers to reserve a table in advance
To avoid overcrowding and people showing up to the grand opening only to realize there are no available tables at opening times, open up reservations in advance.
Accept table reservations for your grand opening with a tap
Install a FREE table reservation system on your restaurant website
Take table reservations
Even better, enable customers to also pre-order their food when making a reservation so you can increase table turnover on the day and serve more customers.
GloriaFood's free table reservation system comes with a built-in order ahead feature. All you need to do is check a box and you're ready to accept reservations and pre-orders.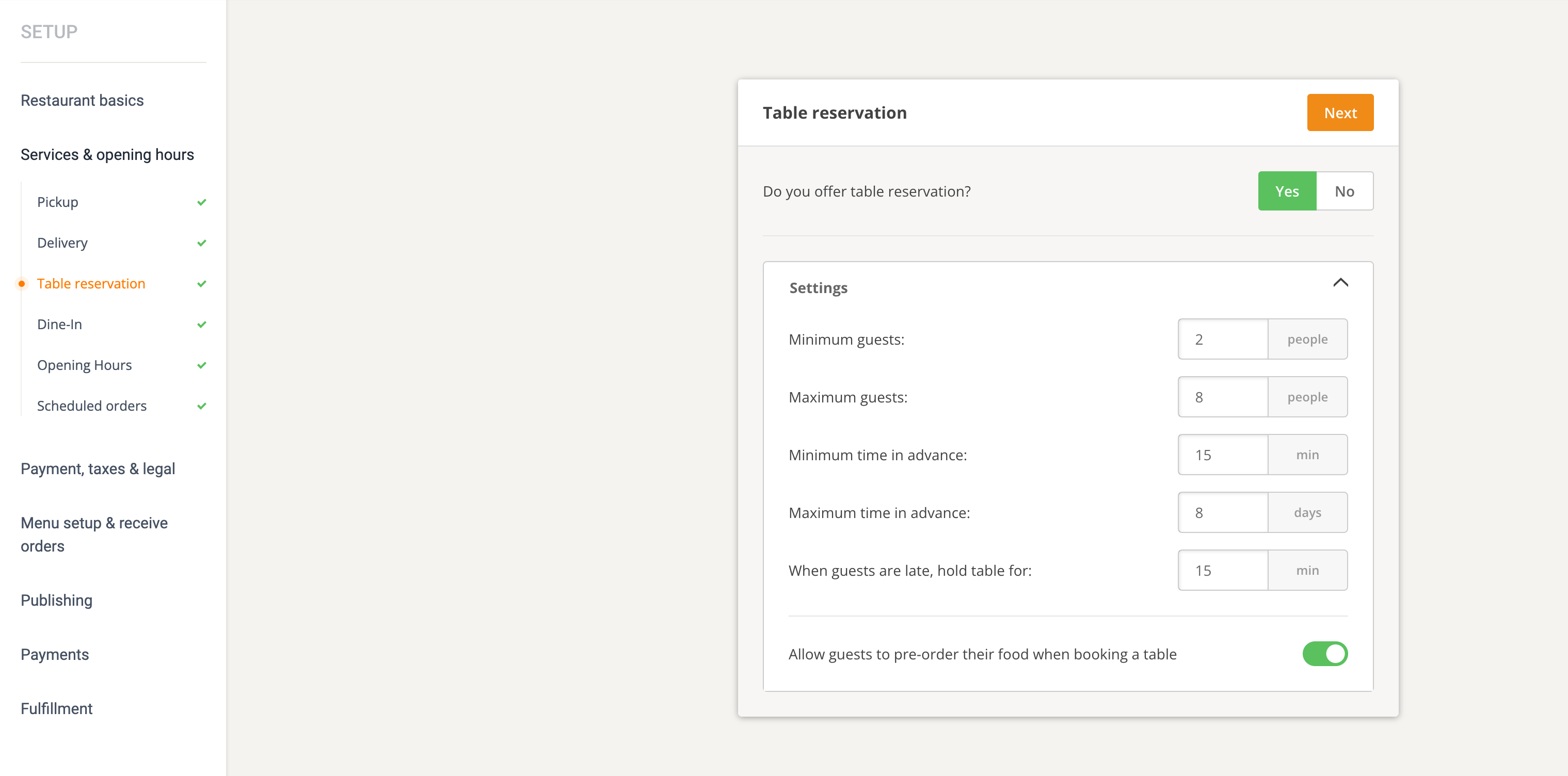 6. Hand out discount coupon codes for online ordering
The goal of these restaurant grand opening ideas shouldn't just be to attract new customers to your restaurant. Your ultimate goal is to keep them and persuade them to come back.
If they liked the food, a coupon code for a discount on a delivery order will encourage them to order online.
You can easily create a personalized coupon code for the grand opening (e.g., OPENING10) and print it on flyers that you distribute to attendees with GloriaFood's online flyer maker.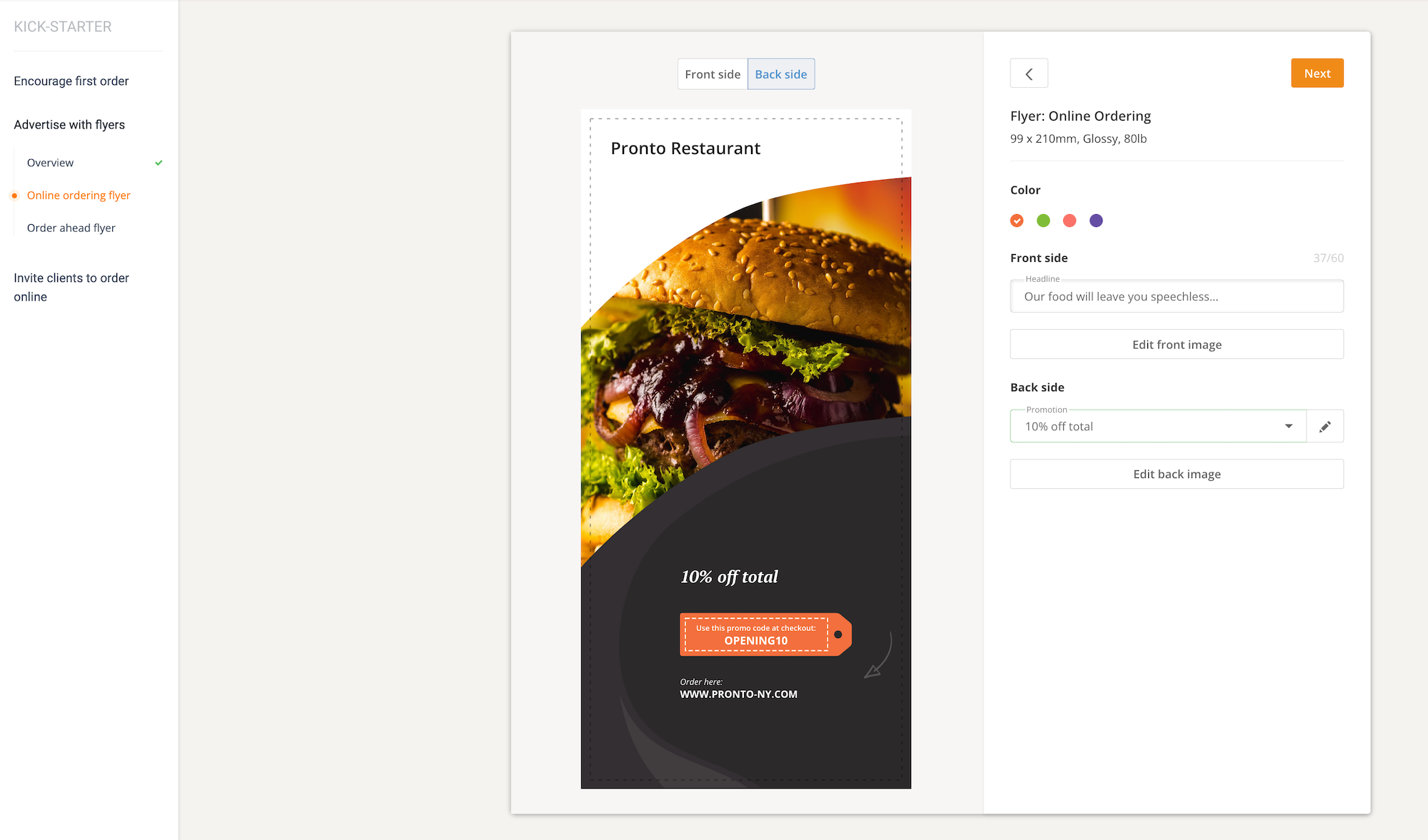 Watch this video tutorial to learn how to create discount coupon codes:
7. Bring in live entertainment
Elevate the grand opening experience by hiring local performers that can entertain the crowd, be it singers, dancers, stand-up comedians, or magicians.
This is also a good way to show the community you support local talent. For more restaurant entertainment ideas, check out this detailed guide.
8. Create a photo backdrop and encourage people to tag you on Instagram
If people didn't snap a photo of it, did it actually happen? This is how you should treat your restaurant's grand opening. You want customers to have a good time and show others what they're missing.
Encourage photo-taking by creating an Instagrammable backdrop featuring your Instagram handle and invite customers to tag you in the photos they snap.
Learn more: Restaurant Instagram Marketing Ideas That Will Help You Increase Sales
9. Reveal a secret menu to people who attend the grand opening
Secret menus are exciting for many reasons. They feel exclusive, drive orders, and start a whisper campaign where people crave to try it themselves.
What better time to 'leak' a secret menu than to a room full of people who are trying your food for the first time? They will feel special for being the first ones who know about it and will pass the information along.
10. Enable tableside ordering to serve more people
If you want to speed up table service on your grand opening day, implement a QR code menu for tableside ordering.
That way, customers can scan it to order and pay for their food, and your waiters can focus on delivering the food and clearing tables for the next party.
Serve more customers on your opening day with a QR code menu
Enable table ordering for free with GloriaFood
Start Now
The video below walks you through the steps of creating a QR code menu for your restaurant for free:
How Do You Throw a Good Grand Opening for Your Restaurant?
Follow this restaurant grand opening checklist to ensure your big day runs smoothly:
Display a restaurant grand opening banner out front: If you allow walk-ins on your grand opening day, displaying a banner at the entrance is an excellent way to draw attention and invite people in.
Sprinkle restaurant opening decorations everywhere: A grand opening should feel special compared to a regular day at the restaurant. Decorate the space with banners, balloons, nice centerpieces, and photo props.
Invite friends and family to support you: Create a limited invite list for the grand opening made up of your loved ones. Not only will they provide their honest opinion, but they can also hype up your restaurant to others.
Schedule and train your team for the grand opening: Everything has to be perfect for your grand opening. Not having enough servers can lead to dissatisfied customers and bad reviews. Ensure every member of the team is knowledgeable about the menu so they can answer any questions customers might have.
Invest in restaurant opening marketing to get the word out: You don't need to break the bank when promoting your new restaurant. However, set aside some time and money to help it get off the ground. From social media posts to press releases (which we'll discuss below), it's vital to start promoting early and post regularly to create anticipation.
What Food to Serve at a Grand Opening?
Your grand opening menu ideas will depend on whether you're kicking things off with a party or with regular table service.
If you're throwing a party, having a buffet and open bar is a good idea so you can leave room for other activities. In that case, you can serve mini versions of some of your staple dishes. Here are some grand opening food ideas for a buffet:
Mini quiches
Mini pizzas
Cheese platter
Cake in a jar
Muffins
Homemade dips
Chicken drumsticks
Scones
Kebabs
Canapés
How Do You Announce a New Restaurant Opening?
Print a grand opening restaurant flyer and distribute it around the neighborhood: Targeting locals should be your number one priority when preparing for your restaurant's grand opening. They are the ones who will visit your restaurant most often. Include a discount code on the flyer to give them an extra reason to attend your grand opening.
Write a restaurant grand opening press release: A press release might sound like an old-school marketing strategy but there's a reason it's still around: it's good at attracting foodies' and media's attention.
Post a restaurant opening teaser on social media: From old-school to contemporary, give social media your full attention if you want your grand opening to be a success. Create profiles for your restaurant on all the main social media platforms and post regular updates at least two weeks before the opening. Tease menu items, promotions, entertainment, and decorations to generate interest.
How do you write a grand opening announcement for a restaurant?
For your restaurant grand opening ideas to shine, you need an announcement that will capture people's attention. The announcement should contain:
The date and time of the opening
The address
A captivating call-to-action
Your logo and branding
An eye-catching visual such as a photo of your dishes
Here is an example of a new restaurant opening message:
Restaurant Pronto opens its door on Thursday, August 10, at 4 PM. Join us at 740 Park Avenue, New York for an evening of delicious dishes, exclusive offers, and live entertainment. See you there!
As you can see, you should keep it short and sweet. You can post this as a press release, send it via email, include it in an ad, post it on social media, and display it on your restaurant website.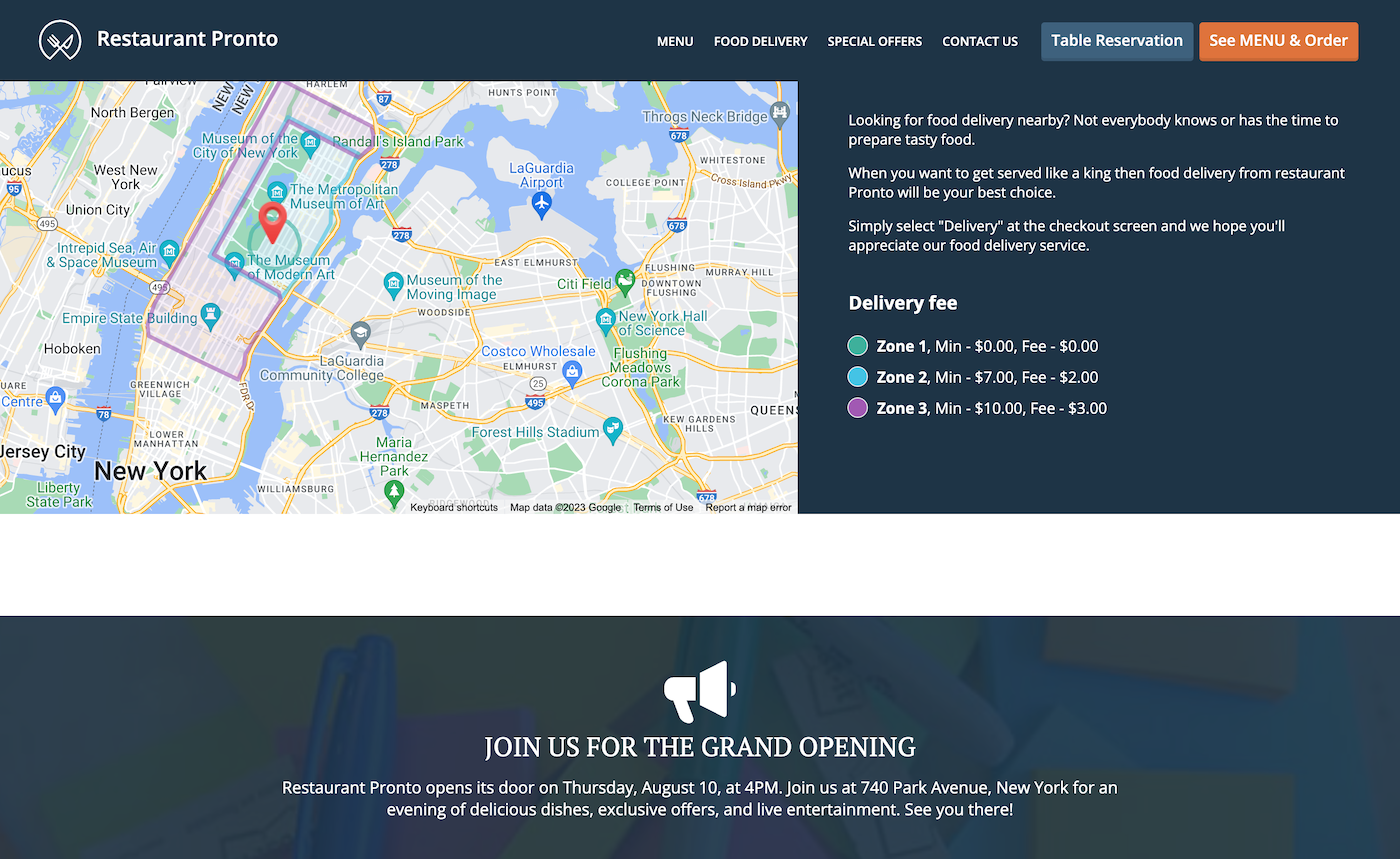 The restaurant website builder from GloriaFood comes with an announcement section that you can use to spread the word about your grand opening.
Watch this video tutorial to learn how easy it is to get your own restaurant website in ten minutes:
3 Restaurant Soft Opening Ideas Before the Grand Opening
A soft opening is an opening limited to a few people, meant to be a trial run before the grand opening. It can help you identify issues, collect feedback, and prepare better. It can also spread publicity if you invite the media or influencers.
1. Ask friends and family for feedback
You can always rely on those close to you to tell you the truth. They should be the first people you invite to sample your menu and experience the service.
2. Invite local business owners and their staff
What better way to make friends in the neighborhood than inviting other business owners to a soft opening? If they enjoy the food and service, they might also promote your restaurant to their customers.
This also opens the door to future mutually beneficial partnerships in which you both support each other's businesses.
3. Do a soft opening with media and influencers
Finally, if you want more people to attend your grand opening, organize a soft opening for local media, food bloggers, and influencers.
They have a sway over the local community and if they post about your food before the grand opening, their followers will be tempted to book a table for the big day.
Closing Thoughts
Your grand opening will dictate how your restaurant will be received in the future. Make it one to remember by implementing the restaurant grand opening ideas above.
Put yourself in your customers' shoes and make it worth their while with delicious food, exciting promotions, and fun activities.