Restaurant Expansion Strategy Blueprint
Is your restaurant the most sought-after place in the neighborhood? Are you thinking of expanding by adding a new location? Then you're in the right place. I will walk you through the restaurant expansion strategy you need to develop to replicate your success in more restaurant locations.
Are You Ready for a New Restaurant Location?
The first thing you need to ask yourself before expanding your restaurant to a new location is if you're prepared for what this will entail, both financially and in terms of time investment.
Is your current location profitable? Can this success be replicated in another location or is it dependent on factors that are out of your control?
If you've found the recipe for success and you're confident you have the necessary resources to replicate it, you're halfway there.
Restaurant Funding
Next, think about funding. You should have a pretty accurate estimation of the costs involved in opening a new location, assuming it will be similar to the first one.
If you have the funds you need, you can skip to the next step. If you don't, you can look for investors or take out a loan.
Here is a list of the best restaurant business loans you can take.
Restaurant Branding Strategy
To boost restaurant sales, the safest route is to replicate the branding you've used on your main location. This will make the new location instantly recognizable even if it's in another part of town.
However, maybe your branding is heavily dependent on location, and you feel like a second location could benefit from different branding. A new concept will be more difficult to pull off, but it could be the right choice for you.
Learn more: 12 Restaurant Branding Ideas to Build a Memorable Presence
Restaurant Expansion Strategy: 8 Main Steps You Need to Take
1. Look for a New Restaurant Location
Naturally, the first step expanding restaurants must take is to look for a suitable location. Here are some factors to keep in mind while doing location scouting:
Competition in the area
Surrounding buildings and other businesses
Key demographic
Traffic at all hours of the day
Eating patterns
Visibility
Parking
Read more: Restaurant Location Analysis: How to Choose the Best Restaurant Location
2. Write a Restaurant Business Plan
This should be a piece of cake for you since you've written one in the past. You'll see that much of the information will coincide. However, you need a separate business plan for each location you open.
Invariable, some things will differ, from location to target audience and competition. Others, like technology and accounting, will probably stay the same. If you have systems set in place that work, it wouldn't make sense to replace them at the new location.
Here is a detailed list of restaurant business plan templates according to your cuisine that you can use as a starting point.
3. Apply for Permits and Licenses
You can't open a new restaurant before you ensure you're abiding by all local laws and regulations. The licenses and permits you will need differ from area to area, even in the same city.
That said, make sure you're aware of all the papers you need for your new restaurant location. These are the most common permits and licenses you might need:
Business license
Business name registration
Foodservice license
Certificate of occupancy
Food handler's permit
Sign permit
Employee Identification Number (EIN)
Liquor license
Building health permit
Resale permit
Music license
Live entertainment license
Seller's permit
Dumpster placement permit
Valet parking permit
Not all of these will apply to your restaurant. For example, if you don't plan on having live entertainment or serving liquor, you won't need those permits. Based on what you need, check your local requirements before opening the restaurant to the public.
4. Decide Whether You'll Replicate the Menu or Create a New One
One of the most important decisions you'll have to make as part of your restaurant expansion strategy is how your menu will look. Are you thinking of variating it for the new location or do you want to duplicate the one you already have?
If the target demographic is different, you might want to consider a different menu as well. Depending on the location of the new restaurant, pricing should also be reviewed.
Free resource: Small Menu Template
If you're going for the same branding and vibe as the first location, the safest bet is to duplicate the menu and see how it performs.
Online Ordering Menu for Multi-Location Restaurants
One dashboard, multiple restaurant locations
Get it for free
Take a look at the tutorial below to learn how to set up your multi-location restaurant menu with GloriaFood.
5. Put Together a New Restaurant Marketing Plan
The first thing you should do to promote the new restaurant location is to create a website for it. Your website should be the center of your restaurant marketing strategy.
If you already have a website for your restaurant, you can add the new location as a separate page with its own menu, photos, reviews, and so on. You can do that easily with the GloriaFood sales optimized website. You can see a demo of a multi-location restaurant website created with GloriaFood here.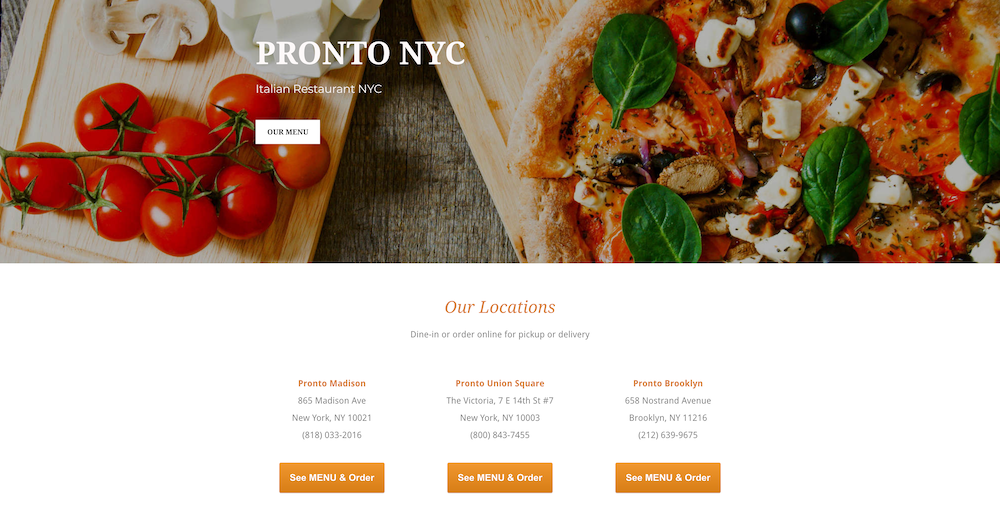 Then, you need a social media strategy to ramp up excitement about the grand opening. You can also email your mailing list with an invitation to the opening. If you can include a special discount, even better.
Check out our guide on how to market a new restaurant to learn more about creating a detailed restaurant marketing plan.
6. Accept Online Orders and Table Reservations
Next, you need to start thinking about the technology you'll be bringing to your new restaurant location. Allowing customers to place food orders and reserve tables on your website is practically a must now.
Free Online Ordering & Table Reservation System
Add the buttons on your website in minutes
Get started
In the GloriaFood multi-location dashboard, you can create a master menu and assign it to all restaurant locations. This means that any change you make to it will be automatically updated for all locations. You can also create multiple versions of the menu for each location – it's that easy.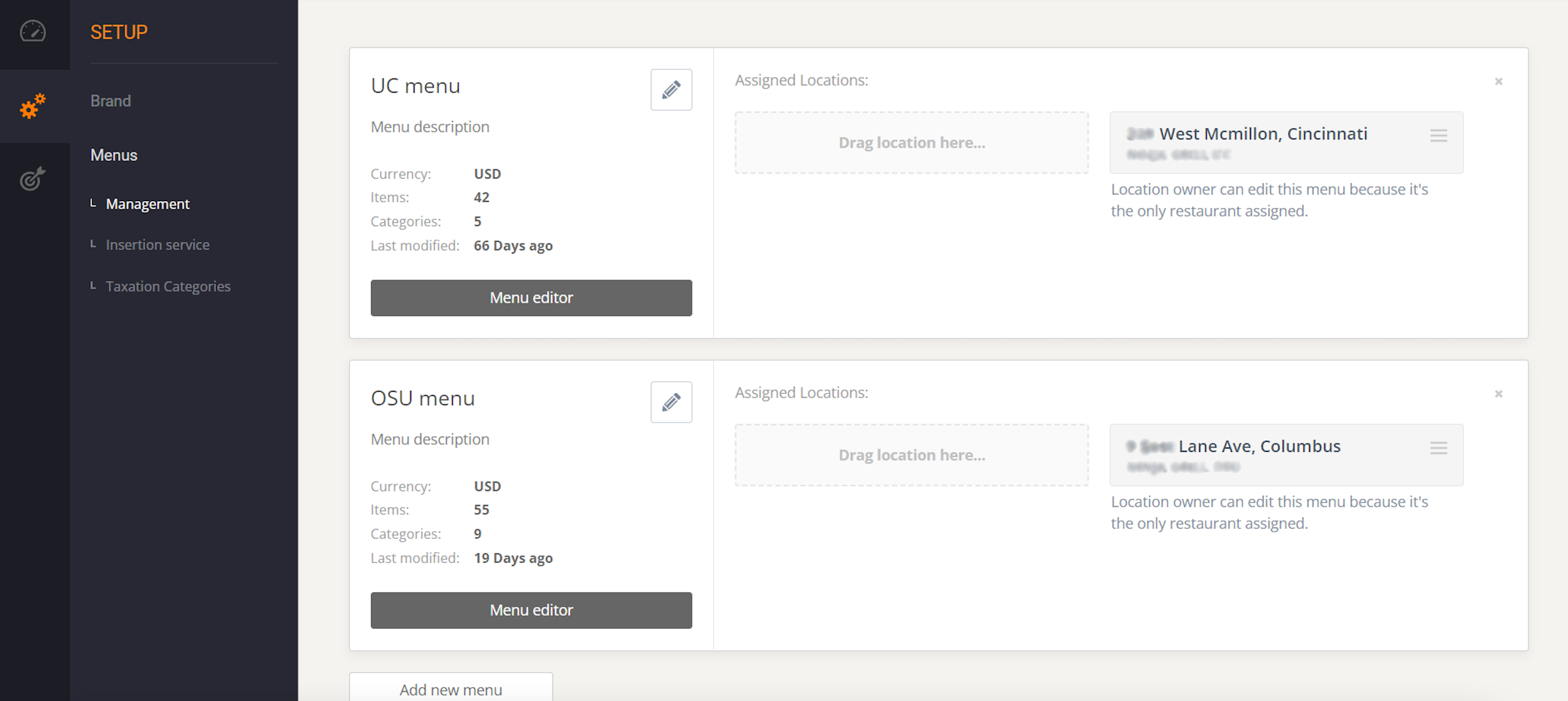 7. Purchase Equipment and Stock Your Inventory
The next step in your restaurant business strategy should be to go shopping for the necessary equipment and furnishings. If you're trying to recreate the vibe of your original restaurant location, you should furnish and decorate it similarly.
You might also like: 15 Restaurant Design Tips That Will Attract More Customers
Additionally, get ready for the grand opening by stocking your inventory with food, drinks, and any other supplies your staff might need. Consider using restaurant inventory management software to lighten the workload. This brings me to the final step.
Read more: 7 Effective Restaurant Inventory Management Tips for 2021
8. Hire New Restaurant Staff
Your goal should be to hire staff that you can teach how to grow restaurant sales even if you're not there to manage them every day.
Think about the things that make your current staff successful and consider them during the interview and hiring process.
Here are some of the most common restaurant staffing issues and how to avoid them. To keep your new employees happy and satisfied, consider these restaurant management tips.
How to Manage Your Multi-Location Restaurant with GloriaFood
To create your own multi-location dashboard, all you need to do is sign up for the GloriaFood online ordering system.
Watch the video below for step-by-step instructions on how to set up your restaurant profile and enable online ordering.
Once you've completed the process (and it will only take a couple of minutes), access your restaurant admin panel. There, click on the arrow next to your restaurant name, and then on "Enable Multi Location Dashboard." That's it!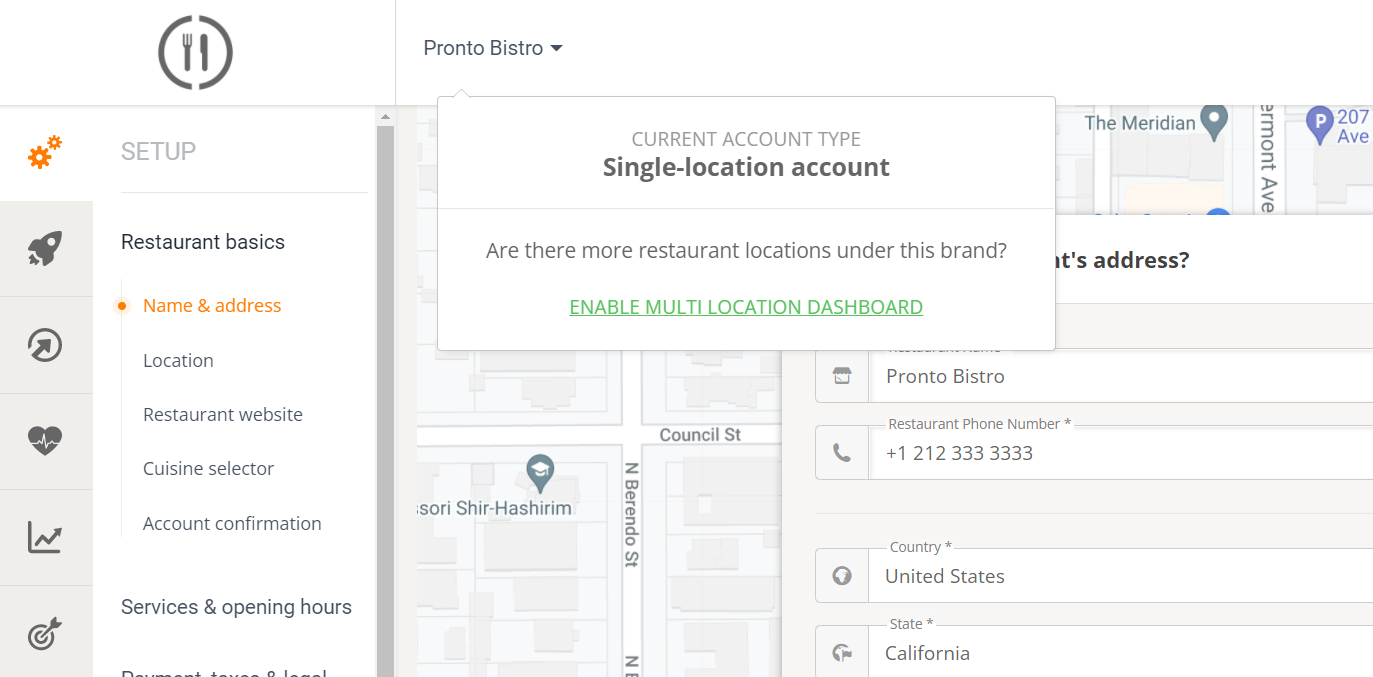 Read more about how to set up your chain restaurant with GloriaFood on our Public Knowledge Base.
Final Words
With these tricks up your sleeve, you are ready to put together your restaurant expansion strategy and share your delicious food with even more people. Always remember what made your first restaurant location successful and try to emulate it, while also keeping the new location's specifications in mind.