What is the best marketing strategy for restaurants?
Securing a location and a great team that can prepare amazing dishes and offers an unforgettable experience is just the first step in owning a successful restaurant. To guarantee continuously increasing sales, you need to get the word out about your business and attract new and returning customers.
What is the best way to do this? You must develop a promotional strategy for restaurant businesses, that best fits your target audience and type of cuisine.
This article will give you insight into efficient restaurant strategies to attract customers and increase your revenue.
What is a Promotion Strategy in the Restaurant Industry?
A promotion strategy in the restaurant industry is a marketing plan that will help you position your business amongst your competitors, make you a well-known name in the industry, attract new clients, and encourage them to become loyal patrons.
While most of the work is done at the beginning, when you find your target audience and choose the preferred promotional methods, the marketing job never stops. You must monitor what works for your business, so you can make the best choices considering the investment-to-results ratio.
Developing a great promotional strategy for restaurant businesses has many benefits:
Create awareness: your food may be amazing, but people can't order from your place if they don't know you exist. A marketing strategy should focus on promoting your location, online service, and unique dishes to draw people in;
Cultivate interest: A promotional strategy for restaurant businesses must also zero in on what makes your restaurant special and why potential clients must choose your business and not the competition;
Generate demand: to encourage people to visit or order from your restaurant, you must give them a reason to desire your food or service. For example, you can offer very fast service, unique dishes, locally sourced ingredients, use family recipes, etc;
Determine people to take action: while people may admire your restaurant from afar, they usually need one last push to take the final step and order. You can encourage them by using strong calls to action such as "Order now" or "See menu & Order" and adding impossible to say no to deals to your restaurant menu.
5 Steps for a Successful Promotional Strategy for Restaurant Businesses
The best time to create a promotional strategy for restaurant businesses is before you open the restaurant. Some of the steps may take some time to put into action and you don't want to have empty seats and lose money because you didn't implement the marketing strategies in a timely manner.
Follow these steps to create the best promotional strategy for your restaurant:
1. Brand your restaurant
Because you want your restaurant to be up and running for a long time, you must make it easy to recognize by a lot of people. And that's precisely what restaurant branding is. It is the image that you project to your customers and competition, both online and offline.
You will surely want to create a positive image of a great restaurant that people can't wait to return to. Here are some questions you must answer to efficiently brand your restaurant:
What is your restaurant's concept? Once you define the concept, you can't change it if you want to create a unitary image that sticks, so carefully pick your answer. Think about your type of cuisine and food, price range, and type of establishment (fine dining, casual restaurant, or food truck);
What is your restaurant's mission? Create a Unique Selling Proposition (USP) that you will use to market your business and people will come to naturally associate it with your business. To come up with a great USP, think about why you are opening the restaurant, what you are trying to accomplish by opening it, and how you are going to do it;
What is your position in the restaurant market? There are many restaurants in the same area as yours, but not all are your direct competition. To identify which ones you compete with, decide on what type of food you will sell, your price range, and your exact location, and then find similar places;
What is your restaurant brand voice? For this step, you need to personify your restaurant. What type of person would it be? A fun bubbly one or a professional, reserved one? Once you decide on a voice, you must use it everywhere, on the website, social media, review platforms, and any other channels;
What are your branding design items? To help create a unitary image that is easy to recognize, you need a logo, color, fonts, a menu, and a website that showcases them.
2. Identify your audience
Your restaurant products will not appeal to everyone. For example, if you own a business that sells only dishes with meat, you can't cater to vegetarians. To create a winning promotional strategy for restaurant businesses, you must first identify the audience to which you will market your menu items.
This will help you spend your money wisely by only promoting your restaurant to people who are interested in visiting or buying from your restaurant.
You can use the questions from the branding step to create a profile for your potential clients. The type of food that will be on your menu, the price range and your location will play a huge part in determining your audience.
Let's say you are located in a tourist-prone area. Automatically, your audience isn't just local, but also people who visit from other countries. Therefore, you should have a menu available in English or another international language, hire people who speak multiple languages, and promote your restaurant on TripAdvisor and other tourist-centric platforms.
3. Choose the preferred types of promotion
After you've branded your restaurant and identified your audience, it is time for the next step of the promotional strategy for restaurant businesses: making your restaurant known and attracting customers through marketing methods.
To create an easy-to-follow structure, we've created a plan that focuses on the main channels you must be active on:
Online ordering system
You only have a limited number of tables at your restaurant, so you can only serve a couple of clients at a time. But if you expand your sales online, you can increase your revenue by serving as many clients as possible in a day.
An efficient online ordering system should be a big part of any promotional strategy for restaurant businesses because it increases customer satisfaction and encourages clients to recommend your business to other people.
We have the perfect solution for you: the online ordering system from GloriaFood. Not only does it create an amazing customer experience by being easy to use, but it also comes with additional useful features such as a table booking system, QR code restaurant menu creator, and a Promotions module.
Use technology to create a winning promotional strategy for restaurant businesses
Install an online ordering system to your website for free
Start Now
Learn how to set up online ordering for your restaurant in just 10 minutes:
Restaurant website
In the olden days, when you promoted a restaurant on TV or radio, you would send people directly to your location. Nowadays, people like to do some research before they choose a place to eat. Therefore, every advertisement should lead people to your online location: the restaurant website.
A good restaurant website will help you rank high in Google searches, so when people look for your type of cuisine, let's say "pizza in upstate New York", your website will pop up in the first results.
After they reach your website, if you have a visible menu button and a responsive menu, there is a high chance you convert visitors to clients.
If you don't already have one, you can get a sales-optimized restaurant website using our online ordering system. All the work will be done for you, you will receive a site complete with pictures and texts that are fully SEO-optimized to increase conversion.
Check out this video to see how easy it is to create a restaurant website:
Google Business Profile
Let's face it, Google is the most used search engine. Everyone who wants to eat someplace new uses it to search for options. For that reason, the promotional strategy for your restaurant must include completing your Google Business Profile.
Here is what must be on your profile to attract more customers:
A link to your website: so clients can find your menu and order as fast as possible;
Working hours: if people want to visit you, they must know when you are open;
Many pictures: of your food, interior, exterior, and atmosphere. Entice people to visit your restaurant with mouth-watering pictures of food;
Correct address: there is nothing more unpleasant than being hungry and not being able to find the restaurant
Reviews: people will check the reviews before visiting or ordering from a new place to ensure others had a good experience. Therefore, you need to encourage clients to leave a positive review and don't forget to reply to any comments, even if they are negative, you could persuade people to change their opinion.
Email marketing
Most promotional strategies for restaurants include the classic tactic of email marketing campaigns. The reason is simple: they work. If they are done right, they can entice people to not only order again but also to place high-value orders.
No need to hire an advertising agency to create your email campaign, you can do it yourself with the Autopilot module incorporated in our online ordering system.
Persuade customers to order again with targeted email marketing campaigns
Let our Autopilot module do the work for you and enjoy the results
Start Now
The module was designed to increase restaurant sales and drive repeat business. You only set up the campaign once, and the feature does the rest, on autopilot. Furthermore, the module segments your customers according to their purchasing history to deliver them relevant campaigns.
Watch this video to learn more about how useful Autopilot can be for promoting your restaurant:
Social media
There is no promotional strategy for restaurant businesses that doesn't involve social media. Because your audience spends most of their time there, it is one of the easiest ways to reach them.
Consequently, you need to have an active account on the social media platforms used by your target audience. If you want to reach young people, go for Instagram and TikTok. If your cuisine is catered to older people, stick to Facebook.
The key to success on social media is to post often, use great images that entice people to look for the menu, and interact with people through comments, likes, and polls. Don't forget to organize the occasional contest that will help you reach more potential customers.
You can also use social commerce tools like Taggshop to aggregate this social content, turn it into shoppable galleries, and integrate it into your web page, homepage, or emails.
Promotions
When you first read the words "promotional strategy for restaurant businesses," you surely think of the obvious promotions. Every industry, including the restaurant one, uses this old and very efficient tactic to attract customers and persuade them to order more.
The great thing about technology is that you no longer have to write on a blackboard or print a new menu to add a promotion. With our online ordering system, you can add a new promotion to the top of your online menu in seconds:
Who can resist a 2+1 offer or a free dessert? You can customize your promotion with name, image, and minimum order amount, and even delve into more advanced settings to target a specific audience such as type of client (new or returning):
4. Establish a marketing budget
If you own a small restaurant, you may not have a big budget for marketing. But if you don't spend money, you can't make money. The average marketing budget is 3%-10% of total sales but can be bigger when you are just starting out because you invest more in making your name known.
To save and spend money wisely, start with free tools like our online ordering system and make the most of them. Because a restaurant website is imperative, you must budget it into your plan from the start.
Optional costs that can deliver great results are also email marketing, sponsored posts and social media, and prizes for contests.
5. Monitor and change strategies for the best results
A promotional strategy for restaurant businesses is not a one size fits all. The plan remains the same, but the methods you use may differ if you want to reach the best results. For example, in a smaller city, it may be wise to also invest in flyer advertisements to let people know you've opened a restaurant.
Whatever methods you choose to implement, you must monitor them to see if they work for you. This way, you can identify strategies that you invest in, yet they don't convert. You can choose to make some changes to improve them or drop them altogether.
Our online ordering system is equipped with the Reports Module that allows you to see a variety of restaurant statistics such as the number and value of orders and the restaurant customer journey from the moment they reach your website to checkout.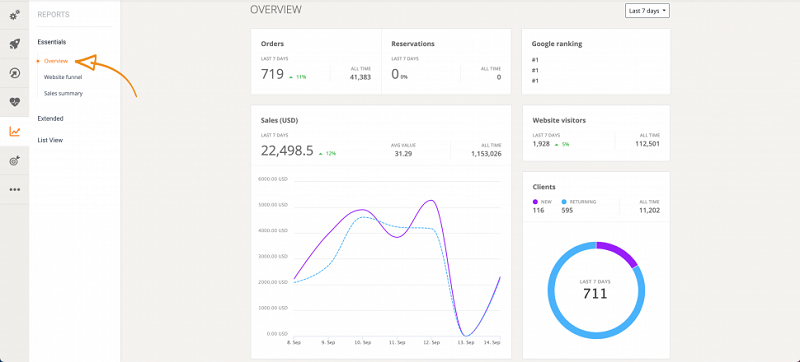 Use it wisely and pay attention to the incorporated advice to build a stronger business and increase your restaurant's revenue.
Final Words
Developing an efficient promotional strategy for restaurant businesses is no easy feat yet is necessary for success. With the help of the right technology, going through the above steps will be a breeze and you will see results instantly.