Grow your business with these popular Instagram food trends
Mouth-watering food photography plus social media is a powerful combination. When you are browsing and the same dish pops up every couple of posts, you are bound to be tempted to try it. It must be something special if so many people rave about it.
That's what Instagram food trends are. A dish, a dessert, or a drink that gets shared around creating FOMO (fear of missing out) for everyone. Not only is it presented with professional photos that make you instantly hungry, but it also has something special about it that incites your curiosity (extra crispy, very hard to find, a tasty, uncommon ingredient, etc.).
Soon, people scramble to find the best place to enjoy the latest food trend near them. Why not make that place your restaurant? It is a surefire way to attract countless clients.
In this article, you will learn about the importance of participating in Instagram food trends in 2023 and find out what the most important ones are.
Why participating in Instagram food trends can help you grow your restaurant business
Instagram is inherently a visual platform where food lovers look for inspiration, tips, and new places to try out. Therefore, marketing your restaurant on Instagram is a must if you want to reach a bigger audience.
When you create a social media strategy, you will think first about creating a content plan, writing a great bio, getting a large gallery of quality photos, and finding the best times to post.
But there are two more things you should focus on:
Participating in Instagram food trends to get more customers;
Finding an easy way to convert the Instagram audience to clients.
Fortunately for you, we can help with both. We have dedicated an entire section below where you can find the latest food trends in 2023, but, for now, let's focus on your main social media goal: converting visitors into clients.
If you want to increase your conversion rate, you need to allow the client to:
order easily, preferably directly from Instagram;
promote your online ordering feature.
Our online ordering system is the perfect solution that will help you sell your delicious dishes directly on Instagram. You can set it up in minutes and allow customers to order on Instagram by the end of the day.
Here is what you must do if you want to make your life easier and increase your revenue:
Sign up on GloriaFood and fill in your restaurant's profile with basic information such as restaurant name, location, and contact info;
Create an appealing menu with all your amazing dishes;
Publish the menu on your website (if you don't have one, you can request a sales-optimized website from our online ordering system's admin);
You are now ready to streamline your order-taking process and take your marketing game to a whole new level!
Create a FREE online menu & sell your food on social media
Once that is done, generate the menu link & add it to your profile
Start Now
And now, to the fun part. All you need to enable people to order from your online restaurant menu on social media is a direct link from us. Go to admin -> Setup -> Publishing -> Facebook and copy the direct link we provide. The link was first created for Facebook, but it works just as well on Instagram.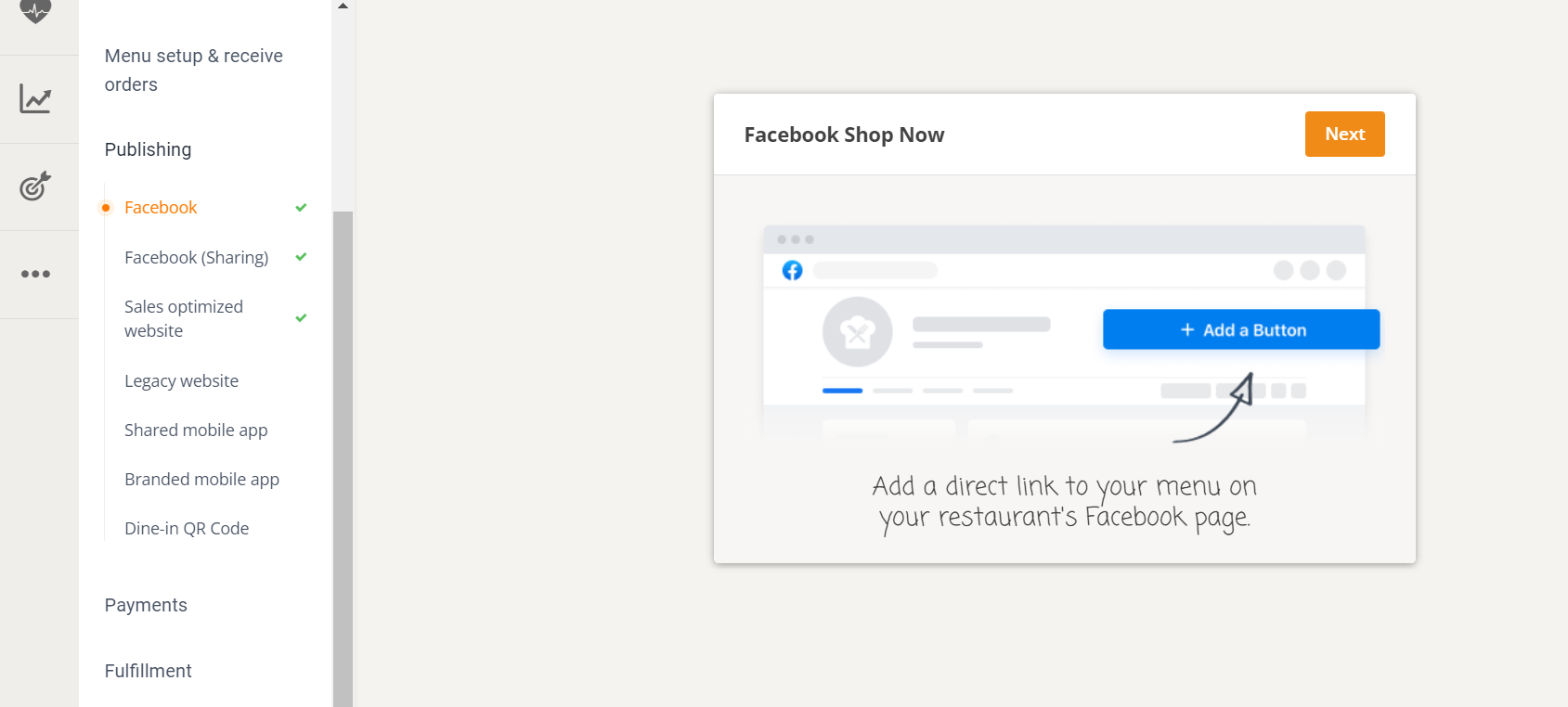 Afterward, there are two important places on Instagram where you can paste it (as these are the only places the platform allows clickable link insertion):
In your bio: paste the link we gave you in the website section. Now, every time a person clicks the link, your online restaurant menu will immediately open. Clients can easily browse the dishes, add their favorites to the cart, pay, order, and enjoy their food.
In stories: when you add a new story, click on the sticker icon and browse until you find the link icon. Note that you must have a business Instagram account, not a personal one, for this option to work. Simply customize the sticker with the direct link provided and you can send people to your online menu with just a click.
10 Instagram food trends in 2023 that you can incorporate into your restaurant menu
Participating in Instagram food trends with your restaurant profile allows you to access a new audience and get more loyal customers that will be hooked on the excellent customer experience you provide them with.
No need to hop on every trend, you can pick and choose the ones that fit your brand and your restaurant's cuisine. You can also have fun and experiment a little. You may find new dishes that become staples on your menu and constantly bring new customers to your restaurant.
Without further ado, let's dive into the yummiest Instagram food trends in 2023:
1. Anything with egg yolk confit
A confit egg yolk will attract every food lover out there. Not only does it look really fancy, but it also tastes amazing. It is practically a cured egg yolk. It is a little bit complicated to do at home, so people turn to restaurants to deliver this goodness.
You can add it on top of pasta, rice, salads, bruschetta, or anything that would pair well with the flavor of egg yolk. We'll add in a tip for an Instagram video that will have people scrambling to find the order button: have a close-up of the egg yolk on top of some great-looking pasta and film in slow motion as you cut into it and it drips slowly into the other ingredients.
2. Square croissants and New York City rolls
These are all the rage right now. People spend hours in line to get their hands on a crispy New York City roll or square croissant filled with all the flavors you can imagine. The trick is you can only find them in a couple of places, so people make an effort to hunt them down.
If you own a bakery, you will surely see an improvement in your sales if you add this to your menu. If you own a restaurant, these pastries can be a bit labor intensive and they require special knowledge, so try them only if you have a pastry chef that can make them.
3. Asian cucumber salad
This is a trend that originated back in 2022, but it is here to stay, especially as we are approaching the warmer months. You don't need anything else other than cucumbers and a couple of condiments, so it could be a profitable side dish to add to your restaurant menu.
Entice people to order the salad by posting a nice ASMR video of you making the salad with all the important sounds: crushing the cucumbers, adding salad, grinding the pepper, chopping the chili, mixing it, etc.
4. Traditional recipes turned plant-based
In the last years, there has been an increasing demand for plant-based products, and businesses that want to increase their profit have started changing their menus to accommodate vegetarians, vegans, people with allergies, and different preferences.
People still want to feel like they are enjoying a familiar dish, so go for entirely plant-based pizza, pasta, or burgers. With our online ordering restaurant menu, you can easily signal to your clients if a dish fits a special diet criterion.
Watch this video to learn how easy it is to customize your online restaurant menu with icons, choices, add-ons, and more:
5. Kimchi grilled cheese
You can always win over clients by offering them dishes that remind them of their childhood, like the staple grilled cheese. But take it a step further and elevate it with some spicy kimchi to make people curious and entice them to order.
Nothing compares to ordering some comfort food and getting to enjoy it without going through the effort of preparing it. It can also be a low-cost item for you with a great profit margin. But don't skimp on the bread, go for a good sourdough loaf if you want to get loyal customers.
6. Pre-bottled alcoholic and non-alcoholic mixers
Sometimes people feel like enjoying a cocktail with their food, but don't want to buy all the ingredients necessary. Give them a hand by adding some mixers to your menu, such as gin-based cocktails, a variety of margaritas, or the famous Negroni. Bonus points if you include a flyer telling them how to easily prepare it.
Don't forget about the people who don't drink and add in some delicious non-alcoholic options. Promote them with short instructional videos where you teach people how to mix them. Don't forget to use fancy glasses and have the bartender present them for extra trustworthiness.
7. Arancini balls
Who doesn't like fried food that is bite-sized? Arancini are rice balls with different flavorings, fried for a soft interior and crispy exterior. They are traditionally from Sicily, so they are an option if you have an Italian or European menu.
But you can also experiment with different menus for different days and see which one sells more. With our online ordering system, you can customize the menu to be different every day of the week.
Get yourself an online restaurant menu that sells
Install our online ordering system and discover how easy it is to customize your menu
Start Now
8. Bao buns
Clouds of pillowy dough envelop a flavorful mix of meat, vegetables, and condiments. Sounds like a dream, right? It will attract a crowd that enjoys Asian flavors but doesn't want to go through the process of cooking the bao buns.
Furthermore, they transport really well and are ideal for when you offer delivery.
9. Kombucha
Kombucha is a fermented sweet tea that can be made with a variety of flavors and is said to have countless benefits for your gut health. You can add it to your menu to attract the crowds that are health-conscious and are up for experimentation.
You can also produce it in-house with a live bacteria called Scooby, but it requires some attention, so go for the bottled type first to see if it is a menu item that sells in your area.
10. Experimental pickling
You only need a pickling solution, a couple of different vegetables, and inspiration to get a side dish that will get added to every order. Be it the traditional pickles with a twist (maybe add some cardamom to the mix and fry them up), onions, beets, or baby corn, people enjoy trying different recipes.
You can also make a fun making-of video to promote the new menu additions. Go a step further and offer a free tasting for the first 20 orders on the launching day to create a lot of hype around the menu item.
Conclusion
Keeping up with Instagram food trends in 2023 gives you the opportunity to discover new profitable items to add to your restaurant menu. As you are just jumping on a dish people are already raving about, half of the advertising job is already done for you.
All there is left to do is get the word out that you also offer delicious viral food, and it is easier than ever for clients to immediately order and enjoy it wherever they are.