How to start a deli business in 10 easy steps
A deli is a foodie's dream. Be it a sandwich made with fresh bread, specialty cheese, cold cuts, a hearty soup, or a melt-in-your-mouth pastry, a deli restaurant is sure to get rid of hunger in a fast and satisfying way.
What is a deli? Short for delicatessen, delis first appeared in Germany where they featured fine, exotic, or foreign prepared food. They are now popular both in the UK and the US and are a favorite spot for people who want a quick and tasty bite to eat.
If you want to know how to start a deli business and make it profitable, you are in the right spot. Just follow these 10 easy tips:
How to start a deli business in 10 easy steps
Opening any business can seem daunting, but everything becomes easier if you divide and conquer. To make the process of starting a deli easier to understand and accomplish, we've broken it up into ten simple steps.
1. Focus on your unique selling points
Find what makes your deli business special, there are countless other deli businesses, so why would clients choose yours? To answer this question, you must find out what makes your deli restaurant special.
Here are some questions that will help you identify your selling points:
What types of products will you sell?
What is the origin of said products?
Do you focus on organic, locally sourced, or imported products from a specific country?
What price range will you have for your menu items?
Is there a story that made you search for how to start a deli business?
2. Research your competition
To surpass your competitors, you must first get to know them. Go visit other deli businesses in your area and find out the following:
What type of products and services they offer
How much do they charge
What are their opening hours
Who are their customers and what do they order
How they display their items and interact with their customers
3. Identify your target market
After you establish what you will sell and conduct competitor research, it is time for the next step in your "how to start a deli business" plan: identifying your potential customers.
If you define your audience, you will be able to create a business and marketing plan catered to their needs, so you can persuade them to become loyal customers of your deli.
Identifying your target market means that you should take a deep dive into your client's demographics. You should mainly establish your potential customer's age range, food preferences, where they spend their time online, what time they eat, and what type of deli service they prefer.
For example, if you run an Italian deli business with products imported from Italy, you will attract both people with an Italian heritage and millennials and Gen Zs who like to try new food products. A recent study found that 72% of millennials and 66% of Gen Z prefer ordering takeaway as opposed to dining in a food establishment.
Another report stated that Millennials and Gen Zs prefer using TikTok and Instagram as search engines rather than traditional methods like Google. This vital information will provide insights on what channel you can use to market your deli.
4. Decide what type of service you will provide
The most common type of service in a deli is buying at the counter, to go with no tables to enjoy the food at. While this type of service can have its advantages, why not think out of the box and find ways to increase your sales?
For example, if you add a few tables in the shop or outside of it, you provide a comfortable place for people to eat and you also encourage them to order more. While they sit there, they may spot a drink they would like to taste, a cheese they would like to take home, a bread they never had before, etc.
Furthermore, there will be a limited number of people who are willing to go to your location to order. What about the people who want to enjoy your delicious sandwiches at home or work?
Offering delivery and takeout as services has now become must-haves for food establishments. 60% of food clients stated that they order food for delivery at least once a week and 20% say that they spend more on off-premiss orders rather than dining in.
With this online ordering system, you will be able to set delivery zones and minimum order fees for each of these zones. You will even be able to accept orders outside of your set delivery zones and charge a higher delivery fee to fulfill these orders.
Expand your business and increase your sales by selling your deli products online. You can do this easily by installing the free online ordering system from GloriaFood on your website. You need just ten free minutes to do so:
Afterward, clients will be able to place an order with a few clicks on your website, all intuitive and you will be able to manage all orders from the order-taking app. Easy and convenient for both parties!
Expand your deli business online with our online ordering system
You can set it up in 10 minutes and start receiving orders by the end of the day
Start Now
5. Create your deli business menu
What distinguishes deli restaurants from other types of establishments is the food they sell. The main menu items for delis are sandwiches, soups, salads, and other items that can be prepared fast with fresh ingredients. Here's an example of a menu built with our online menu maker: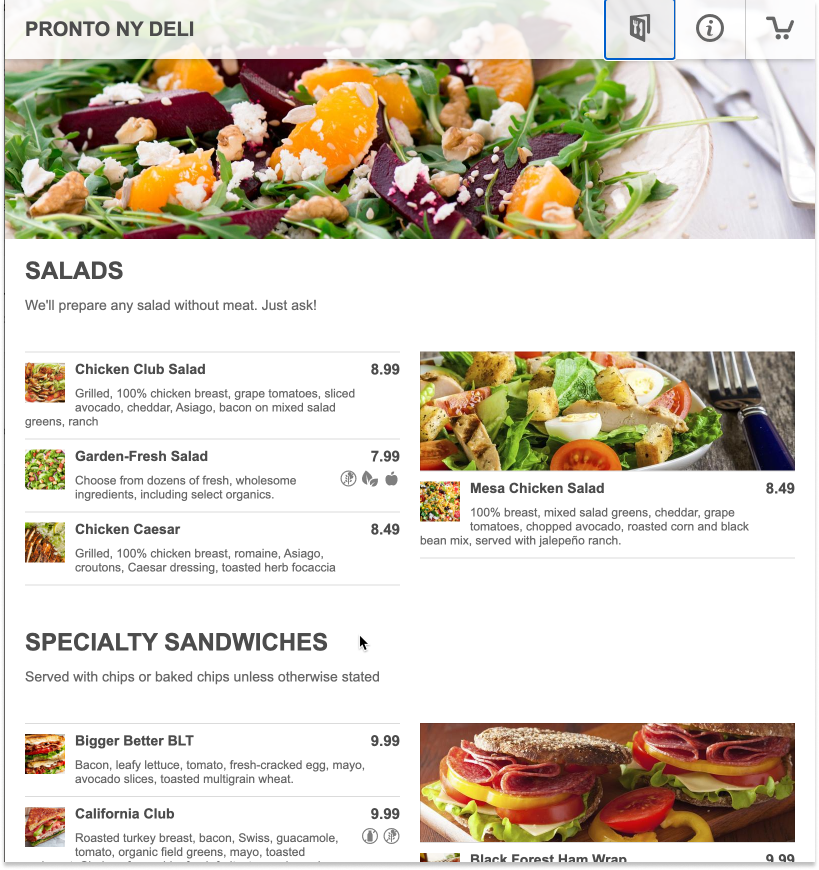 Because the ingredients are fresh, you will run out of some constantly, and you will have to continually update your menu. Therefore, if you want happy customers who don't get frustrated when they see an item on the menu they can't order, you need to be able to change the menu fast and easily.
Lucky for you, we have the perfect solution: the menu editor included in our online ordering system. You can create a mouth-watering menu that clients won't be able to say no to.
And the great news you can update it as many times as you want, free of charge and you can mark items as Out of stock when you run out of ingredients. Moreover, you can also offer customization options, giving customers the real deli experience, even if it is online.
No worries, you can still use the online menu in your location because nobody has the time to rewrite menu items on a blackboard.
6. Create a business plan for your deli restaurant
Many deli restaurants fail because they focus solely on the food and products they will provide and forget to take into account the balance needed between spending money and making money.
The global deli food market size was worth $305.12 billion in 2022 and is estimated to reach $432.24 by the end of 2028, so, if you do it right, you can own a profitable deli business in this up-and-coming market.
How much does it cost to open a deli? It depends on the location, products, and target customers. For example, opening a moderately sized deli in a small city can cost around $50.000.
Create a restaurant business plan by deciding how much you need and want to spend for the following and then stick with it:
Location: encompassing rent, utilities, reparations, etc.
Equipment
Staff salaries and bonuses
Prime material such as products, ingredients, packaging
Marketing costs (both online – website, paid advertising and offline- flyers)
7. Hire reliable staff members
The restaurant industry is faced with a constant hiring problem because restaurant owners struggle to both find new employees and keep the existing ones.
That's why it is important to find good employees that share your values from the start and treat them fairly, so they keep working for you indefinitely.
On top of good pay and health insurance, try to find new ways to show them your gratitude and keep them productive such as offering bonuses for performance, ensuring adequate scheduling, and using helpful technology and regular training to make their jobs easier.
8. Ensure your location and set up your deli
Most delis get regular customers because they choose a convenient location with a lot of foot traffic, near apartments and business centers. Before you choose your spot, walk around a couple of times at different hours of the day to get an idea of how many potential clients you will have.
When you are searching for deli setup ideas, keep in mind the customer flow. If you have a seating area, it should be away from the counter, so the to-go clients can line up without disturbing others.
Furthermore, you may want to implement a ticket machine, where every customer takes a number when they enter and waits for staff to call it so they can get served. A few signs telling people how to order will also create a better customer experience.
9. Promote your business online
Now that you have most of the steps for "how to start a deli business" accomplished, it is time to let potential clients know they can visit and order from your deli. And where better to do it than online, where people already spend most of their time?
Here is what you must do to attract clients:
10. Attract customers with great deals
Running restaurant promotions is one of the easiest and the most efficient ways to put your brand out there, while your food may be great, clients need one more little push to visit your deli business: an irresistible offer.
Deli promotions can help your establishment in a number of ways, including:
Entice new customers to order.
Reward loyal customers.
Encourage regular customers to order more.
Steer customers to a high-value or slow-moving item.
Furthermore, a recent study found that 80 percent of food customers will try a new restaurant or deli if they offer some form of discount.
So how about a 2+1 deal, a free item for first-time clients, or free delivery to encourage online sales?
You can easily set up deli promotions with our online ordering system in just a few seconds. They will be visible at the top of the deli menu, so clients will be tempted to take advantage of them.
Attract more customers to your deli business with irresistible promotions
Add deals to your menu in seconds with our online ordering system
Start Now
Final Words
Now that you know how to start a deli business, nothing is stopping you from opening a profitable deli restaurant that will continue to get loyal customers for years to come.
Focus on finding what makes your deli special compared to your competitors and take advantage of our online ordering system to make your work easier and your clients happier.