Sell More of Your Food Online with These Tips & Tricks
Have you recently opened a restaurant and want to boost your profits by offering pickup and delivery options? Have you been in the biz for some time but are thinking of expanding into food ordering and delivery? Learn how to increase online food sales without spending a fortune.
How to Increase Online Food Sales with This Simple Food Delivery Strategy
1. Set up a first-buy promo
There's no better way to kickstart your online food delivery business than with a first-buy promo for people who are just discovering your restaurant or loyal customers who've never placed an order online.
Read more: How to Devise a Marketing Strategy for Your Food Delivery Service
Our Kickstarter module is designed to help you get those first online orders without breaking a sweat.
To set your very first promo, go to Kickstarter -> Encourage first order – First buy promo, then select "Yes" and click "Next."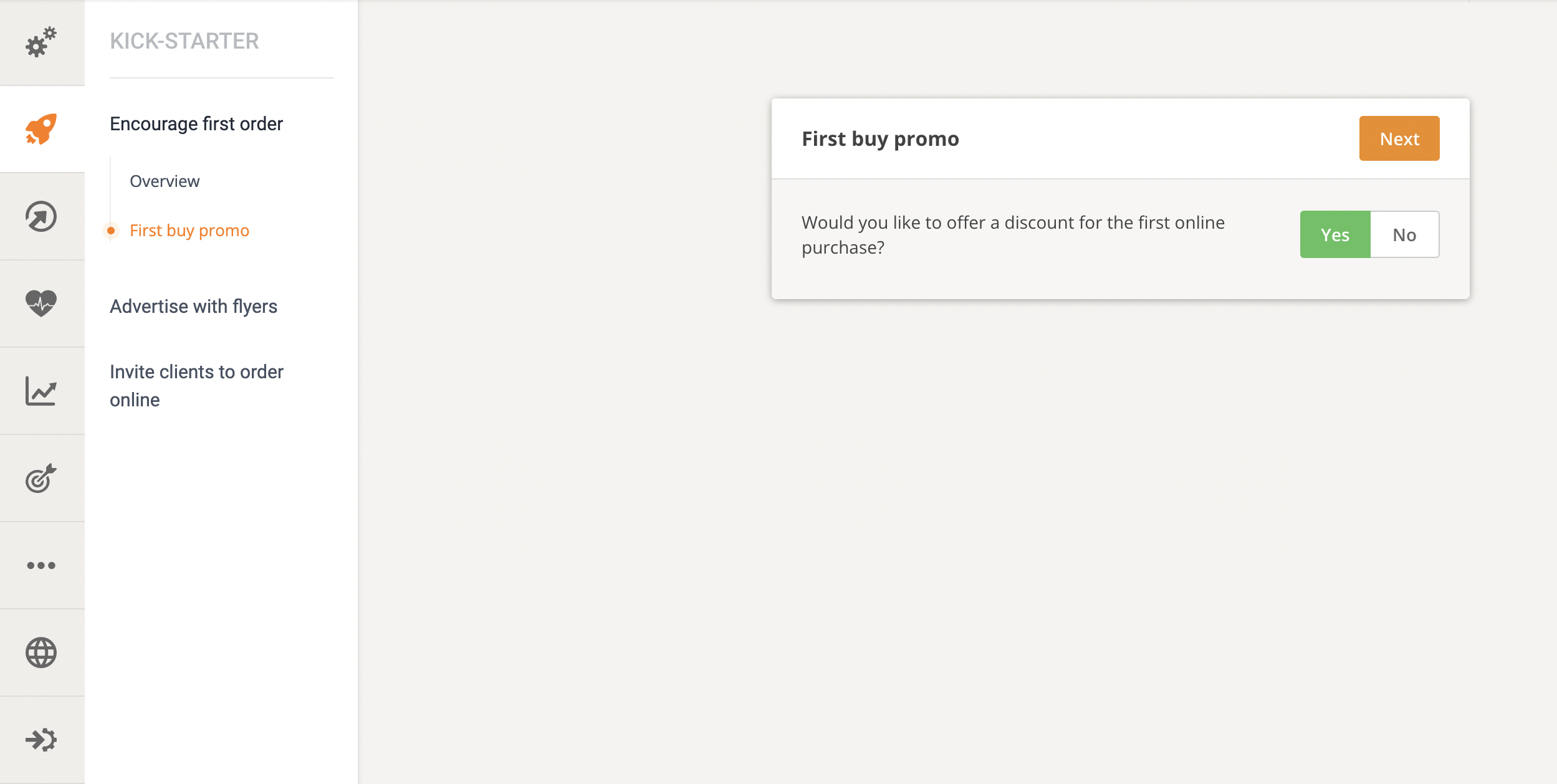 On the next screen, you can customize the promotion as you wish. Upload a delicious photo of your food and add an enticing description. Keep the headline simple; customers want to see what they're getting out of the deal, so headlines like "15% Off Your 1st Order" work best.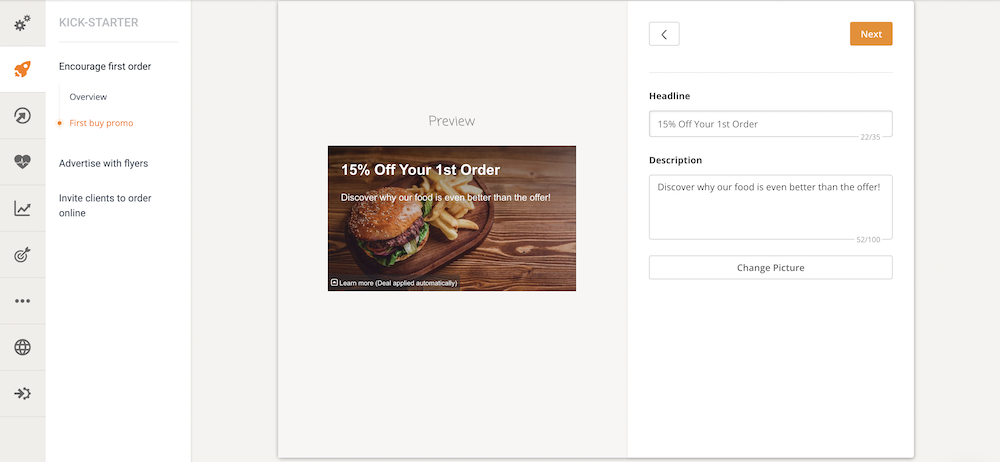 To learn more about setting up a promotion, watch the video tutorial below:
Once your text and image look good, click "Next" to set your desired discount percentage and minimum order value. Save your changes and click "Save" to make the promo live.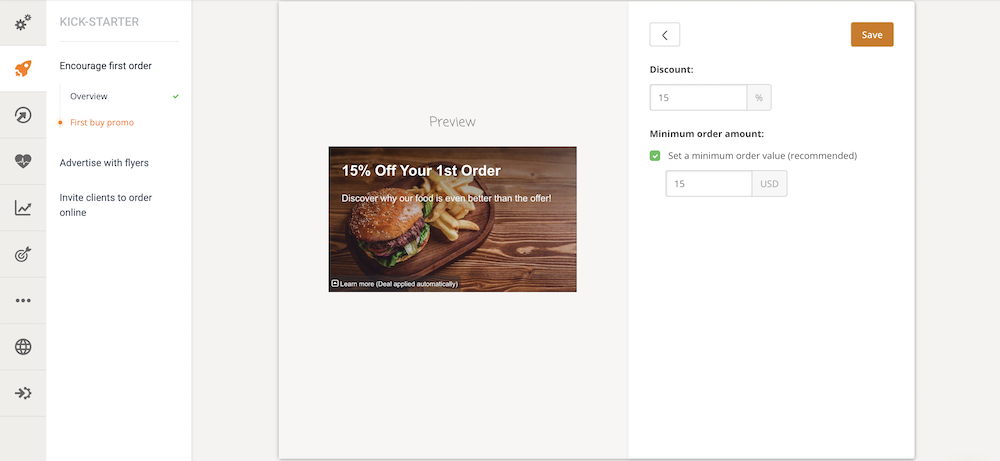 Now, first-time customers will see the promo at the top of your online menu, enticing them to place an order and enjoy the discount.
Make an online ordering flyer
Wondering how to increase food delivery sales without spending a fortune? The answer is simpler than you might think. All you need to do is go back to the traditional marketing strategy of distributing flyers.
But not just any kind of flyers. Online ordering flyers containing a discount coupon code to attract more people to your restaurant. Let's see how you can make one yourself for free!
Create your first online ordering flyer now
In minutes, you'll be ready to print and distribute it
Get Started
Navigate again to our Kickstarter section -> Advertise with flyers -> Overview, and click on "Next" until you get to the online ordering flyer screen.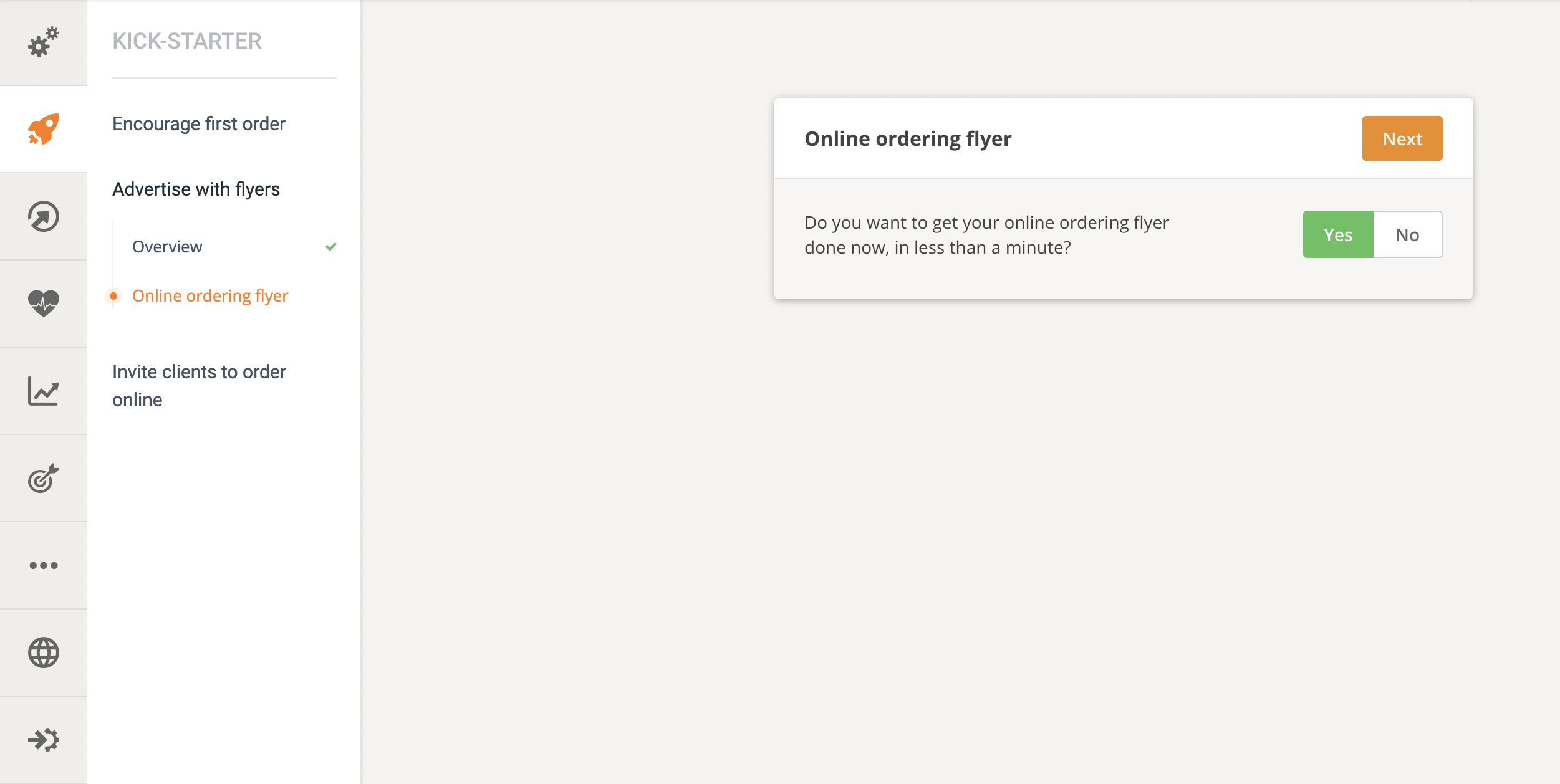 Select "Yes," then "Next" to get to a screen where you can customize the appearance of your flyer. Change its color to match your restaurant branding, headline, and image.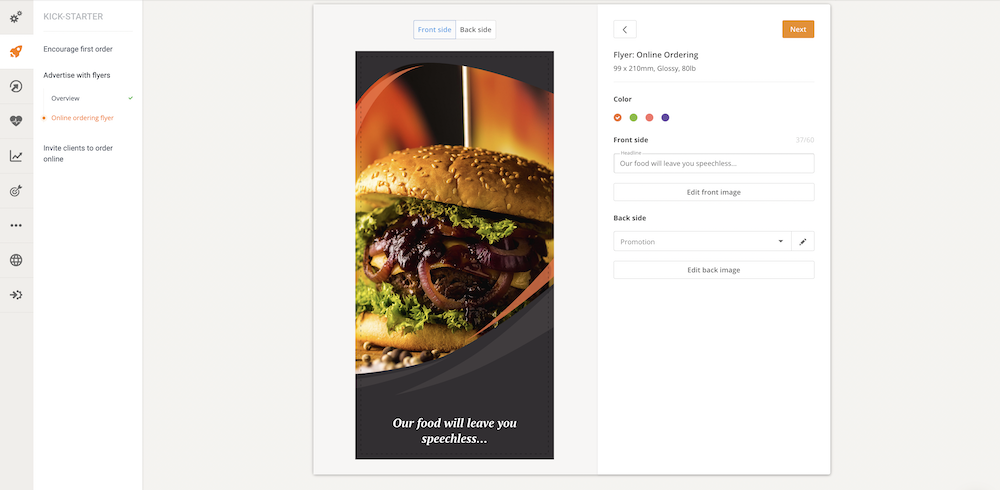 For your flyer to convert, it needs a mouth-watering photo of your food, an attractive deal, and clear instructions on how to redeem that deal. You can assign any promotion you already have active in the Promotions module to the flyer or create an entirely new one by clicking on the pen icon under the "Back side" section.
Read more: 15 Unique Restaurant Promotion Ideas that Will Increase Loyalty in 2022
To add a discount coupon code to the promotion, select "Hide from menu (redeem with coupon code" from the "Display time" drop-down menu when you edit your promo.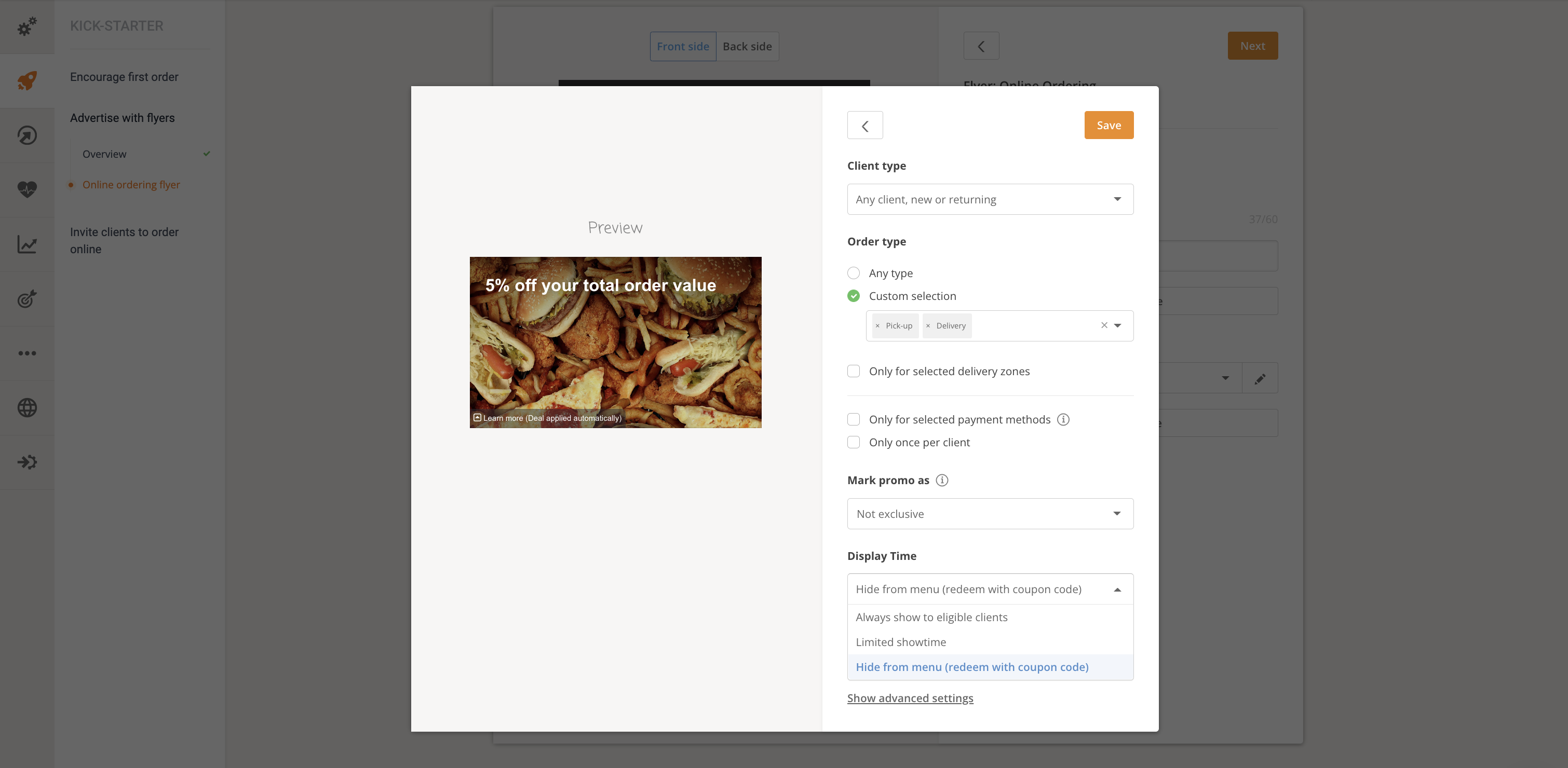 Then, check the "Use custom coupon code" box and enter your desired alphanumeric coupon code. Click "Save," and your promotion is ready to go.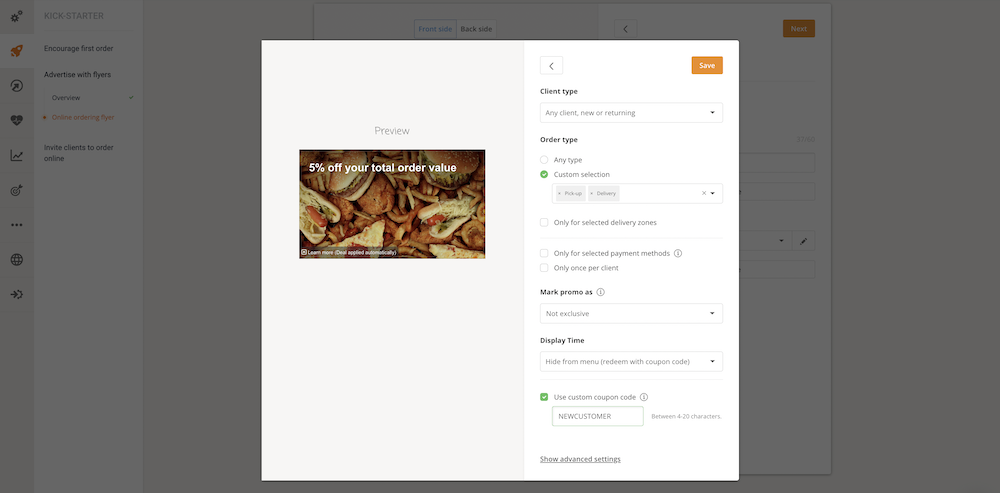 Watch the video below to learn more about creating discount coupon codes.
Now, you can also add a delicious image to the back of the online ordering flyer, which you can do by clicking "Edit back image." Your custom coupon code will also show up on the back of the flyer.
Your flyer is now ready to print! If you'd like to email the flyer to your local print shop, you can click "Next" -> Send to print. Click the download button to save it to your computer and print it yourself.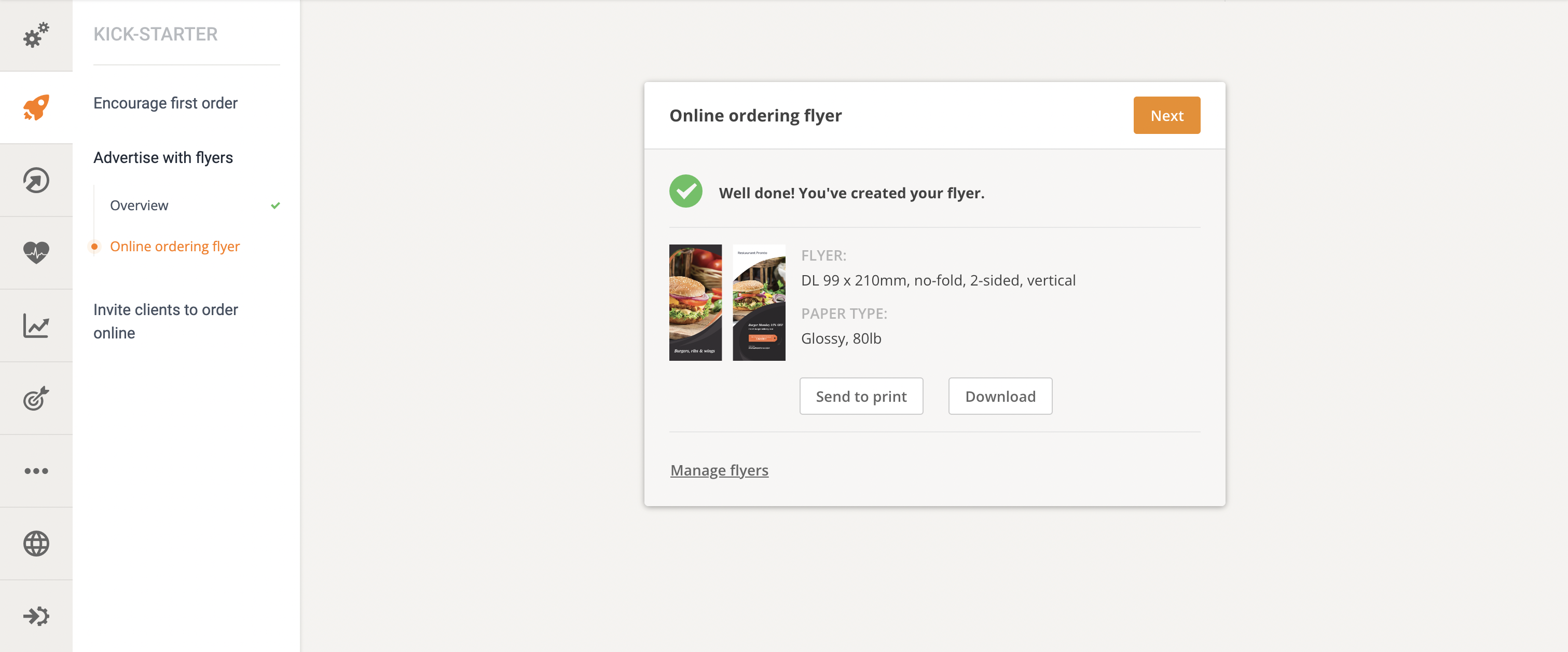 Optimize your flyer distribution using heatmaps
Now that you have a high-converting online ordering flyer ready to go, it's time to distribute it in the area. But don't just spread them blindly and hope for the best.
Use our delivery heatmap to see areas with a higher order density (in red) and areas with a low order density (in blue). Then, adjust your strategy according to your goals.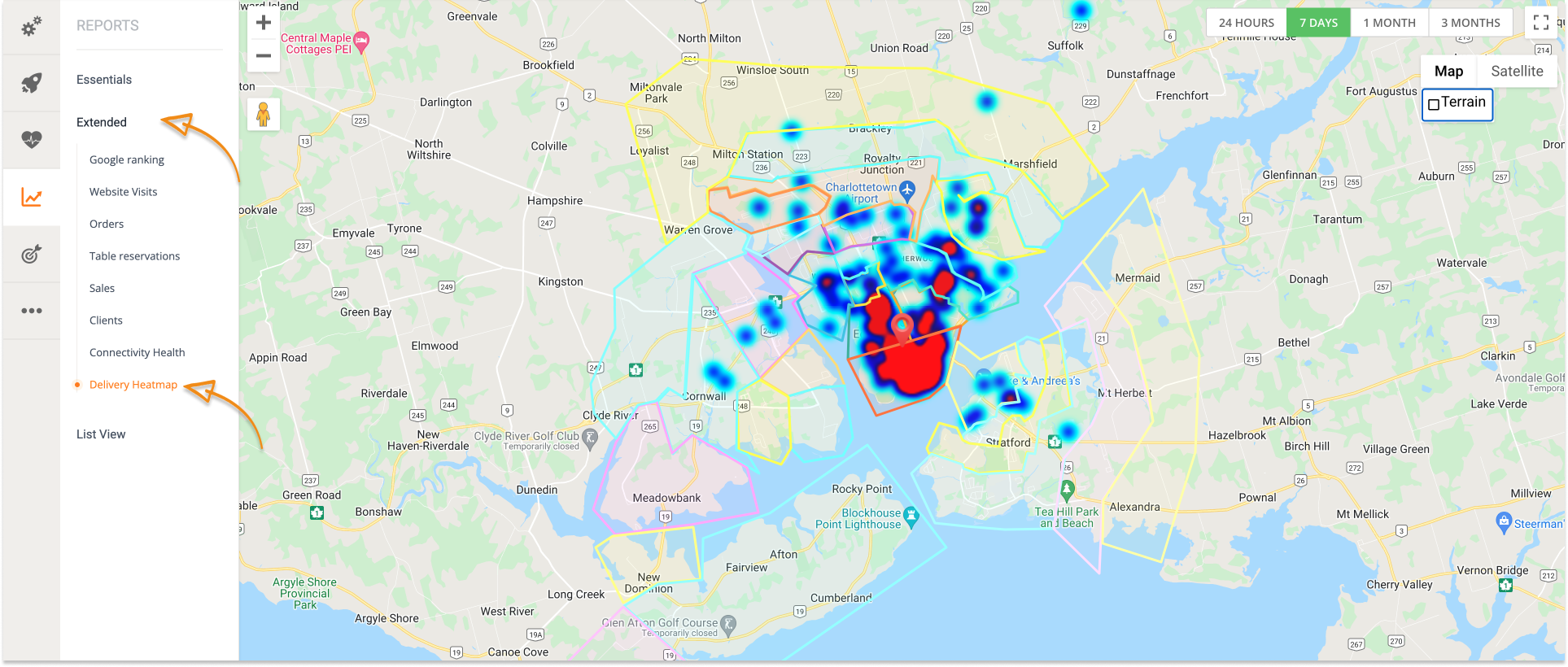 To distribute flyers featuring a first-buy promo, target blue areas to boost order density. To reward loyal customers with discounts or free delivery, distribute flyers in red areas to secure their loyalty.
Invite food clients to order from your restaurant via email and SMS
Have you ever tossed and turned because you didn't know how to increase online food sales at your restaurant? Our Kickstarter module will come to your rescue once again.
You can use it to send emails and SMSs to customers who have yet to try online ordering at your restaurant.
Go to Kickstarter -> Invite clients to order online. Select Overview and click "Next" until you reach the "Invite clients to order online" screen. Choose "Yes" when asked, "Do you have offline customers you would like to import into this online ordering system?". Then, click "Next."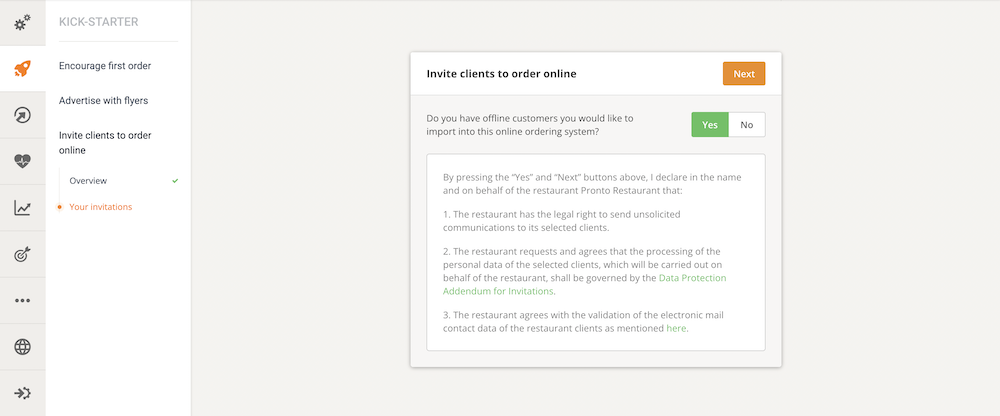 Now, choose the type of invitation you'd like to send.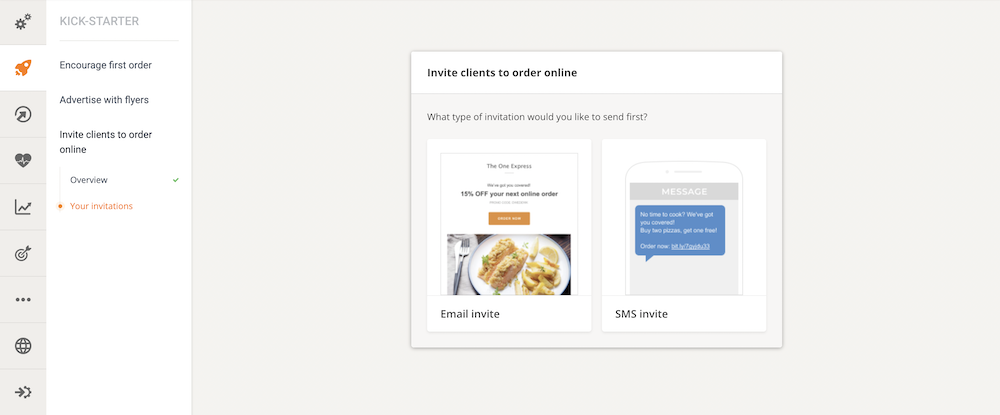 You can edit the email's subject line and body and the kind of promotion. To upload your client list, click "Next," and then "Next" again.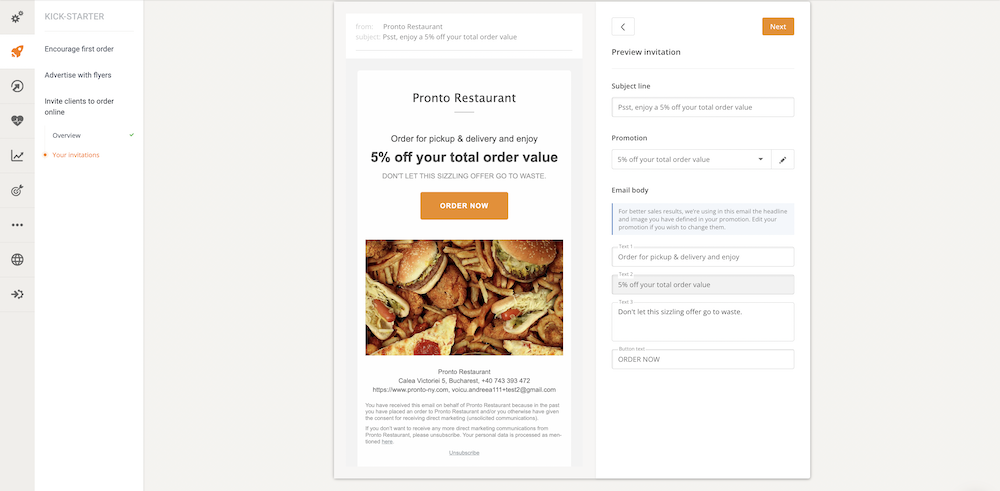 Important: do not upload any client information unless the client has given you their express consent to receive such invitations or any marketing communication from you. We strongly advise you to consult your legal advisor before proceeding to ensure you fully comply with local laws.
Once you have the list in CVS format, you can upload it, give it a name, and click "Next." If you don't have a list, you can upload contacts manually by choosing the "Copy and paste a list" option.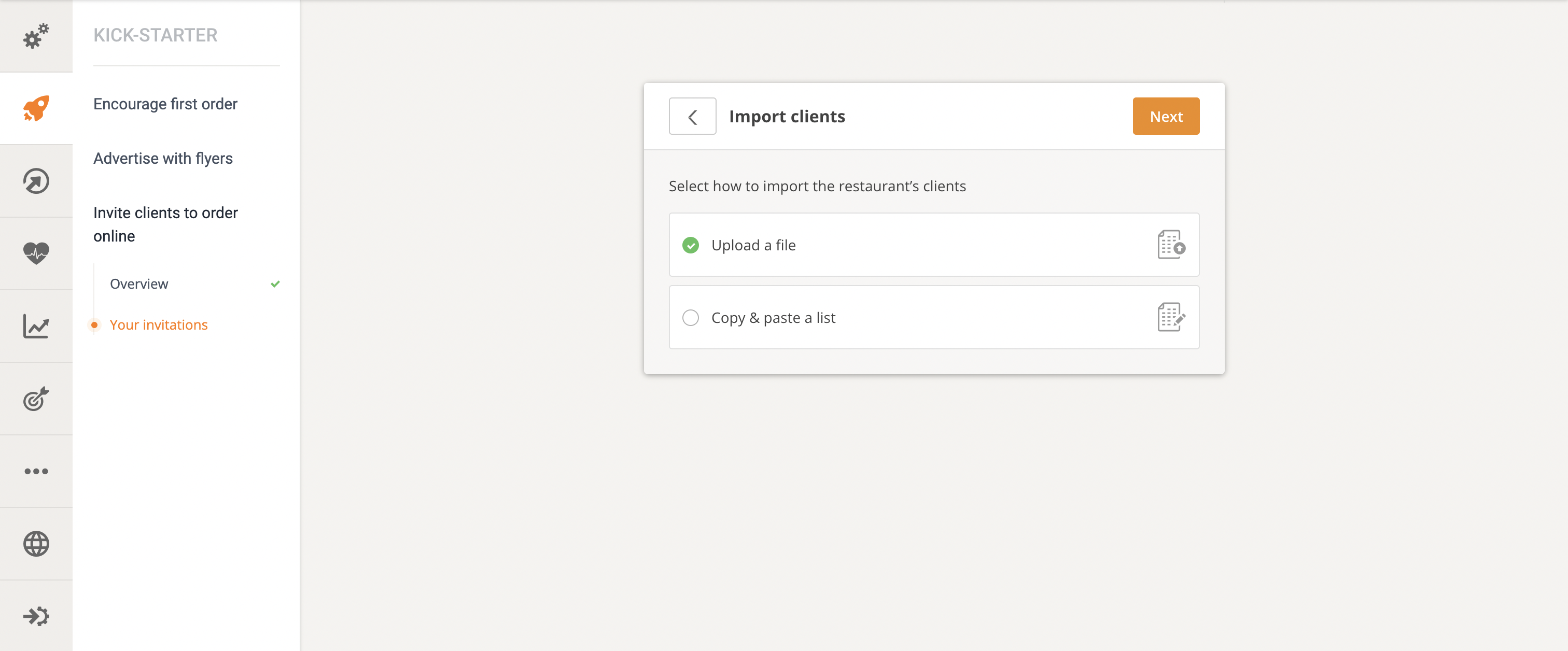 After you've uploaded the list, it's time to send the invitations. You can send them immediately or schedule them for a later date and time.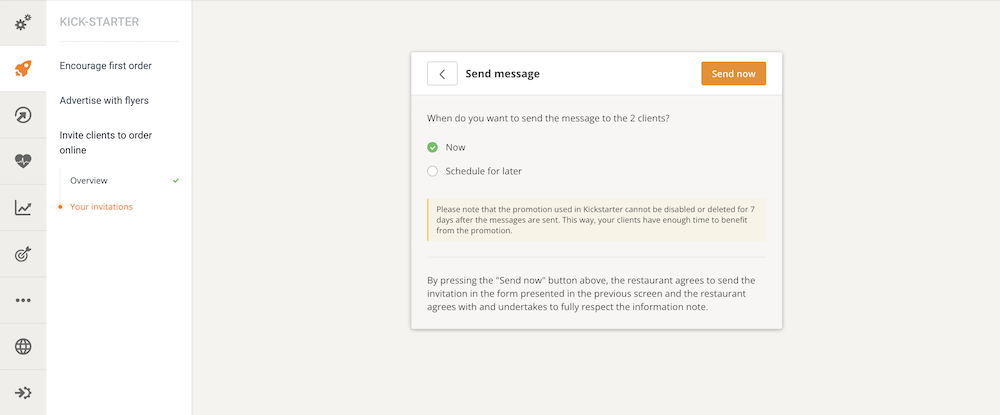 Whenever you want to check the invitations you've sent, click on "View your invitations." There, you'll get information on the number and type of invitations sent, the promos used, the clients you've sent an invite to, and the date and time you sent the invites.
You also get access to data that can help you track the success of your campaigns. You can check how many clients ordered by clicking the link in the invite, the total value of the sales generated from these invitations, and customers who've asked to be unsubscribed from your marketing communications.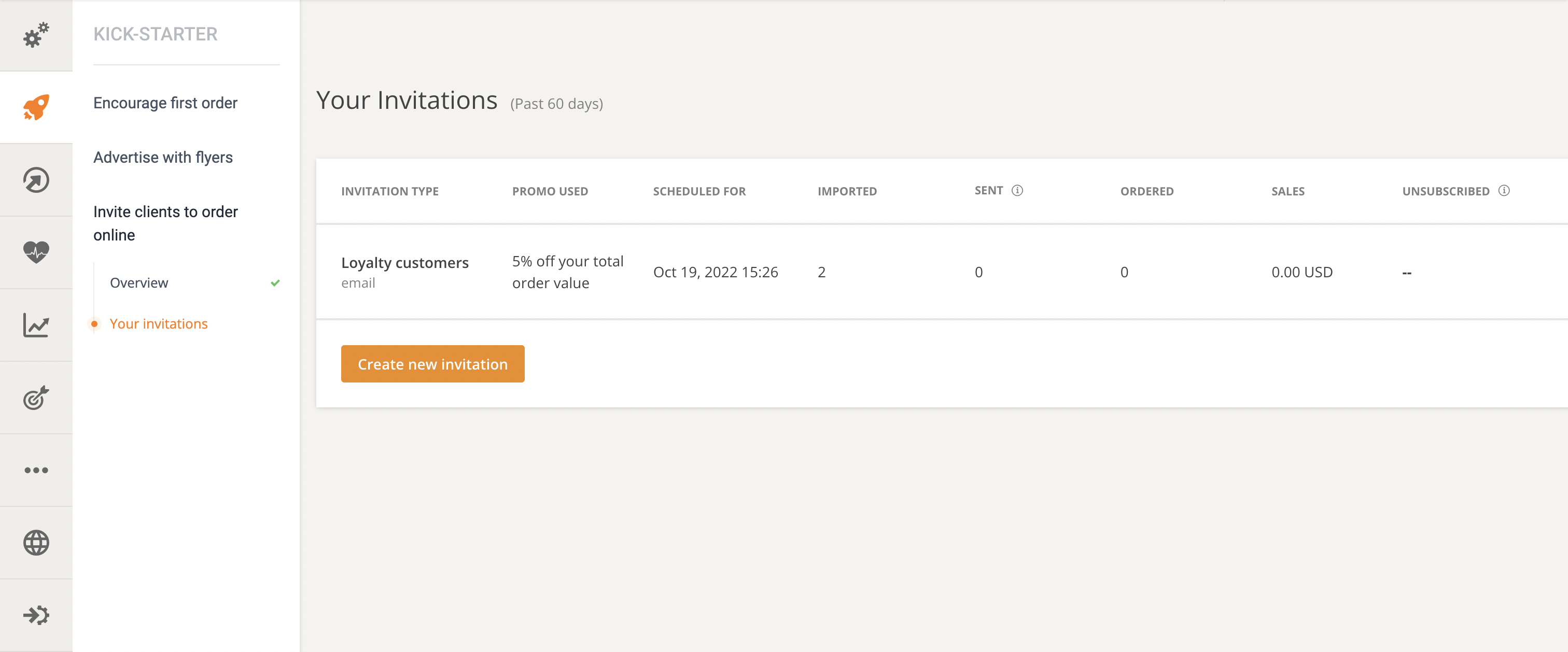 Read more: How to Successfully Use Restaurant Analytics to Increase Revenue
Keep customers engaged and secure their loyalty with consistent marketing campaigns
Finally, if you're constantly swamped by your responsibilities as a restaurant manager or owner, we have a tool that can help you send emails and SMSs on Autopilot.
All you need to do is set them up once, and we'll do the rest for you. These marketing campaigns are specially designed to help you:
Encourage second orders and motivate customers to return
Re-engage customers that seem to have lost interest
Prevent cart abandonment by reminding customers of their uncompleted orders
Send targeted promotions that customers won't be able to resist
Set your first promotion in minutes and let it run on Autopilot
Get Started
Read more: How to Keep Customers Coming Back to Your Restaurant Again & Again
If you'd like to test what our Autopilot function can do, go to your restaurant dashboard -> Autopilot Selling -> Overview.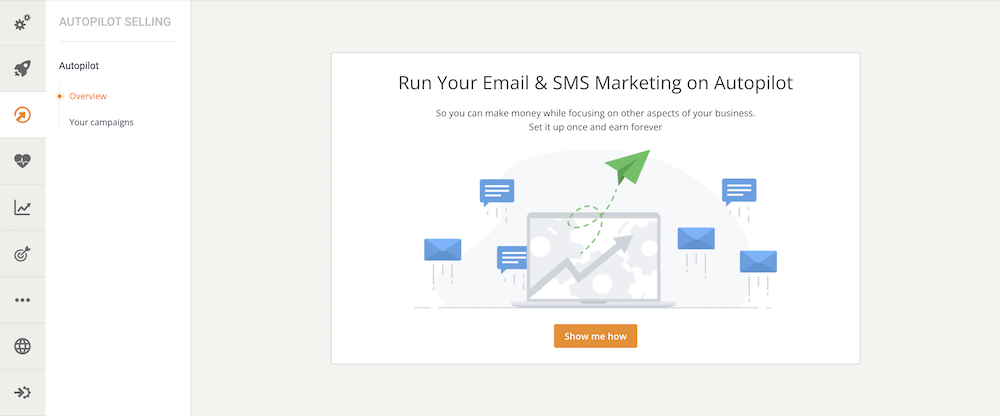 If you want to learn more about the service and how it can help you increase online food sales, promote food offers and keep customers engaged, watch the video tutorial below.
Conclusion
You don't need a lot of time or money to learn how to increase online food sales at your restaurant. You just need a trusting online ordering system with marketing features that can help you manage online ordering invitations, flyers, and emails, so you can focus on what you do best: run your restaurant.