September was another month of feature and video releases, as well as rich content on our blogs. Let's take a look at the product releases first.
Cancel orders from the new order-taking app
Restaurants can now cancel accepted (and auto-accepted) orders from their new order-taking app, as well as provide a reason for the cancellation.
If you want to cancel an order, go to Order Details, click "Cancel Order," and select a reason, or type in your own custom message. Then, the order will appear as canceled.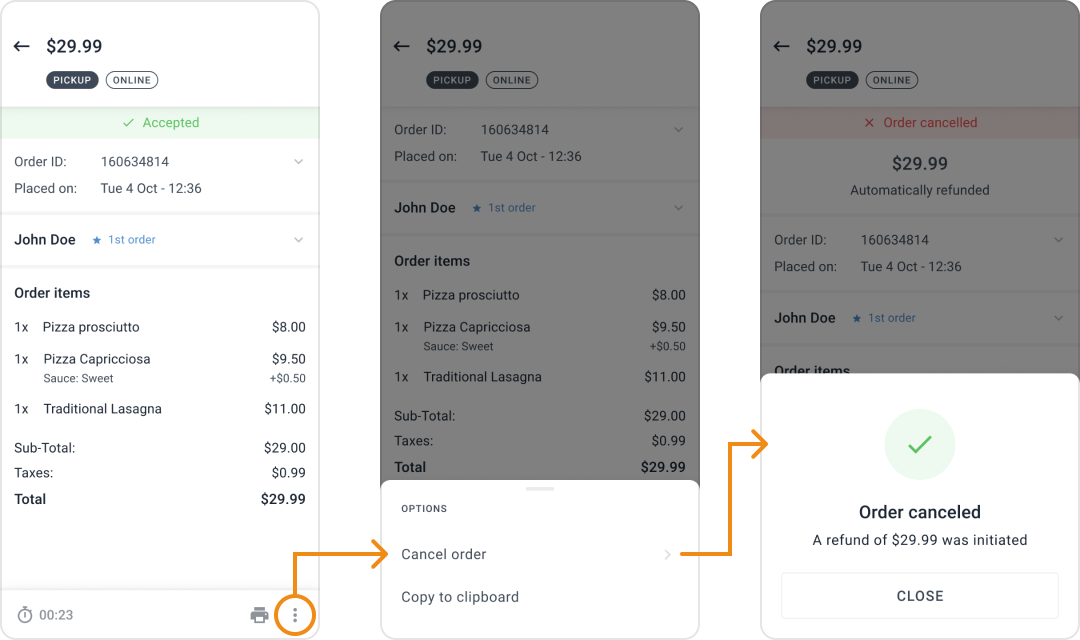 You can cancel any order from the "All," "In progress," and "Ready" lists if it has been placed in the last 14 days.
If the customer paid for the order online, a full refund will be initiated immediately after cancellation. You will see the amount about to be refunded in the app, and you'll also receive an email if this is set in your restaurant's "Notifications" section.
The food client will also receive an email with the cancellation reason and the refund amount.
If the customer paid for the order by other methods (e.g. cash), you will only see the canceled status in the app.
Canceled orders will also show up in your administration panel reports, daily insights, and the end-of-month report. The daily and monthly email reports will include orders that you canceled in the past day, respectively month.

If an integration is enabled and you select it to be sent, the "canceled" status can be sent through the API to the third-party solution.
Auto-accept orders for restaurants that have a POS integration
Restaurants can also set the system to auto-accept orders, with a pre-defined fulfillment time for pickup, delivery (even per zone), and dine-in services. Scheduled orders and table reservations will also be auto-accepted, but in this case, the food client provides the fulfillment time.
To enable this setting, you have to go to your restaurant dashboard -> Other -> Advanced settings -> Auto-accept orders.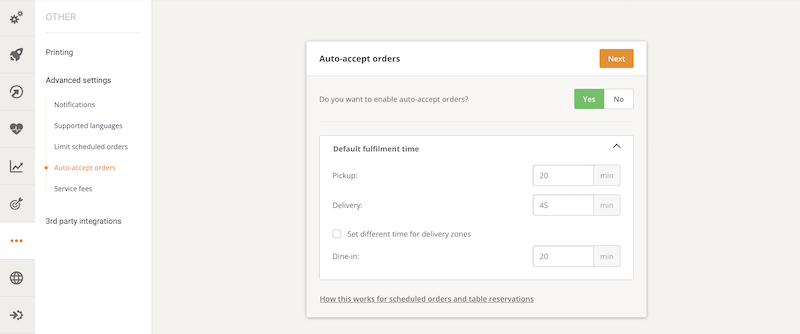 To use this feature, you need to make sure that you will see the orders in another connected system. So, you need to have an integration enabled with a third-party service that uses our Accepted orders API.
This is most commonly a POS system. However, you can connect other services, such as on-demand delivery, delivery management, post order rewards collection, etc.
You also need to ensure that all services enabled in GloriaFood correspond to orders sent via the integration to the third-party solution. That way, you can see and fulfill all of them.
For example, if you have both pickup and delivery services enabled, then both pickup and delivery orders should be sent to the third-party system. If for any reason, the third-party system doesn't support this yet, you will need to get in touch with them.
You can find the available integrations in your country by checking out the categories in Other -> Third-party integrations.
Important note: please check with the third-party service provider to make sure the integration is functional before enabling the auto-accept orders feature.
Video: How to attract more customers to your restaurant using restaurant promotions – The basics
In our first promotions-related video, we tackle the basics of using our promotions module to set up any restaurant promotion in seconds.
Video: How to create discount coupon codes for restaurants – GloriaFood Tutorials
Continuing our promotions-related video series, in the video below, we talk about the process of creating discount coupon codes in our promotions module and how your food clients can apply the promo code at checkout.
New GloriaFood Blog Articles
Here are the articles we published on the GloriaFood blog in September:
New RestaurantWebsiteBuilder Articles
These articles are "hot off the press" on RestaurantWebsiteBuilder:
See you next time!
Next roundup: What's New with GloriaFood Roundup: October 2022