All You Need to Know About Free Restaurant Management Software
If you're operating your restaurant without some form of restaurant software, you're wasting your time, and chances are you're potentially throwing away thousands of dollars down the drain.
The most tedious and painstaking task of running a restaurant happens when your restaurant is closed. Daily, you are left with the most rudimentary tasks, like calculating how much revenue you earned or manually going through pre-orders and table reservations.
What if there was a more straightforward way to do all those tasks? What if you don't have to break the bank to have that system? Free restaurant management software is just what you need.
What is a restaurant management system?
A restaurant management system is a software that incorporates all the administrative and marketing elements you'll require to run your restaurant. It supports order management, payment processing, and statistical data while streamlining business processes and marketing.
You should use free restaurant management software to help organize your day-to-day business operations so that you can concentrate on enhancing the restaurant's brand identity.
Restaurant management systems also include data security measures meant to protect sensitive company and customer data, streamline internal processes, connect all the stakeholders contributing to your restaurant's performance, and easily manage sales, employees, and inventory data.
Thanks to such a solution, you will notice an increase in sales, revenue, and customer satisfaction while decreasing staff turnover, order processing mistakes, wait times, and stress levels.
Manage your restaurant more efficiently
Incorporate a free restaurant management software today
Get Started
Advantages of using a free restaurant management software
Improved customer satisfaction
This is perhaps the most critical reason you should use a restaurant management system. The more satisfied customers are with their experience, the more likely they will return to your restaurant.
Most restaurant management systems come with a module that keeps track of customer data such as name, contact information, and transaction details. You can provide a more tailored service if you are more aware of your customer's preferences.
You may create a mailing list, launch campaigns that cater to their interests based on previous purchases, or promote offers that are relevant to their profiles.
Take GloriaFood's restaurant management system, for example. It has a built-in Autopilot feature that automatically emails your customers with restaurant promotions based on three ready-made campaigns.
Encourage second order
Re-engage clients
Cart abandonment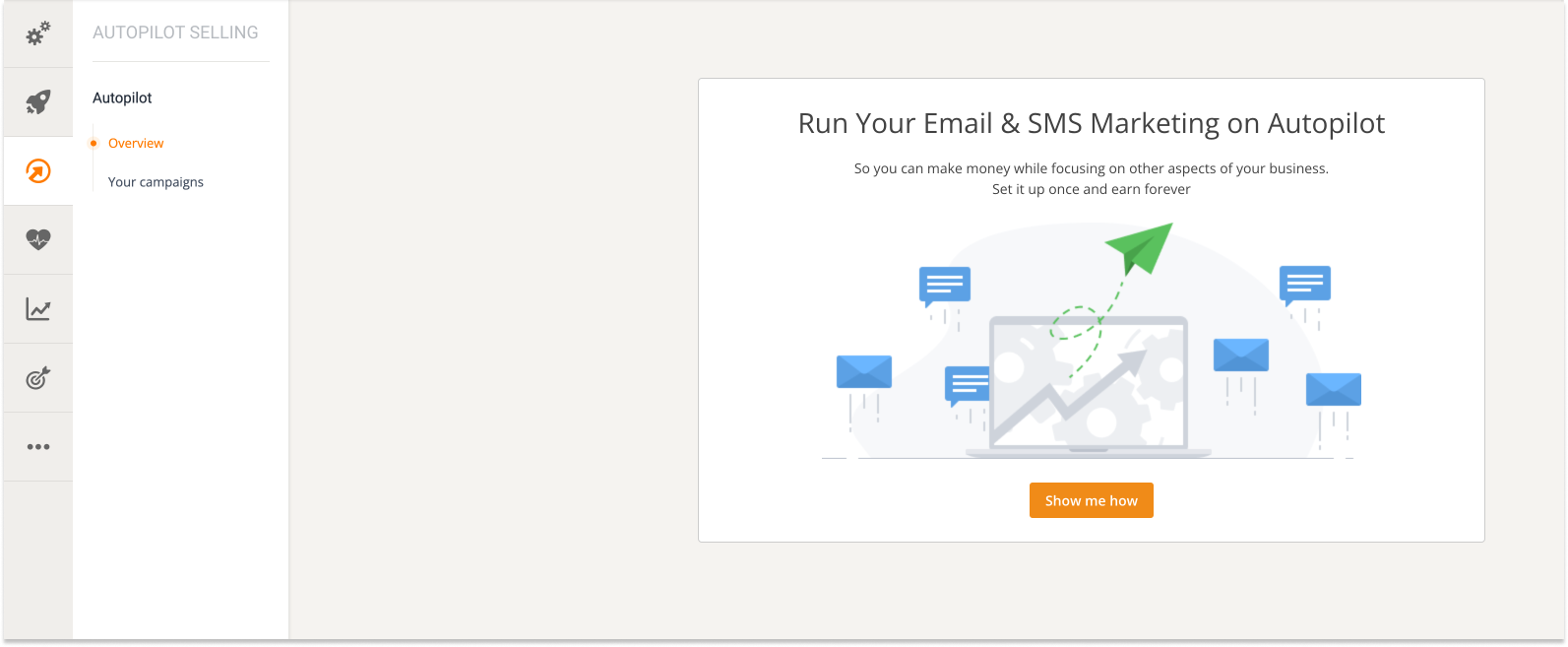 You can benefit from this feature by signing up for a free GloriaFood account. After going through the initial restaurant setup process, you simply need to click the "Show me how" button from the Autopilot module pictured above to enable the campaigns.
More instructions on setting up this feature can be found in this YouTube video:
Improved time and resource efficiency
The ability of restaurant management software to increase efficiency is another significant advantage for your restaurant. These systems usually come with various fully integrated components that complete monotonous tasks for you, saving you time and boosting your efficiency.
While software can be used to optimize the use of materials, tools, and other company resources, freeing up time can also help businesses utilize their staff more effectively.
This is essential because restaurateurs stand to gain financially if they can cut down or eliminate waste. In the event that a restaurant management system (RMS) does not have a particular feature you require, most of them also come with APIs that you can use to connect to other software.
You should also read: 10 Things That Make a Good Restaurant & How to Implement Them
Valuable restaurant analytics and ease of access to customer data
A good RMS automates the collection and analysis of client data, allowing you to get a profound understanding of consumer habits. This information is pivotal as it aids restaurants with better decision-making.
You should be able to access your restaurant's statistics on sales, most popular and least popular menu items, and in-depth data about your website's traffic. Moreover, with a client portal seamlessly integrated into your RMS, you can access not only the statistics on sales and menu popularity but also detailed customer profiles.
GloriaFood's online ordering solution has innovative restaurant analytics software that provides you with all the essential reports you'll ever need to make more insightful decisions.

Another essential feature of restaurant management software is having access to your client's data. Email addresses, telephone numbers, and the number of past orders can help you design tailored email and SMS marketing campaigns to increase your sales.
Reduced human error
The lack of clarity from handwritten orders frequently causes miscommunication between the front-of-the-house employees and the kitchen staff, resulting in food waste and slowed service.
Furthermore, an employee might make a mistake and enter erroneous data into the system. You can entirely eliminate or at least considerably minimize human error through the use of restaurant management software.
Data may be shared between other integrated software, ensuring that the information is consistent. The program carries out calculations, and other restaurant operations can be entirely automated, ensuring that they are never inadvertently omitted.
Reduced costs & better budgeting
Restaurants are notorious for burning holes through owners' pockets. You must keep a watchful eye on everything coming in and going out, so your restaurant doesn't fail.
You can easily hire a full-time accountant to keep track of all your inventory and handle all the reconciliations, but that will add to your overhead expenses at the end of the month.
Alternatively, you can manage all aspects of your finances with a restaurant management system. You can track your inventory, manage employee timecards, collect online payments from clients, and more.
A fully integrated restaurant management system will allow you to easily track the money entering and leaving your company. This will ensure that it doesn't go anywhere it shouldn't while enabling you to maintain the tight budget essential to any restaurant's success.
You will be able to identify if you are missing any revenue opportunities, such as ways to upsell to clients or increase your food and beverage sales.
More efficient employee management
Employee management tools rank among the top essential restaurant management software solutions since managing the staff is one of the most crucial duties for any restaurant manager.
By giving workers a simple way to monitor their shifts and request modifications, this software can help managers construct work schedules.
You can manage the labor budget more effectively and guarantee that staff is available at your restaurant to assist customers as needed. On busy nights, some restaurants employ too few servers, while others may employ an excessive number when the restaurant is empty.
This is an ineffective method of managing labor and will not increase profitability. Ultimately, it will be highly costly. Long-term monitoring of critical metrics and trends is crucial so you can make adjustments. Automated staff expense monitoring and scheduling will enable you to achieve this.
Related: 5 Ways to Make Your Restaurant Employee Scheduling Easier
Increased security for your customer data
Most restaurant management systems are cloud-based, meaning your client's data is stored offsite in a guarded facility. Customer data was traditionally stored at restaurants, making it highly susceptible to fraud and theft.
All your customers' private information, along with details about your business and billing, is now kept in your restaurant management system. In this situation, your restaurant management software must ensure that all parties' data is kept safe.
What to look for in a free restaurant management software
When deciding which restaurant management system you should adopt, look for these five essential features.
Online ordering
By introducing an online ordering component to your restaurant, customer satisfaction will also increase. Our free restaurant management software comes with online ordering already integrated.
A recent study conducted by Oracle's Food and Beverage unit noted that 31% of respondents preferred to order takeout using a restaurant mobile app or a restaurant website.
Online ordering makes it easy and convenient for customers to place orders from your restaurant. GloriaFood's online ordering system generates an HTML code for a "See MENU & Order" button that you can copy and paste into your website.
The entire process of publishing the button is extremely simple and only takes a few minutes. You can place an online food order at this demo restaurant to test how the software works.
If you decide to adopt this free restaurant management software, here's an in-depth GloriaFood tutorial to guide you through the process.
Table reservations
Booking a table has many advantages, including providing convenience for both diners and establishments. Table reservations are becoming more and more common in restaurants today as a way to improve their level of service.
Most restaurants know that taking reservations increases sales revenue and that customers appreciate the service.
Implementing a table management software comes with a host of benefits, including
Easier staff management: you will know the number of guests you will serve at any particular time, making it easier to schedule your staff accordingly.
No waiting: Clients who make reservations avoid standing in line and dealing with erratic wait periods. Your servers will have happier customers as a result.
Better dining room layout planning: You can carefully design your dining room's arrangement for the optimum experience.
Free Table Reservation Software
Install it on your restaurant website in minutes
Get Started
Online payment processing
Food clients are used to paying for their orders immediately and getting their meals delivered swiftly. Customers can shop online with great confidence because of security features like card number encryption and fraud protection.
Instant gratification is the primary motivator for your customers to order online. With the pace at which restaurant technology is growing, your customers can no longer wait to see if their payment was processed.
GloriaFood's online payment feature supports a range of payment gateways from all over the world.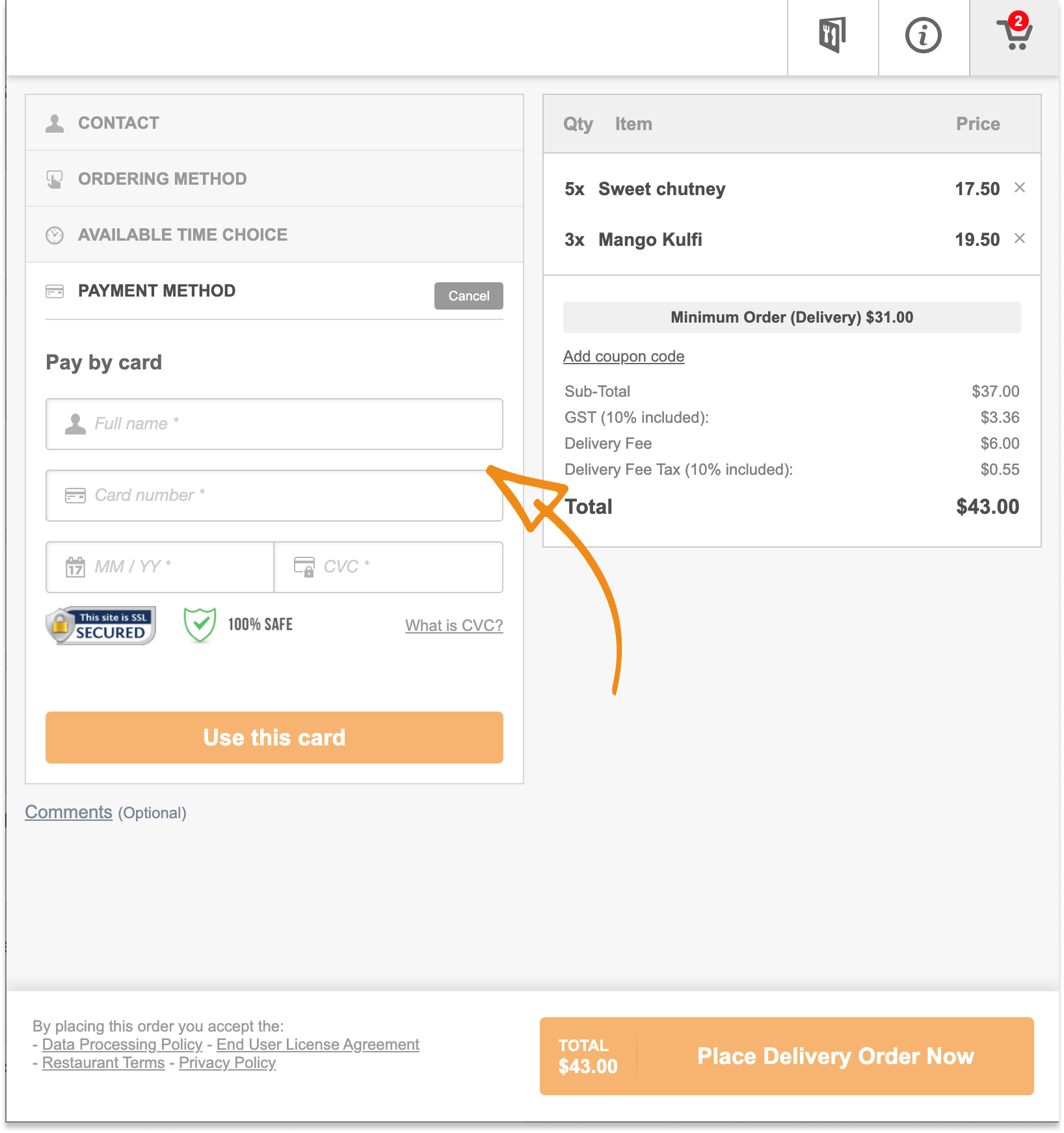 Easy menu configuration
Your menu is your first opportunity to leave a lasting impression on your clients since the menu is likely the first thing visitors to your website will see. An online restaurant menu is a very effective marketing and cost-reduction tool.
If you are using a traditional menu, you will have to print new copies every time you make changes to your menu. An online restaurant menu will reflect any changes you make to your menu in real-time.
Take advantage of all the opportunities provided by an online platform to develop a menu that is consistent with your brand and the whole eating experience offered by your restaurant.
You may also like: How to Personalize Your Restaurant Menu Categories & Attract More Customers
Here's how you can implement an online restaurant menu for your establishment:
QR code menu for dine-in
Setting up a QR code menu for your restaurant is another critical feature of a free restaurant management system. Contactless ordering limits the interactions between restaurant staff and food clients; this reduces the number of germs spread between parties.
A contactless menu guarantees faster table turnover without compromising client satisfaction. Your waitpeople may now concentrate on serving food and cleaning tables for the next event. Taking orders will no longer be on their minds.
Integrated marketing tools
Promotions could seem to be ineffective. After all, how can giving customers discounts or even free products help your revenue?
Promotions at your restaurant may persuade customers to order for the first time or can point customers toward menu items with high margins, boosting your income.
At GloriaFood, we have integrated a restaurant marketing module into our online ordering system.
The module includes a set of 13 restaurant promotion templates that you can use to entice your customers. Our templates include but are not limited to
Buy one get one free
Free delivery
Discount percentage on cart
Meal bundles
Discount on selected items
To increase your revenue by creating restaurant promotions, check out the GloriaFood tutorial below.
Delivery heatmaps & flyers
Using heatmaps, you can better plan your shifts and improve delivery routes by identifying areas with more delivery orders. If the places you deliver are not generating as many delivery orders, they may also help you rethink those areas.
On the other hand, if you want to persuade more customers in lower-density delivery zones to place an online order with you, you can create and pass out flyers in the zone that include a discount code for initial purchases.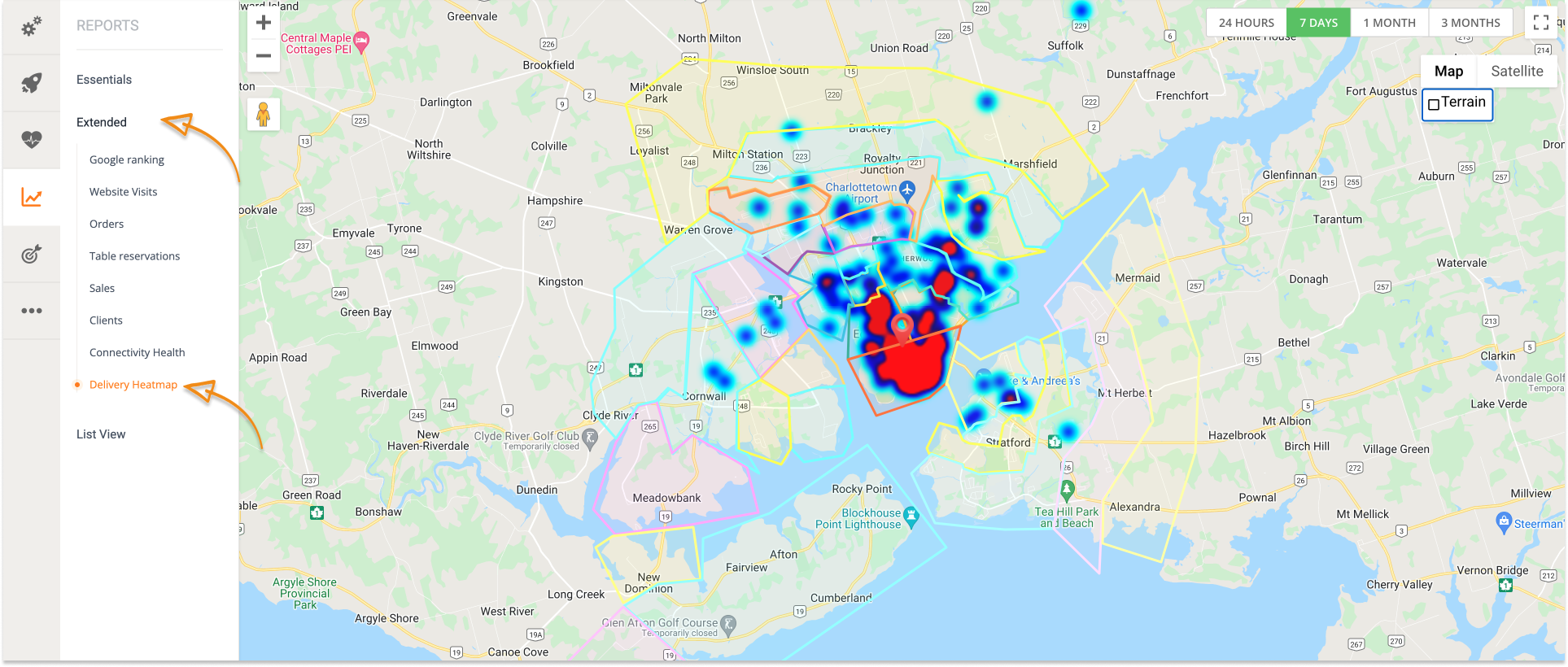 Using our convenient flyer maker, you can make online ordering flyers that advertise your website. That way, you encourage both existing and potential consumers to place orders.
Create an online ordering flyer now to attract more customers
Use our free flyer template to get started
Start Now
Conclusion
In closing, a restaurant management system is essential in ensuring that your restaurant keeps functioning ideally. It eliminates the hassle of managing a restaurant and ensures that you do everything correctly.
By employing free restaurant management software, you can spend more time concentrating on business as usual while making sure that the patrons are always catered to.