Father's Day restaurant deals to increase restaurant revenue
On the third Sunday of every June, families gather to honor Father's Day. Some may choose to celebrate their father figures at home, but won't feel like preparing food. Others will look for inviting restaurants where they can have a good time with their loved ones.
Seize the opportunity and be the place where people choose to spend Father's Day or the restaurant they choose to order from. You can start by implementing some Father's Day restaurant promotions and ideas to let people know you want to celebrate alongside them.
We've prepared a few foolproof restaurant ideas you must try.
Father's Day restaurant promotions to try this year
Encourage people to visit your restaurant to celebrate this holiday by adding some attractive Father's Day restaurant promotions to your menu. We are here to help you with some efficient ideas and instructions on how to easily implement them.
Increase your online orders with Father's Day restaurant promotions
Set up any deal in a matter of seconds with our online ordering system
Start Now
10% discount on cart for Father's Day
Persuade people to order their family dinners or lunches on this holiday from your restaurant by giving them a small discount on their whole cart. Pair it with a minimum order amount of $60 to ensure you only receive big orders that will increase your profit.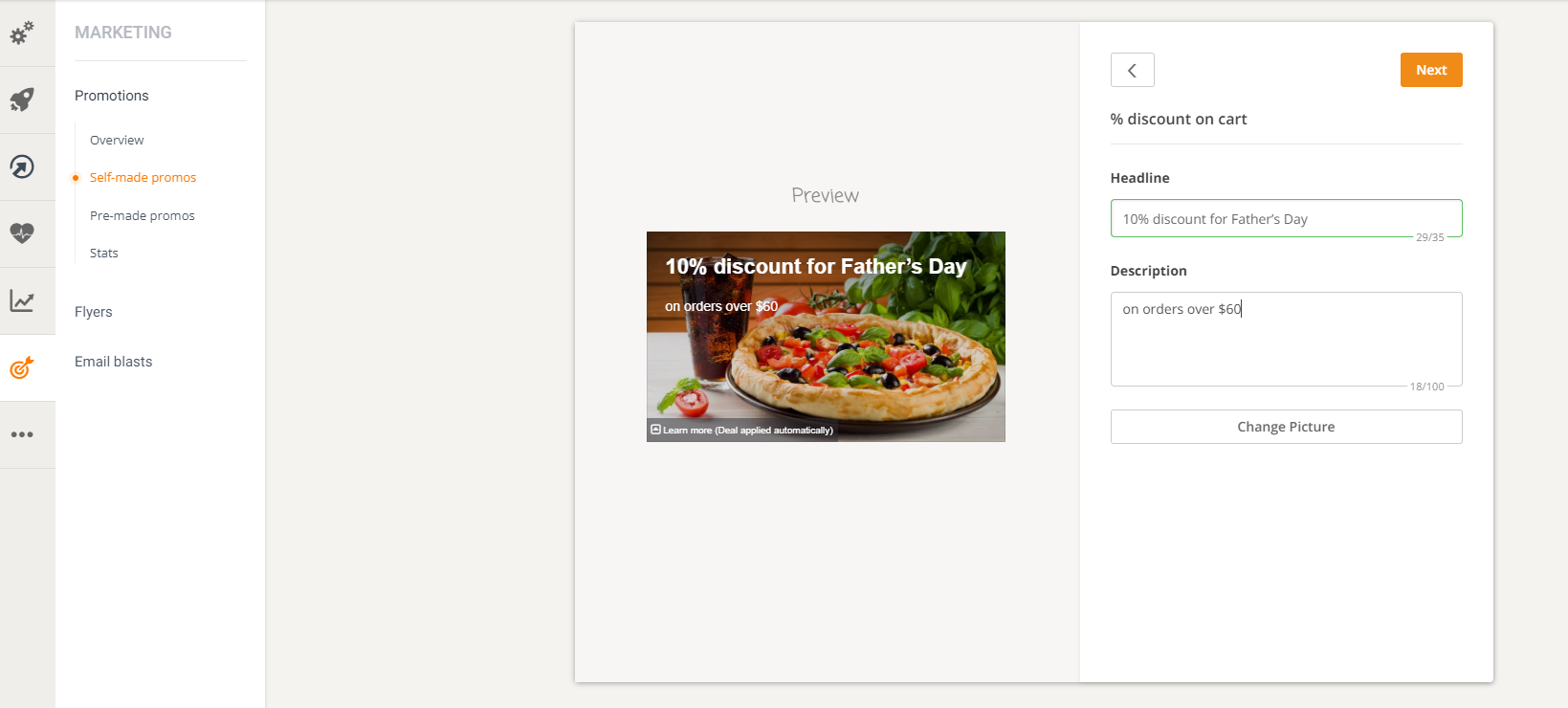 30% discount for the Dad Burger
It could be a Dad Burger, a Dad Pizza, a Dad Sandwich, or any other menu item. The important thing is to add "Dad' in the name to make it more celebratory. The big discount will tempt families into ordering from your restaurant as they get a better deal on their food.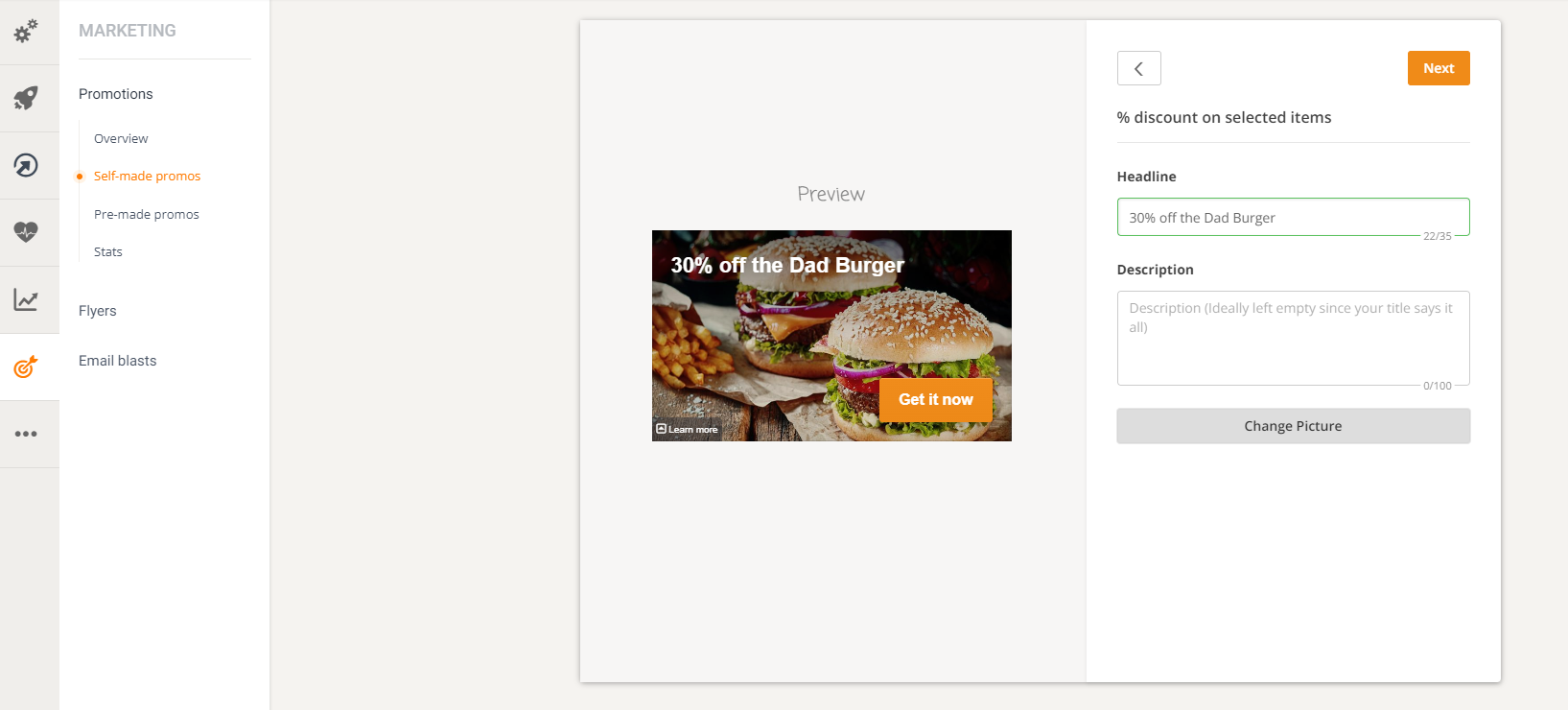 Free delivery for Father's Day
You have a limited number of tables in your restaurant. Therefore, you can only serve a certain amount of people in a day. To increase your sales on Father's Day, you have to advertise your online ordering by offering free delivery to anyone who orders.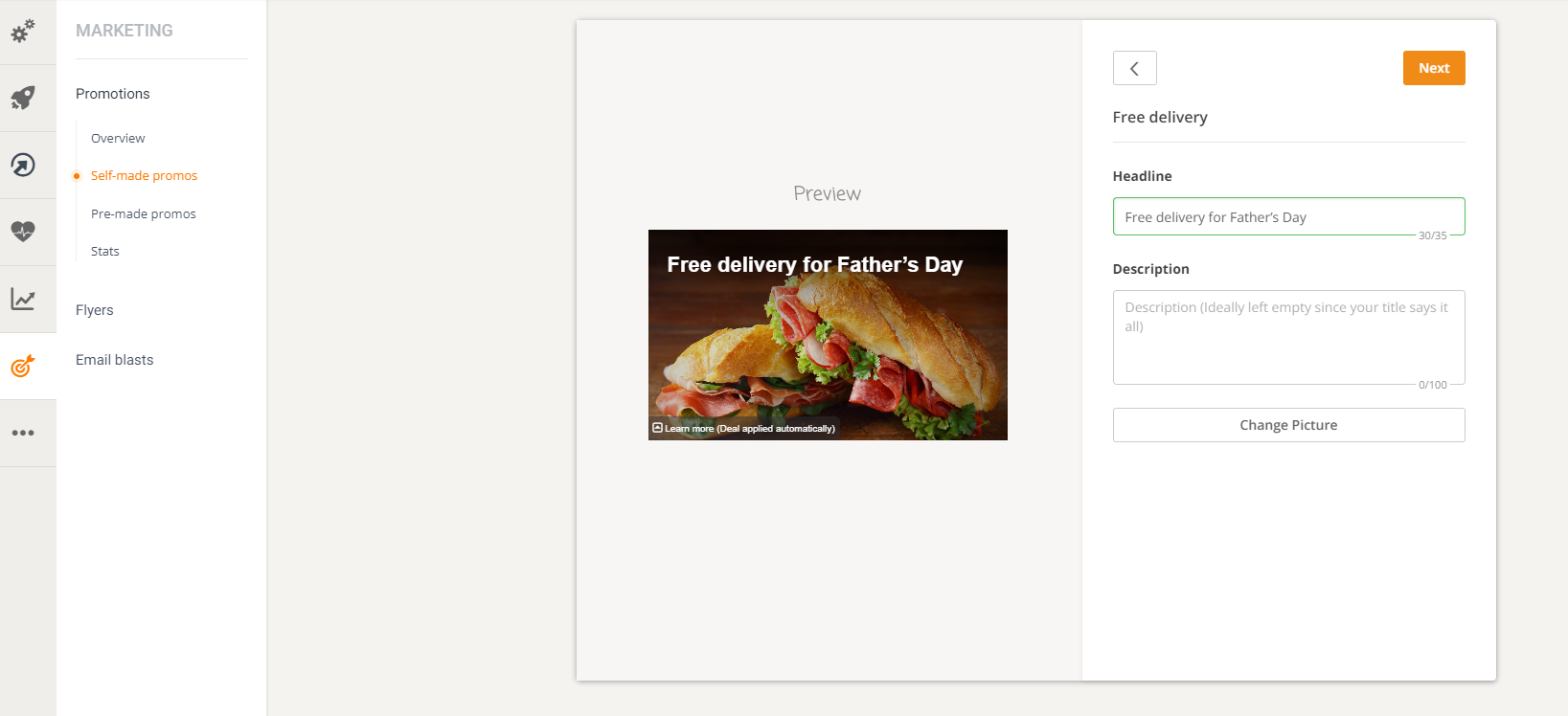 Buy a Father's Day pizza, get one for free
Going out or ordering in can get expensive when you have to feed a big family. That's why, many people will check for promotions to see if they can find a good restaurant with great deals. With a 1+1 offer, you will persuade many people to order from your place.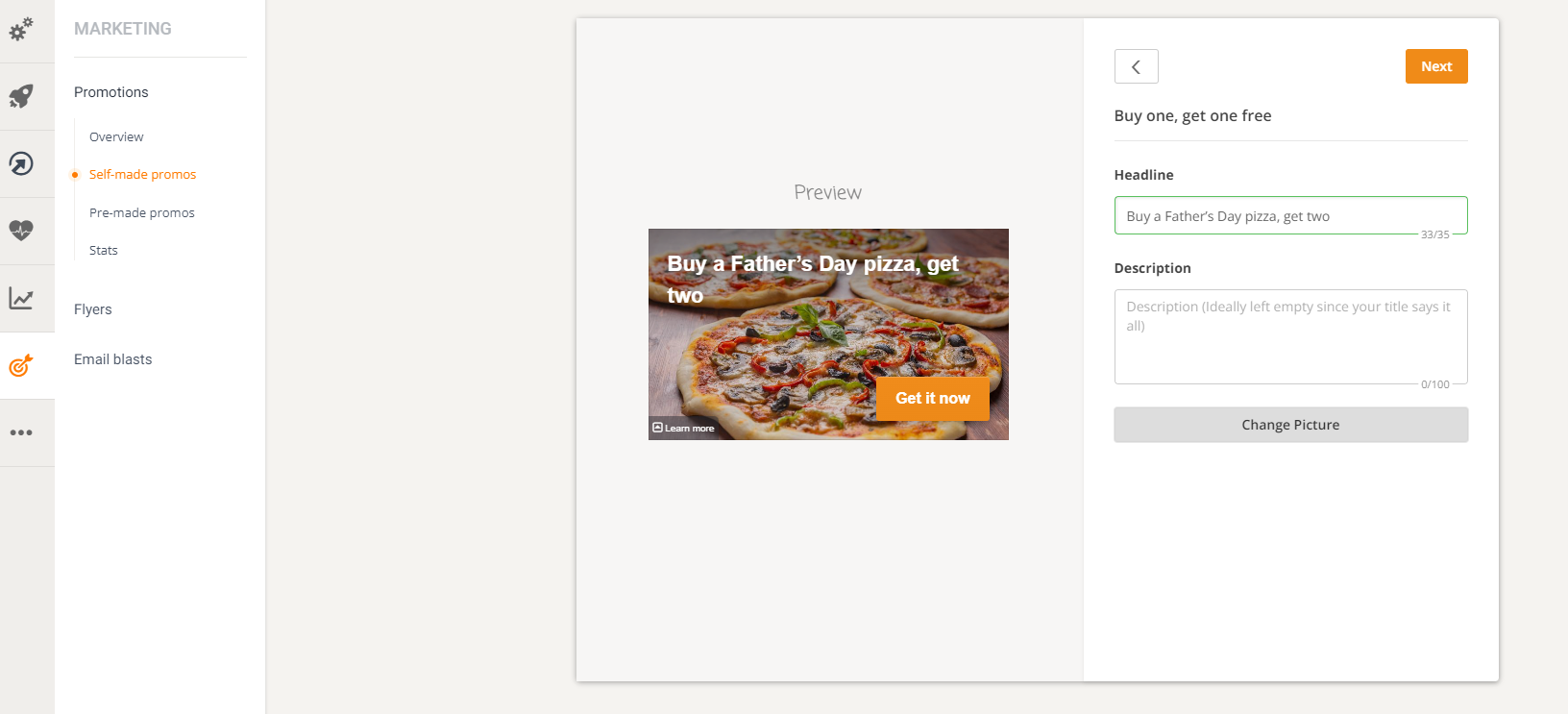 Get a free beer for every order
Beer is the classic drink we associate with fathers, so you must include it in a promotion. To create a relaxing experience for fathers that choose to celebrate at your restaurant, offer them a free beer for any order that exceeds $30.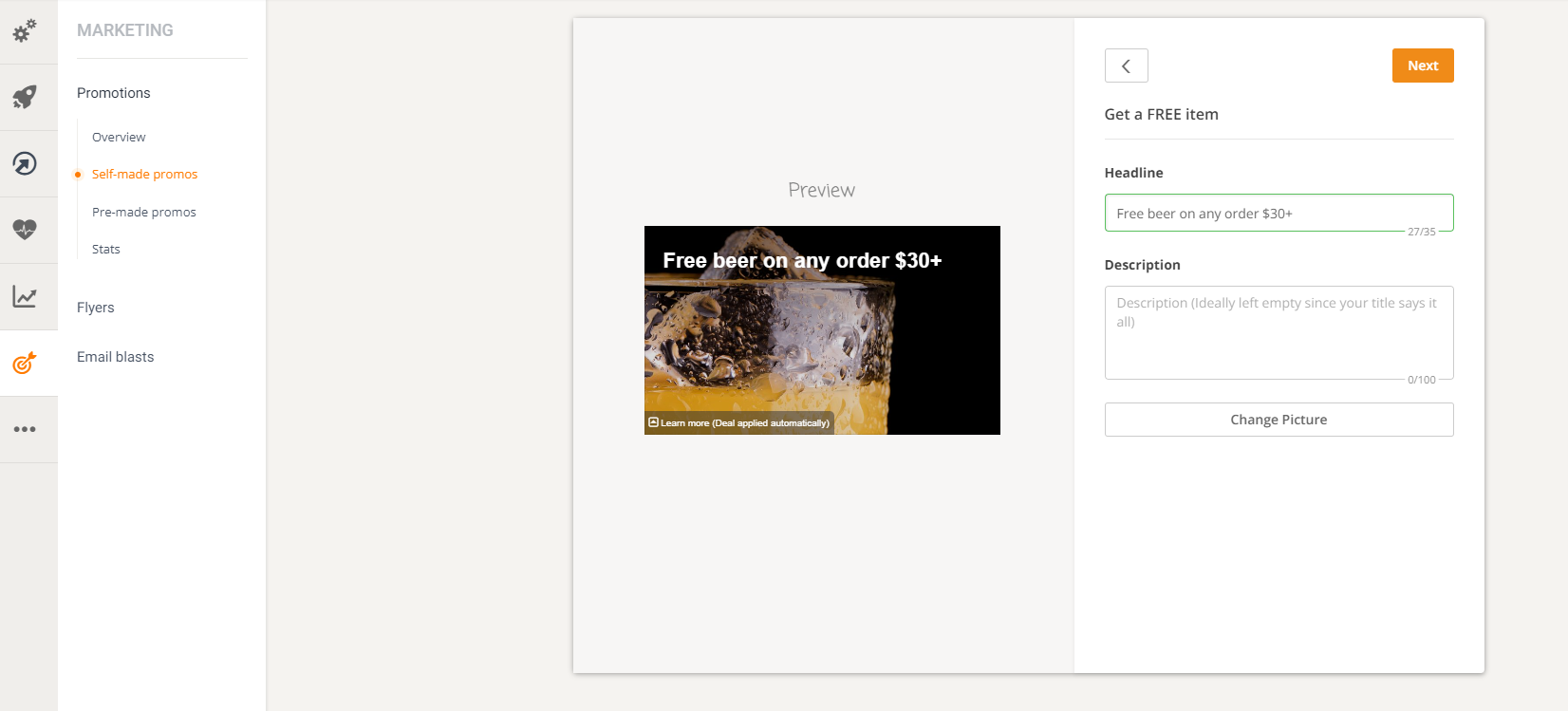 Meal bundle at just $60
The classic family is usually composed of four members. Therefore, you can create a meal bundle that can comfortably feed four people, composed of four mains, four sides, and four drinks. Clients will rather order the meal bundle at a fixed price than waste time getting everyone to decide on what they would like to eat.
To implement all the Father's Day restaurant promotions mentioned above, you need to use our online ordering system and go to admin -> Marketing -> Promotions -> Self-made promos.
You will find a variety of customizable promotion templates that you can add to your online restaurant menu in just a few clicks. Check out this informational video to learn how to set up a restaurant promotion in just a few seconds:
Father's Day restaurant specials to add to your restaurant menu
To get the best seasonal marketing results, you must put in a bit of effort. This includes changing up your menu, be it by creating a new one that will only be available for Father's Day, making some changes to the existing menu items, or just adding some new items to your restaurant menu.
With our online ordering system, you can create a restaurant menu that can be changed as many times as you want at no cost. Check out this video that teaches you how to create a Father's Day menu for a restaurant in just a few minutes:
You can add a new menu item in just a few clicks and customize it with mouth-watering photos (if you don't have professional photographs, you can choose some from our free image bank) and attractive descriptions.
Create and customize your online restaurant menu for free
Install the best online ordering system to your website
Start Now
You also have access to advanced settings that allow you to create a different menu for each day of the week, for example for Father's Day. You can also mark items as "Out of stock" if you happen to run out of ingredients toward the end of the day. Follow the instructions in this video to set up a special menu:
Here are some Father's Day restaurant specials ideas you can customize your menu with:
Steak and potatoes: for the classic dad that appreciates a good serving of meat. You can create a bundle with these menu items so fathers can order them fast, without having to look over the entire menu;
Burger, fries, and a beer: even the more health-conscious dads out there enjoy a cheat day. What better occasion than Father's Day to sit down with some delicious food and a sparkling beer?
Chocolate desserts: a celebratory meal should always end with a great dessert. And let's be real, there are few people out there that don't enjoy chocolate. Add a chocolate cake to your menu for families that don't have time to bake an entire cake at home.
If you don't want to create an entire Father's Day menu, you can just add a new category in a few clicks titled "Father's Day meal deals". Make the category more appealing by renaming traditional dishes with fun new names, such as "I am your father pizza" or "There is nothing else like the Dad burger". 
To make the best Father's Day menu, ensure all the items in the special category also come with a small promotion that will entice clients to order. No one can resist a free delivery deal, or a free item included with every dish. 
You can also go the extra mile and attract people at other hours than the classic dinner dates. For example, if you implement Father's Day lunch ideas you will not only attract dads who want to celebrate with their families in the middle of the day, but also the dads who are stuck working but still want to feel like it's their special day. 
Father's Day restaurant ideas to increase restaurant revenue
You've updated your menu, and you've added attractive Father's Day restaurant promotions. Now, you must let people know you are celebrating Father's Day at your restaurant. We have some tips and tricks you will find useful to attracting customers for the holiday and getting them to become loyal clients after that.
Check out the best ideas for Father's Day at your restaurant: 
Promote your Father's Day restaurant celebration
Get people excited to attend Father's Day at your restaurant or order from your place for this occasion by advertising your promotions on every channel. Here is what you must do:
Create FOMO on social media: starting two weeks before the event, post a teaser on your social media profiles letting people know of your upcoming event, menu items, and promotions that will only be available on Father's Day. Ensure you add many mouth-watering pictures to encourage hungry viewers to order;
Add a poster in the restaurant: make a simple poster or an announcement on your blackboard so people know to make reservations in advance if they want to celebrate Father's Day at your restaurant;
Add a banner on your website: your restaurant website is your online location that people check for information. Therefore, you must add a banner announcing your upcoming Father's Day restaurant promotions. If you choose to use our restaurant website builder to generate a website, you can easily make changes to the content.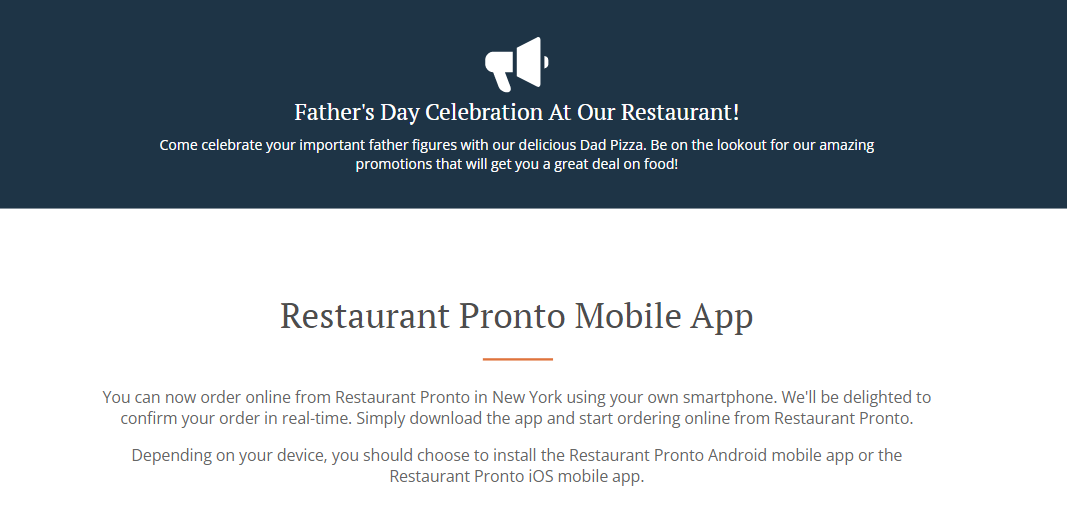 Organize a social media competition
If you want to ensure all your tables are full on Father's Day, you can organize a social media competition. The prize can be an all-expenses paid meal for the whole family. Here are a few contest ideas:
Go for a simple like & share a Father's Day post;
Have people leave a comment on the post and tell you why they appreciate their fathers;
Have people post a picture with their father and tag your restaurant in the post.
Add a "dad joke" to every order
In the competitive restaurant industry, every small detail matters. People already expect to get good food at a reasonable price. Therefore, if you want to impress them and make them order from your place again, you must go the extra mile.
How about adding a flyer to every online order from Father's Day that not only contains a 5% restaurant discount code but also a funny dad joke? Encourage people to post the jokes they receive on social media and tag your restaurant for increased visibility.
This way, with a small gesture, you make people laugh and turn them into promoters for your restaurant.
Hire a photographer to create memories
Yes, we all have phones nowadays that we can use to take infinite pictures. But nothing compares to holding a printed picture that you can treasure for years. Especially if that image portrays all your loved ones enjoying a delicious meal together.
Create an unforgettable experience for your clients by hiring a professional photographer to take pictures of every family that wants to participate, free of cost. They will cherish the memory and spread the word to their families and friends about the gesture you made, so you may get new clients.
Conclusion
To grow your restaurant, you must constantly be on the lookout for new marketing opportunities. Father's Day restaurant promotions will attract families to your restaurant and encourage them to order more, so they can enjoy a delicious meal, be it at your place or theirs.