Knowing the most effective restaurant Instagram marketing techniques can help your business reach new customers and sell more food.
While Facebook is still the most popular social media platform, Instagram has snowballed over the last few years. Between September 2017 and June 2018, Instagram went from 800 million to a billion monthly active users. Half of those (500 million) use the platform every day. It would be a waste not to use Instagram as a restaurateur to connect with your audience and boost sales.
Without further ado, let's see how you can take advantage of these numbers and get started with restaurant Instagram marketing.
What is Instagram Marketing?
Instagram marketing is a type of social media marketing involving promoting your brand on Instagram, via posts, stories, reels, and more. The goal of Instagram marketing is to connect brands with a larger audience and ultimately increase sales.
Why Restaurants Need Instagram to Succeed
First of all, because 38% of Instagram users look at food content and 27% of users share food content. #food appears in more than 250 million posts a month, and foodies get on Instagram about 18 times a day (Source). It's clear that food on Instagram is highly popular and restaurants can work that to their advantage.
A look at Instagram's demographics shows why you need the platform to build your restaurant's success. According to the Pew Research Center, 72% of teenagers use Instagram.
Teens seem to like Instagram's focus on visual communication. They're more interested in sharing pictures and videos than lengthy, text-based posts.
Videos may just be the future of marketing. Recent video marketing statistics reveal that as we speak, more than 85% of American internet users watch videos online. Besides, 3 in 4 customers say that video has convinced them to either buy or download an app or software. So, videos hold vast potential for your business.
Right now, teenagers probably don't play a significant role in your restaurant's success. They might convince their parents to take them to certain restaurants for family dinners, but teens don't have much money to spend.
Regardless, teenagers can help you build a restaurant with long-term success. In a few years, they will graduate from college, get jobs, and have more money to spend. If they already love your restaurant, then they will want to spend that money on breakfasts, lunches, and dinners.
So, why is Instagram important for restaurants specifically? Instagram offers benefits that you won't get from other social media sites. Food posts on Instagram are one of the most engaged with types of posts. When you learn to harness the power of those posts, you can improve your brand recognition and increase your sales.
The Benefits of Instagram for Restaurants
The smartphones that companies manufactured a decade ago took decent pictures. Today's devices, however, come with such advanced technology that several directors have used smartphones to shoot movies.
Improved screens and cameras have changed the way that people communicate. As phones become smarter, people use them less to make calls. Instead, they text each other or send emails. 47% of Gen Xers say that they text daily.
Better cameras have also influenced the way that people share information on social media. Posting a picture or short video often takes less time than typing a text. Images can say so much more.
It's just like the old saying: a picture is worth a thousand words.
Instagram takes advantage of that truism better than any other social media platform.
Instead of describing your daily special, you can take a picture of it and post it to Instagram. The sight of well-plated food will tempt more customers to order from your restaurant.
Other benefits of Instagram for restaurants include:
Restaurant Instagram captions that add precious information to the pictures
Instagram stories for restaurants that make your business more personable
The opportunity to respond to customer posts and share Instagram restaurant reviews
Access to features that help you market your restaurant in creative ways
The more you think about restaurant Instagram marketing, the more reasons you'll find to use the platform for business purposes.
How to Keep Your Customers Engaged on Instagram: Restaurant Instagram Marketing Tips
Even if you have a lot of creative ideas, you'll face a lot of competition from other restaurants that use Instagram well.
Following Instagram best practices for restaurants should help you keep your customers engaged. Unfortunately, there isn't a set of rules for you to follow.
You might ask a simple question like "how often should a restaurant post on Instagram?" Well, some restaurants post once or twice a day. Others post more often on days when their customers feel responsive.
Since you don't know precisely what and when to post, you should learn about restaurant marketing ideas and trends by following successful businesses.
Some of the best restaurant Instagrams for 2020 include:
When you study some of the best restaurant Instagram accounts of 2020, you learn a few things, like to…
Show Off Your Most Popular (and Delicious) Menu Items
Post mouthwatering pictures of your best, most popular, or new-coming menu items. For a more substantial impact, add a caption to the photo. It can include anything from:
emojis
fun facts
idyllic captions
funny text
Sweet Green writes excellent food captions for Instagram that highlight the best part of what you see.
Here's how they do it on the Piada Italian Street Food Instagram account:
You might also like: Why Food Photography Is Important for Your Restaurant Website and Menu
Use Restaurant Instagram Hashtags
Instagram is all about hashtags. However, not all hashtags are created equal. Some work better than others for restaurants. Here is a list of hashtags you can use on your posts to gain more engagement:
#foodporn
#foodie
#food
#foodstagram
#instafood
#foodlover
#foodphotography
#yummy
#happyhour
#hungry
If you're feeling uninspired, use a tool like Instavast to generate specific hashtags for the photo you want to upload. Just upload the photo into the website first and it will provide some relevant hashtags for you to use.
Pizza Loves Emily gives us a great example of pizzeria-specific hashtags you can use.
Another inspiring example of how to use food hashtags on Instagram comes from The Meatball Shop. They use #NationalMeatballDay to celebrate their restaurant's cuisine.
Show Customers Your Priorities: i.e., emphasize the quality of your ingredients
Does your restaurant focus on something special such as getting ingredients from your own farm or sourcing vegetables from local farmers?
Show customers your priorities so they will understand your brand better. For example, you could post dessert captions for Instagram that contain a tag of the dairy farm where you get your milk. You could also highlight the importance of getting dairy from a cruelty-free source. Emerging food trends focus on local sourcing, fresh produce, healthy eating, and an emphasis on authentic items. (Source)
Here's how Sweet Green welcomed spring and showed how their ingredients are organically sourced.
Post Enticing Videos
If a picture is worth a thousand words, a video is definitely worth a million. On Instagram, there is such a thing as #foodporn. Use it to post videos of a steaming plate of pasta or a spoon digging into a mouthwatering lava cake.
Customers also love behind-the-scenes looks at the brands they love, so consider posting clips of your chef cooking a popular dish or your staff handling everything smoothly in the kitchen.
California Donuts posted a video of an employee flipping donuts calling the treat "essential for the soul." If that doesn't get you craving donuts, we don't know what will.
Respond to Your Customers
When someone posts a picture of your restaurant or food, always engage fast and respond with a quick note.
Something along the lines of "Thanks for sharing, [first name]! Looks awesome!" has a personal touch and will make your customers feel like they are part of a community.
Here's how Piada does it:
Ask Customers Questions
A great way to get more engagement on your posts is to ask a question. The go-to topic can be a "this vs. that" featuring two of your dishes.
Advertise Table Reservations
If you offer the option to book a table at your restaurant, let your Instagram followers know. You can post a link to the table booking widget in your bio, for instance, since Instagram doesn't allow links in posts.
Get Your Free Table Reservations Widget Now
Start welcoming customers into your restaurant in minutes.
Start Now
Advertise Food Pre-Orders
Here's California Donuts acing the V-Day game with a cute post featuring an informative caption.
Oh, and if you're interested in creating consistent branding across your Instagram profile, then it's worth checking out this free library of ready-to-publish Instagram templates.
Instagram Story Ideas for Restaurants
Instagram stories have slowly but surely gained traction. Now, a lot of people scroll through them, some even more than they would scroll through their feed. What that means for you is you have to be present in stories as well. Here's how!
Include Customers in Your Instagram Stories
Fox in the Snow Cafe, as well as the rest of the restaurants listed above, share Instagram stories that feature customers. The customers always look excited and happy. These pictures are ones of the best and most authentic Instagram restaurant reviews that you can get. Plus, they will make other people want to visit your location so they can have fun, too!
Start by asking your customers to follow you on Instagram and tag them in your pictures. Make sure to add a few restaurant Instagram hashtags as well. There's nothing that says "friends and family" more than this.
Do Polls
You shouldn't use Instagram stories just to feature customers. You can also use them to engage customers by asking them to vote on things like their favorite dish at your restaurant or what they would like to see you add to your menu. That way, you don't just get engagement, but you also get direct feedback that you can use to see what dishes work and perfect your menu.
Feature a Promotion That Redirects Customers to Your Page
Instagram pages that don't have over 10,000 followers can't use the "Swipe up" feature that allows them to send visitors to a desired destination. To be able to still advertise discounts and promotions on stories and give users something to click on, we have a hack for you: use the mention feature.
Here's how we did it:
First, we created a nice image featuring our Instagram restaurant promotion and an arrow pointing to a yet unoccupied space in the photo. You can create one yourself in Canva or Envato Elements by using the Instagram stories template and choosing from a library of elements. It's really easy!
Then, we uploaded the image to our stories and added a mention of our page so that the arrow points to it.
We made the mention as visible and clickable as possible and we posted the story, giving users a chance to click on it to be redirected to our page where they can see the "Order online" link.
Add the Order Sticker to Your Stories
Recently, Instagram has released an order sticker that restaurants can use in their stories to redirect customers to their website, where they can place an order. Customers who will see them can also share the story to their Instagram profile to spread the word.
To add the sticker, choose a representative photo and go to the top right corner of the screen where you can find all stickers while editing an Instagram story. The sticker labeled "Order" should be there. This is how it's going to look on your profile: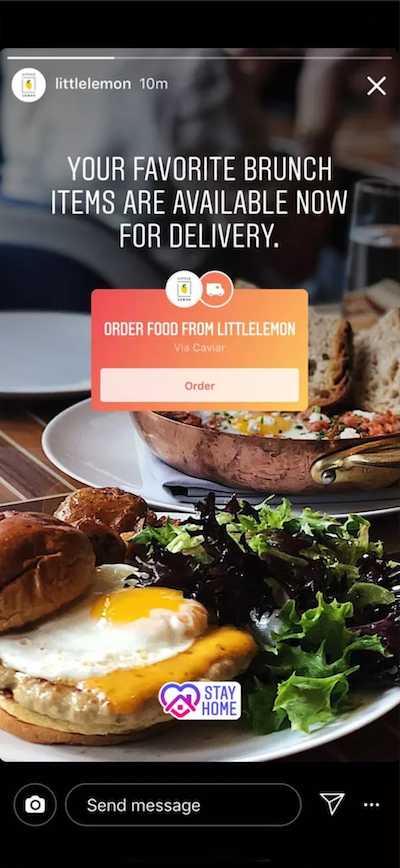 Instagram Promotion Ideas for Restaurants
Organize Giveaways and Instagram Contests for Restaurants
This is especially profitable during major holidays or to advertise a special event. You can organize a contest or a giveaway exclusive to Instagram to get more traffic and followers to your page.
For example, come Christmastime, do a giveaway for a generous gift card that can be redeemed at your restaurant in the month of December. To enter, people have to follow your page.
Celebrating the Super Bowl? Hold a contest where people have to tag your restaurant in an Instagram post in which they share their favorite thing about the Super Bowl, using the hashtag #[restaurantname]superbowl. The user that gets the most likes on his post wins all you can eat chicken wings on Super Bowl Sunday.
Partner up with Influencers
Restaurant influencer marketing is one of the best ways to promote your business on social media. While influencers can be found on any platform, Instagram is the place to be when it comes to food influencers. They can promote your dishes and expose them to their following. To find influencers in your area, you can use Socialbaker's influencer search tool.
Instagram Action Button Alternative
Selling food on Instagram can be tough if you are not listed on any food ordering portal like Uber Eats or GrubHub. However, if you want customers to be able to access your online ordering page directly from Instagram, there's a workaround for the Instagram action button, and that's promoting a post with a button linking to your website.
Don't Let People Who Order Online Get Away!
Implement our free online ordering system.
Start Now
Let's go through setting up a promotion step-by-step:
Step 1: Upload and post the photo you want to promote. Don't forget to add a catchy caption.
Step 2: Tap the "Promotions" button on your Instagram restaurant profile.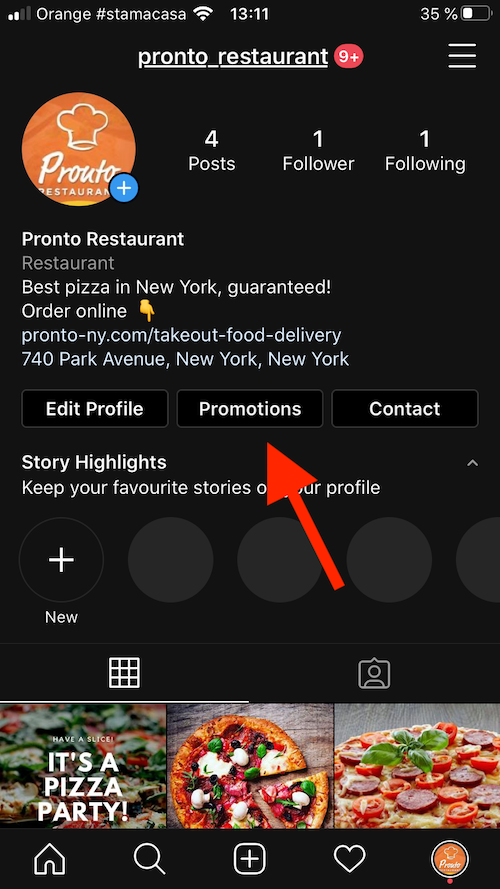 Step 3: Tap on "Create Promotion."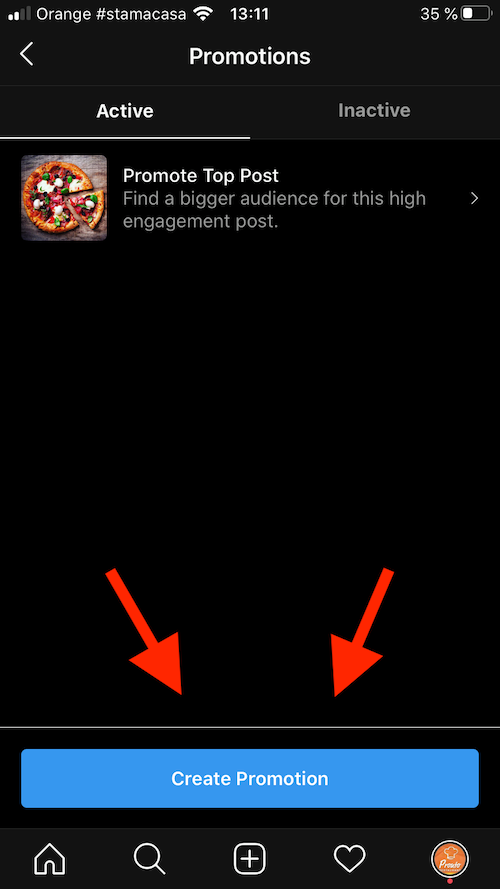 Step 4: Tap "Next."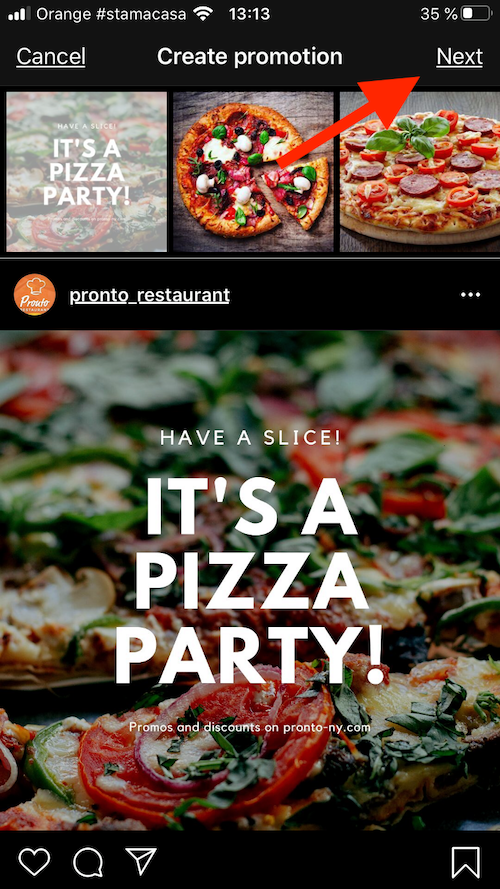 Step 5: Choose "Your website" to direct customers to your online ordering page. Tap "edit" to change the label of the action button and the URL (if needed).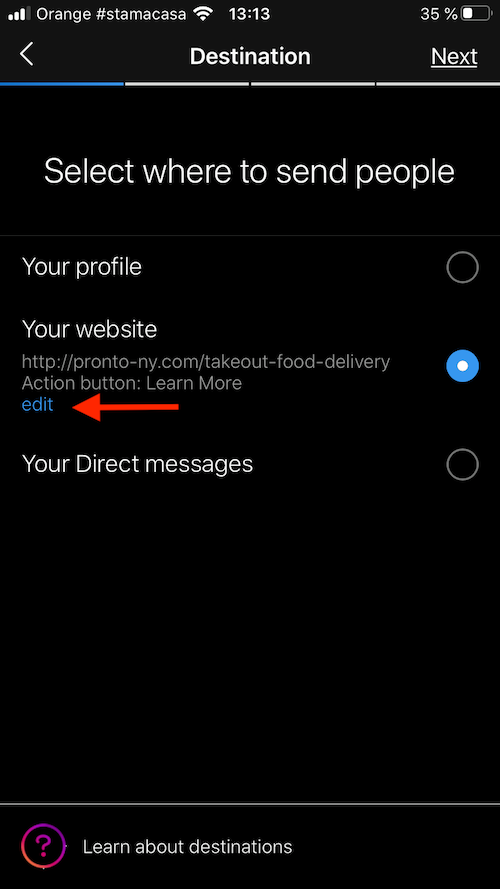 Step 6: Choose "Shop Now" and edit the URL if you need to.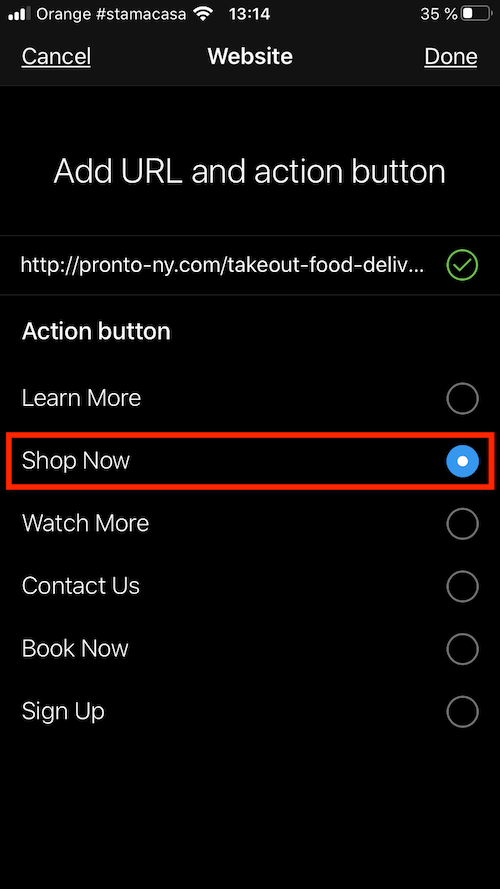 Step 7: Define your audience. If this is your first promo, we recommend selecting "Automatic."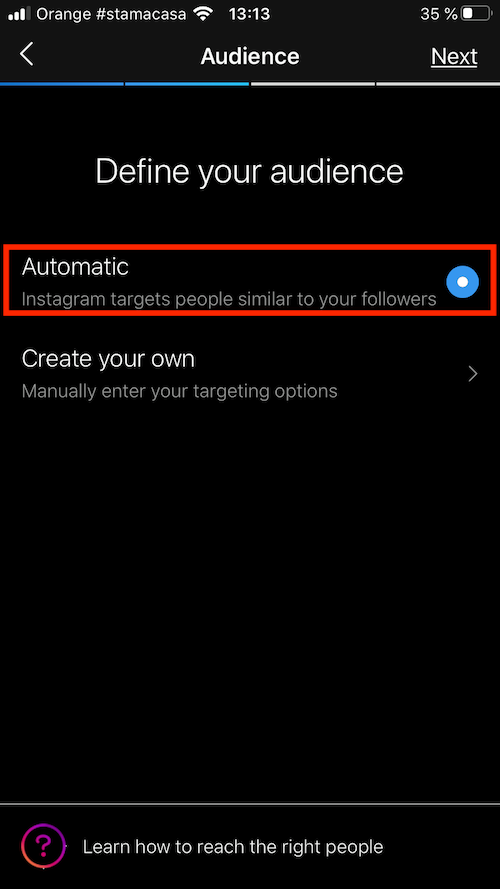 Step 8: Choose your budget and the duration of the promo.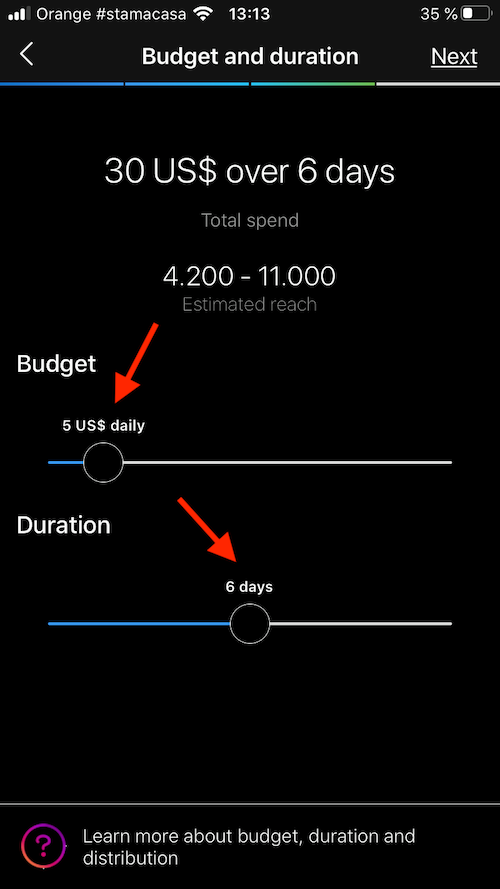 Step 9: Before tapping the "Create Promotion" button, choose "Preview Promotion" to see how your promo will look to the audience.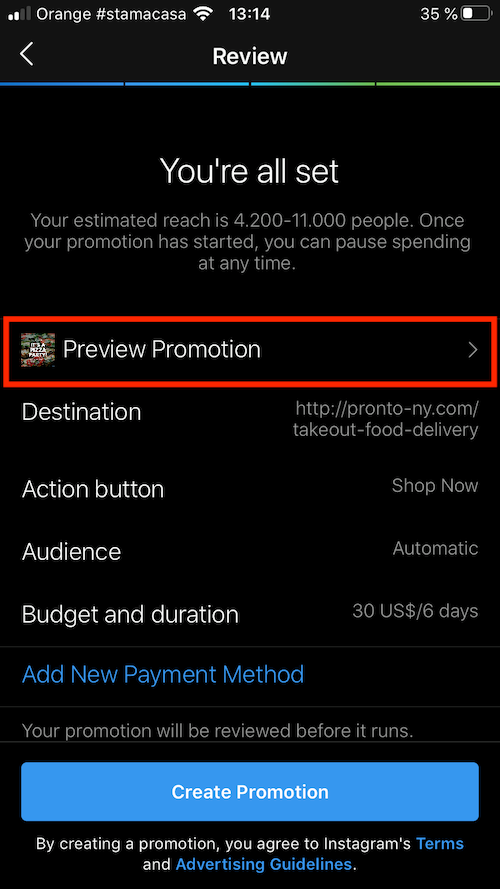 Step 10: Review your work. Here's how your promotion will look on Instagram feed and stories.
Advertise Restaurant Promotions
Even if you won't be able to promote all your posts, you can still showcase your promotions on your feed and invite people to order from your website.
What's the Best Time to Post on Instagram for Restaurants?
It's not hard to guess: the best time to post on Instagram as a restaurant is when people are hungry. At 9 AM, between noon and 1 PM, and at 8 PM, people are likely looking at photos on their phones trying to decide what to eat.
This is your chance to attract customers with a delicious looking meal that they can order at home or at the office, or invite them to stop by to try it.
You can be one of those restaurants using social media successfully if you implement these restaurant Instagram marketing ideas in your social media strategy. They will definitely help you build a fabulous social presence, so give them a try ASAP.
Do you have any other restaurant Instagram marketing tips to suggest? Get in touch!
Related: How to Delete An Instagram Account