The Curious Case Of Punjabi's "Wacky Wednesday Curry"
Within a few weeks with our online ordering system, one of our member restaurants, Punjabi, started to have WAY too many orders per day!
We were intrigued. As much as we believed in our online ordering system and its ability to make a difference, we had to take a closer look. So we did, and we noticed there were days with spikes in the number of orders. Clearly those could not be explained by great usability. To solve the puzzle, we asked Smith, Manager at Punjabi: "How do you do that? Where are these coming from? What do you put into your food?!"
"On Wednesdays we order the special curry"
Smit was very kind to share his story with us. Guess what: there was not voodoo after all!

Smit Shah
Manager at Punjabi Place
Past: McDonald's 8 Mile Plains and McDonald's (Will Rogers Turnpike)
It all started with a good promotion
"Every Wednesday I have been doing $9.95 curry special for any curry in menu, which is usually $12.95 to $14.95, depending on which curry they order", said Smit. "Every day I have been telling customers that if they order online it is cheaper and advised them to do so, especially on Wednesdays, to get the $9.95 specials."
Growing the email base
"I had existing client emails in my database and also every new client ordering online was asked to join our Wednesday's special program." Slowly but surely, all clients got the point: "on Wednesdays we order the special curry".
Happy customers become loyal customers
The food was great and the ordering system worked smoothly, so the Wednesday clients started to order more frequently. After a while, they became loyal clients of Punjabi's and they also recommend the restaurant to their friends.
Getting a lot with very little
If you're curious to see the promotion, here it is: a simple message, a good image and a clear call to action.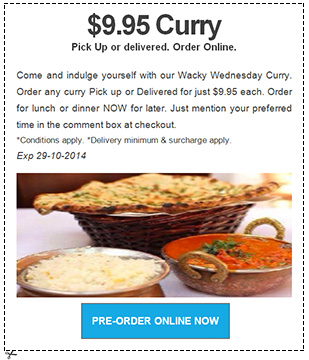 The number of clients grew, the number of orders per customer grew, but guess what: so did the average order value. How can this be? A simple trick that Smit shared with us:
"We've placed the categories like drinks and dessert on top of the $9.95 curries, so the clients end up spending more on sides. Our average tickets have stayed the same and also our profits, as they are buying more sides." In addition, the costs went down, as taking orders online is much more effective!
Lesson learned: you don't need huge marketing budget to get a serious online business. Just a good idea executed right.