Online Payment for Restaurants: Everything You Need to Know
Would you agree with 49% of your fellow restaurant operators that mobile payment options are a must-have technology for diners? If so, then you need to find affordable ways to unlock online payment at your restaurant and bring customers the convenience they crave when ordering food.
Below, we'll take a closer look at the main benefits of online payment for restaurants, as well as how to enable multiple types of contactless payment for food delivery, pickup, and dine-in.
5 Unmissable Benefits of Online Payment for Restaurants
1. Reach a wider audience
82% of Americans use online payments. Be where your customers are by providing them with convenient ways to pay for their food online, from credit cards to services like Google Pay or PayPal.
Restaurants that accept online payment will have the upper hand in the future. 71% of consumers want their favorite restaurants to keep offering contactless payment and ordering even post-pandemic.
Don't paint yourself in a corner by only allowing cash payments. Open your doors to customers who want to pay digitally, and you'll expose your restaurants to a brand-new audience.
2. Increase security
Despite concerns about restaurant cybersecurity, online payments are still some of the most secure due to technology like encryption, tokenization, and Secure Sockets Layer (SSL), which keeps customers' data safe.
To learn how to put your customers' minds at ease, secure online payment transactions, and prevent credit card fraud at your restaurant, keep reading.
3. Make payments fast & easy for your customers
Perhaps one of the best benefits of online payment for restaurants is how fast and convenient it is. Customers don't need to worry about having enough cash or calling the restaurant to provide their credit card information.
They can fill it in themselves directly in the ordering widget or use other online payment methods. Moreover, they have the option to save their credit card information on their device for future purchases, so they don't have to go through this process every time they order.
4. Offer variety to food clients
In the same way you offer variety in your food menu to appeal to a larger audience, attract even more customers by allowing them to pay by whatever means they have at their disposal.
That way, whenever a customer asks if they can pay by Apple Pay or PayPal, you won't have to disappoint them by saying no, which might deter them from ordering again.
5. Quick & easy setup
On the restaurant's end, enabling online payments is a walk in the park. The whole process only takes a few minutes, and it can be done by anyone, even if you're not a technology wizard.
In the sections that follow, we will show you how easy it is to activate multiple types of online payment for restaurants using the online ordering system by GloriaFood.
Sign up for our online ordering system for restaurants
and activate online payments to make it easy for customers to pay for their food
Get Started
5 Types of Online Restaurant Payment Methods You Need
1. Credit card online payment for food delivery & pickup
The most common type of online payment you can provide is via card in the ordering widget when customers order food for delivery or pickup. Given the option to pay upon ordering, all that's left for customers to do is sit tight and wait for their food.
To enable online payments via card in our ordering system, you need to go to Setup -> Payments -> Online Payment, select "Yes," and click on "Next."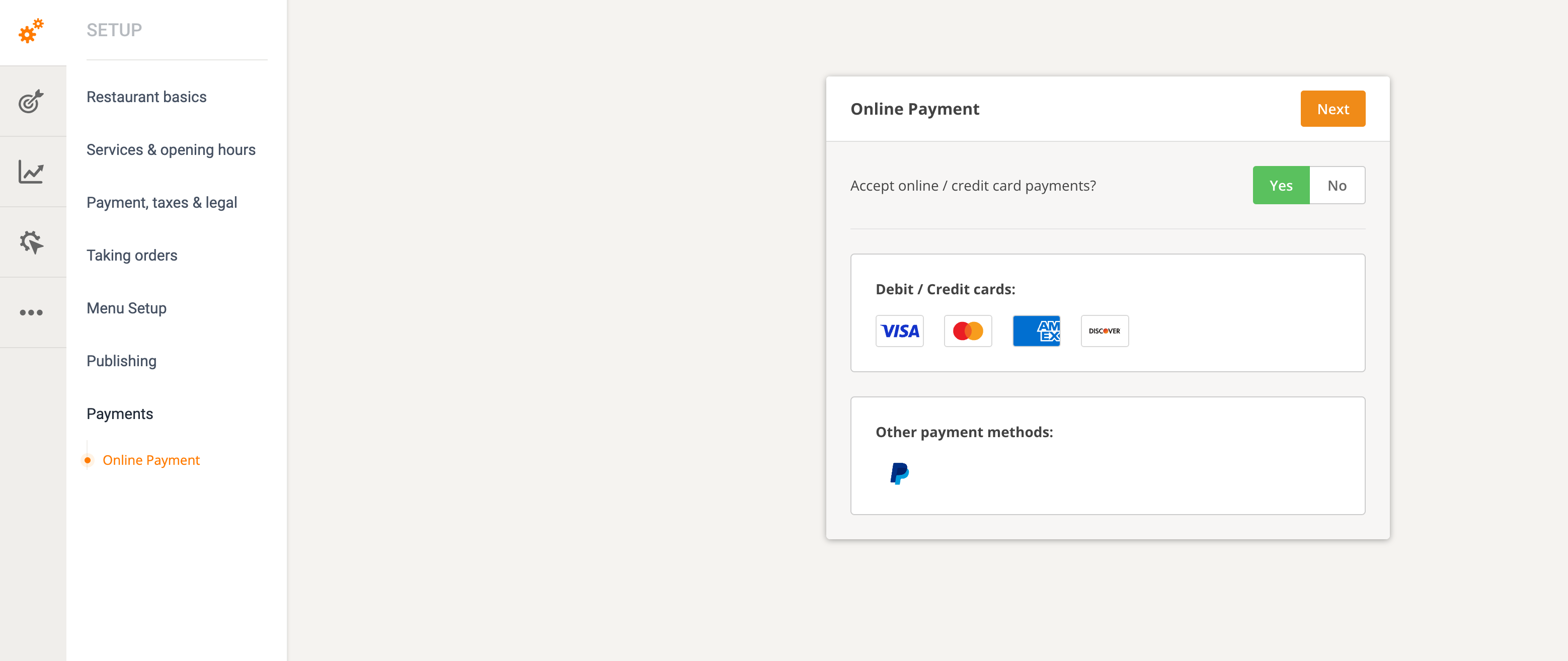 Then, select your merchant account provider from the drop-down list. For the purposes of this demonstration, we will be using Stripe. If you also want to receive payments in foreign currencies via PayPal, which we'll discuss below, toggle the switch at the bottom. Now, click "Next."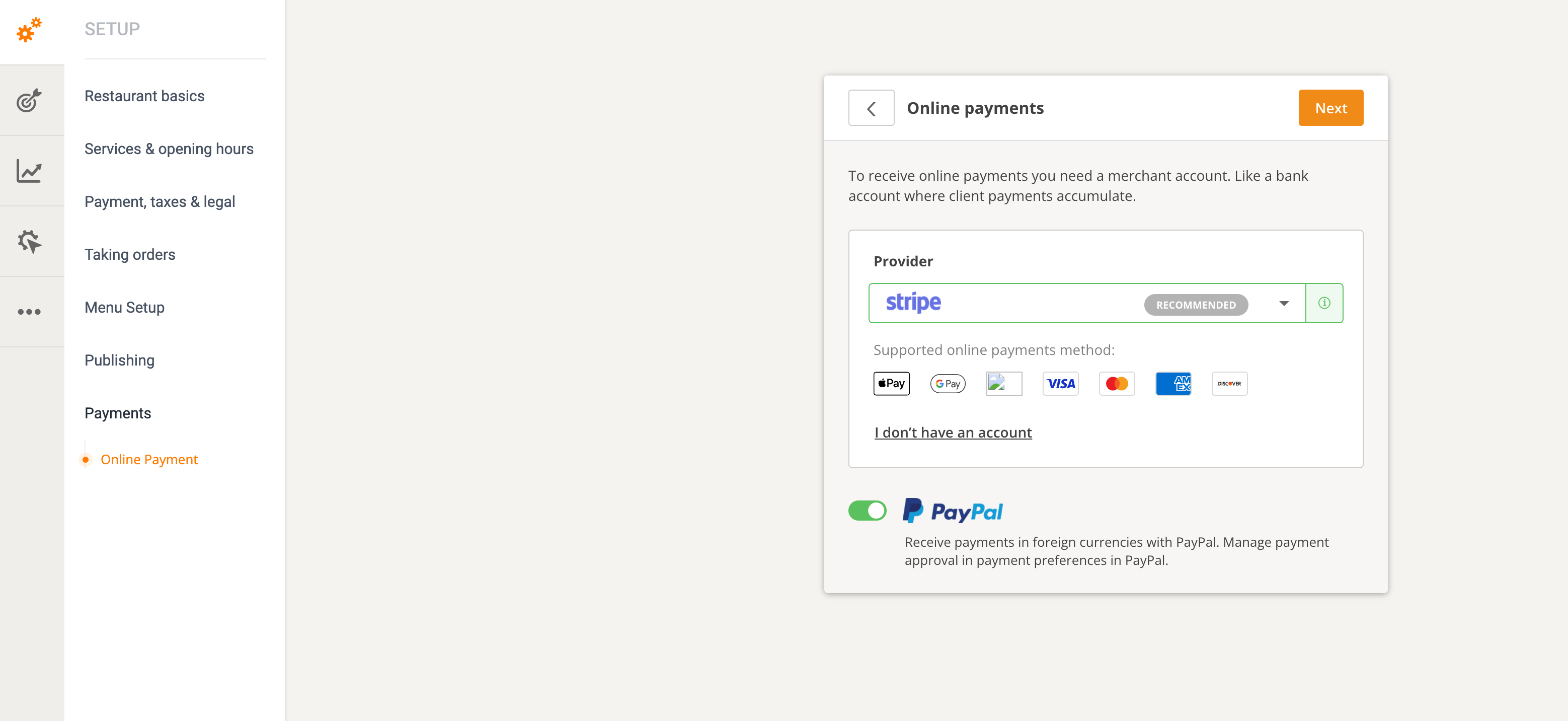 To connect your merchant account to this online ordering system, you need to retrieve the Publishable key and Live Secret Key from your Stripe account. Enter them into the designated boxes and ensure the currency is the one you want to use.
Then, click on "Connect" and you're all set to accept online payments via card.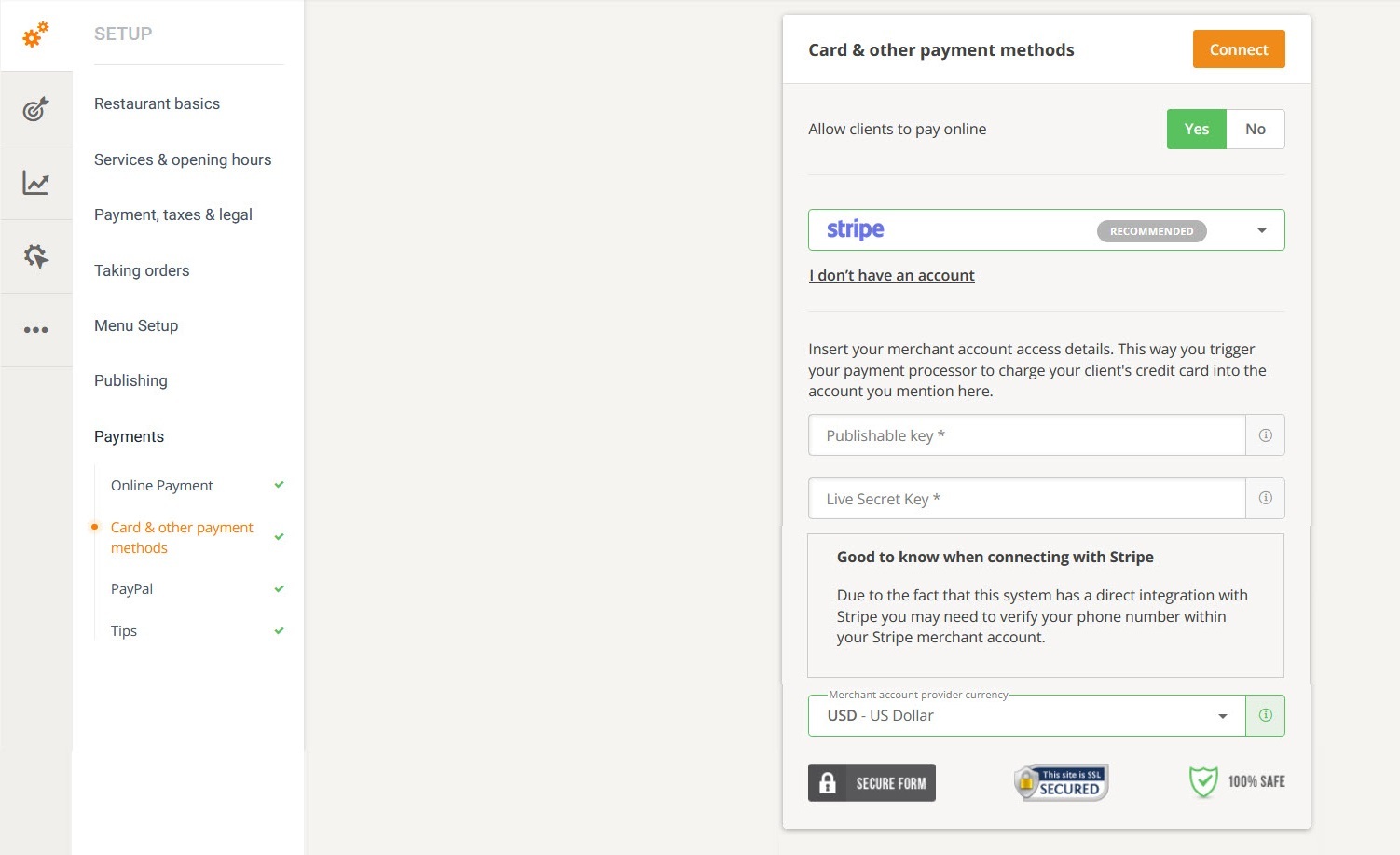 2. Apple Pay for restaurants
21% of consumers in the US used Apple Pay for their transactions in 2021. If you'd like to tap into that market as well, we also support Apple Pay if you're using Stripe as a payment provider.
To enable this, you need to access your Stripe dashboard and click on the "Turn on" button next to Apple Pay.
Then, go back to your restaurant's admin dashboard Setup -> Payments -> Card & other payment methods. Click on "Apple Pay," and select "I manually enabled this within Stripe." Click on "Next" at the top and that's it! Now you can accept online payments via Apple Pay.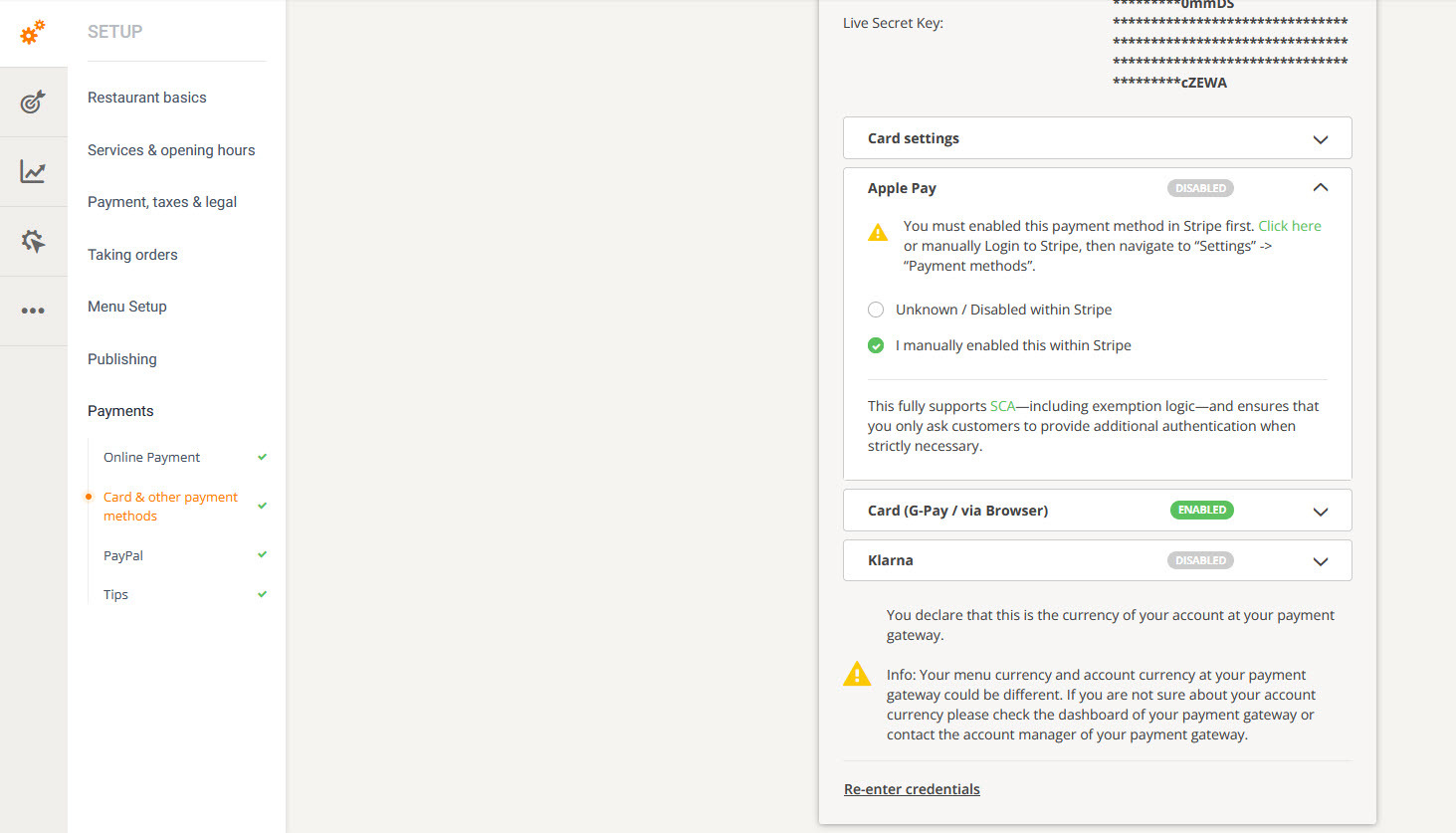 3. Google Pay for restaurants
In 2022, 41% of customers in the US used Google Pay in stores, restaurants, or other POS systems, while 27% used it to pay online. You can enable it at your restaurant too if you're using Stripe as your payment provider.
To allow your restaurant customers to pay via Google Pay, go back to your Stripe account, and click on the "Turn on" button next to Google Pay.
Then, navigate to your dashboard -> Setup -> Payments -> Card & other payment methods. Click on "Card (G-Pay / via Browser)," select "Enabled," and click on "Next" at the top.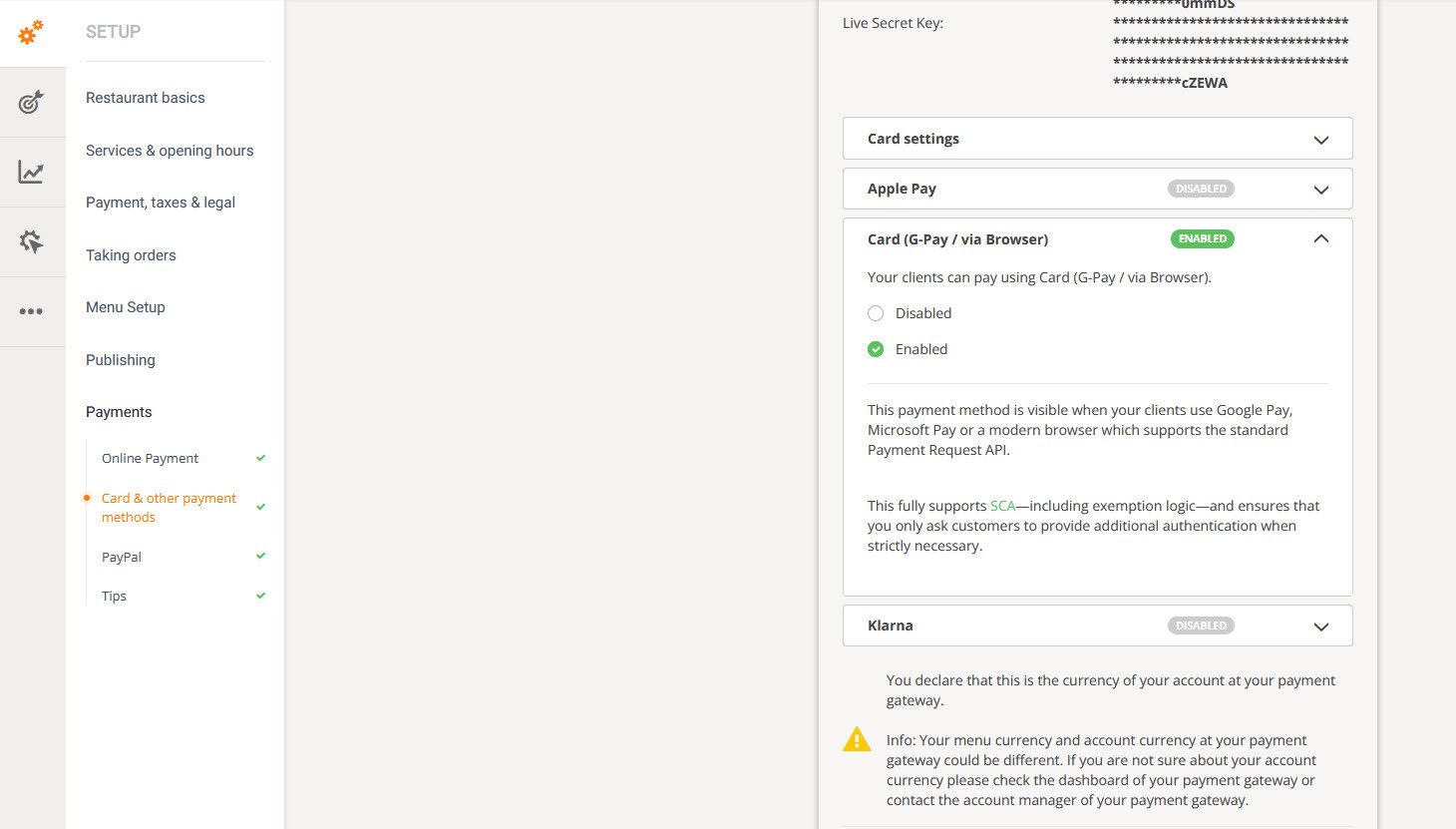 4. PayPal for restaurants
22% of all online transactions in the US are made through PayPal. Luckily, enabling online payment for restaurants via PayPal is a matter of minutes using our online ordering system.
Go to Setup -> Payments -> PayPal. Then, click "Yes" and enter your PayPal client ID and Secret. Please keep in mind you need a PayPal business account to do this. Check that the currency at the bottom is correct and click "Connect" to start accepting payments via PayPal.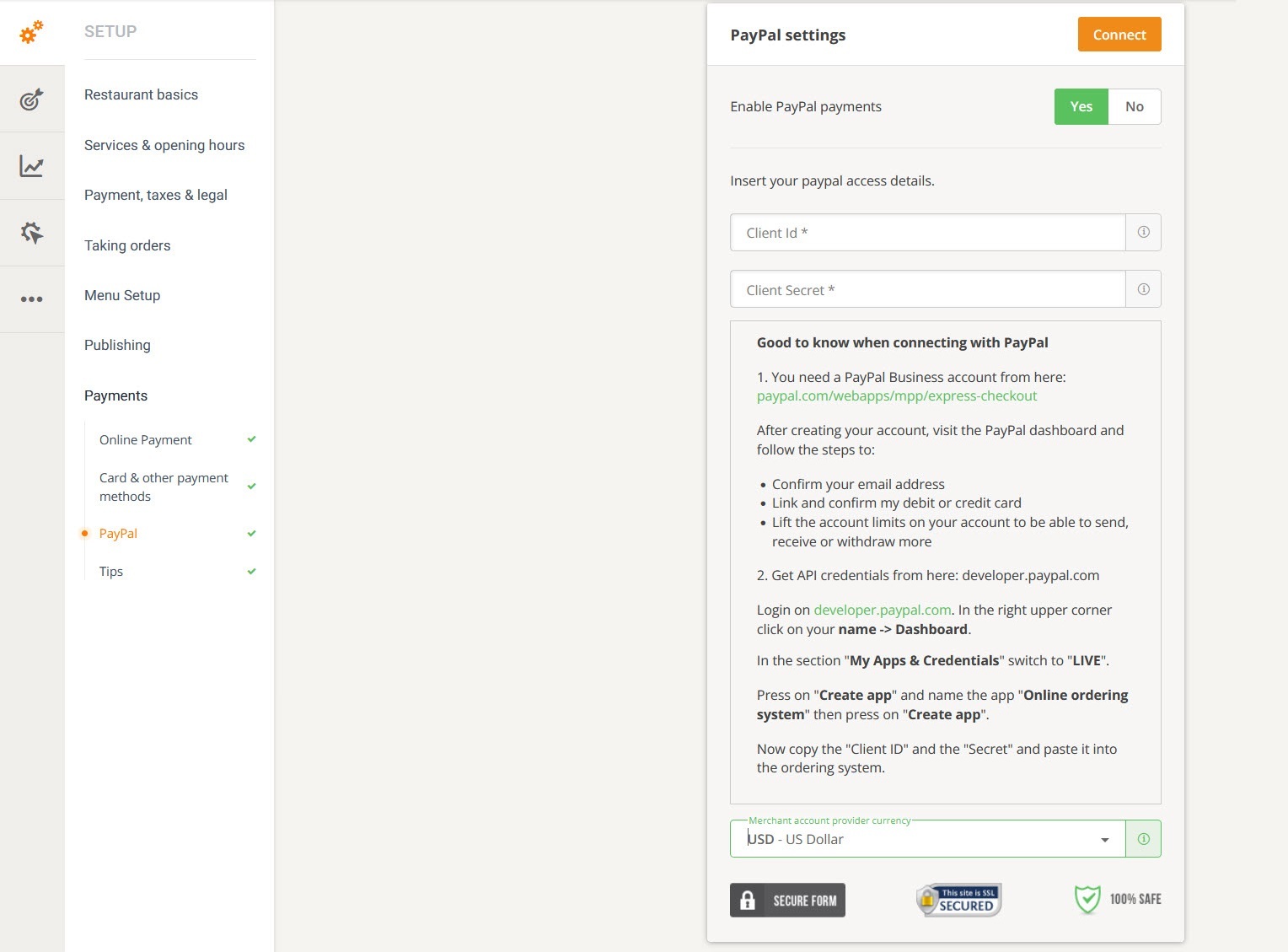 5. Contactless payment for restaurants with a QR code menu
34% of diners believe contactless or mobile payment options are important both during and after the pandemic. Moreover, QR code payment is expected to grow up to 240% between 2020 to 2025.
You can allow food clients to pay online via QR code by enabling contactless ordering in the GloriaFood admin dashboard.
Create a free QR code menu for dine-in ordering
Enable customers to order and pay for their food on their smartphones
Start Now
Go to Setup -> Publishing -> Dine-in QR code. Click on "Yes," and then "Next."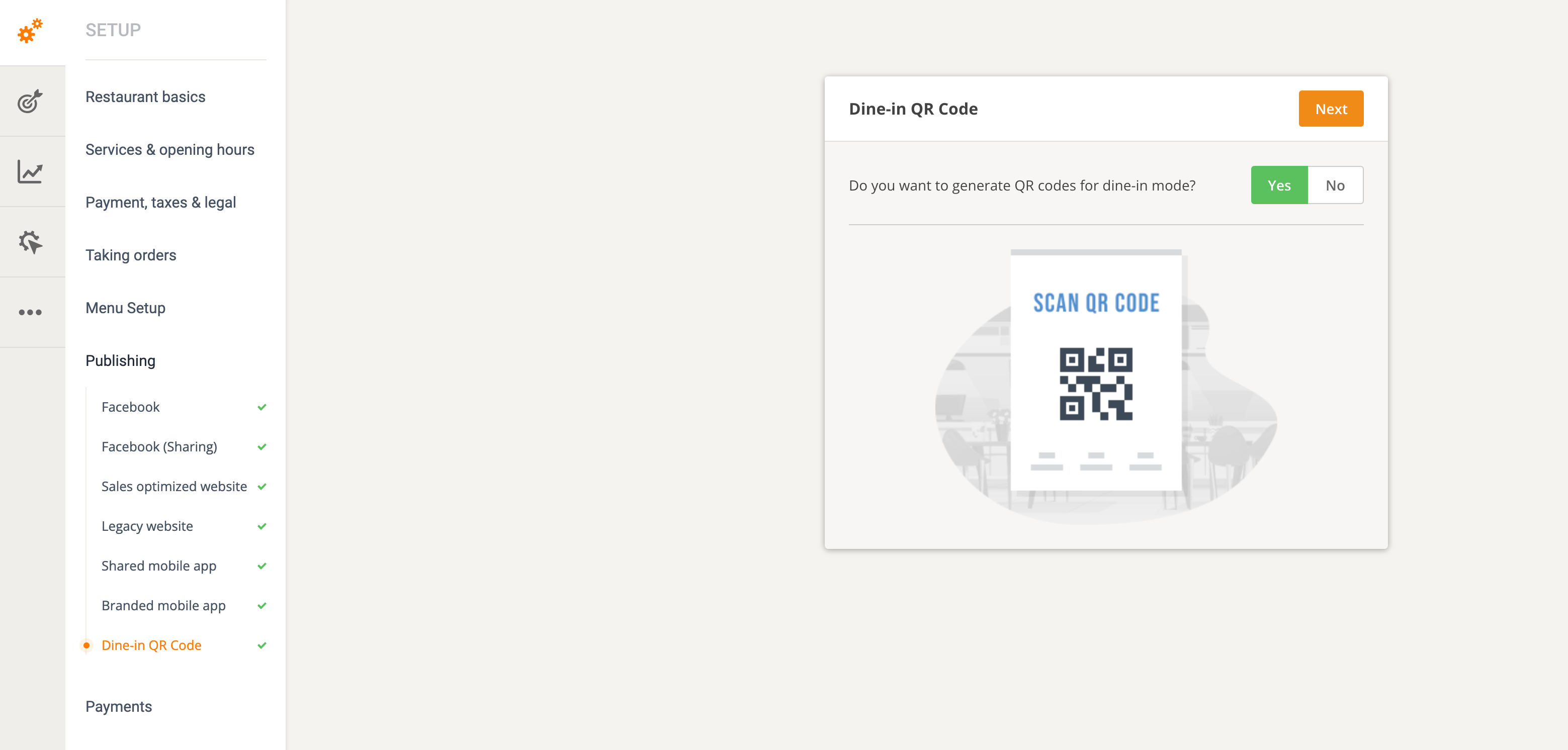 This will take you to a screen where you can choose the color of your dine-in QR code flyer. Click "Next" when you're done.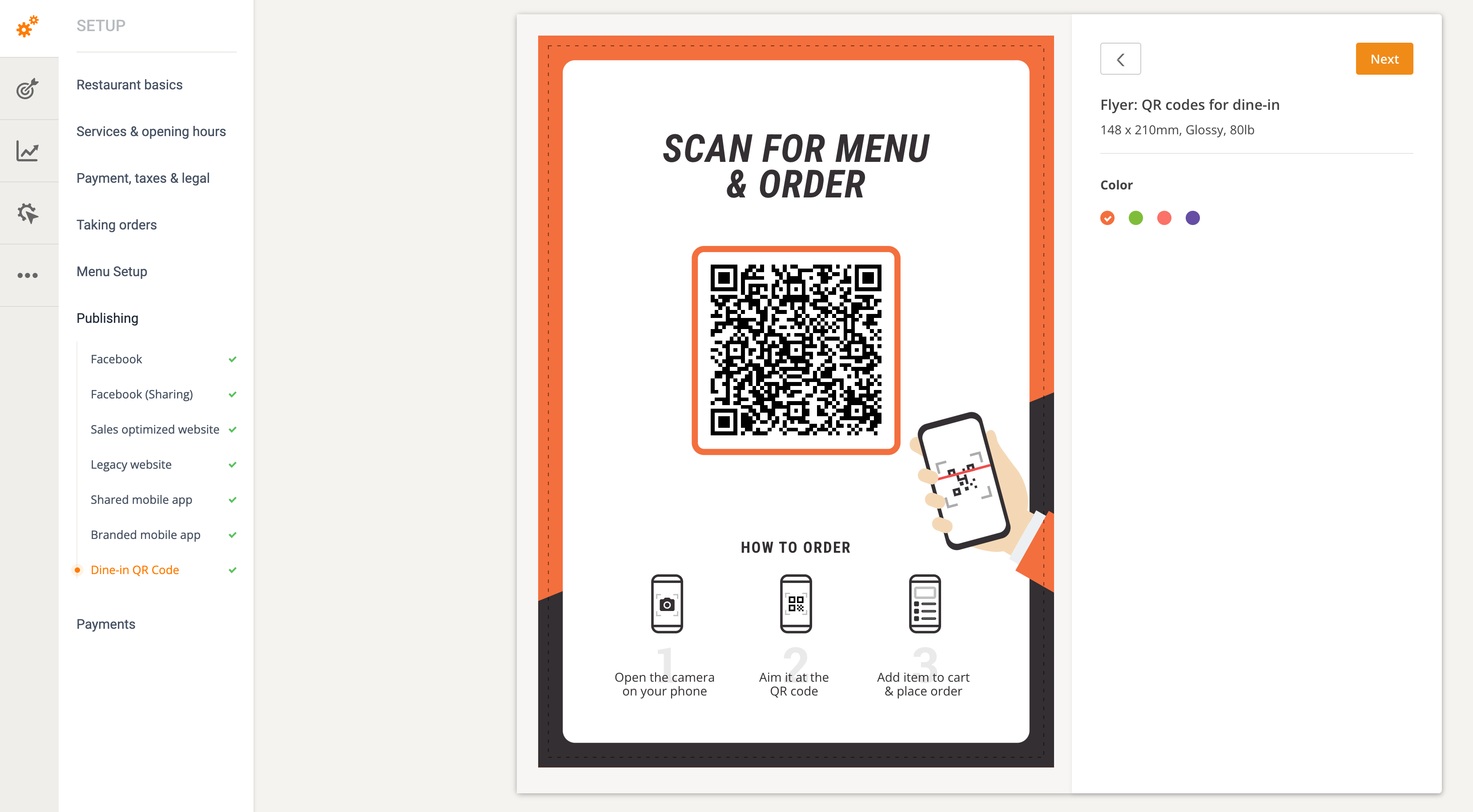 You can now choose to download the flyer and put it on a memory stick to print it, or you can send it directly to the printer by adding their email address on the next screen.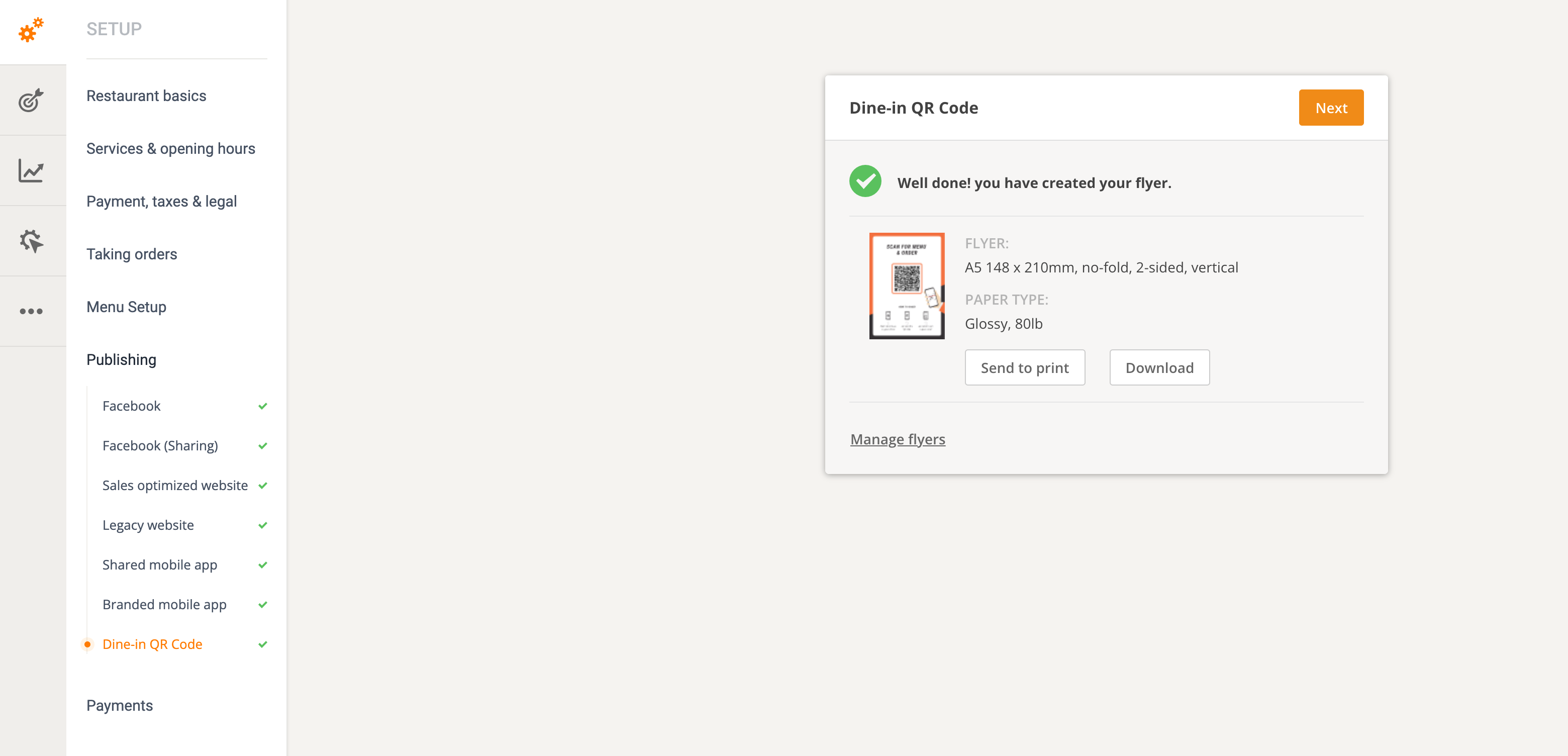 Once your flyers are printed, display them on every table to let customers know they can order their food the moment they sit down by scanning the QR code with their phone.
The online payment options you've activated in your account (credit card, PayPal, Apple Pay, and Google Pay) will be available to them at checkout.
That way, your customers can order and pay for their food without even interacting with a server, which is especially helpful when the restaurant is busy. They will wait less, and you will increase table turnover.
To learn more about creating a QR code menu for dine-in ordering, watch the video tutorial below.
Video Tutorial: How to Enable Online Payment at Your Restaurant
If you need more information about the restaurant online payment methods discussed above, as well as step-by-step instructions on how to enable them, check out our detailed video tutorial.
Enable online payment for pickup, delivery, and dine-in orders
Sign up for GloriaFood's online ordering system now
Get Started
How to Make Online Payment for Restaurants More Secure
69% of digital payment users worry about the security of the platforms they're using. Put their minds at ease by adding extra security options such as zip code verification and ReCAPTCHA.
To enable zip code verification, go to Setup -> Payments -> Card & other payment methods. Click on "Card settings," and then "Change."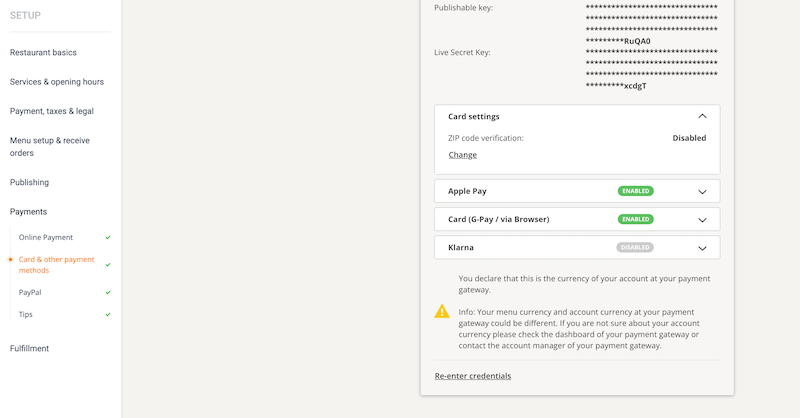 Enabling this feature will prompt the food client to enter their zip code for their first credit or debit card transaction.
Since this adds an extra step for customers, we recommend that you only turn it on if you've had experience with fraud at your restaurant. Otherwise, you might deter clients from ordering because they don't know their zip code by heart.
Another thing you can do to protect your website from fraudulent activity, spam orders, and abuse, without creating friction in the ordering experience, is to enable ReCAPTCHA.
To do that, go to Online Ordering -> Ordering widget -> ReCAPTCHA. Click on "Yes," and "Next."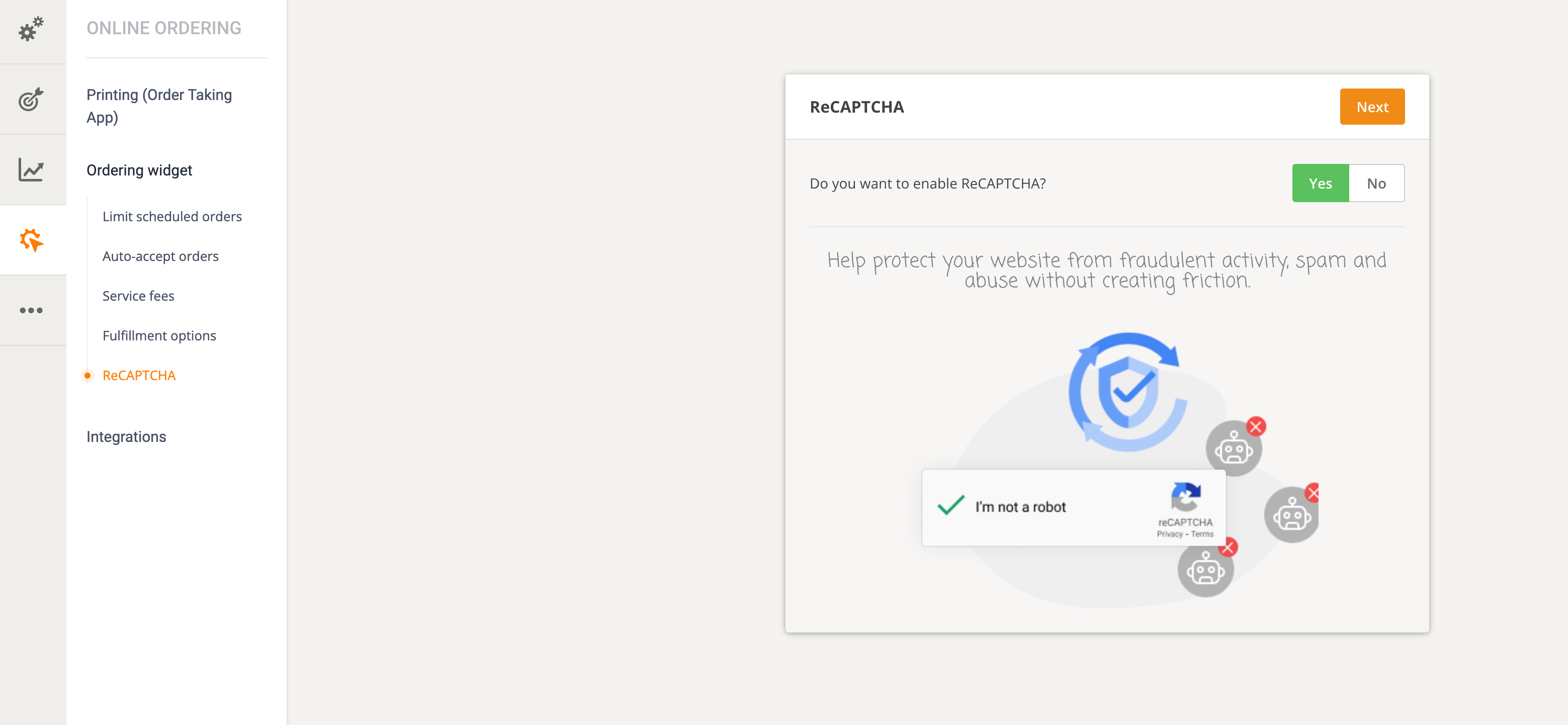 This will enable a captcha validation that will add the "I'm not a robot" check to the cart. Once customers check it, a green check mark will appear.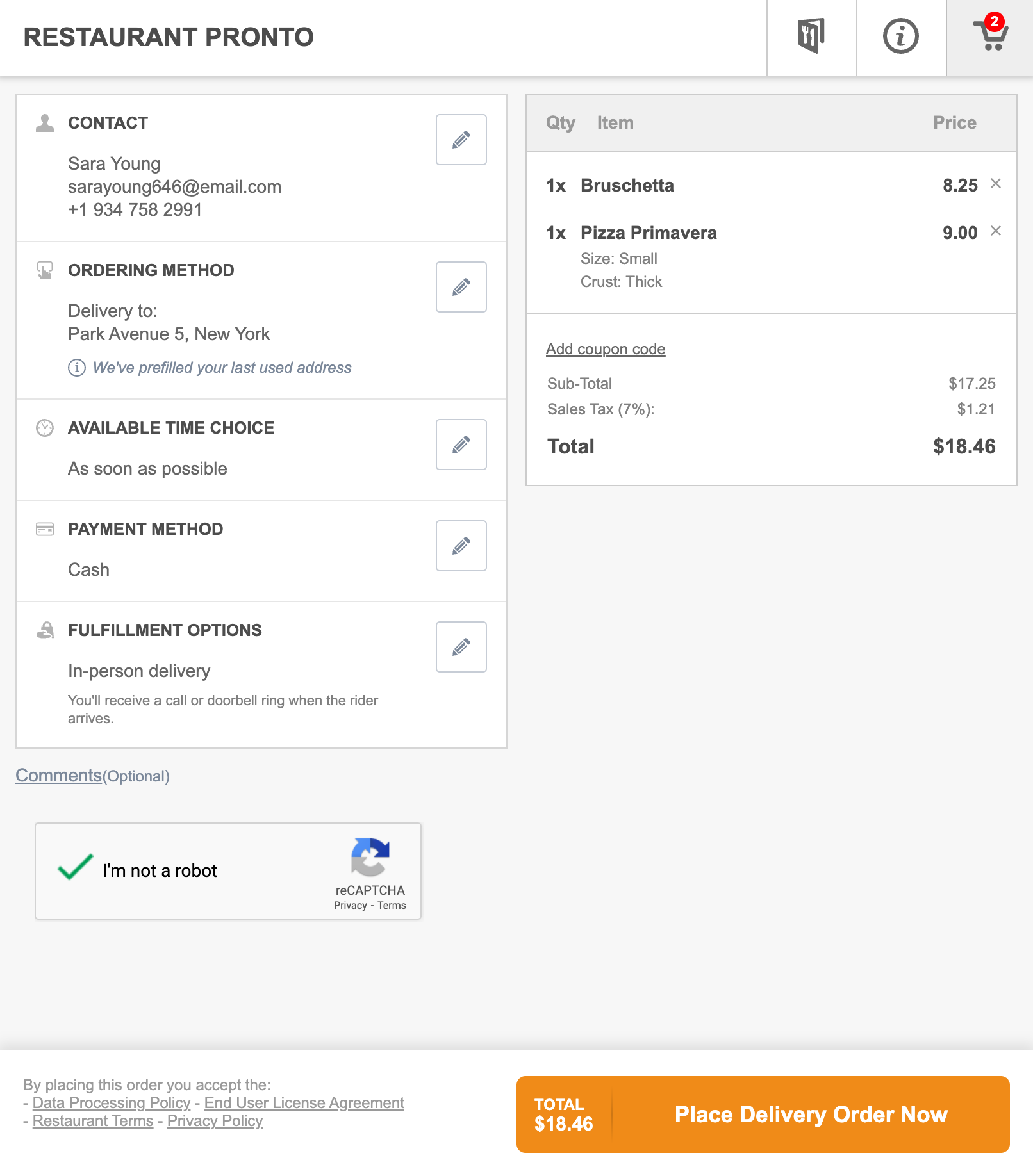 How to Set up Tips for Restaurant Credit Card Payments
If you've ever wondered how to get more tips on online orders, we have the solution. You can enable tips for card payments by going to Setup -> Payments -> Tips and clicking on "Yes."
Allow customers to tip you online when they pay by credit card
Enable tips in the ordering widget for free
Start Now
Pre-select the default tip percentage for each of the online services you provide (pickup, delivery, order ahead), then click "Next."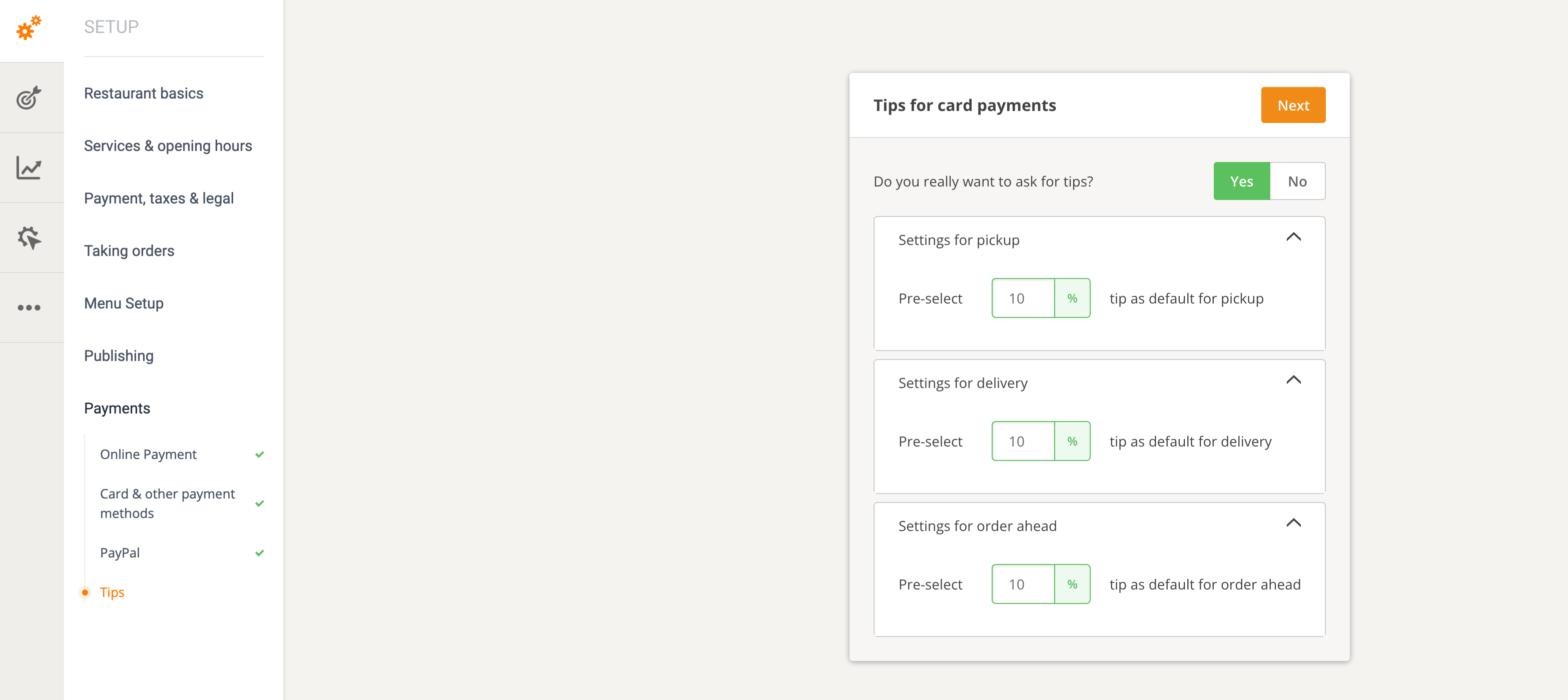 When your customers choose to pay by card at checkout, they will then be prompted to add a tip. The percentage you selected will show up as default, but customers will have the option to tip more or less by moving the slider or entering a custom tip amount.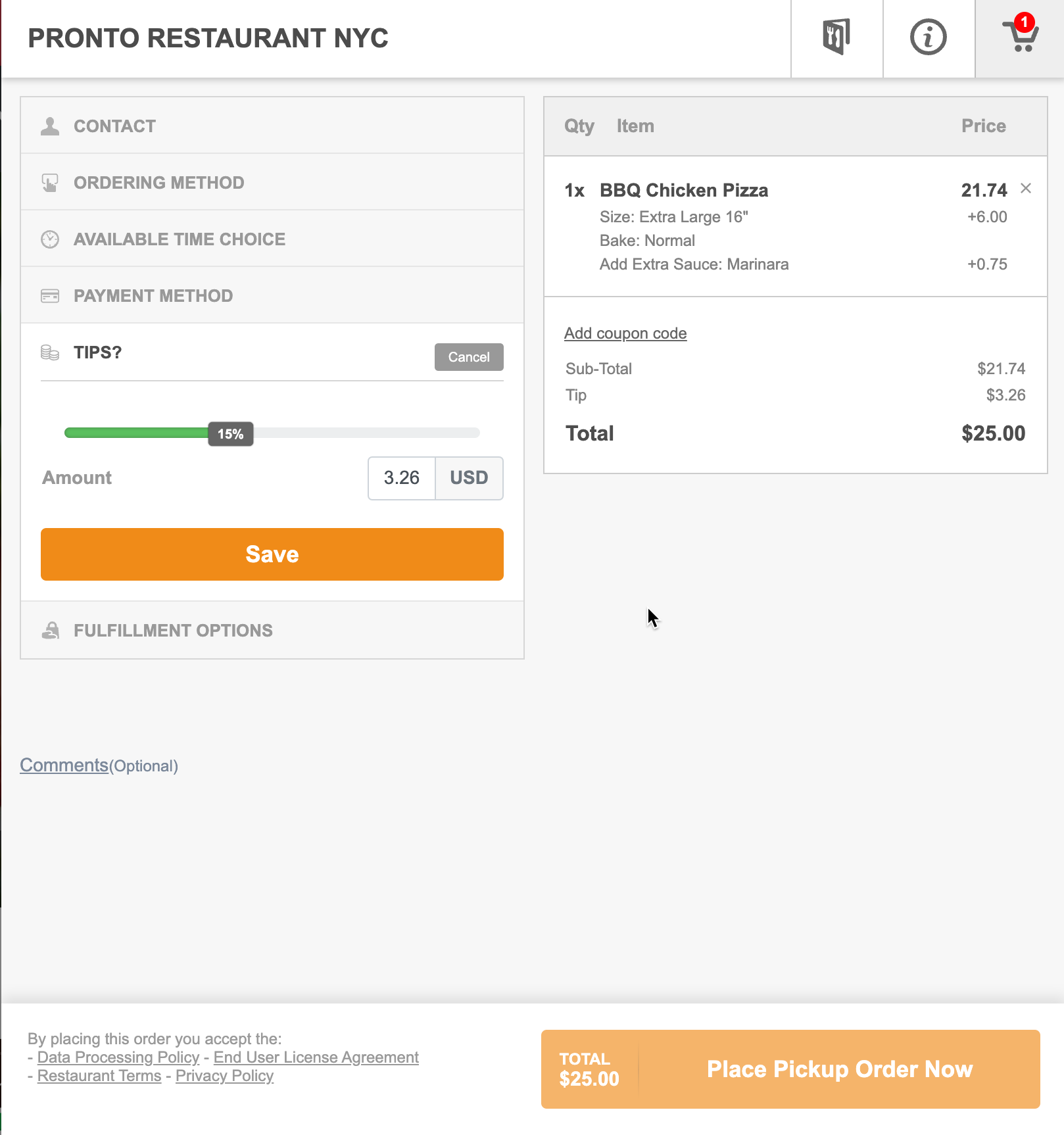 To Sum up
Enabling online payment for restaurants is a no-brainer in this increasingly digital world where customers treasure convenience above all, especially when ordering food.
Allow your food clients to pay for their delivery, pickup, and dine-in orders via card, PayPal, Google Pay, and Apple Pay, and watch your sales soar.
All you need to do to start your journey with GloriaFood is sign up for a free account.