How to improve restaurant operations by increasing speed of service
No matter if you own a fast-food restaurant or a regular one, speed of service is a factor that can influence people to choose your place over the competitors.
Customers don't just expect great service. They also want it to be fast. Clients are used to a fast-paced environment, be it at work or in their leisure time, and don't want to waste time waiting for a server to notice them, take their order and, finally, deliver it.
You can measure your restaurant's service by monitoring the following:
How long it takes from the moment a client is greeted until he places an order;
The time that elapses between a customer placing an order and it being delivered to the table;
How long it takes for a server to bring the check when the client asks for it.
In this article, you will learn how to improve speed of service in the restaurant to increase customer satisfaction and gain loyal clients.
How to Improve Speed of Service in Your Restaurant in 5 Easy Steps
1. Leverage a table reservation system
An often-overlooked problem that can severely affect customer satisfaction and decrease the speed of service is not having a table reservation system.
If people can't book a table for their desired time period and when they arrive at the restaurant, all the tables are taken, they may not want to wait until a table opens up and choose to take their business elsewhere.
If this happens often enough, you will lose many clients that enjoy your food but don't like to spend their time waiting. Why risk making a smaller profit when you could implement a free and easy-to-use table reservation system?
Sign up for our online ordering system, and you get free access to an intuitive table booking system in just a few clicks. Just go to admin -> Setup -> Services & Opening hours -> Table reservation and install the "Table reservation" widget on your website.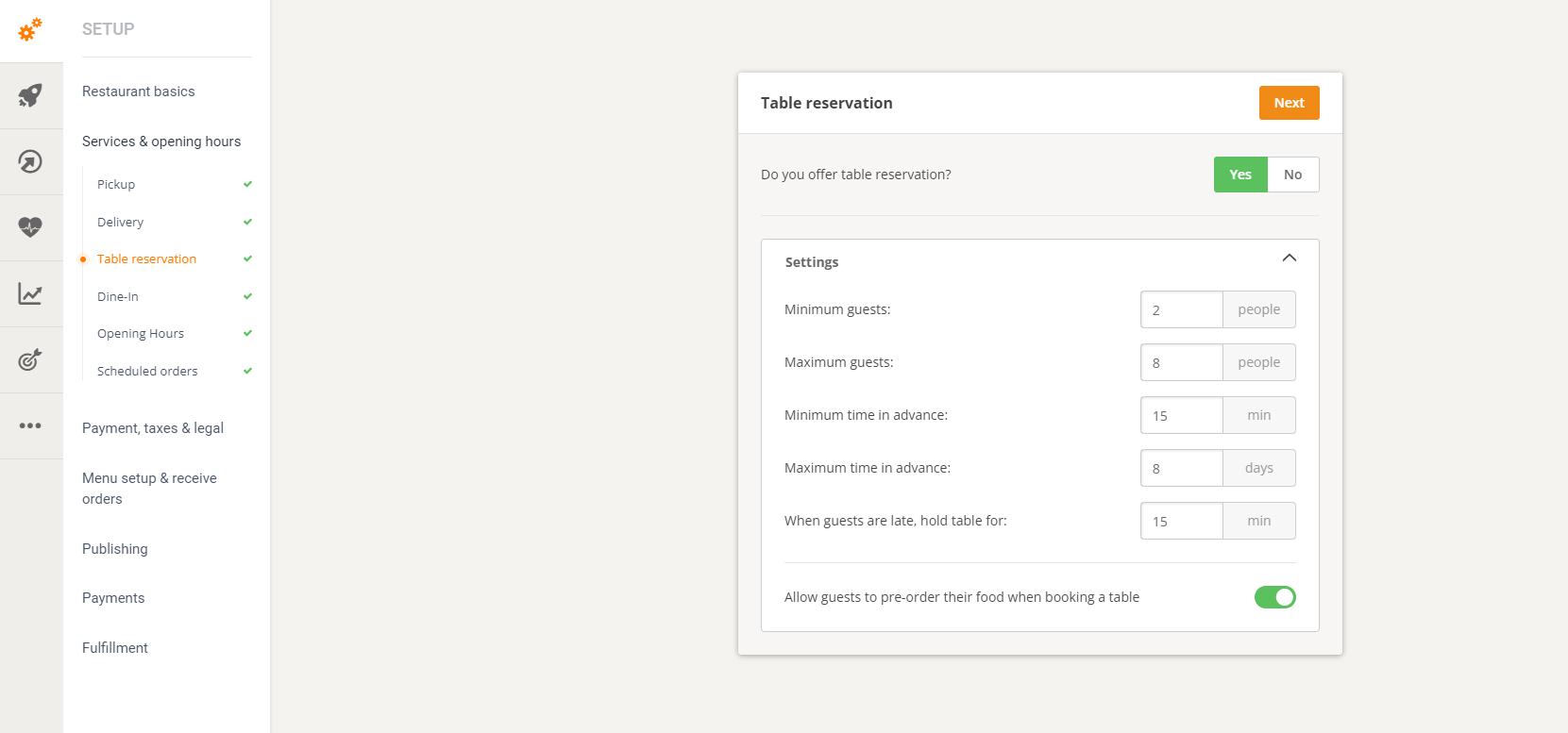 You can also allow clients to pre-order and pay for their food when they make a reservation. This will increase the speed of service in your restaurant as you can serve your delicious food minutes after the customer is seated.
Your team members can focus on creating an amazing experience without worrying about taking orders as fast as they can. Check out this demo website to see how easily clients can make a reservation and order ahead.
Increase speed of service in your restaurant by implementing table booking
Install a free table reservation system with the order ahead feature
Start Now
Keep in mind that there will always be people who either forget to make a reservation or prefer not to and will just show up, hoping for an open spot. This is why it is a good idea to never fully book your restaurant on a busy day. Always leave one or two tables open for walk-ins.
You can also create a comfortable waiting area at the bar or on the terrace where people can sit and maybe order a drink while waiting for a restaurant table.
Read more: How To Take Table Reservations The Easy [& Profitable] Way?
2. Offer a QR code menu with the option to order online at the table
After the client is seated, there can be a big waiting time until a server offers them a menu or takes their order, depending on how busy the restaurant is.
Forget about improving the speed of service and eliminate the waiting time altogether by implementing a QR code restaurant menu. Have a flyer printed on every table that clients just have to scan with their phone to access your delicious menu.
You can get your QR code with the online ordering system from GloriaFood by going to admin -> Setup -> Publishing -> Dine-In QR code.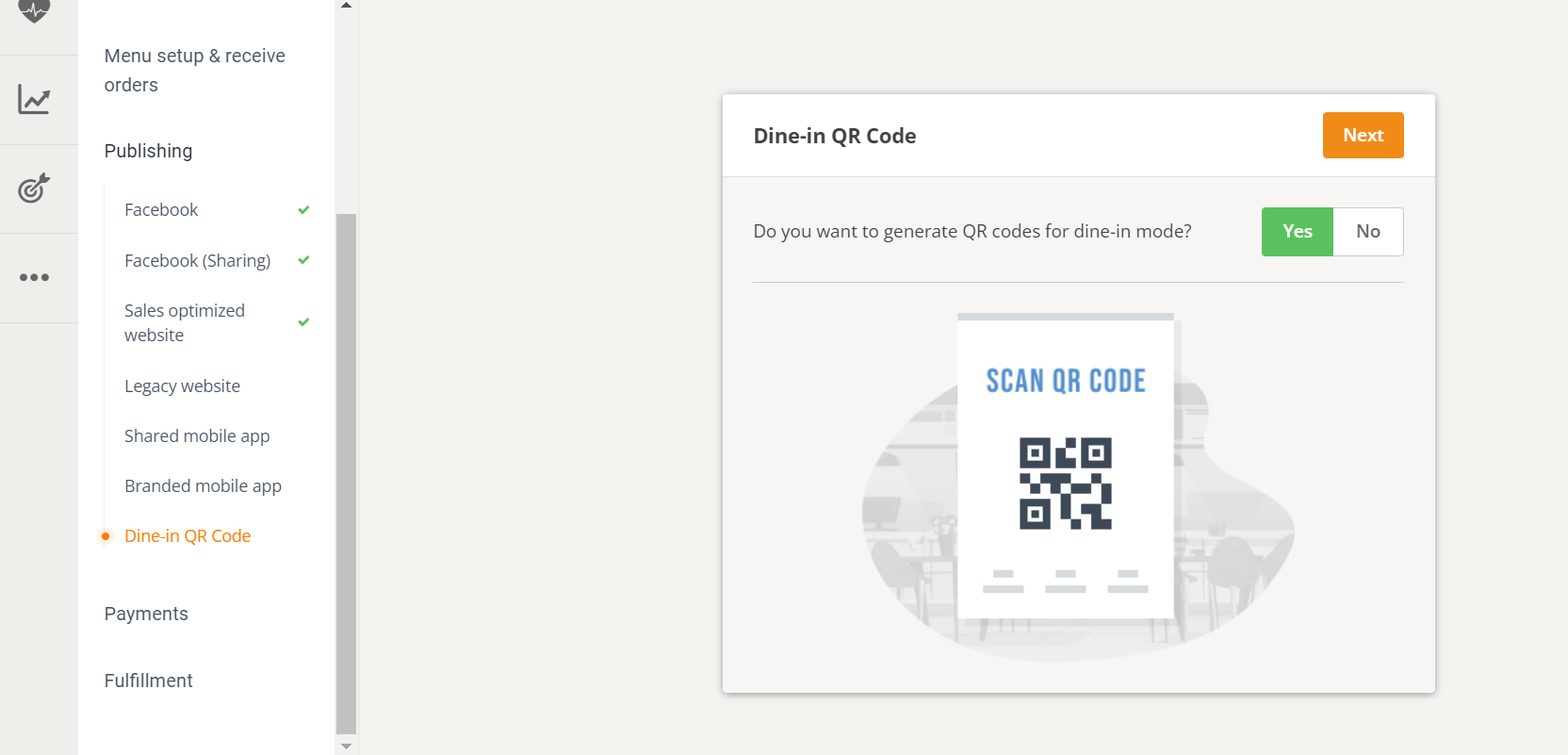 Check out this video to learn how to create a free QR code menu for restaurants in a few minutes:
With our QR code-generated menu, you can go a step further. Clients can order the dishes they want with just a few taps on their screen. Their orders will be automatically transmitted to the kitchen so your staff can start preparing them immediately.
No errors, no waiting times, just a great restaurant experience!
Read more: How to Set up a QR Code Ordering System for Your Restaurant Menu
3. Schedule your employees according to occupancy
The most common cause of problems with the speed of service in restaurants is employee scheduling. For example, if it is a busy day with a high table turnover and you only have two servers working, the service will be very slow, and clients will be unhappy. Not to mention, you will overwork your staff, leading to a high employee turnover.
On the other hand, if you schedule too many workers on a slow day, you will pay them to sit around as there are no people to be served. As the restaurant industry's labor costs are quite high, any scheduling error will directly affect your profit.
Therefore, if you want to know how to improve speed of service in the restaurant, start by scheduling your employees according to occupancy.
It can be trickier if you just opened a restaurant as you didn't get a chance to monitor the flux of clients and your regulars' habits. Here are a few pointers for high-volume restaurants:
The restaurant will be busy at lunch and in the evening: unless you are a dedicated breakfast place, people tend to go out for dinner to relax after work or grab a quick lunch. Therefore, you should have more employees working in the second part of the day;
Weekends will always be busier: keep in mind most people work the classic 9-5, so they can only visit a restaurant in their free time, which is at the end of the week;
Holidays are usually slow days: people tend to spend holidays such as Christmas and Thanksgiving with their family, not at a restaurant. Unless you organize a party for the holiday – Halloween, New Year's Eve, etc., expect a small number of customers.
In time, by monitoring the number of clients for a month and the time they visit your restaurant, you will be able to create a schedule that will benefit both you and your clients. Take advantage of technology and use employee scheduling software to make it easy to keep track of every staff member.
Extra tip: Have a designated team member greet and seat the clients! If people sit themselves, there is a higher chance of a big waiting time as no server will notice them or be free to help them.
Read more: 5 Ways to Make Your Restaurant Employee Scheduling Easier
4. Ensure every staff member can use the POS system efficiently
Good service starts with trained employees who know how to efficiently use every piece of technology in the restaurant. Even if you hire people with lots of experience or none, you can't expect them to know how to use every type of POS system.
Therefore, if you want to learn how to improve restaurant service, ensure that before you allow a staff member to interact with clients, they participate in training and understand how to use the system for their duties.
Create an open communication environment so employees will come to you when they don't know to do something instead of trying to solve it themselves and risk committing an error that is harder to solve.
Once employees are proficient in POS use, you will notice an improvement in the speed of service as they will be entering orders and processing payments in no time.
5. Use Reporting tools to monitor and forecast your orders
Monitoring the most important restaurant statistics, such as the number of clients per day, table occupancy, or dishes ordered often, can help you be better prepared with inventory and kitchen and restaurant staffing.
For example, if you know your best-selling dish is pizza, ensure you don't run out of the required ingredients, so you don't disappoint hungry customers. Moreover, by knowing how many customers you can expect in a week, you can get just enough food to cover the orders but not produce food waste, which leads to a decrease in profit.
Furthermore, if you want to know how to improve speed of service in the restaurant, you must go directly to the ones affected by it: the customers. By letting them voice their opinion, you can identify where your restaurant may have some problems and find ways to fix them.
Find out where your speed of service must be increased by doing the following:
Read your online reviews: many people feel more comfortable sharing their honest opinion on the internet. Therefore, if somebody has a problem with your speed of service, they will surely voice it in a review. While we're at it, if you want to improve customer satisfaction, make it a habit to respond to reviews, positive or negative, with a thank you and a solution;
Talk to your employees: if there is a problem with the service, some people will complain directly to the person responsible for helping them. But these complaints may never reach you, so you won't know how to improve. Let your employees know there will be no repercussions and foster an open relationship, where team members aren't afraid to brig customer problems to you;
Have your servers ask clients for their opinion: train your staff members to politely ask customers what they think could be improved regarding service speed to have the perfect restaurant experience.
Our online ordering system is equipped with a powerful Reports module that allows you to monitor relevant restaurant statistics such as the number of orders, the number of new or return clients, and much more.
To see your restaurant data analytics at a glance, go to admin -> Reports -> Overview. The system includes suggestions that will help you attract more customers and increase your profit.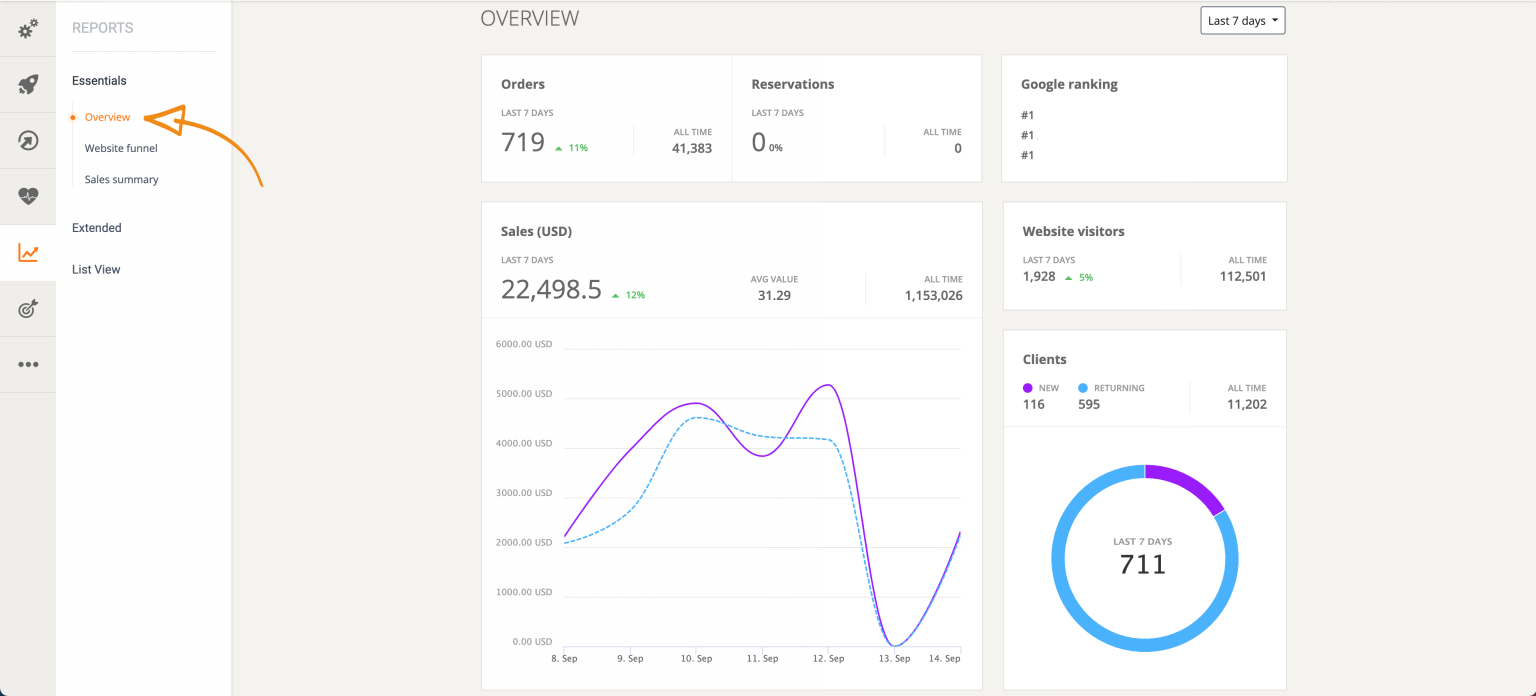 Improve your business's service by monitoring restaurant statistics
Install an online ordering system to your website for free
Start Now
Read more: How to Successfully Use Restaurant Analytics to Increase Revenue
Conclusion
If you want to have a successful business, it is important to always be on the lookout for solutions on how to improve speed of service in the restaurant.
Technology can be your greatest friend! A table reservation system, a QR code-generated menu, and employee scheduling software will considerably increase service speed. Keep an open line of communication with your clients and employees to easily identify and solve any service problems.