10 Restaurant Marketing Tips for Getting More Customers
Establishing a food business isn't easy. Starting an online bakery, coffee shop, or opening a restaurant can be exceptionally challenging. Tasks such as finding a location, assembling and managing staff, and learning how to get more restaurant customers are all tricky to accomplish.
No matter how good your restaurant is, it will not succeed unless you get foot traffic. In this article, we'll take a deep dive into the subject of restaurant marketing. We'll talk about ten proven tips and secrets that will help you attract more customers to your restaurant.
How to Get More Restaurant Customers
1. Run promotions
Promotions are an excellent way to engage customers and make them feel valued and special. This feeling is likely to influence their purchase decisions positively.
There is a wide variety of promotions that restaurants can run that are incredibly effective. Not only do they encourage new customers to visit, but they are also a great way of enticing old customers to return to your restaurant.
Some common promotion types that restaurants can run include:
Deals – Offer best-tasting group meals, group specials, and more. It entices people to invite their friends and families.
Combos – 1 burger + 1 drink + 1 dessert packages are a popular example. A FastCasual study has shown that people prefer combo meals over single menu items.
Discounts – People welcome the idea of spending money on discounted food, especially if it's the food they've been craving.
Loyalty programs – On top of attracting new customers, they improve customer retention rates.
Read more: 15 Unique Restaurant Promotion Ideas that Will Increase Loyalty in 2022
2. Allow online orders
Many customers would choose the former between a restaurant that allows online orders and a restaurant that doesn't. It's safer and more convenient for customers — an advantage particularly sought-after in the era of social distancing.
Additionally, online ordering can help your restaurant cater to customers better and offer highly customizable menus. It'll lead to increased customer loyalty, reduced costs (if you use an in-house online ordering system), and higher customer spending.
Free Online Ordering System for Restaurants
Your system, your customers, your profits
Get Started
3. Take advantage of social media
As of 2021, the digital population is 4.66 billion — roughly 59% of the worldwide population. If your restaurant has no social presence, you're denying yourself access to this large group of people.
Social media attracts more customers to your restaurant by increasing your popularity, generating more traffic to your website, and improving customer service. It also attracts your target audience.
Learn more: Social Media Restaurant Statistics to Profit from
Social media marketing strategies for your restaurant boil down to engaging with your audience. You can encourage user-generated content, strive to get and maintain a positive online reputation, and offer social media promos.
4. Offer free WiFi
Concerning the point above, you're closing the door on customers if you don't offer free WiFi. If the restaurant across the street provides customers access to the internet, they're highly likely to go there for their meals.
The digital workforce, for example, tends to prefer restaurants that have WiFi service. For them, if a restaurant doesn't offer WiFi, they won't go inside. Here are the benefits of providing free WiFi at your restaurant:
Attracts groups – Free WiFi is especially attractive to people who work together.
Increases sales – The longer people stay at your restaurant, the more meals they buy.
Allows customers to pay using e-wallets – An increasing number of people use e-wallets and other digital payments methods. Examples are Apple Pay and AliPay.
Allows you to learn about the people who enter your restaurant – When people sign in to your WiFi, you can ask for their names, email addresses, and other information.
Enhances marketing effectiveness – Collect guest data through WiFi and use it to create more engaging restaurant marketing campaigns.
Read more: WiFi Marketing for Restaurants: Why and How to Do It
5. Offer email marketing incentives
Email marketing has staggeringly high returns and is one of the most effective marketing mediums you can use.
More customers will come to your restaurant and sign up for your email marketing campaign if you offer email marketing incentives. It also gives you an edge over your competitors. If you compare your restaurant with a competitor that doesn't provide email marketing incentives, you'll be the winner.
Email marketing also allows you to build a personal connection with your existing customers. This can result in satisfied and happier customers. And the more pleased your current customers are, the higher the likelihood of them recommending you via word of mouth.
Here are some tips that can help you with restaurant email marketing:
Present a lead magnet – These are free stuff like e-books and newsletters. It's also an excellent idea to offer a free treat to your audience.
Use photos – Photos make emails visually appealing. And as a restaurant, this will entice people to read your emails and make them want to order food from you.
Add contact information – Always make it easy for your customers to reach you.
Craft your emails for your target audience – Compose a compelling and click-worthy title, and add a personal touch to your messages.
Read more: Restaurant Email Marketing Done Right: 12 Ideas to Woo Customers
6. Ask for customer feedback and implement it
Customer feedback refers to your customers' thoughts about your restaurant. Whether written or verbal, it matters because it details your customers' experience with your products and services. And it's how you can improve your operations as you move forward.
For those reasons, you have to ask for customer feedback. Distribute feedback forms, call, or send transactional emails. And make sure you're going to follow up on their responses. Otherwise, they'll get discouraged from giving you feedback the next time around.
7. Collaborate with local businesses
Teaming up with local businesses is an excellent way to get more restaurant customers. The beauty of it is that it benefits your restaurant, and it helps their business, as well. Additionally, hiring a business plan consultant will also help your business grow faster.
There are many ways you can approach this. Among the most effective ways is to provide catering services to local businesses.
For example, you can provide meals during an event that a local business is about to host. You may also offer your restaurant's location as a venue.
This is where investing in a fully equipped commercial kitchen comes into play. A functional commercial kitchen allows you to prepare large quantities of meals without compromising on quality, making it easy to cater to local businesses. Not only does a commercial kitchen enhance your preparation process, but it also helps in displaying your culinary prowess.
8. Host major events
Hosting major events grants your restaurant an opportunity to socialize. And with that opportunity, you can expand your professional network and grow your customer base. A one-time event can help you meet new people. If you host major events regularly, you can build lasting relationships with communities around your city.
Additionally, hosting major events benefits your business beyond getting new customers. It also boosts your sales, helps maximize your non-peak times, and allows you to outperform your competitors.
A major restaurant event worth hosting is a holiday-themed one like a Christmas dinner. Other restaurant event ideas include decade nights, sports events, and celebrity meetups.
9. Reach out to influencers
Marketers invest in influencer marketing to help them reach a target audience. For this reason, you need to consider contacting influencers to attract more people to your restaurant.
The benefits of influencer marketing are endless. It is a cost-effective marketing medium that improves your restaurant's social presence and creates more buzz.
Below are ways in which you can take advantage of restaurant influencer marketing:
Use Instagram business – Instagram has emerged as a giant player in the world of influencer marketing, and it's a top choice for restaurant businesses.
Choose a suitable influencer – Look for influencers who share the same values as your brand. Then, build a long-term relationship with them.
Give your chosen influencer a "behind the scenes" tour – This will help them understand your restaurant, you, and your audience. As a result, they can create better content.
Grant creative flexibility – Your chosen influencer is the most qualified person when talking to their network. Allow them to promote your restaurant their way.
Learn more: Restaurant Influencer Marketing Guide: How to Do It and Why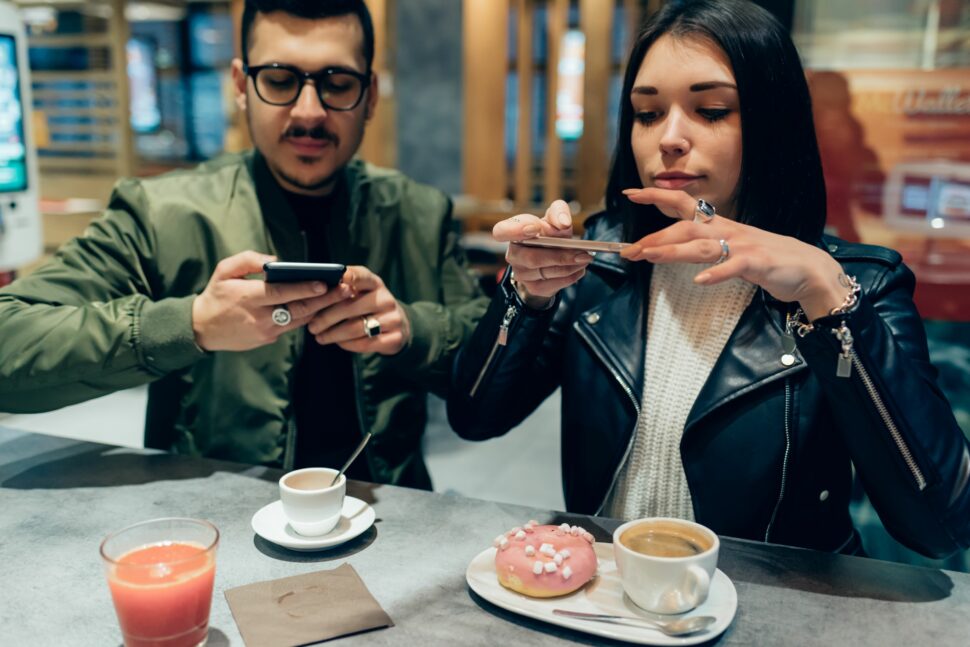 10. Focus on local SEO
Implementing SEO (Search Engine Optimization) is a wise approach. To take it up a notch, spotlight local SEO or SEO strategies designed to improve your restaurant's visibility on local search results.
Here are some tips for growing your restaurant using local SEO:
Build a restaurant website and optimize it – Make your website helpful to your customers. Conduct keyword research, load up on high-quality content, improve page speed, and more.
Use Google Places – It's Google's list of businesses for local search. You can find it at the top of search results when users search for local information.
Set up business listings – Place your restaurant in local directory listings. If your business is already listed, claim the listing or citation and improve it to show accurate information.
Create a positive user experience – Design an easy-to-use website navigation system. Present essential information (such as restaurant name, menu, order button, and contact information) in an easily identifiable location.
Get a Sales Optimized Website for Your Restaurant
SEO-optimized, built-in online ordering, and more
Get Started
More restaurant SEO resources:
Final Thoughts
Refer to these proven tips and secrets on how to get more restaurant customers to attract people to your business. There's no doubt that growing your restaurant can be challenging. Still, if you're committed to continually improving your business, you're going in the right direction.
This article is a guest post.
Author Bio:
Rebecca DiCioccio is the Marketing Manager at Paperform. Outside of work, Rebecca can be found exploring the outdoors or with a book in hand. Rebecca's background in copywriting. Her keen interest in SEO and digital marketing means she understands the importance of staying up to date with the latest trends in a dynamic and ever-changing industry.