Marketing fast-food can be challenging given the vast number of fast-food restaurants on the market. If you want to make your establishment stand out, check out the fast-food marketing strategies below, where I cover everything from special promotions to mobile ordering and one-page menus.
12 Best Fast-Food Marketing Strategies in 2022
1. Offer meal bundles and combos
There's no place where customers appreciate meal bundles more than a fast-food restaurant. A classic burger and fries combo, topped with a soda and/or a dessert, will boost your sales in no time.
Place a special price on meal bundles, combos, and family menus to motivate customers to choose them over individual menu items. You will sell more, and they will get more value for their money.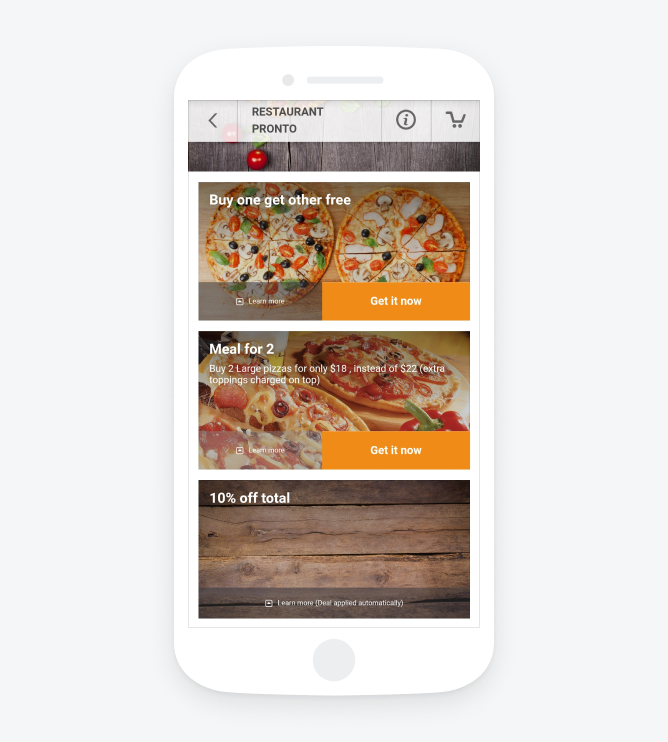 Create meal bundle promos in no time using our restaurant promotion templates.
Free Restaurant Promotion Templates for Your Online Menu
Entice customers with special prices and boost the average order value
Get Started
2. Create a kids' menu
One of the easiest kid-friendly restaurant ideas you can implement is to create a special kids' menu featuring smaller portions, healthier options, and food shaped like animals or popular cartoon characters.
This will make kids excited to visit your restaurant, and parents can breathe a sigh of relief knowing they can pay less for a healthier meal option for their kids.
3. Offer collectibles with the purchase of a kids' menu
Speaking of ways to attract families to your restaurant, you can follow the example of popular fast foods like McDonald's, which offer a toy or a collectible with the purchase of a kids' meal.
When marketing your fast food, it's vital to cater to your target audience. If many families with kids visit your restaurants, then it might be worth investing in some freebies for the children.
4. Allow customers to scan a QR code to browse the menu and order
Fast food and speed of service are practically synonymous. After all, it's called fast food for a reason. One of the easiest fast-food marketing strategies you could implement to serve more customers faster is to switch from traditional menus to QR code menus.
Contactless ordering for dine-in comes with many benefits, from allowing customers to place an order and pay for it without waiting in line and interacting with a cashier to faster table turnover for you.
Take a look at the video below to learn how easy it is to implement a QR code menu for free and allow your customers to scan the code to place an order at the table.
5. Create a branded app so customers can order food online
If you're also considering offering delivery and pickup options, the best solution is a mobile app featuring your logo and branding that customers can download to place orders on their phones.
This will help you distinguish yourself from other restaurants that don't offer mobile ordering. Additionally, it's a superior alternative to listing your restaurant on third-party delivery apps and paying their high costs.
Get Your Own Branded Mobile App for Food Ordering
Your customers, your orders, your money
Get App Now
6. Capitalize on fast food-related holidays with unique promotions
Looking for clever fast-food marketing tricks? Why not take note of national holidays celebrating fast food and do something special at your restaurant?
You might also like: 15 Unique Restaurant Promotion Ideas that Will Increase Loyalty in 2022
From National Fast-Food Day to National Burgers Day or National French Fries Day, there are plenty of unofficial food holidays for you to celebrate. How? By providing discounts and special promotions on the products in question.
We've put together a Food Holiday Calendar that you can download for free to keep track of the most popular food holidays in 2022 and get unique promotion ideas for each.
7. Limit your menu to one page
Chain restaurants reduced their menus by 20% in 2020 compared to 2019, and the small menu trend is here to stay.
When creating your fast-food marketing plan, consider focusing on popular dishes you know you do well and customers love. This will help you minimize kitchen disruptions and simplify the ordering process for your hungry customers.
If you don't believe us, read more about the benefits of small menus.
Download our one-page menu template to start designing yours today.
8. Use pops of color to entice customers to order more
Red is the best color to use for fast-food restaurant interior design. Why?
Because it makes customers feel hungrier, encouraging them to order more and eat faster, which means you'll get to serve more customers daily. That is why red is such a popular color in most big fast-food chains.
Read more: 15 Restaurant Design Tips That Will Attract More Customers
9. Do upselling and cross-selling
No business plan for fast-food restaurants would be complete without a section on upselling and cross-selling, which is the bread and butter of this type of restaurant. Check out this fast food restaurant business plan sample for tips on how to grow your fast food restaurant from scratch.
Encourage customers to order more by allowing them to customize their meals with add-ons, toppings, sides, drinks, and desserts.
The more options you give them, the more they'll feel like they're getting exactly what they want. For example, if someone adds a burger to their cart, suggest a side of fries to go with it and a refreshing beverage to tie it all together.
The video below will tell you everything you need to know about customizing your online menu with choices and add-ons.
10. Create a loyalty program
If you're looking for long-term fast-food marketing strategies, consider creating a loyalty program to reward customers who've been with you for a while and attract new ones to your restaurant with the promise of regular promotions and special offers.
You can integrate your loyalty program into your restaurant app or use plastic loyalty cards that customers can scan when they visit you to collect points and get rewards.
Learn more about restaurant loyalty marketing here.
11. Engage customers on social media with contests and giveaways
The best fast-food advertising strategies have now moved online. Not that old-school marketing strategies are no longer viable, but most customers want their favorite restaurant to have an online presence.
Social media is one of the easiest ways to reach out to your customers online. Use your social media profiles to create engagement and buzz around your restaurant by organizing contests and giveaways.
People will tell their friends about them, which will bring you even more followers and potential customers.
12. Consider switching to eco-friendly packaging
Junk food marketing strategies can often be tricky because of the reputation of some fast-food restaurants for not caring about the environment.
Read more: How to Make a Restaurant Environmentally Friendly: 5 Tips & Secrets
One way you can mitigate that is by switching to eco-friendly packaging for both dine-in and delivery orders.
Other restaurant sustainability practices you can try are reducing delivery carbon emissions, minimizing food waste, and recycling.
Conclusion
From fast food-specific promotions to contactless dine-in ordering, upselling, interior design tricks, or mobile ordering, the ideas above will help your fast-food restaurant stand out in the crowd. Do you have more fast-food marketing strategies I haven't mentioned here? Tweet me @andreeaa_voicu to share your experience.