Adding a Facebook online ordering button is extremely easy from the GloriaFood Admin area. Just use our smart link and the platform will do the rest. But before you consider the job done, check out the following tips.
Use Facebook's call to action button
Facebook allows you to create a call to action for your business page. We recommend that you use it for online ordering.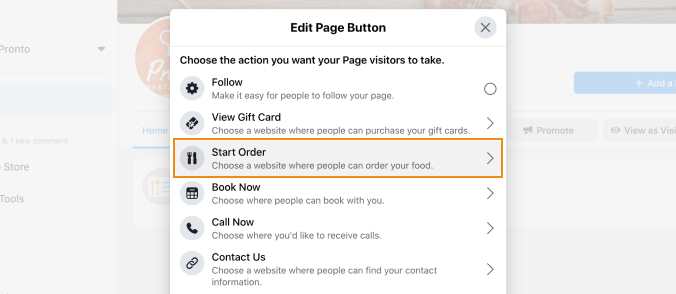 When defining the call to action, you need to specify a link to where your button should point to.
In the Admin Area, you have under Publishing a row called Facebook. There we provide you with what we call a "smart link." It's basically a custom link to your ordering widget, that you can simply copy-paste to use.
Don't worry about mobile, the link is smart enough to recognize the device and open the appropriate version of your online menu and ordering (desktop or mobile).
Related: Can people order from my restaurant from their own smartphones?
Get orders straight from your Facebook business page.
You're already engaging with your customers through your page, why not let them order from there as well?
Get started now
Why you should add an online ordering button on Facebook
Facebook makes it very easy for you to add online ordering to your restaurant's Facebook page by providing an integrated call-to-action button that you can customize with your own link.
Using GloriaFood's smart link gives you the added benefit of redirecting your customers straight to your online menu, instead of to a page on your website where they'll have to click another button to see your menu.
For them, it's basically like they are ordering on Facebook because the switch is so seamless between your Facebook page and the menu.
Adding the Facebook ordering button to your restaurant's page will bring you an additional source of revenue without you lifting a finger. The process of adding the button is a simple matter of creating an account with us and then copying and pasting our smart link onto Facebook's "Start Order" button.
Read more: How To Add Online Ordering To Your Facebook Page
Then, the next time a customer scrolls through Facebook and sees one of your delicious food posts, they might be tempted to place an order while they're at it.
You might also like: How to add and customize the online ordering button for your website
Find out more about the Benefits of using our Facebook Food Ordering System.