Being in the business of online ordering for restaurants, very often we come across some really amazing restaurant website designs: from mouth-watering food pictures and cool snapshots of the location, to a sleek menu design, an appealing visual identity is the first marker of a great restaurant, well-prepared to impress customers both offline and online.
But creating even the simplest, cleanest-looking restaurant website can take a lot of hard work, so we put together a list of effective tips to help you improve or redesign your restaurant website.
Know your customers
The best way to start creating a beautiful, but equally efficient restaurant website, is to have a very clear idea of your target audience and try to see things through their eyes. Yes, the style of the website design can also depend of the style of your main audience. For example, keep it friendly and playful if you're mainly serving students and younger people, or go more formal if you're catering to say, business people.
Read more: Advantages of Having a Website for a Restaurant
Restaurant website essentials
Contact details. Do not neglect the importance of your restaurant's basic info: phone numbers, email address, opening hours. Keep all of these in plain sight, for example in one of the top corners or bottom page.
Address.  Ideally you should have a dynamic map to help customers pinpoint your location faster. Also, if you have delivery areas, do emphasize those inside the map, as well as the respective delivery fees or minimum order price.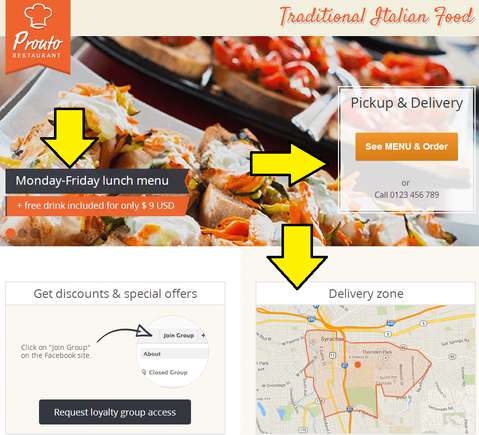 Menu. Your food is the main attraction – showcase it through your menu, as this is what your customers are going to look for on your website. Read our previous post for the full story on how to create a great restaurant online menu.
Online ordering. Emphasize this option on your website's main page. Place your online ordering button in a highly visible location, so that your customers can easily spot it. It's been proven that a great online ordering system can not only reduce operational costs, but also increase order volume and levels of customer loyalty. Need more reasons to start online ordering? Read about the advantages of online ordering systems.
Related: How Do I Add The "See MENU & Order" Button To My Website?
Menu specials/Discounts. If you have some special offers or seasonal promotions, then make them stand out on your website. Your loyal customers love hearing about your Happy Hour deals.
Social buttons. If you have a Facebook page, then place the button top or bottom corner and encourage your website visitors to like your profile.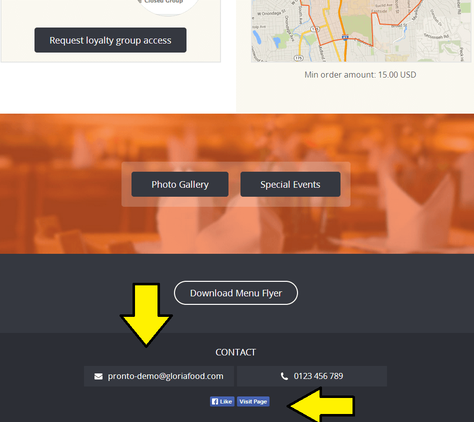 Pictures! Pictures! Pictures!
"A picture is worth more than a thousand words" could not be more appropriate when it comes to a restaurant website. People love delicious food photos, and this is THE way to make a first great impression and persuade people to either visit your place or order online. High quality photos of food can really convey that feeling of "I can almost taste it", they build an appetite for ordering.
Ideally you should hire a professional photographer for a brief session, this investment will definitely pay off. While you're at it, you can also create a photo gallery for your location. Otherwise, try out the IStockPhoto collections for quicker results.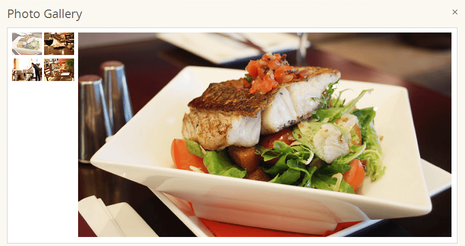 Keep your website clean and clear
Try not to overcrowd the space: too many hot areas can become frustrating for someone who simply wants to take a look at your menu and order. The more you limit the content and length, the better.
Our suggestion is to have a one-page website with the possibility to scroll down for the main info. Check for example the website for our demo restaurant. If you really want to highlight multiple tabs, then try not to have more than three.
Hope you find these tips helpful and remember, nowadays your identity and activity in online are just as important as they are offline.
Til next time!
You might also like: 15 Restaurant Design Tips That Will Attract More Customers