Restaurant owners/operators are facing huge competition right now as more and more restaurants are opening every year. To keep up with and surpass the competition, it's critical to play the game differently than your competitors using the online space to your advantage. If you've been wondering how to get more restaurant reservations, you've come to the right place.
This article provides hands-on examples and tips on how to increase restaurant occupancy to boost sales and grow your business.
How to Get More Restaurant Reservations
How do I get more online bookings?
To get more online bookings, you need to work on your online presence. First, your website needs to be well-designed, easy-to-use, and equipped with a table booking widget. Second, you need to leverage the power of social media, as more and more customers rely on this medium when making online restaurant reservations. Let's look at these and other tips below.
Create an easy-to-use, mobile-friendly website
The two major channels users turn to when they need local service is search engine and social media. Potential customers looking for online restaurant bookings on Google or social media platforms are more likely to do so using their mobile devices rather than desktop computers.
In fact, as early as 2013, 81% of consumers had searched for a restaurant using a mobile device. As the use of mobile devices increases, so does this percentage. Therefore, it's vital to have a website that looks good and loads fast on mobile phones. These types of sites are referred to as mobile-friendly and responsive websites.
Try Our Restaurant Website Generator
Intuitive, mobile-friendly design.
Start Now
When your website loads fast, is easy to use, and most importantly, has a well-placed call to action (more on that later), you increase your chances of getting more reservations and sales.
Add a table booking widget on your website
An online table booking widget is a link or button you can add to your site that allows customers to make online restaurant bookings directly from your website.
However, it's not enough to have a booking widget; you should look for the best free restaurant reservation system to cut costs. This will make online reservations a hassle-free experience for your site visitors and a cost-free way to increase restaurant traffic for you.
Another important factor to consider when you're evaluating reservation systems is the ability to own your guest data. Guest data such as contact information, dietary restrictions, and food preferences can be collected through direct, online bookings. Tracking this data over time helps you create more personalized guest experiences and build deeper relationships.
Free Reservations Software For Restaurants
Get more customers into your restaurant without paying a dime.
Start Now
Booking widgets are used by industry top players to increase restaurant bookings. Gone are the days when the customer needed to send an email to your restaurant management for bookings.
Nowadays, new booking widgets have email confirmation, automatic SMS reminders, and can be integrated with your restaurant reservation system software to minimize overbooking and no-shows. With a proper functioning widget, you'll see a jump in your online restaurant bookings.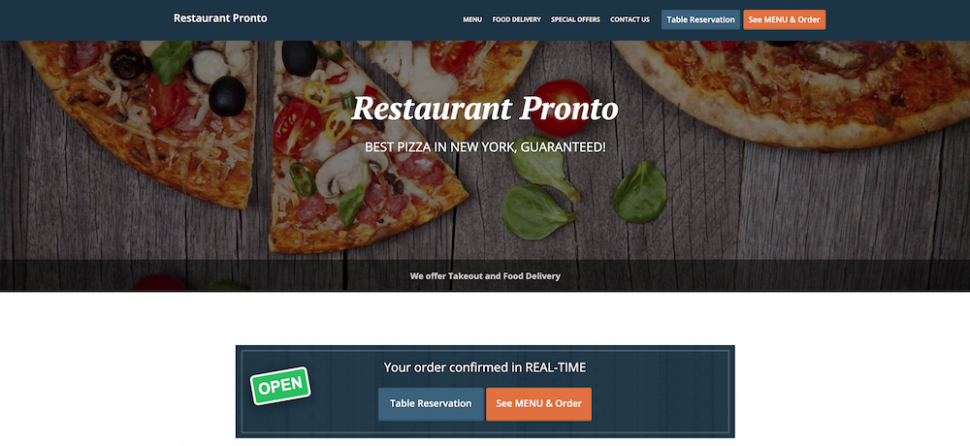 Use a no-nonsense call to action…
Your call to action should tell the customer exactly what to expect when they click on the button. An unclear or ill-placed call to action won't be as effective; therefore, the action you want visitors to take must be crisp and clear.
Calls to action such as "Reserve Now" or "Book a Table Now" work like a charm, and every page of your website would benefit from a clear, visible call to action.
…and add it on every page
Your "Reserve Now" or "Book a Table Now" button should be easy to find wherever the customer might be on your website. Place it on every page above the fold. You don't want it getting lost in the footer or among other calls to action.
Use social media to build a reputation
If you're wondering how to increase restaurant bookings, know social media can make all the difference. When customers are looking for their next restaurant reservation, they tend to check what others are saying on Facebook and other popular social media sites, as well as on review sites.
In fact, according to a TripAdvisor 2018 survey, 94% of US consumers chose a restaurant to dine in based on online reviews.
Going back to social media, since there are billions of active users on these platforms, leveraging your social media presence can help increase restaurant traffic. Every business is fighting for attention on social media, which makes for increased competition. Therefore, you have to stand out by keeping your social media pages active and engaging.
Related: Social Media Restaurant Statistics to Profit from
You can do this by posting relevant and useful content about menu items, special events, or live streams of your business environment. If you're unsure what potential customers need or would love to see, try spying on your competitors to get some ideas that will help you outsmart them.
Consistent updates on your social media pages will remind possible buyers that you are still in business and that they can make reservations online at any time. Below is another essential strategy you shouldn't miss out on Facebook.
Related: Facebook Marketing for Restaurants: 10 Tips & Secrets
Let people know you take online reservations on Facebook
How do restaurant reservations increase through Facebook? One sure way is to let people know you take online table bookings on your Facebook page. Create a cover photo advertising this functionality and let that be the first thing people see when they visit your page.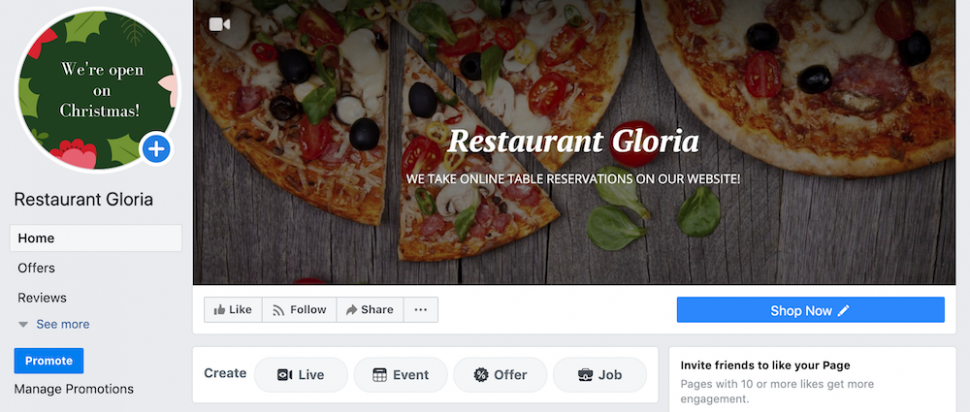 Create a pinned post that sends visitors from your Facebook page directly to a dedicated page on your website where they can reserve a table. After all, the main goal of directing a potential customer to your website is to get more online restaurant bookings.
For people who want to order directly from your Facebook page, you can add our "See MENU & Order" button that opens a responsive page containing menus, opening hours, directions, and other necessary information without taking the customer off your profile.
Add a See MENU & Order Button on Your Facebook Page for Free
Turn your Facebook visitors into customers.
Start Now
Set up online reservation offers
If you're looking for tips on how to make a slow restaurant busy, having special offers integrated into your online reservations will make a difference. Because customers are looking to save money, offering some sort of discount can convince them to experiment with your business.
Though it sounds commonplace, this strategy can help you get new bookings and attract customers to your restaurant during slow hours.
Use SMS marketing
SMS marketing is not a lost art. In fact, it might be one of the best answers to how to get more restaurant reservations. If you've been taking phone reservations until now, use the phone numbers you've acquired to send your customers irresistible offers if they book a table at your restaurant online.
You can do this especially during periods with less foot traffic to incentivize customers to visit you. Offer them free dessert or a drink on the house if they book a table online. Alternatively, send them a keyword that they can text to a shortcode to get a discount voucher for their next reservation.
Have unique pages for each restaurant location
If you have more than one restaurant location, you need to make that clear on your website. Even if your services and offers are the same, customers will want to see a dedicated reservation landing page for each of your locations. This will ensure no confusion as to where the reservation is made and allow you to communicate unique information regarding each location.
Organize events that draw customers in
Organizing local events can be a business savior, especially if you have been googling "how to attract customers to my restaurant." Even if most potential customers don't have your social media information or haven't located you on the internet, leveraging the power of local advertising models is a smart way to conduct your restaurant business. An excellent example is hosting theme nights or weekly events.
One-off events like live gigs, when incorporated with recurring events like brunches and lady nights, can make guests stick around. And since people usually reserve tables for such events, create flyers letting your customers know that in order to attend, they have to book a table online. Organizing events via a restaurant event management platform is one of the best answers to the question "how to increase restaurant sales without advertising."
The bottom line
Learning how to get more restaurant reservations will take you one step closer to a successful, profitable restaurant. It's time to take action and get back to us with your success stories. How to increase restaurant business success boils down to implementing the right strategies, and taking restaurant reservations is definitely one of them.
If you are wondering how far in advance should you make restaurant reservations a priority, we recommend you do this as soon as your business starts running to ensure accelerated growth.
What to Read Next: How To Take Table Reservations The Easy [& Profitable] Way?