As a restaurant owner, it is likely that you are constantly looking for ways to make your restaurant and your menu easier to access. And easier to order from. And what better way to do so than to use a restaurant order taking system?
Because here's the truth: getting a food ordering system software will only benefit you. Considering that more and more people are actually turning to social media, smartphones, and using the internet more than ever before.
Online ordering – goes faster than you can say "I'm hungry"
When your customers can use an online fast food ordering system to order their meals from your restaurant you will no doubt see a steady rise in your sales.
The great thing about using an electronic restaurant ordering system is that it allows for your customers to order fast which makes it extremely convenient for them. By making ordering food online convenient for your customers, they will also be willing to order more frequently from you. And sometimes will even order more than they would have by calling in.
The great thing about the GloriaFood food ordering system software is that you can easily integrate it into any website that you already have. And you will find that it is not only easy for you to use; but it is easy for you customers to use, as well.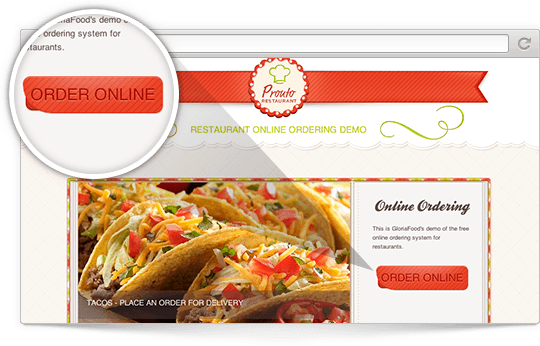 With our online food ordering system all you have to do is install the GloriaFood widget on your website. Then, we'll take it from there. If your business has a social media page, such as Facebook for example, you can simply add the app right there. On your actual Facebook page.
So all that your customers have to do is click the app. And they can easily order food right from your page, without actually leaving Facebook.
Related: How does online ordering system work?
Take your first online order today!
Let your clients place orders online with our super-easy-to-use system.
Get started now
Restaurant Order Taking System: Managing online food orders through your smartphone or tablet
An electronic restaurant ordering system comes in different shapes and sizes: when an online order is placed, you can be notified in multiple ways: via text, via email, or even via fax-mail. At GloriaFood, we wanted to do things differently, with a cleaner and much more user-friendly system of order notification.
How? Our app transforms your mobile device, be it a smartphone or tablet, into an order-receiving machine. Our system syncs all your restaurant's pages (website, Facebook) to your smartphone or tablet, so now any time an order is placed on your website or your social media page you get a unique sound notification on your phone or tablet.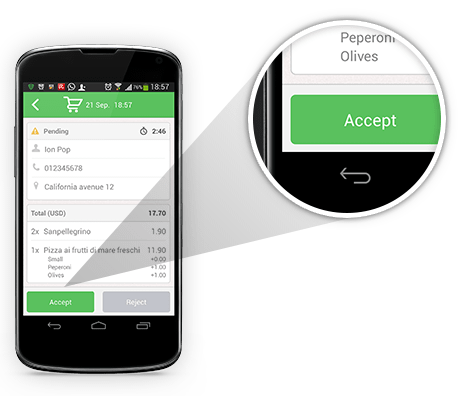 After you receive the alert, you can view all the order details right there, in a single page; you then click the "Accept" button and can then give your customer an estimate for the delivery or pickup time.
Don't worry, your customers are kept in the loop every step of the way. And that's because they'll instantly receive an order confirmation email including all the details of their order.
This type of software makes it quick and easy for both you and your customers to order from your restaurant's website and even your social media pages.
Got you curious? You can "LOG IN" to enter our admin area and setup your restaurant order taking system.
Cheers,
The GloriaFood Team
Check out our first blog post: Hello world and welcome to the GloriaFood blog!