Restaurant Delivery System: How Tracking the Orders Works
Adding deliveries to your restaurant & tracking your riders has never been easier
How to get started with this restaurant delivery system
After you finish setting up your restaurant profile, head out to the "Delivery tracking section" if you want to handle deliveries like a pro..
Enable one of the pre-set options that best fits your restaurant needs, or create your own customized integration.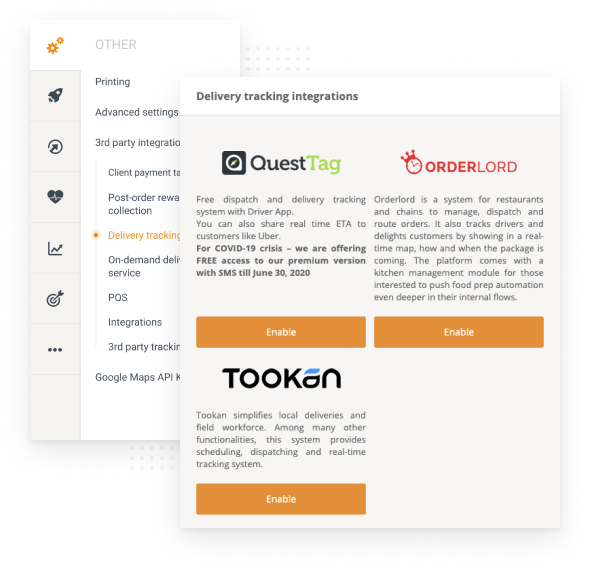 How to add the delivery tracking integration
Simply link the desired delivery management software solution to your Gloriafood account & edit the integration details.
It doesn't get easier than this.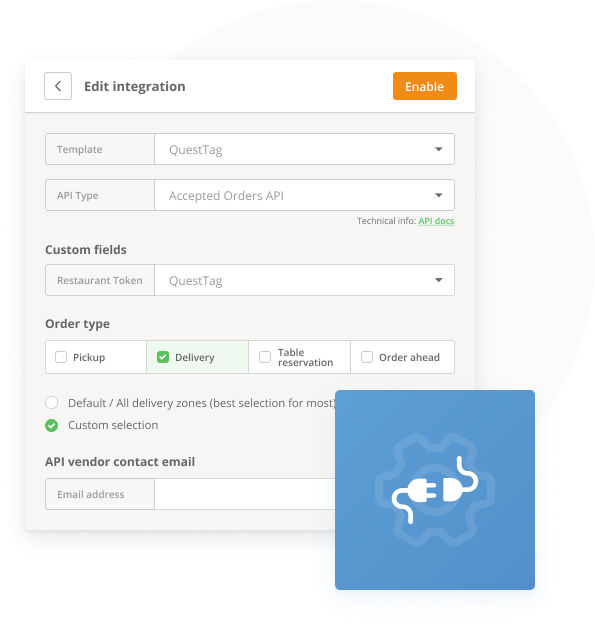 Handle Deliveries Like a Pro
On demand restaurant delivery system solutions for your restaurant business
Centralize all your orders under one dashboard
Manage all your operations from one screen.
Optimized routes
So you can ensure on-time deliveries.
Automate dispatch logistics
Let the system do all the hard work for you & manage deliveries
Multi-restaurant delivery software
Owning a chain of restaurants? Control the entire delivery fulfillment process.
Geo-location order tracking in real time
Keep your hungry customers in the loop & enable them to track their orders in real time.
Powerful analytics
Use analytics to identify the best opportunities to improve your delivery operations.
Send notifications via email or sms
Send your clients important order-related notifications via two separate channels.
Simplified deliveries
By using the world's leading delivery management solution
Not yet ready to go pro? That's also very ok!
Alternatively you can solve the riders notification matter simply but reliably, with a simple "copy-paste & SMS" of the order details or by auto-dispatching orders via email from our "advanced notifications" section.