We received many requests on including the tip on the customer's online payment bill. So we wondered ourselves: how do we best implement this? How do we stimulate tipping when paying online? At the same time, how do we protect the customer's ordering experience? Especially knowing that many of them perceive online food ordering as a self-service with no tip involved.
This is the challenge that we addressed in one of our latest releases and this blog post will tell you how we solved it.
The online food ordering experience
What you can see below is a screenshot of the ordering process. Our John Doe here is ordering pizza and choosing to pay online. After inserting or confirming the credit card, the tipping part shows up.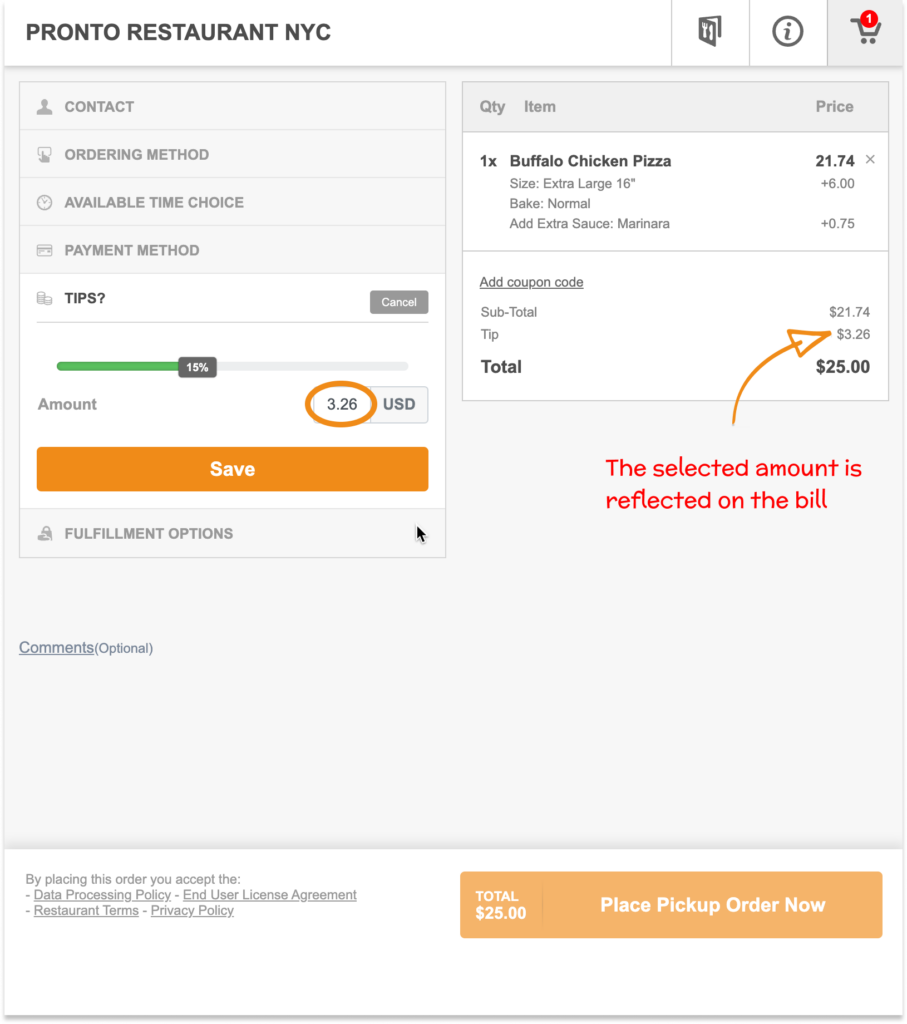 Notice the tipping slider. It is pre-set to 10%. This default level is configurable in the Admin area. Depending on your region, you might want to increase or decrease it. You might have also noticed the color of the slider. While it is perfectly acceptable for John to move the slider to as low as 0%, using the colors, we are kindly suggesting to him that it is customary to tip at least 15%.
Let's now turn our attention to the right-hand side. Once the tip value is set, the bill is updated and the total amount is recalculated.
How to enable Tips
The Tips feature becomes visible once you activate online payments. Like any other feature, you decide whether you want to have Tips on or off. If you select No, the tipping slider will not show up in the ordering process.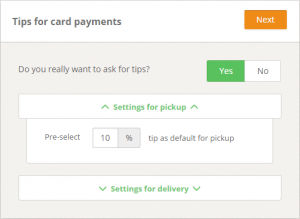 This is a screenshot from the Admin when you choose to use Tips. As mentioned above, you can set the default values for the slider. The values can be different for pickup and delivery.
Take a look at this short video of how to set up online payments for your restaurant
That's it! Let us know what you think of this solution. Drop us a message on Facebook or on chat.
For more new features that we've released lately, see also: