I may be preaching to the choir, but I feel the need to emphasize this aspect: social media is a great instrument that can help you gain plenty of exposure and attract new customers to your restaurant every single time you use it; that's why we felt that it was important to have an article on restaurants using social media successfully.
Plus, it's a channel that enables you to get through to people who have otherwise never heard or set foot in your restaurant before.
Related: How to Master Your Facebook Ad Targeting Strategy
It also enables you to see the results of all your campaigns, since it gives you clear insights about them. In addition, it provides you with fast access to your customers' feedback.
Since we're all basically using social media quite a lot, it has become our virtual reality for us, mirroring everything that happens in real life.
According to market research, in 2016 over 75% of people bought a product because they saw it advertised on social media.
And according to Quicksprout, "of that percentage, 60.7% need to see a post 2-4 times from the company before making a purchase."
If you're not on social media, you're missing out on a lot. So why not take advantage of it?
However, telling someone who doesn't actually use social media to use this channel for restaurant promotions, is just like throwing them in the deep end of the ocean and telling them to get back to the shore with just a tiny lifeline.
Gee… thanks… That's not much you can work with. I completely agree.
But rest assured, by the end of this article, you'll know exactly what you have to do to make waves and create buzz around your restaurant.
And the fastest way you can make this happen? See how others have done it.
Post it, Snap it, Tweet it!
Find out how to leverage your social media accounts to attract more customers.
Start now
Examples Of Restaurants Using Social Media Successfully
Restaurant promotions can take many forms. It's all about creativity. So here are a few great examples of restaurants using social media successfully:
1. St. Pete's Brasserie & The Miracle Performed on Facebook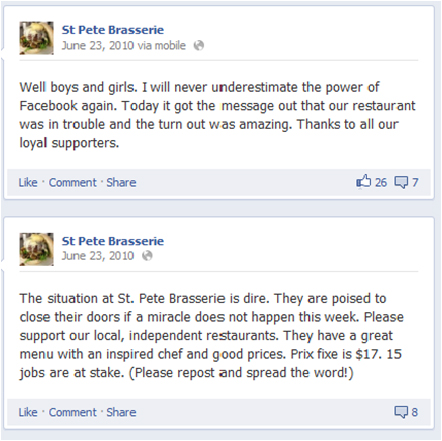 This established was about to "die", since it was on the edge of closure. So the owners used social media to raise awareness about their tragic situation. They had an out-of-the-box approach and their cry for help turned into a great restaurant promotion idea. But their cry was heard by many and sparked many sales. So the restaurant was saved.
Related: Restaurant Industry Trends 2018 – Facebook Food Ordering System
2. Angelo & Maxie's Steakhouse & The Unlocked Foursquare Special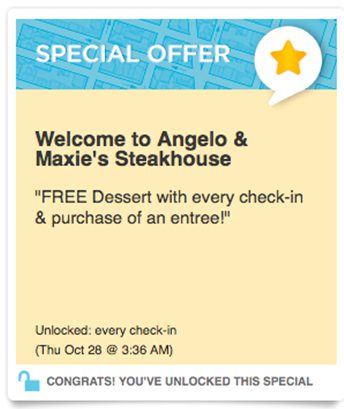 Use what already seems to be working: this seems to be the winning principle followed by Angelo & Maxie's Steakhouse. They wanted to give their sales a serious boost when they came up with the following idea: use Foursquare to drive traffic. The end result?
This promotion attracted more than 240 new clients, more than 400 people checking in at the Angelo & Maxie's Steakhouse via Foursquare, and an 18% higher revenue stream.
3. Boston Pizza & "Finger Cooking", The Borderline Simple, Yet Genius Promo
So here's how Boston Pizza increased their takeout and delivery business. They created a short video, promoted on social media channels, showing Bill finger cooking, whilst saving a lot of time and effort.
Actually, he was just doing a bit of a tippity tappity on his phone and voila: he "cooks" the order and feeds his son… without actually spending a minute in the kitchen. Well, maybe he does… because he still needs to go in there to unwrap and throw out the packaging.
4. Morton's Steakhouse & the Surprise Down at the Airport
Check out the following tweet. It best captures the restaurant's sense of flexibility and going with the flow: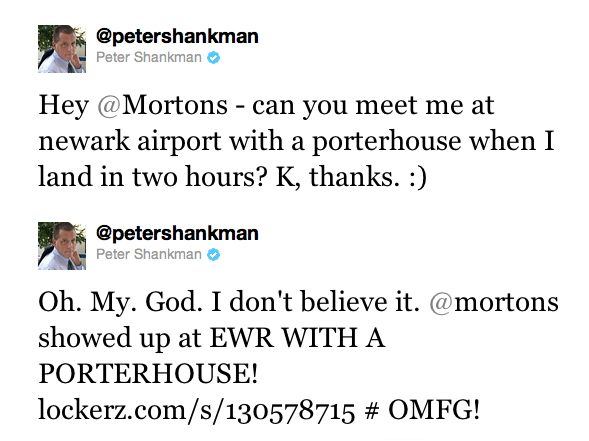 Peter Shankman's tweets helped Porterhouse gain a lot of exposure and national coverage in the US. People admired Porterhouse for putting in the effort and going all in. And that helped them gain quite the notoriety. At least 100,000 Twitter followers saw that post.
So as you can see, Porterhouse didn't exactly initiate the social media campaign, yet they knew exactly how to go with the flow and take advantage of this opportunity.
5. Ted's Montana Grill & Social Media Contest For FANatics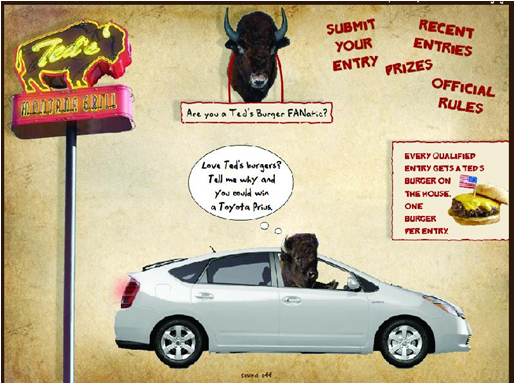 I saved the best for last. And in a few seconds you're about to see exactly why.
Upon being voted the #1 burger in America, Ted's Montana Grill created a social media contest to reward their customers. But they also enjoyed a few additional benefits, like further building notoriety and expanding their customer base. Here's what they accomplished:
3,000 content sign-ups during the first week alone with more than 50% of them opting into email (which you can use to constantly send them food offers)
40% increase in their Facebook followers
394 participants opted for text message notifications
This promotion is extremely powerful since it tapped into the science of persuasion, by using one of the six principles of persuasion and influence: reciprocity. According to Dr. Robert Cialdini, people feel the need to give something back upon receiving something else first…. Since we hate being indebted to someone.
In fact, and this is the really good part: the Principle of Reciprocity was best put in the spotlight by a series of studies conducted in restaurants. So we are likely to do anything that evens out our debt to someone as quickly as possible. Even if that means that we have to do something we wouldn't normally do.
For instance, let's take a look at Twitter and Instagram's strategy: "If you follow me, I follow you back". The principle of reciprocity really works.
Did you know…?
It's not for nothing that in some restaurants, the waiter gives you a cookie, a candy, a mint or any other dessert. Although it may seem to an apparently insignificant gesture, this tiny gift has a deep psychological impact on you.
And it can actually make you leave them a bigger tip. Right now, you might be inclined to say, well, that's not true. But listen to this. Exposing the bare naked truth:
One study revealed that giving diners a single mint at the end of their meal increases tips by around 3%.
Offering two mints: the researchers pointed out that tips increased by 14%.
Oh, and here's one more interesting fact: if the waiter gives his clients one mint, then walks away and gets back offering an addition mint, saying something along the lines of: "For you nice people, here's an extra mint" – then tips skyrocket by 23%.
So the key to using the Principle of Reciprocity? Always be the first one to give your clients a gift. You'll be indirectly making them an offer they can't refuse. Because every time they will be offered something for free in exchange for something, they will always come through. And do whatever you ask them to.
It's the nicer version of "an eye for an eye". You give them something and they will give you something back.
Restaurants using social media successfully are those restaurants who use social media to boost their sales and engage users directly. And promotions are at the very core of their plan. Try it and you'll see.
P.S. Watch out for the sequel to the Restaurants Using Social Media Successfully. You'll see some great restaurant advertising ideas and how other restaurants use social media successfully.