A Simple Guide to Avoiding Restaurant Staffing Shortage:
Your team is the heart and soul of your restaurant – alongside your amazing food, of course. Your staff members create the customer experience that brings people back time and time again. But, with general labor shortages and an increase in people looking to work remotely, you might find yourself encountering a restaurant staffing shortage.
So, why is the restaurant industry struggling with this issue? What can you do to avoid it? We'll cover both of these questions here.
Why is There a Restaurant Staffing Shortage?
Restaurant managers have always struggled when it comes to hiring both seasonal and long-term staff, and recent events have made that problem even more pronounced. Since 2020, a lot of eateries have had to cut down on the number of staff members they keep.
The pandemic and its aftermath disrupted traditional work patterns, leading many individuals to reevaluate their career choices. The restaurant industry found itself needing to adapt to changing times while seeking new ways to attract, train, and retain talented professionals.
We're also dealing with general food and fuel price increases around the world. The cost of living is affecting businesses, as well as citizens. Supply chain shortages have created a lot of unpredictability for restaurant owners everywhere.
Having a good team of skilled and experienced staff members can help you weather these storms – and one way to maintain a solid team is by working on your staff retention game.
How to Retain Your Existing Restaurant Employees
The first step to building your dream team is to consider who you already have, and how you can keep them happy and engaged with your restaurant. Retention is crucial when it comes to dealing with a restaurant staffing shortage.
Consider what you could do to make people more likely to stay. Could you offer them a more competitive salary and benefits? Are there any particular incentives for staying with you? Can you foster collaboration and build a culture that promotes inclusivity?
Here are some tips to help you keep your employees happy (and keep them, period):
Foster a positive work culture
Work takes up so much of our time, so if it's an unpleasant environment, it makes sense that people would leave. And, since even the best restaurants can be challenging and fast-paced, it's important to create a positive working culture.
Your employees should always feel supported, whether they are handling difficult customers, being asked to work overtime, or dealing with personal problems.
So how exactly can you achieve this working culture? Show, don't tell. Support them when they are dealing with rude customers, even if it's behind the scenes. Compensate them for overtime and don't expect them to do anything the manager wouldn't do.
Their place of work should make them feel cared for and supported. This should carry on beyond the day-to-day – consider organizing group activities like company meals or days out to create a sense of fun and unity. You could also allow staff to take surplus food home with them after work, cutting down on food waste and giving your staff a perk.
After all, people are more likely to continue working at a restaurant if they feel loyalty both from and toward their work team. If your employees know that everyone there has their back, they will feel much more supported.
Train your staff
Training your current employees is a good investment, especially if you are short-staffed. It's very helpful to make sure that your team has the skills and the confidence to handle anything that work throws at them during your busiest peaks, whether that's working your hosted phone system, or suddenly seating a whole kids' soccer team.
You could also invest in training staff in areas outside of their usual roles such as payroll, so that they can pick up the slack if a colleague in a slightly different role is sick one day.
This is also great for allowing them to explore other career options within the hospitality industry – just make sure you don't force it on anyone who isn't interested!
Check in with your team regularly
Want to know what works and what doesn't with the day-to-day running of the restaurant? Ask your team. They're the ones with the clearest view. Having regular team and one-to-one meetings will help you keep your finger on the pulse.
This is a great way to listen to and consider your staff's suggestions, from implementing restaurant analytics to changing the structure of breaks. It's also a chance to fix small problems before they escalate into big ones.
Even if you can't fix every issue, becoming aware of it and trying to work towards a solution will go a long way towards fostering a sense of unity and support with your colleagues.
How to Hire New People During a Restaurant Staffing Shortage
Hospitality is definitely a buyer's market at the moment, so you have to stand out from the competition and attract new talent more proactively.
Leveraging technology can significantly streamline your hiring process. Consider implementing an applicant tracking system (ATS) to manage job applications, communicate with candidates, and organize their information efficiently.
An ATS can help you keep track of all applicants, ensuring that you don't miss out on any potential hires and allowing you to maintain clear communication throughout the recruitment process.
Here are a few tips to help you in this endeavor:
Advertise your job postings
This seems obvious, but you'd be surprised how many people simply pop an A4 sheet in their window and hope for the best.
Post the jobs online so you can reach more people. First, upload the jobs onto your own website.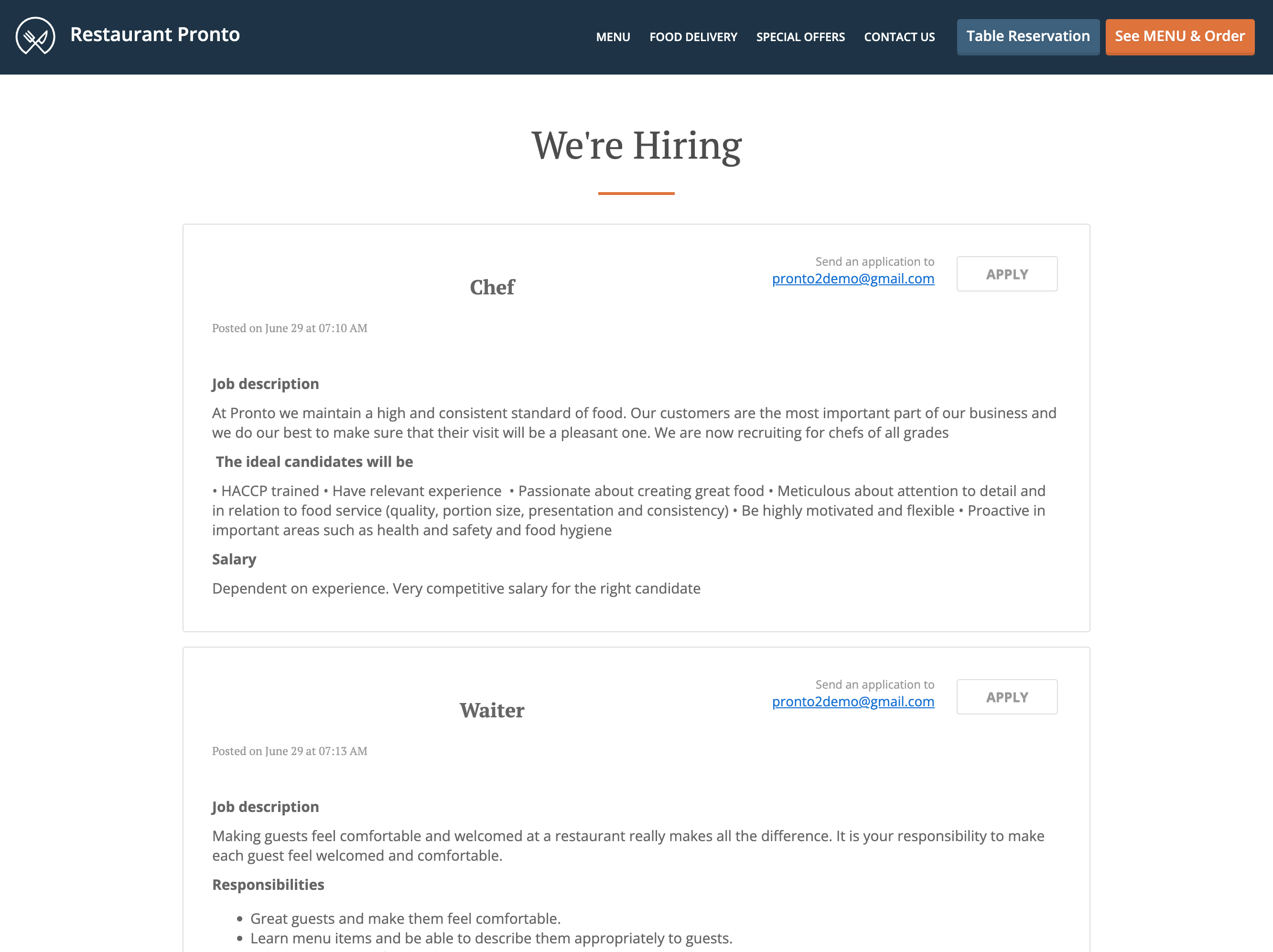 Post a job opening on your restaurant website in minutes
Use our restaurant website generator with a built-in hiring section
Get Started
Next, look for other local job sites too. Use LinkedIn to share your job posts if you want to reach an even larger and more experienced pool of candidates, and hospitality job boards aimed at the exact people you are looking to hire.
Beyond that – don't forget about social media! You can use Instagram, Facebook, and even TikTok for this, both with paid adverts and regular posts.
Referral system
Your existing staff can be the best promoters of your open positions. They can tell their friends and family and share on their own social media profiles. There's nothing quite like word-of-mouth to get people to trust a company.
Take advantage of this and encourage it by creating an employee referral program. Offering a bonus to members of staff who bring in new team members who pass their probation is a great way to both build positivity and find some great new hires.
Email marketing
While normally associated with deals and promotions regarding food and events, you can also use email marketing to let people know about your open staff positions.
You never know which of your customers could end up becoming your next head chef or helping with application modernization for your inventory software.
3 Short-Term Solutions for the Restaurant Staffing Shortage
Of course, all these tips are great long term, but how do you deal with the immediate problem of a restaurant staffing shortage?
Be honest
Don't try to hide it from your customers – often, if you're upfront that you're running a little slow due to having less staff available, they'll be understanding. if you pretend everything is fine only for them to wait an hour for drinks, they're likely to get frustrated.
Use an agency
If you're really struggling, reach out to an agency. Temp workers can be a great solution, especially if you know it's a temporary situation caused by something like illnesses or unfortunately timed holidays!
Restrict your menu
It might not be ideal but if the situation is dire, consider restricting your menu. What are your least popular options? Which are the hardest to prepare? By reducing the potential workload on your kitchen staff, you can make their lives easier – increasing the chances of them staying, and of your customers not having to wait hours for a meal.
Learn how to easily create a small restaurant menu to use for both dine-in and delivery using the GloriaFood online menu builder:
Staff Shortages Are Not a Disaster…
…if you know how to handle them. You have a range of solutions at your disposal to find and retain the best staff out there, sidestepping the restaurant staffing shortage. You just have to foster the right work culture and make sure people hear about it.