With the new feature called "Order for later", restaurants can now offer their customers to pre-order food for pickup or delivery at a scheduled time.
Why would one need to pre-order food?
Think about large groups or events, when all the food needs to be delivered at the same time or businesses like bakeries when custom cakes need to be ready for the party.
But there's more…
Let's look at lunchtime. People usually create a habit of taking a lunch break around the same time every day. As nobody likes waiting while hungry, having the food ready and hot just in time for the break sounds like magic.
Having this in mind, many restaurants allow their customers to pre-order food and have it scheduled for pickup or delivery at a fixed time. Customers can place the orders hours or even days in advance, depending on the restaurant's policy. For the restaurant, this simple benefit not only increases sales but also helps the staff better handle the kitchen activities and stocks.
And thankfully, people don't eat just once per day.
Never miss another order again!
Let your customers place orders even when your restaurant is closed.
Get Started Now
Make money while you sleep with an online ordering system
The above-mentioned cases can now be handled in the GloriaFood ordering system.
But there's more…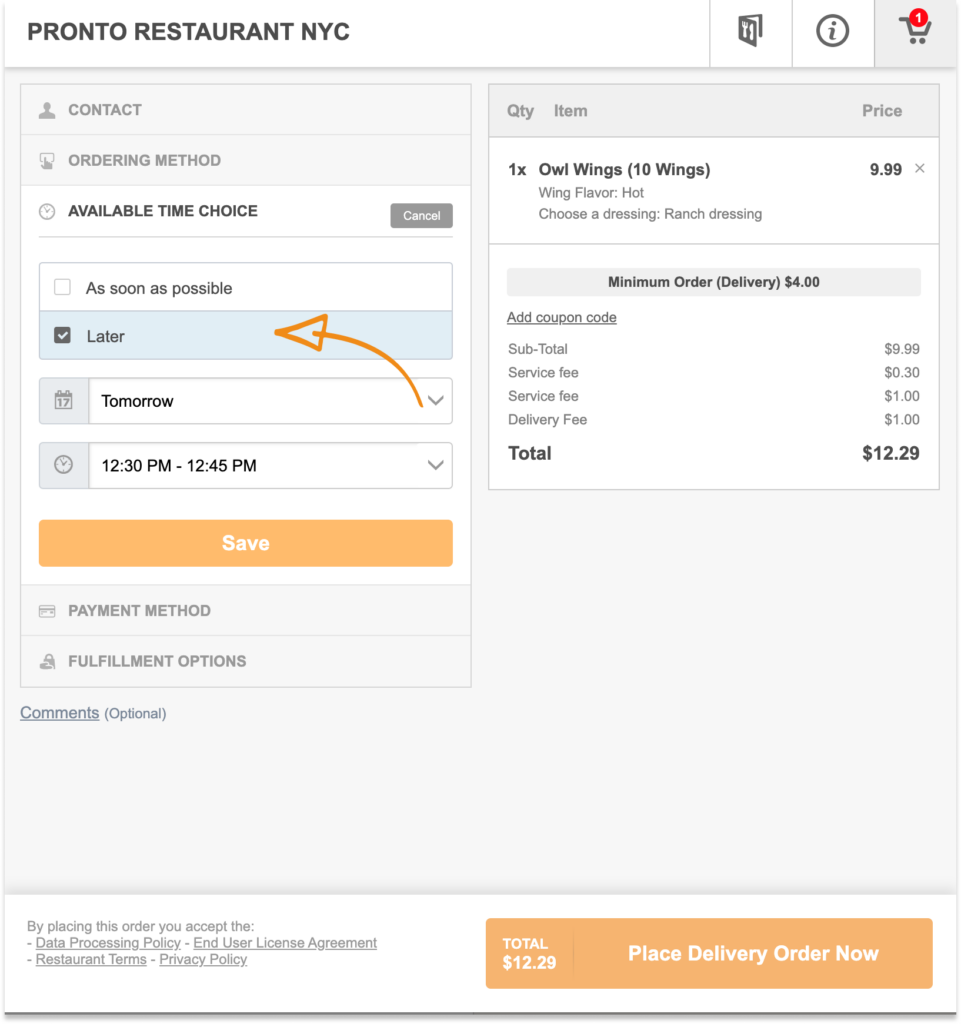 The advantage of an online ordering system is that it can work while you don't. Even if your restaurant is closed and there's no one to answer the phone, you can still accept online orders as long as the fulfillment time is later.
As you can see in the image, while you are closed, the customers can still place orders requesting a fulfillment time during your opening hours.
How to enable "order for later" for your restaurant
You can find Order for later in the Admin Panel, under the Services and opening hours. And yes, we covered all the bases.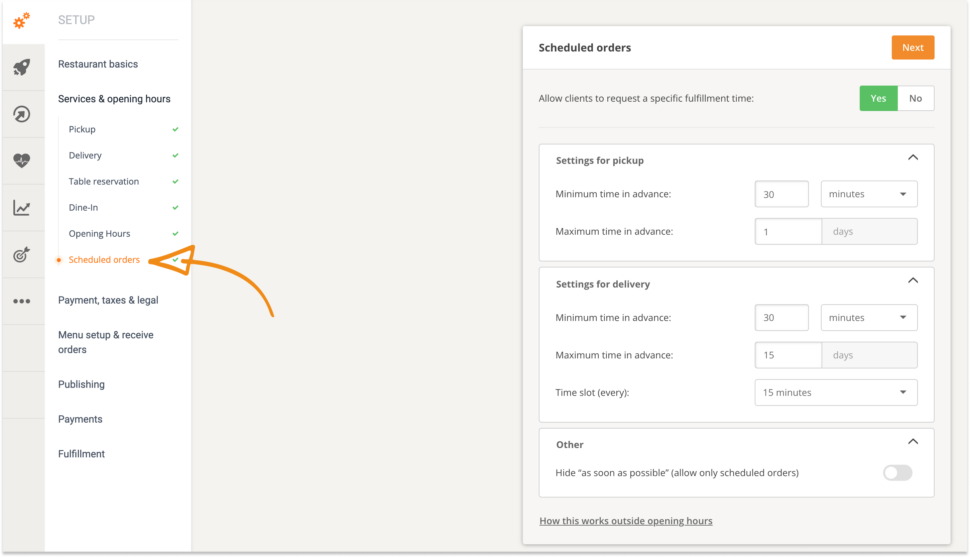 Outside working hours we're not going to alert you about new orders and ruin your free time. Therefore, we queue them up nicely for you until you're open again.
Even so, it would be tough to open up the restaurant early and already be late in serving the clients that ordered overnight. This is why, once you activate the option, you can also set the minimum time window between the ordering or opening time and the moment in which you are supposed to fulfill any pre-order.
Order for later is another great, free feature, worth trying. Let us know how it worked for you. Drop us a line on our Facebook page.
More on how to enable food pre-order and why you should do it, here.