The on-demand food delivery space has been rapidly spurring over the last few years, delivery being a very critical aspect. GloriaFood is proud to announce its association with Tookan, an efficient delivery management solution, which addresses various flows starting from order capturing to delivery. Find out more about the benefits of this partnership.
This is done by adopting a unique technology which ensures efficient tracking of orders, management of deliveries, and keeping the consumer updated in the entire process.
Despite the overall success of the food-delivery business across the globe, there are certain areas which seldom demand attention. Often, many atomic transactions suffer from inefficient delivery mechanism that dwells around manual processes.
Therefore, the process of delivery, along with the other processes of order capturing, dispatching, route management, etc need to be effectively strengthened to ensure the proper working and success of meal-delivery services.
Remember, a failure in execution of any of the processes involved in food delivery, can greatly damage the reputation of the restaurant or the service provider, and also create unsatisfied customers.
An integration with Tookan goes a long way in streamlining the whole process to ensure an appropriate working of the chain.
What is a part of the Tookan Offering?
The solution provided by Tookan consists of three basic modules, one for the driver, and the remaining two for the manager and the customer.
The Manager Dashboard is a web-based dashboard which centralizes the processes of dispatching, allocation and scheduling of jobs/deliveries, while also consolidating the data and analytics in one place.
The Driver App solution for fleet/runners/drivers automatically notifies drivers of a new job in real time.
The Customer App solution helps platforms in the On-demand space become customer ready with their branded app, eliminating the hassle of developing a fresh mobile app to do the same.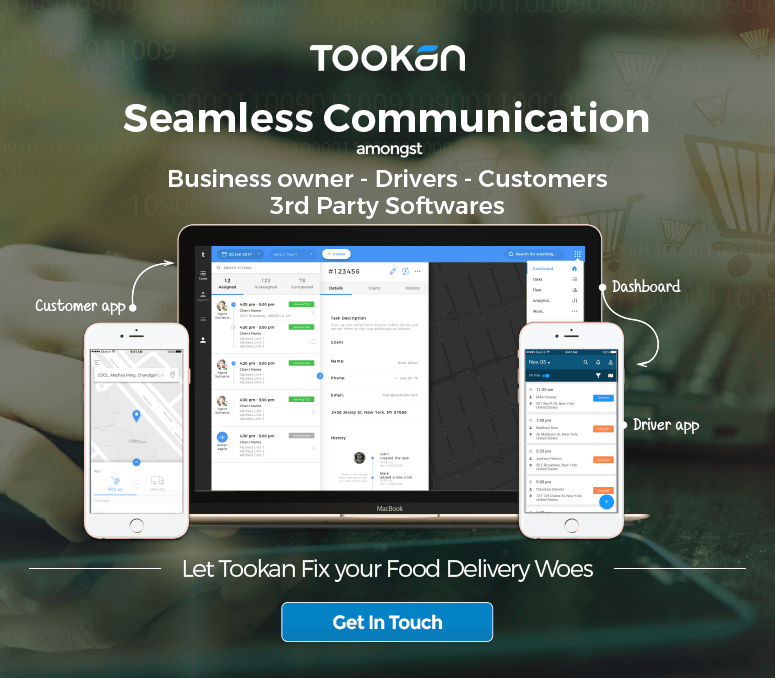 According to Oliver Auerbach, CEO, GloriaFood,
"Tookan is one of the most effective companies we are working with, and their solution is very straightforward, which very well performs the job for which it was designed. We already have many restaurants using both of our solutions and we have good reasons to believe that this number will get significantly bigger in the next months."
An association with Tookan is a win-win situation for all the stakeholders – customers, restaurants, GloriaFood and Tookan. In an era where a few taps on the smartphone can decide the fate of any business, how you innovate and grow is all that matters.
Related: GloriaFood brings the online orders & Orderlord takes care of them