In our last post, we talked about different kinds of content that can boost your restaurant social media presence and consequently create customer engagement on Facebook. Today we're going to list several tricks for your restaurant Facebook page that can help make a buzz around your latest news, from promotions to new dishes, and build up interest for your restaurant.
1. Take advantage of your Cover Photo
A great Cover Photo can persuade your customers to spend more time on your Facebook page and want to know more about your business. The position is great, right at the top of the page and centered, and so is the size (larger than your profile picture for example).
Your cover photo is definitely the first thing that catches the eye when opening your restaurant's Facebook page, and you have the freedom to change it as you like. So don't shy away from branding yourself through your cover photo!
Example: You have just introduced a new type of pizza on your menu and want people to try it out? Take a delicious picture of it and post it as your cover photo.
Example: Do you have great Happy Hour deals? Add that info on a picture showing happy people eating (your food, of course 🙂 ) and make that you cover photo.
This is great marketing, and it's free.
2. Rearrange your Facebook Tabs
Did you know that the right display of Facebook Tabs can even help you bring in more revenue?
Facebook Tabs lie right under your Cover Photo. These are the apps you can add to your Facebook business page to further customize your restaurant's profile. You can add almost anything, from links to other social media profiles like Twitter or Pinterest, from Events to Offers, and Reviews.
The first three tabs are visible at all times and keep in mind that the Home tab will always have the first position.  Except for that tab, you can change the position of the remaining tabs whenever you like, according to your needs:
You're having a big re-opening soon and you create an event on Facebook, then you can move the Events tab to be visible so you can advertise it.
Or you're offering great new food promos, so you want the Offers tab to stand proud in plain sight, ready for clicks from hungry customers.
Take full advantage of your Facebook page!
Let your customers place orders without leaving your page.
Start Here
3. How to place a link to a Facebook Tab inside a post
In this app-crazed world, it's easy to see why Facebook Tabs are key to your restaurant's Facebook page. And there's one more way to make people click through. You can add a link to a Tab inside a Facebook post. Here's how you can do that!
Let's assume that you have just introduced a new promotion in the Offers tab, a 20% off pizza promo, and you want to let people know that they can benefit from it by ordering online.
Go to the Offers tab and click on the offer you want to post about.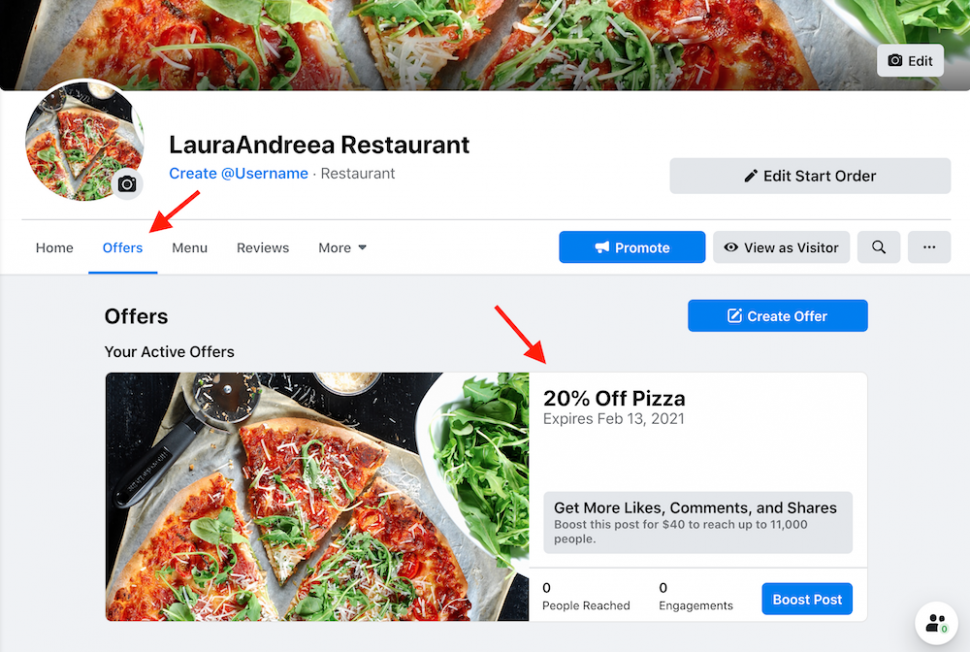 Click on the arrow in the bottom right corner and choose "Share to a Page."
Select the page of your restaurant.
Write a catchy description for the post and hit "Share."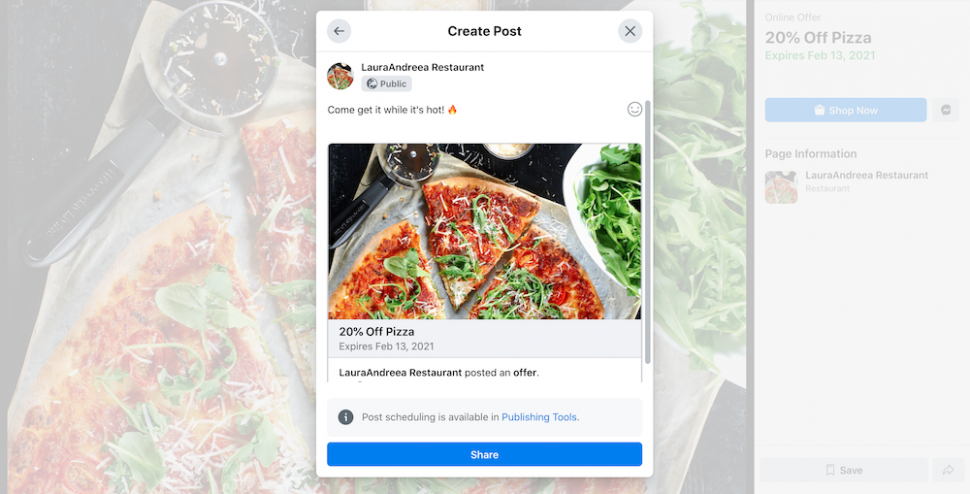 Voila, the offer together with the picture you selected and a direct link to your online ordering page will appear on your news feed.
Is there any easier way to get a customer to order from you?
One final tip: photos, and especially food photos, are a big part of Facebook (and social media in general), and the better they are, the more customers they attract.
So to get really professional-looking photos on your restaurant Facebook page, you can always go to websites such as fiverr.com, where people from all over the world offer their services (from graphic design to Photoshop, to marketing and programming) for a mere $5. Worth a shot!
I hope this will serve you well and get you a much-deserved business boost. Take some of that magic you use on your delicious ingredients, and pour it into your social media mix. There are so many ways to spice up your restaurant Facebook page and hopefully, our tips&tricks will help you keep it as fresh and engaging as ever!
Till next time!