If you're in the food delivery business, then you know by now that success is not only based on the premium quality of your products and services, but also on knowing your customers really well and developing a close relationship with them.
Why your Restaurant needs Social Media
Nowadays almost any restaurant sets up a Facebook page for marketing purposes, to advertise their business or engage with their customers. But if you're still not so sure why you should dive into social media, then we'll have you know that the average customer spends more time on Facebook than on Google, Youtube and Yahoo combined.
Just take a look around: everyone is on their smartphones, often checking their Facebook news feed, so grab that opportunity to be where your customers are!
Now if you've decided that a Facebook page is indeed worth your time and energy, naturally there will be some questions on how to best take advantage of it.
So here are some tips to help increase the 'exciting' factor of your business through your Facebook page.
Create an account with us then copy & paste our smart link onto Facebook's "Start Order" button

This way, foodies can order directly from your Facebook business page.
Get started now
5 Tips for a Cool and Engaging Restaurant Facebook Page
Create contests
It has been proven that this is one of the best ways to engage users/customers on Facebook. It can be anything: have your customers post funny pictures of themselves with their favorite food; post a food-related animated pic and have your customers imagine funny captions, etc.
And don't forget to throw in a good incentive, a contest isn't worth much without a prize: a discount on a future order or a small, yet tasty and thoughtful gift certificate for the picture with the most likes could be a good example.
Post pictures and stories
Yes, customers do love a good story, and all the more when it's about some food they enjoy. Maybe you are known for serving really good pizza, then let them read a bit about the history of pizza. Or maybe there is some secret recipe to one of your meals, and the customers could guess its origin or unexpected combination of ingredients.
Make it personal
Let your customers take a peek in the backstage of your business, let them have a taste of the running of your kitchen (you could do that by posting pics or short clips from the making of a meal). Or let them know more about one of your chefs, who each day pours their soul into preparing delicious food. There's nothing a customer will love more than being able to connect with your brand at a personal, human level.
Announce your promotions/new menus
Let your customers know that they're in for a really good deal. Write a short and concise post about the new offers in your restaurant or about the upcoming items on the menu.
Announce daily specials
If you have that offer, then make sure to update your Facebook page daily. Add a good-looking picture while you're at it, it catches the eye faster.
Related: Facebook Marketing for Restaurants: 10 Tips & Secrets
Setup Facebook Online Ordering
There are increasingly more and more things that you can do for your business with Facebook, including some actions that can improve your bottom line. Case in point: Facebook online ordering. If you're keeping tabs on your competition, then you've probably seen this: restaurants adding a "Start Order" button on their Facebook Fan page.
What does this mean exactly? You add a call-to-action on your page, and when clicking on it, customers will be redirected to your website or a page where they can view your menu and place an online order.
When you sign up with GloriaFood, you will be able to install the Facebook online ordering app using our smart link to redirect customers directly to your menu without any additional clicks.
Read more: How to Take Restaurant Orders on Facebook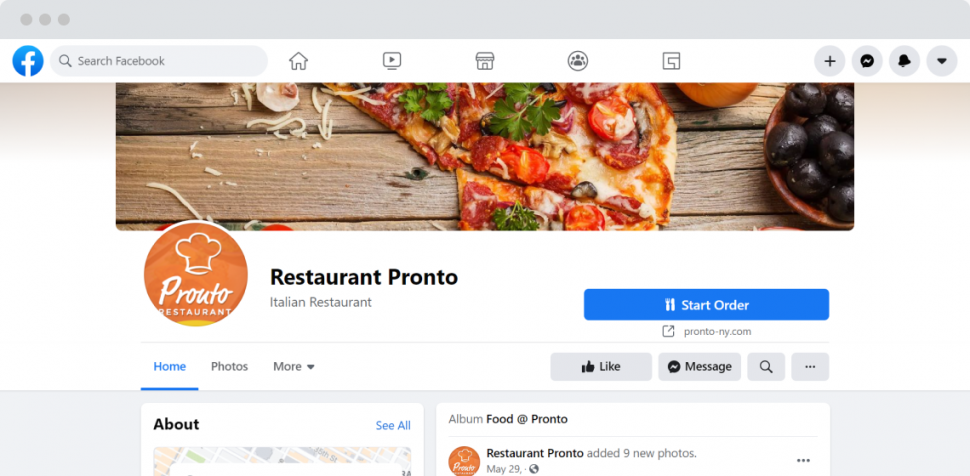 Ready to start building an efficient Restaurant Facebook Fan Page? Then get creative! You know your restaurant and your brand very well, and there are tons of ways to make your brand's personality shine through the Facebook page. Engage in friendly conversations with your customers and make sure your content is relevant to them.