Hey everyone,
This blog post will run through some of our latest features, focusing on the new enhancements for the restaurant order-taking app.
Taking online orders on your smartphone
As you are already aware, GloriaFood's online ordering system for restaurants transforms your smartphone or tablet into an order-taking device. Online orders placed through your restaurant website or Facebook page are pushed to your mobile device, where you can instantly accept them with just a few taps.
Receive orders at your fingertips
Take control of your orders with our super simple to use order-taking app
Get started now
Related: Restaurant order taking app with new Copy order to Clipboard option
New app status view in the restaurant order taking app
We've worked hard over the years to develop innovative ways to make the app incredibly resilient and ensure that it will be very difficult for you to miss an online order.
Staying connected is essential for taking online orders, so we have made it very simple for you to check your internet connection with the GloriaFood system status in real time right there on your phone/tablet aka your order-receiving device.
The most recent improvements include several status icons displayed at the top of the app on your Android smartphone or tablet and provide information about the connectivity of the GloriaFood online ordering system. See the information below:
Green dot: this means that you are logged into the app, have a working internet connection, and your restaurant is open for online ordering. In other words, you're all set to start taking online orders.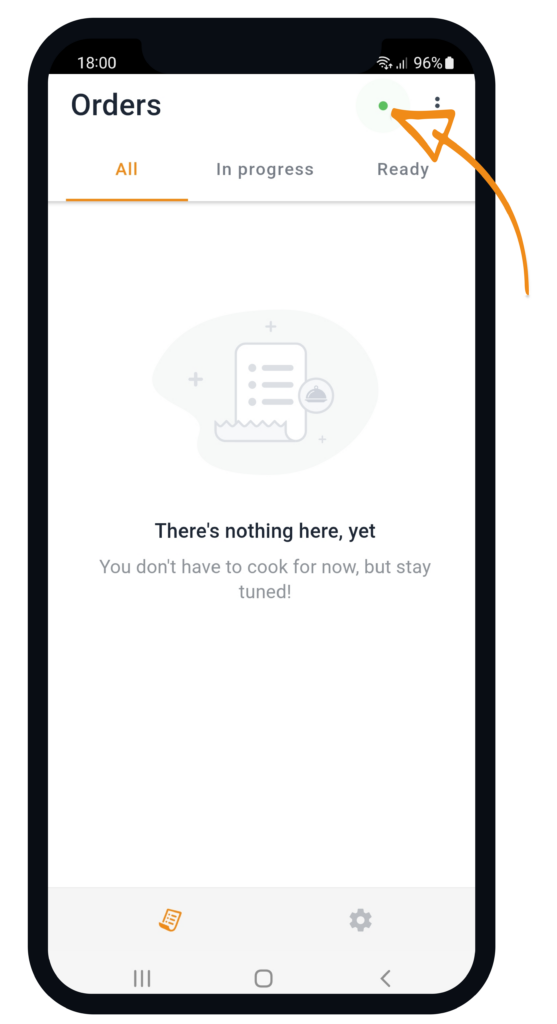 Red dot: this means that you are not logged into the app and therefore unable to get online orders. If you're on a data plan or WiFi, the internet connection can sometimes be lost temporarily for various reasons.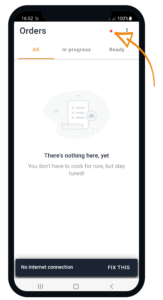 Click "Fix This" to get a message from our Connectivity Adviser and re-establish your internet connection.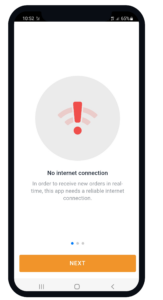 Accept orders with a single tap
Reviewing and accepting orders has never been easier with our new order-taking app
Get started today
Create test orders, clear orders, and pause your services
We've also added a new options menu that allows you to create test orders, clear orders, and pause your services.
The "Create test order" option will simulate an order being pushed to the app. The "Clear orders" option will remove all orders from the order-taking app.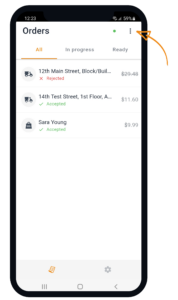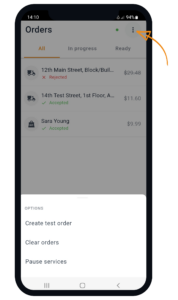 With the "Pause Services" option:
You can pause specific services, or you can choose to pause all your services at the same time by selecting "Opening hours."
You can use the "Pause services" feature for a short window of time or until the end of the day.
In the "Notification message" field, you can also add a reason why you're pausing the services.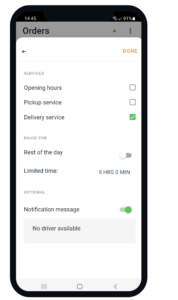 When your restaurant's services are paused, a new banner will be displayed in your food menu widget, notifying your food clients of the reason why you are unable to take their orders.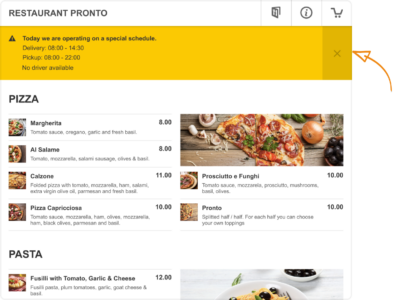 Order classification
We've also added a feature that groups your orders into three categories for easier navigation. The orders have been categorized as such:  All, In progress, and Ready.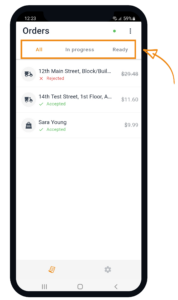 If an order is ready before the fulfillment time you stipulated has elapsed, you can move it to the Ready category by swiping right on the order and pressing the "Ready for pickup/delivery" button.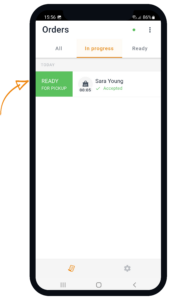 Mark items as out of stock
We have enhanced the order-taking so that you can now mark items, choices & add-ons as "out of stock" in the "settings" sections of the order-taking app.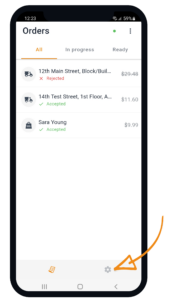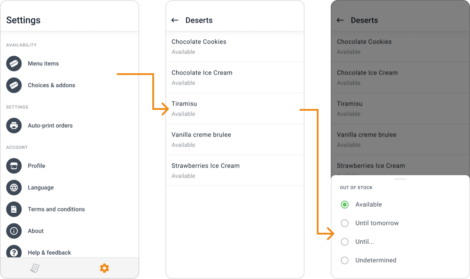 Simply tap on the menu item you want to mark as out of stock, and select the preferred option:
Until tomorrow,
Until a preferred date
or Undetermined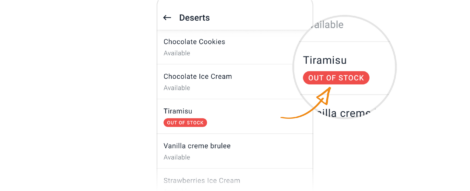 Automatically accept and print orders
A new auto-print feature in the app's settings section was developed so that your incoming orders are accepted automatically if you use one of our supported printers.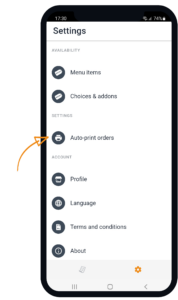 Provide a reason for rejecting orders
We have also enhanced the order-taking app so that you can now specify to your customers the reason why you are rejecting an order. You simply choose between the pre-defined reasons in the list or type in your custom message.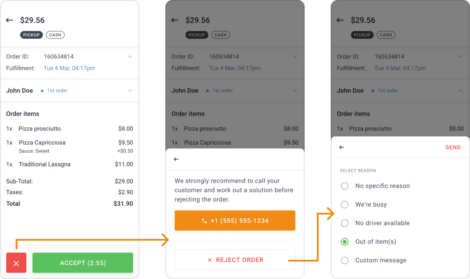 These new features keep you on your toes and ensure that whenever your customers are hungry for your tasty food, our app can help you serve them faster and better.
We'd love to hear your comments, so drop us a line at contact@www.gloriafood.com or on our Facebook page.
If you haven't already downloaded the new Order-Taking App, then click on any of the links below to get the app and enjoy all the new feature releases:
Cheers!