Hey everyone,
In this blog post we'll run through some of our latest features, focusing on the new enhancements for the restaurant order taking app.
Taking online orders on your smartphone
As you well know by now, the online ordering system for restaurants by GloriaFood transforms your smartphone or tablet into an order receiving machine. Online orders placed via your restaurant's website or Facebook page end up on your mobile device, where you can easily accept them in very few steps.
As a quick reminder, here's a demo clip showing exactly how the ordering process unfolds using the GloriaFood system
New app status view in the restaurant order taking app
Throughout time and based on our customers' experience, we've worked hard at finding new ways to make the app very resilient, and also to make sure that it will be very hard for you to miss an online order.
Staying online is essential for taking online orders, so we have made it super easy for you to check your internet connection and the GloriaFood system status in real time right there on your phone/tablet aka your order-receiving device.
The latest enhancements are a series of status views, which always appear in the Ongoing Notifications Area on your Android smartphone or tablet, and indicate the status of the GloriaFood online ordering system. Check out the details below:
Status Ready: this means that you are logged into the app, you have a working internet connection and your restaurant is open for online ordering. In other words, you're all set to start taking online orders.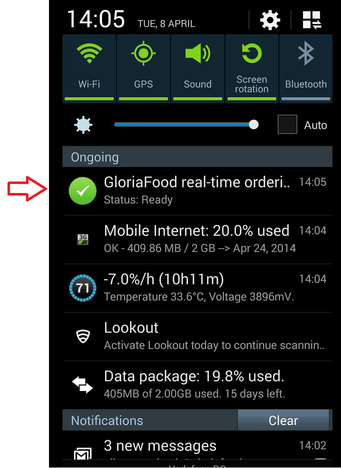 Status Restaurant Closed: this means that although you are logged into the app, your restaurant is outside opening hours. This notification also lets you know how long until your restaurant opens up. Once clicking on Learn how to fix this, you can find out how you can change the open intervals for your restaurant inside the Admin Panel on the GloriaFood website.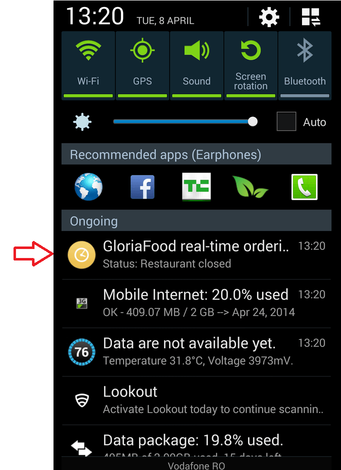 Status Logged Out: meaning that you are not logged into the app, and therefore unable to get online orders. Clicking on this notification will take you straight to the restaurant app to log back in.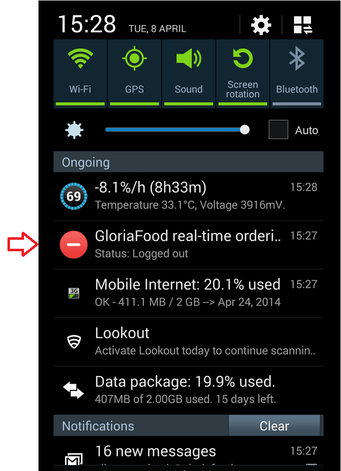 Status Offline: 'offline' here means that you are not connected to the internet, therefore the app is not working and online orders cannot be taken.  No matter if you're on data plan or WiFi, sometimes the internet connection can be lost temporarily for various reasons.  Click on Learn how to fix this to get a message from our Connectivity Adviser and re-establish your internet connection.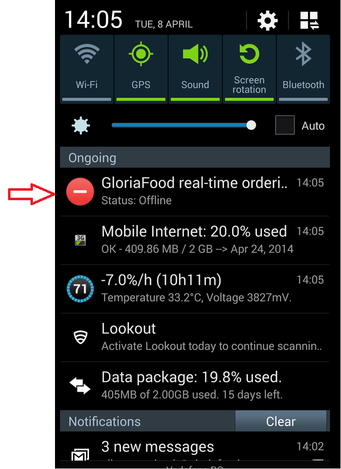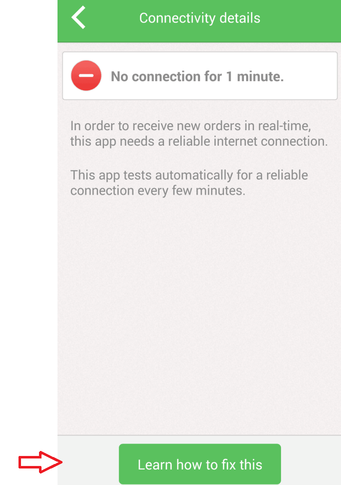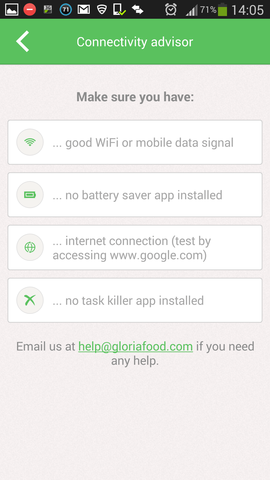 The purpose of these new features is to keep you on your toes and make sure that whenever your customers are hungry for your tasty food, our app can help you serve them faster and better.
We'd love to hear your comments so drop us a line at contact@gloriafood.com or on our Facebook page.
Cheers!