Two years ago we made it our mission to create a simple and enjoyable food ordering experience. This is the first online ordering system for restaurants available as software as a service and free of charge. People are happy and the feedback is positive. Yet, we felt we should do even more.
To "renew our freemium vows" with the restaurant industry, today we released another valuable feature for free, pictures support in the online menu. We wanted to get this done really well – sorry for keeping you waiting so long, dear restaurant members!
Related: See here the new menu of our demo restaurant
A good online restaurant menu leads to great sales
Having this in mind, not only that we encourage you to use images to create appetite, but we also give you a hand. We provide a free stock of delicious food images that you can use to spice up your online restaurant menu.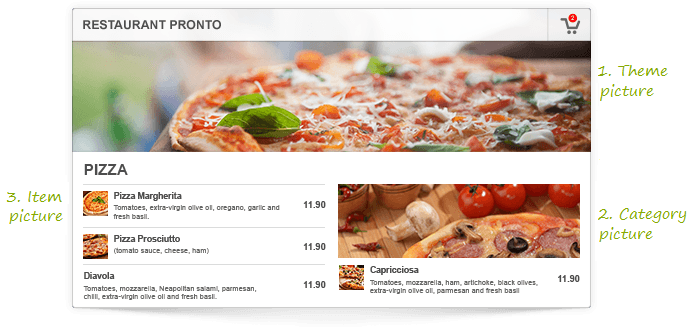 You will notice that we use images in different sizes, at different menu levels:
Theme picture – this should be the image that best describes your business. When you'll browse through our stock for a theme picture, you will see that we recommend only images that match your cuisine.
Category picture – these are the images for each of your food categories. Here, as well, we make intelligent suggestions based on your category name, thus saving you the time of going through hundreds of pictures for each category.
Item picture – this is what the customer actually gets, so feel free to use your own images here to best represent what you'll put on the plate.
Create an eye-catching menu with a large selection of free photos.
Build your free mouth-watering menu with GloriaFood.
Get Started Now
Also see:
6 Restaurant Photography Tips & Tricks
Why Food Photography Is Important for Your Restaurant Website and Menu
Setting up the online menu with pictures
Behind the scene, things are quite standard and intuitive. In the Admin Area, the menu configurator now has image placeholders on which you can click. You then select whether to use one of our pictures or upload your own.
When selecting one of our suggested images for the theme or food category, there is not much that you need to do. We have taken care of cropping the images for the best fit in each context. We do need to warn you though that browsing through our images causes hunger and cravings. 🙂
When you upload your own images you will use this simple interface (see screenshot) to zoom or crop and make the most of your dish. Simple as that!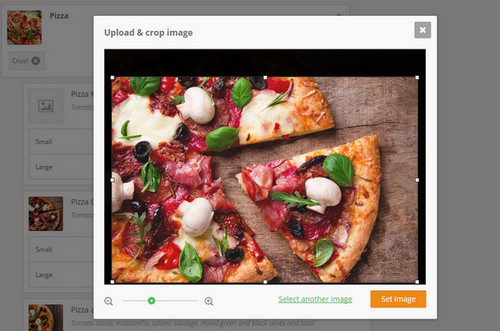 What about the mobile and Facebook menu?
Everything that you set up in the menu configurator will be displayed identically in your website widget and Facebook menu. Go wild, there are no restrictions!
The pictures also work on mobile. They are optimized to fit the smaller screen without hindering the ordering itself. Even the individual item pictures are beautifully displayed. Did you think that a food menu cannot look great on small screens? 🙂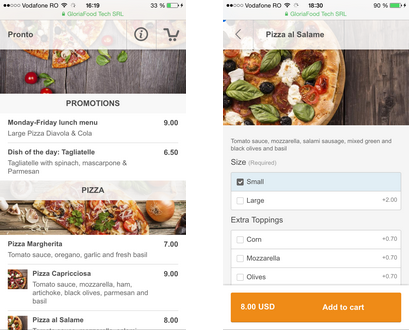 One more thing…
No matter where the customer is ordering from, he/she gets a real-time confirmation of the order, with the estimated delivery or pickup time. In this confirmation screen, we are showing your theme picture. An innocent share button, the customer brags on Facebook, and there you have it: your beautiful image is back online, attracting new hungry customers.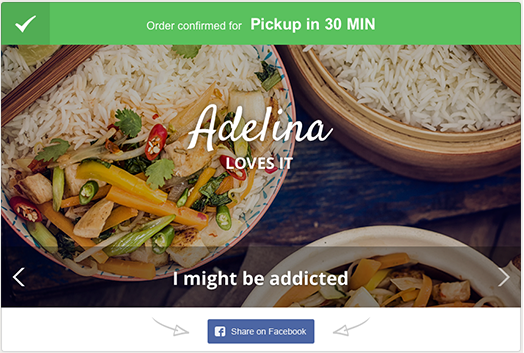 For a step-by-step tutorial on how to add pictures to your online menu, please watch the video posted below:
We are very excited about this release and curious to see what your menus will look like with the pictures in them. Tell us what you think on our Facebook page.