Using an online ordering system for college dining halls helps you...
Nowadays, it's easier than ever to order food online from your favorite restaurant. But unfortunately, in some universities across the US, that's a benefit that many students don't enjoy that much. And that's a pity, considering that we're talking about the most avid generation of online ordering buyers the world has ever known: generation Z.  So, in this case, getting a free online ordering system for college dining halls becomes imperative.
As we speak, universities are mostly filled with students who are part of generation Z, born between 1996-2010. Now, you may be thinking: " So what? What does this have to do with the benefits of using an online ordering system for university campuses?"
Well, whether you realize this or not, the benefits of using an online ordering system for college dining halls mix perfectly with the needs of the young students currently roaming your university halls. And that's because it fulfills their needs for convenience:
Get a loyal customer base by fulfilling your students' need for convenience
According to the 2019 College & University Consumer Trend Report, "only 33% of students are satisfied with their school's foodservice facilities." Ouch! However, you can turn this situation around quite easy. You can keep more hungry students on campus and have them buy food from you, by using an online ordering system integrated with your restaurant app or website, like ours.
If you are not happy with your current restaurant website or simply wish to have one, we can help you with that. We recommend you to get our Sales Optimized Website, which is fully optimized for both desktop and mobile ordering. So you can provide your students with an enhanced online ordering experience.
As we all know, ordering food online – via a restaurant website, or a restaurant's mobile app – is simple, fast and above all, convenient. In fact, it's as easy as ordering an essay online. Because online ordering enables your students to place orders while they're:
studying in the library,
attending seminars,
or when it's too cold, too hot, or pouring with rain and they don't want to leave their dorm room.
You need to understand that people from generation Z were handed a smartphone from a very early age. They are digital natives. And they can actually type in a message without even looking at that tiny keyboard on their phone. So you can imagine how easy it is for them to place an online order within seconds.
But disregard their digital needs, and they'll forget all about you.
If you'd like to quickly set up a reliable online ordering system, then you can try GloriaFood.
Note: Here is a 60-second video that shows how this works:
If you want to play with the interface, then please feel free to use this demo: https://www.pronto-ny.com
It helps you accept different types of online payments plus tips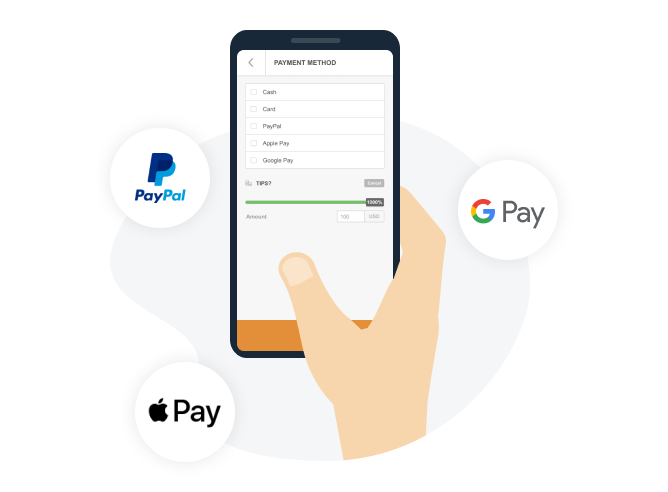 With GloriaFood, you can also allow and accept card payments via Stripe or online payments via PayPal, Apple Pay, Google Play and Browser Pay payments within the ordering widget. And this will definitely help if you decide to enable the pre-ordering functionality.
Because with payment already settled, the students who placed a preorder, will be able to pick up their food and go. Simple as that.
Note:
If you're part of the university staff and you're thinking about using our online ordering system, then you qualify for our
.edu deal: free online payments connector
.​ If you'd like to activate it, simply let us know via
help@www.gloriafood.com
or write back to us via chat.
Get more orders by enabling students to (pre)order food online for delivery & takeaway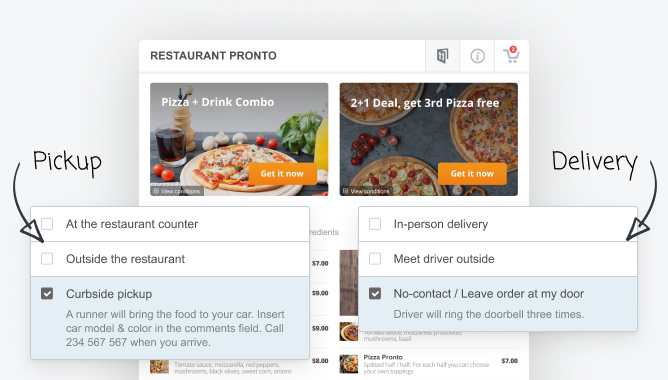 Imagine this: College is in session. Carrie – a hard-working student – runs from one class to another. In between classes, she places a lunch pre-order for grilled chicken and salad.
So, as soon as she finishes her second class, she swings by the campus cafe to pick up her food and then heads out to her next class. It's grab & go. It's simple & stress-free.
During the exam period, students are under a lot of pressure. And when they're not dealing with exams, they are still busy maintaining an active social life, playing sports and becoming part of fraternities or sororities. They have little time to prepare food for themselves, so they want to be able to order and preorder food for campus food delivery or takeaway.
In fact, using an online ordering system with pre-ordering functionalities will enable them to easily place a lunch, dinner or breakfast pre-order for now or for later. The more options you provide them, the better.
Get our FREE in-house ordering solution.
College is hard enough quotes as it is, let students order food from the comfort of their dormitory.
Start here
Enable them to skip the line and you'll become their favorite restaurant

Seeing a long queue of people waiting in line to buy food will cause many students to leave your restaurant & choose some other locations on campus, or even go to a supermarket. However, with a restaurant pre-ordering system, you can easily accommodate the needs of a large number of students. So more orders for you.
You have to realize that in this day and age, college students are getting used to getting exactly what they want. When they want it. It's as simple as that. So, to succeed, it's easy to just give them what they want.
It's a win-win situation for everybody: while they will just grab their food & go, you will be able to better organize your staff during your busiest periods and sell more food.
Use pre-ordering to attract even off-campus customers
Another great aspect is that you can actually grow your customer base, by using the pre-ordering functionality to attract both university residents & off-campus professionals, like: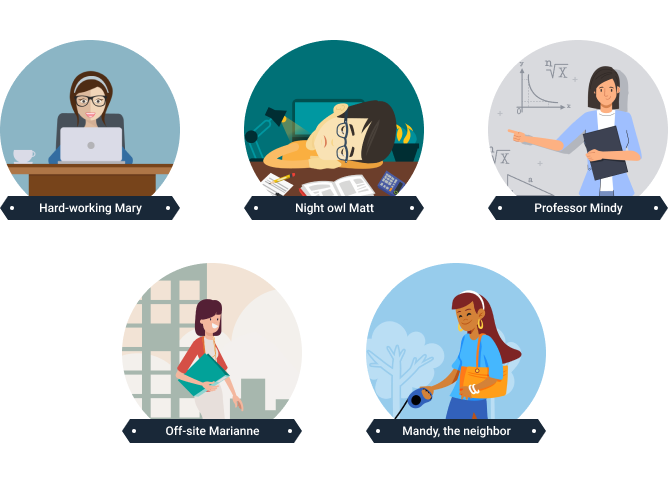 To best understand these avatars, let's put them in context:
Mary dutifully wakes up for her 8 a.m. seminars each day, but doesn't have time to make her sandwich the way she likes it: lightly toasted buns with just a smidge of butter (carefully melted in the skillet for just a few seconds) on one side, and a bit of mayo on the other, with shredded cheese and thinly sliced ham, tomatoes and fresh mushrooms, all heated into the oven to 180 degrees C, for no more than 7 minutes, until the cheese melts and bonds all the ingredients together. All accompanied by a glass of freshly squeezed orange juice.
So, each morning Mary preorders her sandwich and orange juice before getting out of bed. Then she swings by the campus cafe and gets her order to go, so she can make the morning class in time. At the end of the day, pre-ordering saves Mary at least 25 minutes each day in food preparing and cleaning. And she agrees that she can better spend this time catching up on her sleep.
Or let's take Matt, who is a night owl. When he doesn't have morning classes, he stays up late, so the next day he usually oversleeps and wakes up around 12, with quite the appetite. Hungry as he is, he doesn't want to wait in line during the busiest time of the day – so he just pre-orders his coffee and lunch from his favorite campus restaurant, the night before. Problem solved.
Mindy is part of the university staff. She's new and she's trying to get tenure, so she's putting in long hours and drinking lots of coffee. When she is not researching and preparing her classes, she is grading papers, so around noon she has a large coffee with a hint of cinnamon and one brown sugar cube delivered to her office.
Marianne is an off-site professional who passes everyday through campus, on her way to work. Stopping by the university cafe, she spots a flyer promoting the pre-ordering option. So she decides to use it when she is too tired to cook dinner for her family.
Mandy is your friendly neighbour living close to the university campus. She walks her dog around the campus each morning, and every once in a while she likes to stop by to get a coffee. When she is not dieting and power walking, she also enjoys having a pumpkin spiced latte and eating muffins with her friends. So, once a week, she goes onto the website and pre-orders coffee and muffins for 4 people.
Related: How to Attract College Students to Your Restaurant
As you can see, using an online ordering system for college dining halls with food preordering can actually help fulfill everyone's sense of immediacy. And since happy clients are returning clients, you'll also manage to expand your customer base & boost your profits.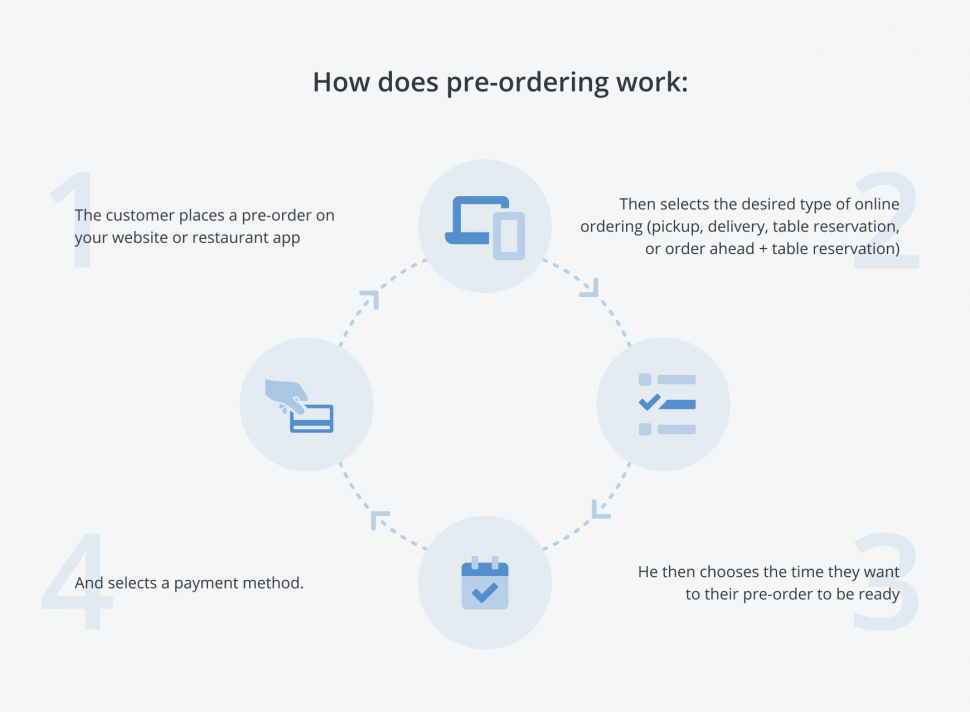 That's as difficult as it gets!
Use promotions to increase cart value during exam time or major university events
Restaurant promotions are strong motivators when it comes down to choosing a restaurant. This might be a no brainer, but you need to understand how effective this can be. Generation Z students are very aware of the value of money. From a very early age, they were actually exposed to the trail of dire effects that the 2008 recession left behind. And seeing their parents struggling to make ends meet also left many of them with financial scars. So most Gen Zers out there are actually money-conscious. They like going Dutch when ordering food or calling in an Uber Carpool. There's no money being thrown around.
How can you use this to your advantage: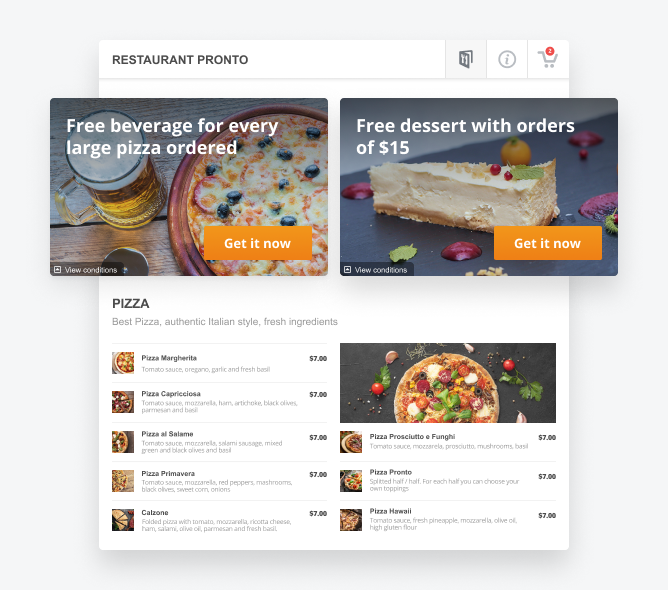 Offer free delivery / free beverage / free dessert to those who order online & meet the minimum order value during exam time.
Traditionally, having pizza delivered to their dorm room has been done for eons. So why not profit from this trend when college is in session?
When students are stressed out with their exams, trying to cram in as much information as possible, they have little time to think about food. That's why if you step in at the right time, you'll tremendously increase your order volume.
So what you can do is make the most of this overcrowded period? Offer free deliveries to those who meet the minimum order value, which is easy to do, considering that students do group studies and place group orders.
Also other best times to offer promo deals are as follows:
During the beginning of the semester, when they are forced into a busy lifestyle whilst moving in & making friends
During the end of the semester when most of them begin searching for meal plan alternatives
After college matches, when teams get together to celebrate their victory – you'll simply need to stay aware of the game result and post the promo on your social media accounts, following the end of the match (i.e., example of Facebook post: Let's celebrate together. Tonight only we're offering a free pizza for every 3 large pizza orders, etc.)
Also, make sure that your promotions are highly visible on your website. Ideally, students should spot them right from the second they open your restaurant menu & easily add them to their cart.
Use our online ordering system for college dining halls to gain exposure on social media
Just as important as promoting your offers on your website or mobile is promoting your offers on social media.
GloriaFood enables you to add the ordering widget to your Facebook page in almost no time at all. Here is how it will look: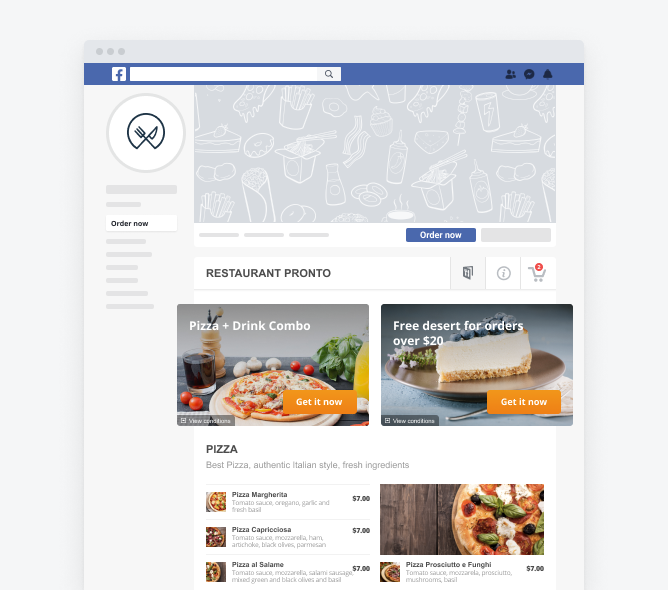 The great part about including our online ordering system on your Facebook page? It allows students to order without ever leaving Facebook.
Tip: during the winter, when it's too cold to go outside, you can attract new customers by posting a message like: "Baby it's freezing outside🥶. Why not order in today? Best of all? You can order straight from our Facebook page"
These types of quirky messages appeal to students of generation Z, so why not give them a go?
You should also make sure to let people know that they can also pre-order from your Facebook account. Start by downloading our pre-ordering flyer template & posting it on your page. Let students know how easy it is to order from you especially during exam time. Or even during lunchtime, when you may experience an overload of orders.
The more people find out about you, the more will want to test out your services. It only takes one very popular student to post his pozitive review on his Facebook account for others to want to try out your pre-ordering services. Social proof can actually help you convert those first-time visitors into your most loyal customers.
Use our restaurant ordering system to easily manage your dining hall reservations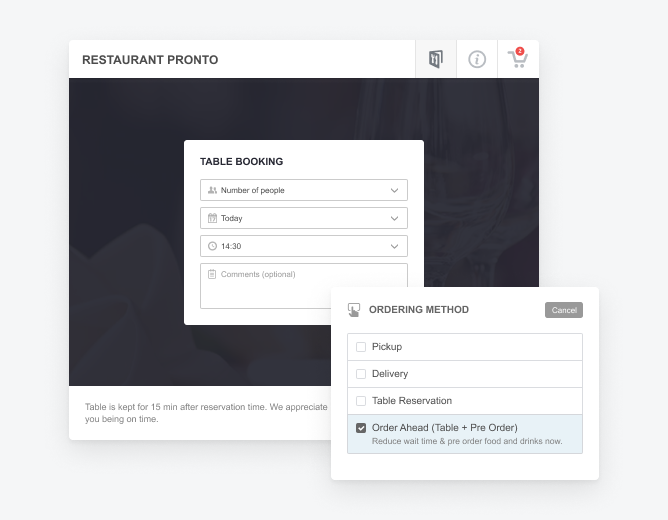 With our free online ordering system, you can also satisfy the needs of student groups, who want to spend their lunch in the dining hall.
All they need to do is to is select
the number of people,
the date and the time they'll be attending their reservation,
and decide whether to order ahead or order at the restaurant.
You'll then receive their request and confirm it or decline it. This feature is particularly useful during busy times – when it can help you to better organize your staff and keep your students happy, by bringing their food relatively fast.
As you can see, using our free online ordering system for college dining halls has too many advantages for you to pass it down.
It can help you…
manage dining hall reservations,
hook your students & off-campus professionals with pre-ordering options,
enable you to take online payments,
sell more by adding irresistible promos at the very top of your online menu – that most students won't be able to refuse,
and even create your own college food delivery app for your students' convenience.