Update October 2017: Check out all our mobile apps for restaurants and their food clients.
Dear restaurant owners,
The most awaited moment is finally here!
After months of relentless hard work and dedication, GloriaFood adds one of the most wanted features to its online ordering system for restaurants: the restaurant order-taking app, now available for Iphone and Ipad.
The iOS app for restaurants: the basics
Any restaurant owner will now be able to take online orders straight on their Iphone or Ipad.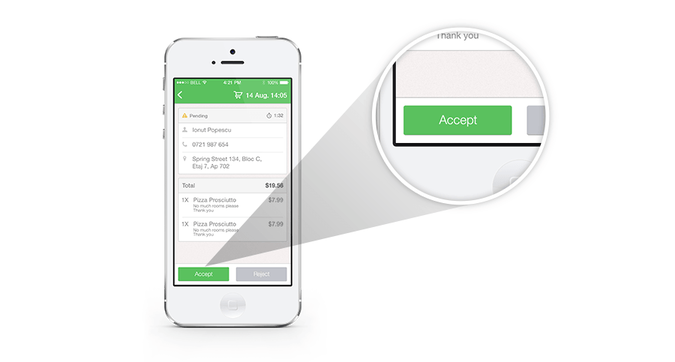 If you have not had the chance to test the GloriaFood app on a mobile device before, this is what it can do:
once you install the GloriaFood app on your mobile phone or tablet, it will transform your mobile device into an order-receiving machine
when a customer places an online order on your restaurant website or Facebook page, you will automatically receive all order details on your mobile device, inside the GloriaFood app
the app has a lovely sound notification that alerts you each time a new order comes in
the minute you receive the online order, you will be able to confirm the order and also set an estimated time for order pickup or delivery
The Gloriafood app is very user-friendly, with extremely intuitive commands and design, all to help you streamline the online ordering process and tend to your customers as fast as possible.
Do you want to have your own customized app for your customers to place orders?
Our white-label app can be personalized with your restaurant branding.
Get access now
Iphone and Ipad app for restaurants – the essentials
Keep in mind that, in order for the Gloriafood app to run on your iPhone or Ipad, you need to have iOS version 7.1 or higher.
Also, to make sure you never miss an online order, keep your phone's volume set to the maximum level. Pay attention to the app's sound notifications, check every online order that comes in, and keep your customers happy 🙂
Finally, make sure your internet connection is stable, be it wifi or mobile data plan.
Download and use the GloriaFood iOS app for free
Find the GloriaFood app for restaurants on the Appstore!

It is free to download and use and it holds to its purpose: to make online ordering a delightful experience for restaurant owners.
We cannot wait to get your feedback on the new iOS app, so don't hesitate to write to us using our Facebook page.
Cheers!